In today's digital age, the use of travel plugins has transcended being a mere choice—it's now an imperative strategy for survival and success within the fiercely competitive travel industry. The evolution of technology and consumer behavior has significantly altered how travelers plan, book, and experience their journeys. Consequently, travel businesses are compelled to adapt and innovate in order to thrive.
To thrive in the travel industry's cutthroat landscape, it's essential to embrace these plugins as strategic assets. They aren't just tools; they're the cornerstone upon which successful ventures in the travel domain are built.
Consider these statistics:
What are Travel Plugins?
Travel plugins are software extensions or add-ons specifically designed for websites built on platforms like WordPress. They cater to the unique needs of travel-related businesses, offering a range of functionalities aimed at enhancing the user experience, managing bookings, and optimizing the overall performance of travel websites.They serve as essential tools for travel-related businesses, enabling them to establish a strong online presence, efficiently manage bookings, and provide exceptional user experiences to potential customers.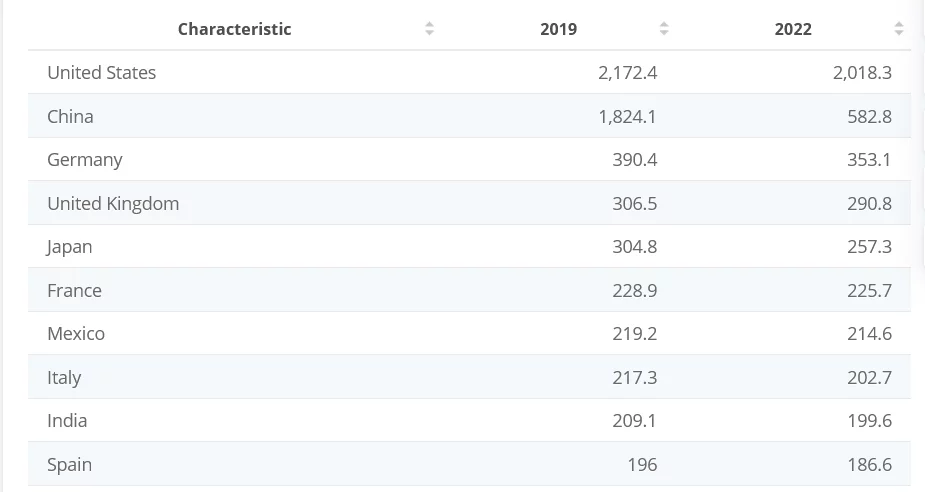 Source: Total contribution of travel and tourism to GDP in leading travel markets worldwide in 2019 and 2022
Benefits of Travel Plugins:
Booking Management: Simplifying booking processes, managing reservations, and handling inquiries for diverse travel packages and services ensures efficiency. It streamlines the workflow, reducing errors and enhancing customer satisfaction through smooth transactions.
Customization: Providing options for themes, templates, and layouts allows for tailored design, branding, and unique site experiences. This flexibility caters to different travel niches, reflecting the brand's identity and attracting specific target audiences.
Payment Integration: Securely integrating payment gateways for travel-related transactions ensures trust and reliability. Seamless transactions enhance user confidence, encouraging more bookings and leading to increased revenue.
Multilingual Support: Making sites accessible to a global audience by supporting multiple languages expands the reach of travel businesses. It fosters inclusivity, enabling users from various regions to engage with the content in their preferred language, thus boosting user engagement and conversion rates.
User Experience Enhancement: Offering features like on-page booking, reviews, weather forecasting, and interactive maps enriches the user experience. It simplifies the booking process, provides valuable information, and engages users, resulting in higher satisfaction and improved retention rates.
Admin Control: Comprehensive backend controls empower administrators to efficiently manage trips, pricing, discounts, and additional services. This control fosters adaptability to market demands and allows quick adjustments to offerings, ensuring a competitive edge.
SEO-Friendly Tools: Built-in SEO tools optimize content for search engines, improving visibility and attracting organic traffic. Higher search engine rankings lead to increased site visibility, enhancing the chances of reaching and converting potential customers.
Support and Updates: Regular updates and dedicated support teams ensure plugin compatibility with the latest WordPress versions and security standards. This ongoing support addresses issues promptly, providing a reliable platform for travel businesses while ensuring continuous improvements and staying up-to-date with industry trends.
Top WordPress Travel Plugins of 2023:

Travelpayouts stands out among WordPress travel and tour plugins by offering users unparalleled flexibility in customizing their travel experiences. It provides an effortless booking system for clients, featuring search package options, popular flight widgets, and user-friendly payment methods.
Customizable Tables: Users can tailor 11 airline tables and two hotel tables according to their preferences, allowing for personalized presentation of travel-related information.
Monthly Payout Options: The plugin provides monthly payout options, offering users flexibility in managing their earnings from travel bookings.
Google Maps Integration: Utilizes Google Maps functionality to visually display destinations, enhancing the user experience by providing geographical context.
Commission Earnings: Users can earn commissions of up to 70% by partnering with marketers through this plugin, making it a lucrative opportunity for monetization.
Search Forum Capability: Incorporates a search forum feature, enabling users to conduct specific searches and find relevant travel information efficiently.
Price Comparison Tables: Offers price comparison tables, allowing clients to compare prices across various travel options for informed decision-making.

WP Travel Engine stands as another highly favored WordPress travel plugin, boasting a plethora of valuable functionalities, including booking management, email notifications, and more.
The plugin exclusively supports PayPal as the payment method. It comprises four tabs: FAQs, Price, Itinerary Builder, and Page Overview.
Key Features:
Unlimited Travel Packages: Users can add an unlimited number of travel packages, offering versatility in showcasing various travel options.
Streamlined Online Booking: Enhances the ease of online booking, simplifying the travel planning process for users.
Enhanced Online Booking Experience: Aims to streamline and simplify the online booking process, ensuring convenience for travelers during their bookings.
Translation-Ready: Fully equipped for translation into multiple languages, allowing for a wider audience reach and accessibility.
Advanced Search Engine: Offers an advanced search engine option, enabling users to navigate through travel packages efficiently.
Fast and Detailed Booking Process: Provides a quick and comprehensive booking process, ensuring a seamless experience for users.
SEO-Friendly Functionalities: Integrates SEO-friendly features, including schema (microdata), to optimize search engine visibility and enhance site ranking.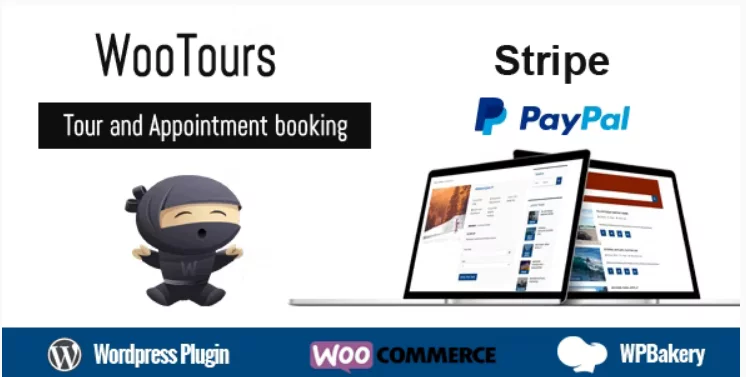 WooTour stands as one of the most popular WordPress travel plugins, enabling swift creation of events, excursions, and appointments effortlessly.
This WordPress hotel booking plugin simplifies customer registration on the backend while offering a convenient booking process for tours.
Key Features:
WooCommerce-Powered Booking System: Integrates seamlessly with WooCommerce, providing an efficient and robust booking system.
Payment Flexibility: Supports various payment methods compatible with WooCommerce, offering users the freedom to utilize their preferred payment gateways.
Review and Coupon System: Incorporates a review system for customer feedback and a coupon system for promotional offers, enhancing user engagement and incentivizing bookings.
PDF Invoice Support: Offers support for generating PDF invoices, ensuring efficient record-keeping and professional documentation for transactions.
WPML Compatibility: Fully compatible with WPML, facilitating multilingual functionality and enabling the plugin to cater to a global audience effectively.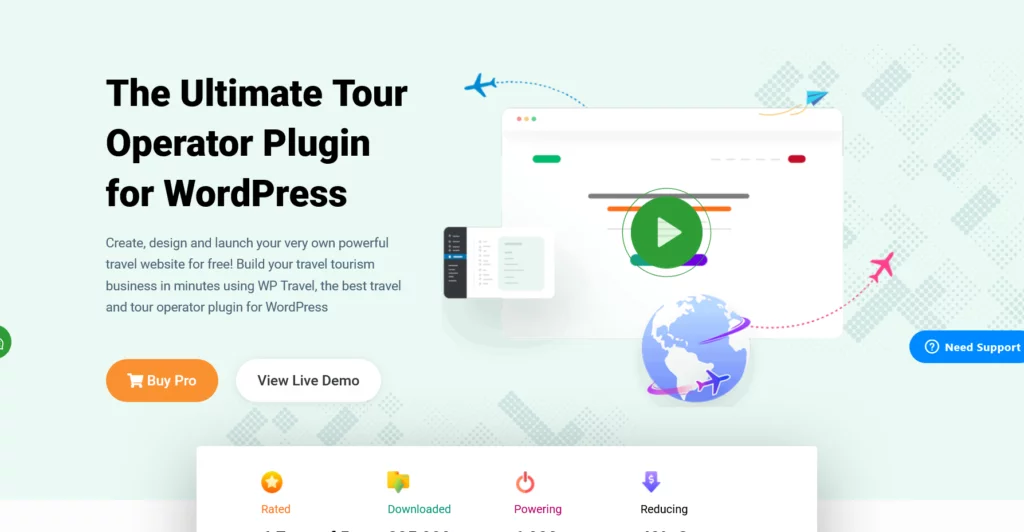 WP Travel seamlessly integrates with a variety of dynamic travel themes on WordPress. This WordPress hotel booking plugin facilitates the creation of captivating travel pages, showcasing adventurous activities effortlessly. Known for its scalability and user-friendly interface, it stands out among its peers.
Key Features:
Payment Acceptance and Streamlined Booking: Enables convenient payment acceptance, simplifies booking methods, and expands outreach to a broader audience.
Flexible Service Options: Allows the addition of free or paid service choices for individual travel experiences, providing customization for users.
Unlimited Tour Packages: Provides the option to add an unlimited number of tour packages, ensuring versatility in showcasing diverse travel options.
User Reviews and Ratings: Offers users the ability to leave reviews or ratings for each trip, with the option to hide them if necessary, enhancing transparency and user interaction.
Trip Search/Filter Widget: Incorporates a trip search or filter widget, aiding users in efficiently finding desired travel options.

Oganro stands as a highly adaptable W travel plugin, serving as a travel portal widget for both B2C and B2B travel websites. This unique plugin offers the ability to merge tour company websites with wholesale travel package providers, creating a seamless and comprehensive travel experience.
Key Features:
Currency Flexibility: Accepts payments in any currency, catering to a global clientele effortlessly.
Multilingual Support: Provides support for multiple languages, ensuring accessibility for diverse audiences.
Quick Setup and Play: Offers easy and swift setup, allowing users to start using the plugin promptly.
Customizable Front Widget: Fully customizable front-end widget, providing flexibility in design and functionality.
Direct Booking System Integration: Seamlessly connects with the booking system, streamlining the reservation process.
User-Friendly Admin Interface: Presents an intuitive and easy-to-use interface for seamless management.
Responsive Mobile Support: Ensures compatibility and functionality across various mobile devices, enhancing user experience.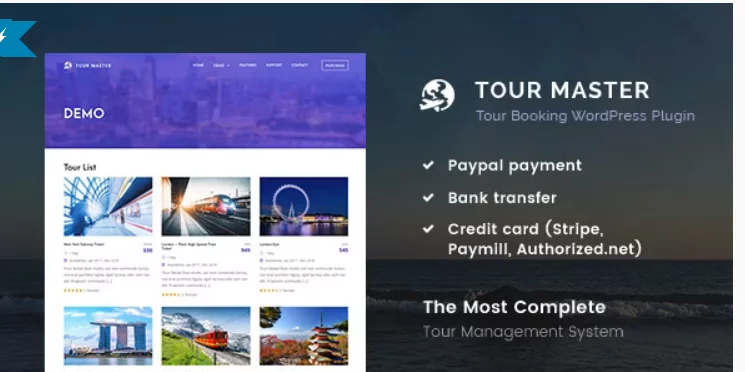 Tour Master emerges as a user-friendly WordPress tour booking plugin, offering a range of functionalities such as seasonal pricing, invoice generation, and comprehensive reporting capabilities.
Key Features:
Diverse Tour Styles: Offers 10 different tour styles for versatile presentation and customization.
Search Bar and Category Lists: Includes search bar and category lists, facilitating easy navigation for users.
Variable Pricing Options: Provides flexibility in pricing, allowing variable pricing strategies based on different factors.
Streamlined Booking Management: Simplifies the booking process and status tracking for efficient management.
Payment Gateway Support: Accepts payments through multiple gateways like PayPal, credit cards, Paymill, and bank transfers, ensuring diverse payment options for users.

Yatra is a robust WordPress travel plugin highly praised for its seamless booking of diverse travel packages. It's widely used by professional travel agencies to craft appealing, budget-friendly packages and informative destination pages.
Key Features:
Smart Email Tags: Enhance email efficiency and customization for effective customer communication.
PayPal Payment Gateway: Secure and trusted payment method for travel bookings and packages.
User Sections: "My Account" for easy booking management and personalized customer spaces.
Regular Updates: Ensures Yatra stays current with latest features, security, and compatibility.
Availability Calendar with Dynamic Pricing: Displays real-time availability and pricing changes for trip planning.
Email Alerts: Notifies for bookings and inquiries to stay responsive.
Advanced Filtering and Search: Effortless navigation of travel options.
Flexible Pricing Labels: Transparently communicates pricing changes.
Translation-Ready: Accessible in multiple languages for global usability.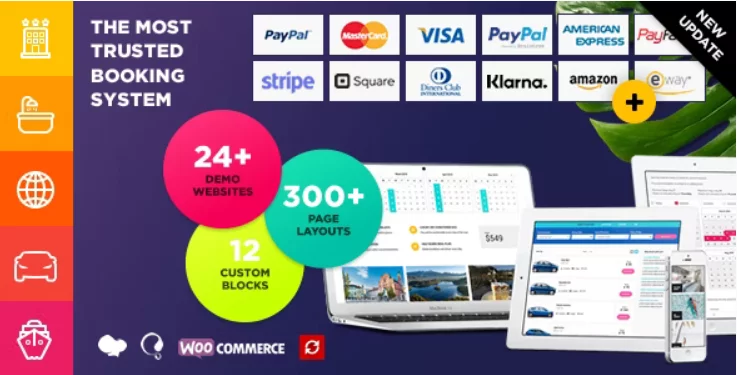 Book Your Travel is a comprehensive travel plugin designed to offer a wide range of functionalities for travel-related websites.
Flexible Booking System: The plugin provides a versatile and adaptable booking system, allowing businesses to manage various travel bookings and reservations seamlessly. This feature accommodates different types of bookings, including accommodations, tours, and activities.
Customizable Templates: Users have access to customizable templates, enabling them to tailor the appearance and layout of their website according to their brand identity and specific needs. This customization fosters a unique and engaging user experience.
Payment Integration: Seamless integration of payment gateways ensures secure and convenient transactions for users, boosting trust and encouraging bookings.
Advanced Filtering Options: Enhanced filtering functionalities empower users to navigate through travel options efficiently. These advanced filters aid in refining search results based on specific preferences such as location, price range, or amenities.
Multilingual Support: The plugin supports multiple languages, making the website accessible to a global audience. This multilingual feature enhances inclusivity and expands the reach of the business to diverse markets.
Reviews and Ratings: Users can engage with the website by providing reviews and ratings for their travel experiences. This user-generated content adds credibility and assists potential customers in making informed decisions.
Responsive Design: The plugin ensures a responsive design, optimizing the website's display across various devices, including desktops, tablets, and mobile phones, for a consistent and user-friendly experience.

Travel Agency is a robust plugin designed specifically to streamline booking management and enhance user experience on travel agency websites.
Booking Management: The plugin offers comprehensive tools for managing bookings, reservations, and inquiries. It simplifies the process, allowing travel agencies to handle various aspects of bookings efficiently.
Customizable Layouts and Templates: Users can customize layouts and templates to reflect their brand and services. This customization ensures a unique and tailored appearance for the website.
Multiple Payment Gateway Options: The plugin supports various payment gateways, providing flexibility and convenience for users to make transactions using their preferred methods.
Advanced Search and Filtering: Enhanced search and filtering capabilities enable users to refine their travel options based on specific criteria, facilitating a more personalized and targeted search experience.
Itinerary Management: Travel Agency offers tools for creating and managing itineraries, allowing agencies to showcase detailed plans for various travel packages.
Customer Reviews: Incorporating customer reviews adds credibility and influences potential customers' decisions. It helps build trust and transparency in the services offered.
Multilingual Support: Similar to Book Your Travel, Travel Agency provides multilingual support, ensuring accessibility to a wider audience.
Responsive Design: The plugin ensures a responsive design to deliver a consistent and optimal user experience across different devices.
Factors to Consider Before Choosing a Travel Plugin:
Functionality: Assess the features offered by the plugin and match them with your business needs. Ensure it provides essential functionalities like booking management, payment integration, customization options, and user-friendly interfaces.
Compatibility: Verify that the plugin is compatible with your website platform (e.g., WordPress) and other plugins you might be using. Compatibility issues can lead to technical glitches and hinder functionality.
User Experience: Evaluate the user interface and experience. A user-friendly plugin can enhance engagement and conversion rates, so it's essential to choose one that's intuitive and easy to navigate for both administrators and users.
Scalability: Consider the scalability of the plugin. Ensure it can accommodate your business's growth by offering flexibility in managing an increasing number of bookings, services, or users.
Security: Security is critical, especially when handling payment transactions and customer data. Choose a plugin that adheres to security best practices and offers secure payment gateways to protect sensitive information.
Conclusion:
Selecting the perfect travel plugin for your WordPress site is a crucial step toward ensuring a seamless and efficient booking experience for users. These plugins serve as the backbone of your travel platform, significantly impacting user satisfaction and operational efficiency. They play a multifaceted role, not just in simplifying the booking process but also in augmenting the overall functionality and aesthetics of your travel site.
FAQs on Travel Plugins:
Are these plugins suitable for different travel niches?
Yes, many travel plugins are adaptable and can cater to various niches such as tours, hotels, vacation rentals, or specific destination-based services. Ensure the plugin aligns with the type of travel offerings you provide.
Can these plugins handle different payment gateways?
Yes, many travel plugins offer integration with various payment gateways for secure and convenient transactions, providing flexibility for users to choose preferred payment methods.
Are these plugins customizable to match the site's aesthetics?
Absolutely, most travel plugins offer customization options, themes, or design elements that can be tailored to match your site's branding and aesthetics.