Nestify delivers extremely high performance for WordPress and WooCommerce.
We handle the technical stuff, so you can focus on growth and success.
High Performance Stack
Our Nginx and PHP7 based cache improves WordPress core performance, even for logged in users.
Automatic Daily Backups
Nestify creates automatic backups of your site and store them in 3 locations. Restores are 1 click operation.
Intelligent Caching
We take care of caching, so you don't need to use any plugins to make WordPress fast.
Automatic Core Updates
We proactively stay on top of security audits, compliance, installing patches and performing updates.
Robust Security
With advanced DDoS and Malware protection, your WordPress site is always safe and spam free.
24x7 Support
Our team of experts assists you with all WordPress issues and development work round the clock.
Included Free With Every Plan
Free Migrations
Our experts safely migrate your site from existing provider to Nestify with zero downtime.
Free CDN
Cloudflare's premium CDN + bandwidth is included with each site.
Free SSL
Let's Encrypt SSL certificates are included with each site.
WP-CLI
With WP-CLI, you can update plugins, configure multisite installs and much more, without using a web browser.
XDebug
With Xdebug you can put WordPress under the microscope and know performance overhead of each plugin.
Security Scans
We scan your site daily for insecure plugins, vulnerabilities and protect it from hackers.
Simplified WordPress Staging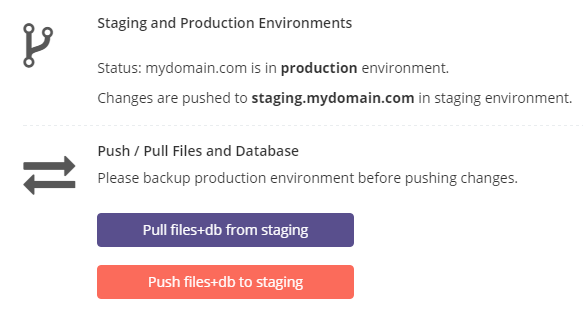 How to create staging environment in WordPress?
You can create staging environments with 1 click using Nestify console. We take care of dns updates, syncing files and databases between staging and live sites. We even update the URLs inside the db, insuring a seamless experience.
When you need to push changes from staging to production, it's a single click affair as well.
Staging environments are not crawled by any search engines and can be password protected if needed.
How Much Does It Cost?
We provide 3 different plans based on the number of your monthly visitors.
You don't pay anything extra for backups, hosting or maintenance. Host additional domains on same plan for $3.99/month each.
30 Day Money Back Guarantee
If you don't like our service, we'll give you full refund and help you move to another provider.
Sign Up
Looking for reseller and white label services?
Contact us at [email protected] for our reseller program and white label options.
10,000 Monthly Visitors
5 GB SSD Storage
No Staging
75,000 Monthly Visitors
10 GB SSD Storage
1 Click Staging
150,000 Monthly Visitors
40 GB SSD Storage
1 Click Staging