In today's fast-paced and interconnected professional world, email has become the backbone of communication. Whether you're a seasoned business executive, a recent graduate entering the workforce, or anyone in between, the ability to craft and send professional emails is an essential skill. Think of your email inbox as a digital boardroom or office space where your written words carry significant weight. Every email you send has the potential to influence your reputation, relationships, and career trajectory.
Welcome to our blog on professional email communication! In this digital age, where first impressions often happen through a screen, knowing how to compose, structure, and send effective emails is more crucial than ever. Whether you're aiming to ace job interviews, collaborate seamlessly with colleagues, or impress clients, our comprehensive guide will equip you with the knowledge and strategies you need to excel in the world of professional email correspondence.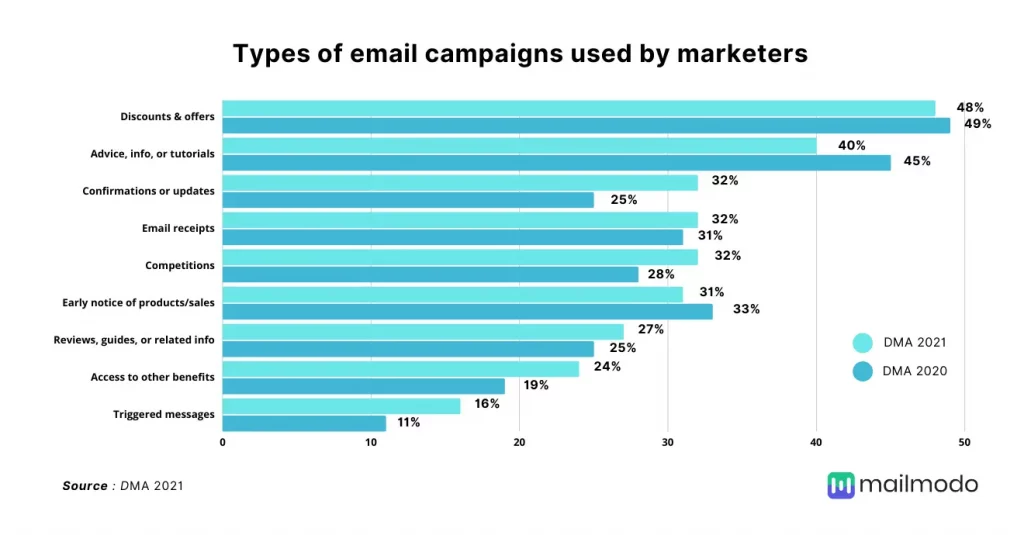 What is a Professional Email Address?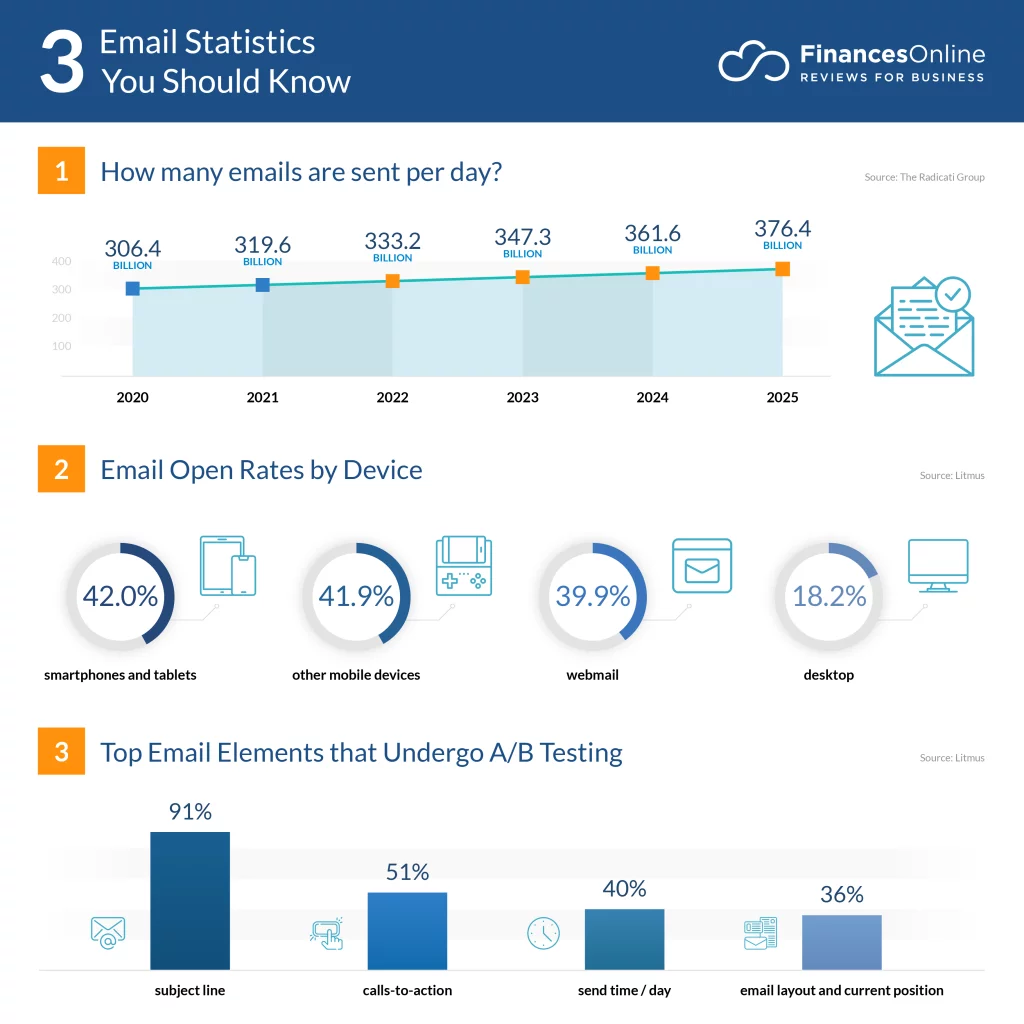 A professional email address is an account closely associated with your business or organization. What sets it apart from personal email addresses, typically obtained through free email services like Gmail or Yahoo, is that it incorporates your company's name into the email address itself. This reflects the professional nature of the email and serves various practical purposes.
To establish a professional email address, you typically need to have a website for your company or organization and acquire a domain name that aligns with your business name. For instance, if your company is called "ABC Consulting," your professional email address might be "yourname@abcconsulting.com." In this case, "abcconsulting.com" is your custom domain, and "yourname" can vary depending on the specific email account.
Now, let's delve into why having a professional email address is important:
1. Enhanced Security: Professional email services often have robust security features. These may include encryption, multi-factor authentication, and advanced spam filters. These security layers help protect your sensitive business data from cyber threats, making it a safer option for your communication needs.
2. Reduced Spam Risk: Most email providers offer spam filters to keep unwanted emails out of your inbox. When you use a professional email address, your messages are less likely to be mistaken for spam, ensuring that important business correspondence reaches its intended recipients.
3. Brand Promotion: Your email address extends your brand identity. When you use a professional email address, such as "yourname@yourcompany.com," you reinforce your brand with every email. This repetition can help recipients remember your company's name and can contribute to building brand recognition and credibility.
4. Professional Image: When you communicate with clients, suppliers, business partners, or any other important entities on behalf of your company, using a professional email address conveys the message that you are a legitimate business entity committed to providing reliable services. It establishes a level of professionalism that can instill trust in your recipients.
Top 9 Business Email Address: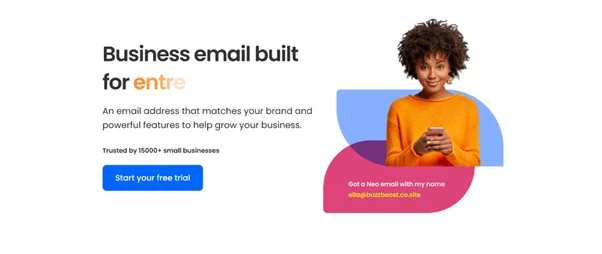 Neo is an email platform designed to cater to entrepreneurs and small businesses by offering them a professional email address. For those without their domain, Neo provides a free Neo domain. Additionally, users receive a complimentary one-page website to establish their brand presence and enhance credibility. Neo ensures a hassle-free setup and equips users with user-friendly yet powerful tools to bolster their brand development.
Neo Features:
Custom email address with a complimentary Neo domain
Read Receipts to alert users when their sent emails are opened
Email Templates for efficient reuse of frequently sent messages
Send Later functionality, allowing users to schedule emails for optimal delivery times
Follow-up Reminders to prompt users for follow-ups in case of no response
Priority Inbox to prioritize critical emails for immediate attention
A free one-page website that matches the user's domain, featuring contact forms and social integrations
Key Specifications:
Email Alias: Yes
Mobile Apps: Available for Android and iOS
Calendars: Included
Schedule Email: Supported
Advertisements In Email: None
Mailbox Size: Generous 50 GB
Email Address Format: Choose between "abc@yourbrand.co.site" (domain included in price) or "abc@yourbrand.com"
Pros:
Includes a free one-page website and co. site domain with email
Unique email tracking feature, notifying you when emails are read
Allows access to multiple accounts simultaneously
Compatible with both mobile and desktop platforms
Tailored features to support small businesses
Cons:
Limited offline email functionality
Lacks an email marketing service
Neo stands out as a comprehensive email solution for entrepreneurs and small businesses, offering essential tools for brand building and communication while maintaining affordability.

Gmail for business is the most user-friendly and efficient email application globally, boasting over 2 billion active users. Within the secure and ad-free environment of Google Workspace, Gmail offers smart replies, advanced grammar and spell-check tools, and the convenience of offline access through the Google Chrome browser.
Gmail Features:
Generous mailbox size of 15GB
Support for email aliases
Attachment size limit of up to 25 MB
Mobile apps available for both Android and iOS
Scheduled email-sending capabilities
More Features:
Seamless integration with Google Meet and Chat for easy communication
Compatibility with email clients like Microsoft Outlook, Mozilla Thunderbird, and Apple Mail
Nudge reminders to facilitate timely responses and follow-ups
Automatic phishing email detection and blocking
Convenient features such as attachment preview, message snoozing, and direct attachment viewing without opening emails
Key Specifications:
Email alias: Supported
Mobile Apps: Compatible with Android and iOS
Calendars: Included
Scheduled Emails: Supported
Ads in Email: None, completely ad-free
Mailbox Size: 15GB
Attachment Size Limit: Up to 25 MB
Email Address Format: Utilizes the format "abc@gmail.com"
Pros:
Robust spam protection
Offers a 14-day free trial period
Allows management of multiple accounts, including Yahoo, Outlook, and other POP email accounts, from a single interface
Provides 24/7 support
Enhances user experience with Dynamic Mail features
Cons:
Folder and label organization can be confusing for users.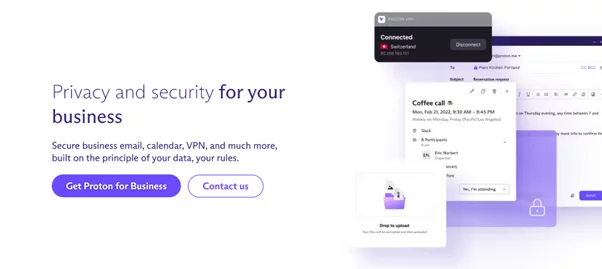 ProtonMail is a business-focused, open-source email service that prioritizes security. This user-friendly platform boasts end-to-end encryption for heightened email protection.
ProtonMail Features:
Generous mailbox size of 20GB
Support for email aliases
The attachment size limit is set at 25 MB per email
Accessible through mobile apps for Android and iOS
Convenient scheduling of emails
Additional Features:
Benefit from Swiss privacy law protection for your free business email address
Access ProtonMail via web browsers or dedicated Android and iOS apps
Send and receive confidential emails securely
Full support for PGP (Pretty Good Privacy) encryption, making it one of the best email solutions for business
Streamline organization management with the ProtonMail admin console
No personal information is required to create your secure business email account
Enhanced email organization capabilities for improved productivity
Key Specifications:
Email alias: Supported through two methods
Mobile Apps: Compatible with Android and iOS
Calendars: Proton Calendar beta
Scheduled Emails: Supported
Ads in Email: Completely ad-free
Mailbox Size: 20GB
Attachment Size Limit: 25 MB per email, with the option to attach up to 100 files
Email Address Format: Utilizes the format "abc@protonmail.com"
Pros:
Accessible on any device without the need for software installations
Exceptionally high level of encryption for email security
Email expiry date setting adds an extra layer of control
User-friendly interface enhances ease of use
Cons:
The free account limits 150 messages per day and offers limited storage capacity.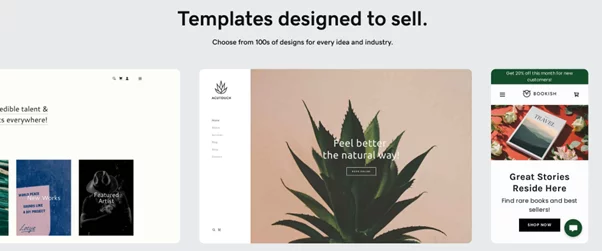 GoDaddy is a contemporary webmail platform that distinguishes itself with ad-free email services. In contrast to many email hosting providers, GoDaddy places a strong emphasis on data security and offers robust spam filtering capabilities. Moreover, this application empowers users with the ability to preview attached files.
GoDaddy Features:
Substantial mailbox size of 10GB
Support for email aliases
The attachment size limit is set at 20 MB
Mobile apps available for Android and iOS
Additional Features:
Simplify your schedule with appointment scheduling, reminders, and invitations across all devices
Attain a professional email address that aligns with your domain
Securely store emails within a protected database
Access a mobile-friendly interface for convenient email management
Effortlessly recover accidentally deleted emails with a single click
Compatibility with various email apps of your choosing
Pros:
Impress with a sleek, mobile-responsive design
Edit your website from anywhere, using any device
Enhance discoverability on Google and other search engines
Benefit from AI-powered insights to foster business growth
Cons:
The economy plan does not support unlimited websites.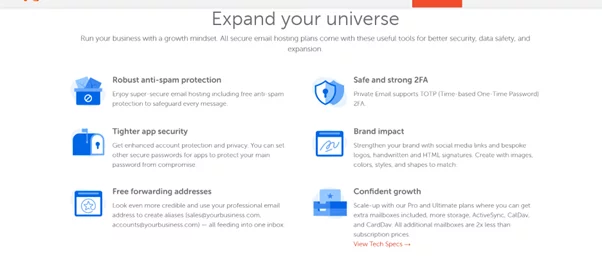 Namecheap is a trusted and efficient email hosting system that caters to the requirements of both individuals and businesses. With a strong focus on security and speed, this platform simplifies collaboration with others and offers the convenience of managing multiple email accounts from a single location.
Namecheap Features:
Impressive mailbox size of 75GB
Extensive support for email aliases
Attachment size limit raised to 50 MB
Mobile apps available for Android and iOS
Additional Features:
Access to HTML signature creation for a professional email experience
Robust spam protection measures ensure your inbox remains clutter-free
Support for IMAP, SMTP, and POP3 protocols for flexible email management
Compatibility with a range of devices, including Windows, Apple, and Android platforms
Key Specifications:
Mailbox Size: 75GB, offering ample storage for your emails and attachments
Email Alias: Fully supported, allowing for flexible email identity management
Attachment Size Limit: Generous 50 MB, facilitating hassle-free file sharing
Mobile Apps: Accessible on Android and iOS devices for on-the-go convenience
Ads in Email: None, offering an ad-free email experience
Scheduled Emails: Supported, making it easier to manage your communication
Pros:
Intuitive and user-friendly interface for effortless email management
Robust security features protect your data and privacy
Mobile app support ensures access from anywhere, anytime
Cons:
While storage is generous, it may still be limited for users with extensive email and attachment needs.

ScalaHosting is a budget-friendly choice that provides secure email services tailored to corporate requirements. Their offering includes the provision of unlimited mailboxes, which is advantageous for businesses looking to streamline their communication processes. They also offer a seamless migration process from your existing email hosting provider and a reassuring 30-day money-back guarantee.
ScalaHosting Features:
Email storage space ranges from a substantial 50GB to an impressive 150GB, ensuring ample room for your email correspondence and attachments.
Isolated environment and dedicated IP address, enhancing security and ensuring your email resources are not shared with others.
Advanced spam protection is implemented for incoming and outgoing emails, safeguarding your inbox from unwanted and potentially harmful messages.
Webmail options are provided for convenient remote email access, allowing you to check your emails from virtually anywhere.
Complimentary shared SSL certificate for an added layer of security during data transmission.
24/7/365 professional support accessible via live chat and ticketing, ensuring you receive assistance whenever needed.
Pros:
Ability to create custom email addresses, adding a professional touch to your communications.
Affordable pricing options are suitable for various budgets, making it accessible to businesses of different sizes.
Seamless and free migration service simplifies the transition process from your current email hosting provider.
Cons:
While ScalaHosting offers secure and budget-friendly email services, it may have limited additional features compared to some premium providers. However, this trade-off often aligns with their cost-effective pricing model.

Outlook, encompassing Exchange Server, Exchange Online, and Office 365, is widely recognized as a premier business email service provider. Renowned for its versatility and extensive capabilities, Outlook empowers users to access emails, shared calendars, and contacts from virtually anywhere, making it an invaluable tool for professionals and organizations.
Outlook Features:
1. Confidential Information Protection: Outlook strongly emphasizes safeguarding confidential information, ensuring that sensitive data remains secure within your emails.
2. Bcc Warning: An added layer of privacy is provided by Outlook, which issues warnings when emails are sent using the "Blind Carbon Copy" (Bcc) option, helping users avoid accidental privacy breaches.
3. Intelligent Reminders: Outlook's intelligent reminder system keeps users on track by providing timely notifications for important tasks, deadlines, and appointments.
4. Efficient Information Retrieval: Outlook streamlines the process of finding critical information within your emails, enabling quick and easy access to the content you need.
5. Keyboard Shortcuts: Enhancing accessibility, Outlook offers a range of keyboard shortcuts, simplifying email navigation and management.
6. Email Organization Rules: Users can create rules that automatically prioritize and organize incoming emails, improving overall email management.
7. Built-In Calendar: A robust calendar feature is integrated into Outlook, allowing users to schedule and manage meetings, appointments, and events seamlessly.
8. Instant Contact Information: Hovering over a contact's name in an email provides instant access to their contact information, enhancing communication efficiency.
9. Advanced Search: Outlook's advanced search capabilities make it easy to find specific people, messages, and documents within your email archives.
Pros:
Seamless Integration with Microsoft Apps: Outlook provides easy access to other Microsoft Office apps, streamlining workflow and productivity.
Email Recovery: The option to recover deleted emails adds a layer of data retrieval and peace of mind.
Customer Support: Outlook offers robust customer support options, including phone and web-based assistance.
Cons:
Loading Times: Outlook's performance, particularly during loading, may sometimes be slower, impacting user experience. However, this can vary based on internet speed and device performance.

Bluehost is renowned for its user-friendly approach as a professional business email service provider. It offers a streamlined experience for customizing emails with minimal effort. This web application provides robust email solutions, and features shared working documents and integrated video meetings for seamless collaboration.
Bluehost Features:
1. Exceptional Email Accounts: Bluehost is known for offering some of the best email accounts available, allowing users to manage their emails effortlessly from the web on any device.
2. User-Friendly Dashboard: The intuitive and user-friendly dashboard enhances the overall user experience, making email management straightforward and efficient.
3. 24/7 Expert Support: Bluehost ensures that users can access expert support around the clock, and assistance is available whenever needed.
4. Collaboration with Microsoft Teams: Bluehost facilitates collaboration by seamlessly integrating with Microsoft Teams, enabling efficient communication and teamwork.
5. Automatic Updates: The software takes care of updates automatically, relieving users of manual application maintenance.
Pros:
Transparent Pricing: Bluehost is known for its straightforward pricing structure, with no hidden charges, ensuring users are fully aware of their costs.
Easy-to-Use Control Panel: The control panel is simple and user-friendly, making it accessible to users with varying levels of technical expertise.
Bluehost WordPress Hosting: Bluehost offers specialized hosting services focused on WordPress, making it an excellent choice for WordPress users.
FTP Account and File Manager: Users benefit from FTP account access and a convenient File Manager for efficient file transfer and management.
Free Domain Name: Bluehost sweetens the deal by offering a complimentary domain name for the first year when you sign up.
Cons:
Limited Premium Tech Support: Bluehost may not offer premium tech support options, which could be a consideration for users seeking additional support services.
No Support for Windows OS: It's important to note that Bluehost may not support Windows operating systems, potentially limiting compatibility for some users.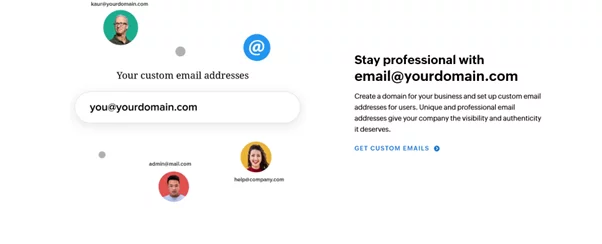 Zoho Mail is a trusted email hosting service provider designed to meet the stringent security needs of businesses. It offers a straightforward process for setting up custom email addresses without complications. This software boasts a user-friendly control panel that empowers administrators to efficiently manage group aliases, add users, and establish policies for moderating business email content.
Zoho Mail Features:
1. Seamless CRM Integration: Zoho Mail facilitates efficient sales management by seamlessly integrating with Zoho CRM (Customer Relationship Management), streamlining your customer interactions.
2. E-Discovery Process: Zoho Mail follows a comprehensive e-Discovery process that enables quick and efficient email discovery, ensuring you can access crucial communications swiftly.
3. Anti-Phishing Protection: Setting itself apart from many email hosting providers, Zoho offers robust protection against fake emails, enhancing email security for your organization.
4. Collaboration Capabilities: Zoho Mail goes beyond basic email functionality by allowing users to add comments, share files, manage tasks, and more, fostering collaboration within your team.
5. Mobile Access: With Zoho, you can conveniently access and manage your emails from mobile devices, ensuring you stay connected.
Key Specifications:
Email Alias: Supported, enabling flexible email identity management.
Mobile Apps: Compatible with Android and iOS platforms, facilitating mobile access.
Calendars: Integration with Zoho Calendars for efficient scheduling.
Schedule Email: Supported, making it easier to manage communication.
Advertisements in Email: None, offering a completely ad-free email experience.
Mailbox Size: Spacious 100GB storage capacity to accommodate extensive email data.
Pros:
Ad-Free Service: Zoho Mail ensures a completely ad-free email experience, enhancing user focus and professionalism.
Free Version for Small Teams: The free version allows up to 5 users, each with 5GB of storage, making it suitable for small teams and businesses.
User-Friendly Design: Zoho Mail's interface boasts a simple and clean design, ensuring user-friendly navigation and email management.
Cons:
IMAP/POP/Active Sync Excluded: These features are not included in the free plan, which may affect compatibility for some users.
Best Practices for Professional Email Address:
Maintain Domain Name Consistency: If you aim to convey your organization's professionalism through your professional email address, it's crucial to maintain consistency with your employer's brand name. To establish customer trust and enhance brand awareness, encourage all employees to use the same domain name. For instance, if you work for a car tuning company called Sunset Customs, consider having everyone use email addresses with the domain "@sunsetcustoms.com."
Consider Your Real Name: When creating a professional email address, consider using a version of your full name. Using a nickname may be suitable for personal communication. Still, it may need to align better with a professional email address, regardless of how well-known it is among colleagues and clients. For example, if your name is Jessica Rodriguez, you can use various versions of your full name, such as "jessica.rodriguez," "jrodriguez," or "jessica.r." In cases of common names, adding middle initials can be helpful.
Stick to Letters Only: While there is a vast array of email addresses, there are even more names, leading many personal email addresses to incorporate numbers, like birth years or creation years. Given the prevalence of this practice in personal addresses, it's advisable to avoid such additions when creating a professional email address, as they can project an unprofessional image. This guideline also applies to symbols, which can trigger automated spam filters. For instance, using a name like "jrodriguez84" can detract from the professionalism of your email address.
Ensure Pronunciation Friendliness: Consider the potential scenario where your email address is spoken aloud from one person to another. To make it memorable and easy to articulate, opt for a format that is straightforward to pronounce. When selecting a way to represent your name, steer clear of letter combinations that are difficult to say. For instance, Nick Meyer might choose "n.meyer" over "nick.m," as the former is more likely to be pronounced accurately.
Obtain a Website Domain: Ensure you have acquired a website domain before setting up your business email accounts. To do this, you can register a domain name through a hosting plan. This domain name will enable you to create email accounts for your employees using your company's name. Opt for a straightforward domain name that aids customers in identifying and recalling your business. Typically, companies limit their domain names to two or three words.
Establish a Standard Email Format: Consider implementing a standardized email address format within your organization. This consistency can help customers identify your employees' emails and foster cohesion in your company's communications. Decide on an email format that presents employees effectively. For instance, you might use each employee's first and last name separated by a period as their email address.
Integrate Email with Other Applications: You can usually integrate your business email addresses with desktop and mobile email applications. These apps can provide notifications for incoming business emails. Additionally, you can sync your email accounts with online tools that automatically add important dates and deadlines to your calendar. Encourage employees to utilize similar tools to maintain organized inboxes and swiftly locate important emails.
Implement Privacy Measures: Enhance security by implementing a system to safeguard employees' personal information within their email accounts. Encourage employees to create unique passwords for their accounts. Furthermore, consider encrypting the connection between employees' devices and the email server to bolster privacy protection. Establish clear rules for email use and privacy within your organization.
Categorize Email Accounts: To maintain organization, categorize your email accounts into distinct groups, typically aligned with different departments. Additionally, employ folder systems to manage email accounts effectively. For instance, you can segregate email accounts created for employees in the customer service department from those designated for employees in human resources. This segmentation helps streamline communication and accessibility.
Conclusion:
By following these guidelines, you'll not only convey professionalism and competence through your email communications but also build strong relationships with your colleagues, clients, and professional contacts. Effective email communication can be a powerful tool in your professional arsenal, helping you advance in your career and achieve your goals.
Frequently Asked Questions on Professional Email:
Can we generate a cost-free business email address without constructing a website?
Indeed, it is possible to establish a free professional email address even if you don't create a website. However, you will still need to cover the expenses of registering a business email domain name. Domain name registration and email hosting services are typically included in a web hosting package. To do this, you'll need to register with a hosting service provider via their website and proceed to create your desired email address.
Is it necessary to obtain a .com domain?
While the .com domain extension is the preferred choice for many businesses, its widespread use means that finding an available .com domain can be challenging. As an alternative, consider exploring other domain extensions like .co or .org, which are suitable for business purposes.