The most essential thing for any website is that it is visible and accessible to its audience. A better rank in the search engine results not only multiplies the volume of your audience but it is also beneficial for your website in a number of ways. First, you get recognition. Most people think that the website that ranks better at Google or any other search engine, is more reliable as compared to other websites that rank lower. Second, it lets new users find you. Third, it saves you lots of money spent on advertising that just doesn't work.
So how do you rank better at Google or other search engines? There are two aspects: what you offer (i.e., content) and how you offer it (SEO). The second process is known as Search Engine Optimization or SEO in short. There are a couple of guidelines that you can follow to improve the SEO of your site. Are you wondering why SEO is essential to your online business website? I think the article here can help you understand why SEO is relevant to you.
It would be useful to you if you know the most important SEO trends so that you can take these factors into account when you craft your SEO strategy. There are WordPress SEO plugins that help you take better care of SEO for your site. Here we have curated a list of top SEO plugins that you can use for your WordPress website.

Yoast SEO is the most downloaded SEO plugin for WordPress so far. It has received more than 135 million downloads. It is also the most recommended SEO plugin for WordPress. What is the reason for this popularity and recognition? Yoast offers a comprehensive list of features that help you advance your search engine optimization. The free plugin provides more than enough features for a blogging site to boost its SEO. The Premium version is a worthy investment if you are serious about taking your website to the top rank in Google. Yoast SEO offers compelling insights into your content. The following are the features that stand out.

Features:

Readability Check: Yoast presents you with the Flesch Reading Ease Score. It helps you gauge the readability of your content. An easy to read content get higher readership than a material that's hard to read. Readability analysis is available in both free and premium versions.
Keyword Optimization: This important SEO feature gets fully utilized in the premium version, where you can optimize for keywords, keyphrases, synonyms, related keywords, and all similar word forms. In the free version, you can optimize for only one keyword or keyphrase.
Avoids Duplicate Content: The duplicate content on your site can cost you a lot when it comes to PageRank. Yoast helps you detect duplicate content. It sets canonical URLs. This feature is available in both (free and premium) versions of Yoast SEO.
Technical SEO: Yoast takes care of robots.txt, .htaccess files, clean permalink URLs, and advanced XML sitemaps. The technical configuration is matched to make your site more search engine friendly.
Up-to-date: Yoast SEO is updated every 2 weeks to ensure that it is optimized for the most recent Google algorithm.
Page Preview: With Yoast SEO, you can see how your page looks on search engines. The free version offers only Google Preview whereas Facebook and Twitter previews are included in the premium version.
Apart from these common features, there are some features that are only available in the premium version of Yoast SEO.
These include:
Internal linking suggestions
Content Insights
Redirect Manager
Focus Keyword Export
1-year Premium Support
Ad-free
Without a doubt, Yoast SEO is a strong contender if you are looking for a good SEO plugin for your WordPress site. There are extensive tutorials, articles, and courses available by Yoast so that you can get full advantage of SEO for your website.


Since 2007, when it was first created, All in One SEO Pack is one of the most downloaded SEO plugin for WordPress. It offers powerful functionality right out-of-the-box. Its premium version is very affordable for multi-site users i.e. if your business is having more than 5 websites or you are operating an agency. The Premium version also provides advanced support for WooCommerce. Following are the key features of All in One SEO Pack:

Features:

Google and Bing Optimization: The plugin submits the XML sitemap and Image XML sitemap to Google and Bing. It also automatically notifies these search engines about the changes in your site.
Automatic Meta Tag Generation: It generates the Meta tags automatically. It gives you an option to override any title and set any Meta description and any Meta keywords of your choice. It also optimizes titles.
Fine-tuned Settings: For beginners, the plugin works right out-of-the-box, without needing to tweak any settings. Just install and you are ready to go. At the same time, it allows users to change settings in detail so that it is fine-tuned with particular SEO needs.
Canonical URLs: The plugin utilizes advanced canonical URLs. This avoids duplicate content.
Support for Google Tools: All in one SEO Pack supports Google AMP (Accelerated Mobile Pages). It also supports Google Analytics.
SEO for ECommerce: All in One SEO Pack boasts to be the only free plugin to provide SEO integration for eCommerce sites, including integration for WooCommerce.
There is good support available in the form of documentation. The premium users can avail video tutorials for SEO and the use of the plugin. Forum support is also available. All in One SEO Pack is available in 51 languages.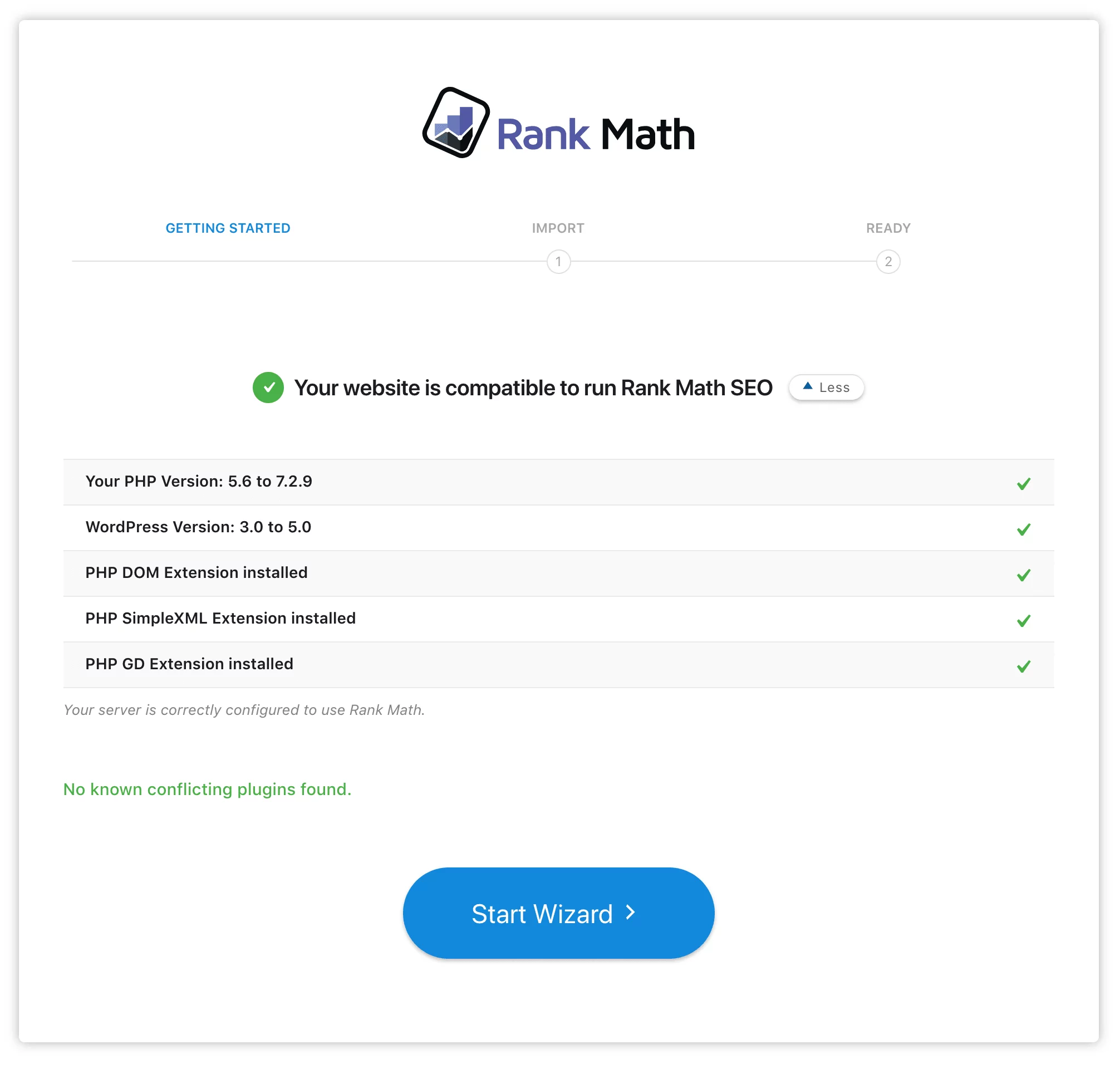 RankMath offers a full-featured SEO suite through its WordPress Plugin. Their website describes RankMath as the "Swiss Army Knife of WordPress SEO". It offers powerful features and some of them rival with Yoast SEO and All in One SEO pack. There is a comparison chart presented on their website which highlights how RankMath fares better than its competitors.
Although it is a new plugin, its features are quite comprehensive. What's more, it is free! All the features of RankMath are available for free, without any ads or premium add-ons. In fact, there is no premium version of RankMath. This makes it a completely free, full-featured SEO plugin for WordPress. Here are some of its numerous features:

Features:

Rich Snippet Support: RankMath supports various categories of rich snippets. For example, you can add Article rich snippets to your posts. With the product rich snippet, you can add the product name, description, SKU, inventory, and other details about the product that can be shown in the SERPs. Other rich snippets include Recipe, Events, Video, and local business rich snippet. Rich snippets greatly add to the SEO as it increases the click-through rate.
Advanced Image SEO: Image SEO is a powerful technique that generates traffic. RankMath automatically adds ALT and Title attributes to all your images without changing your posts.
Local SEO optimization: Local SEO is very important for outlets, restaurants, shops and local businesses. RankMath supports Local SEO. It adds appropriate Metadata as per your business description to improve the ranking of your website and help customers find you easily when they search for similar businesses in your locality.
SEO Analysis Tool: RankMath brings in powerful SEO audit tool. It shows you the report of your website's SEO after analyzing it on 40 SEO factors. It also gives you practical suggestions to improve your website's SEO.
Social Media Account Integration: With RankMath, you can add relevant Meta tags for multiple social networks. With this, it becomes easier for social networks to display rich information about the content on your website.
404 Monitor: A 404 error on your website can deeply affect the SEO as well as the user experience. RankMath features a 404 monitor that includes two modes. The simple mode detects 404 errors. The advanced mode shows the error page, the referring page, the time of the error and the use agent.
RankMath is a recent entry in the SEO plugin market. At this point, it gets offered for free. It boasts of all numerous features and 24/7 support from MyThemeShop, its maker. You can certainly try it out for some time to see if it adds a significant boost to your website's on-page SEO. If it does, you can improve your website's SEO at no cost to your pocket.


Squirrly SEO is the SEO plugin for WordPress that had first designed for Non-SEO experts. Today it comes with a comprehensive set of tools that are useful for SEO experts as well. It features some fantastic capabilities that can not get addressed in other plugins. It works on the freemium model. The free version comes with basic features. The Pro and Business versions have advanced features with the pricing of $30/month and $72/month. Squirrly SEO takes a three-fold approach of Knowledge, Tools, and Guidance to SEO. Here are some of its distinguishing features:
Features:
Keyword Research: Squirrly SEO has a built-in keyword research tool. You get the long-tail keywords suggestions directly in the WordPress dashboard. It shows you search volumes, competition, and trends for keywords. You also get to know the popularity of a particular topic on social media.
SEO Live Assistant: SEO Live Assistant provides you with SEO advice while you are typing your post. You get to optimize the article for multiple keywords in real-time. It also notifies you if you are over or under optimizing. It helps you avoid annoying repetitions.
Audit Suite: SEO audit helps you understand the areas that need more work. Squirrly's audit suite monitors six areas: Blogging, Traffic, Social Media, SEO, Links, and Authority. With the overall score for your content marketing strategy, you can get a quick view of the SEO performance of your content. Audit Suite also helps the user to take the appropriate action with using the tools that come with Squirrly SEO.
Keyword Strategy Assistant: Squirrly has a Keyword Strategy Assistant, which they call "Briefcase". It helps you build a strategy around your main keywords. You can also label your keywords, categorize them and stay focused on creating content that can rank in the SERPs.
Social Media and SEO Presence: With Squirrly, you can optimize Twitter Cards, Facebook Open Graph, LinkedIn Posts, Pins for Pinterest, snippet preview, sitemaps, blog feeds and SEO settings. It provides Performance Analytics with Google Rank Checker.
Blogging Assistant: Squirrly is a research tool for writers that makes blogging efficient. You can insert Copyright Free images right from the WordPress dashboard. It lets you find and insert tweets and wikis to make your content rich with trending and informative content. You can also link other articles from your site that are connected to the topic you are writing.
Squirrly is an incredibly complex plugin with lots of features. Yet this does not affect its loading time. It is fast and does not slow your site down. It also provides customer support for the free plugin as well as pro versions. Though Squirrly claims to provides more features than its competitors, it hasn't gained as much popularity as Yoast SEO or All in One SEO Pack. However, you can always try the plugin for yourself and test it before making the final decision.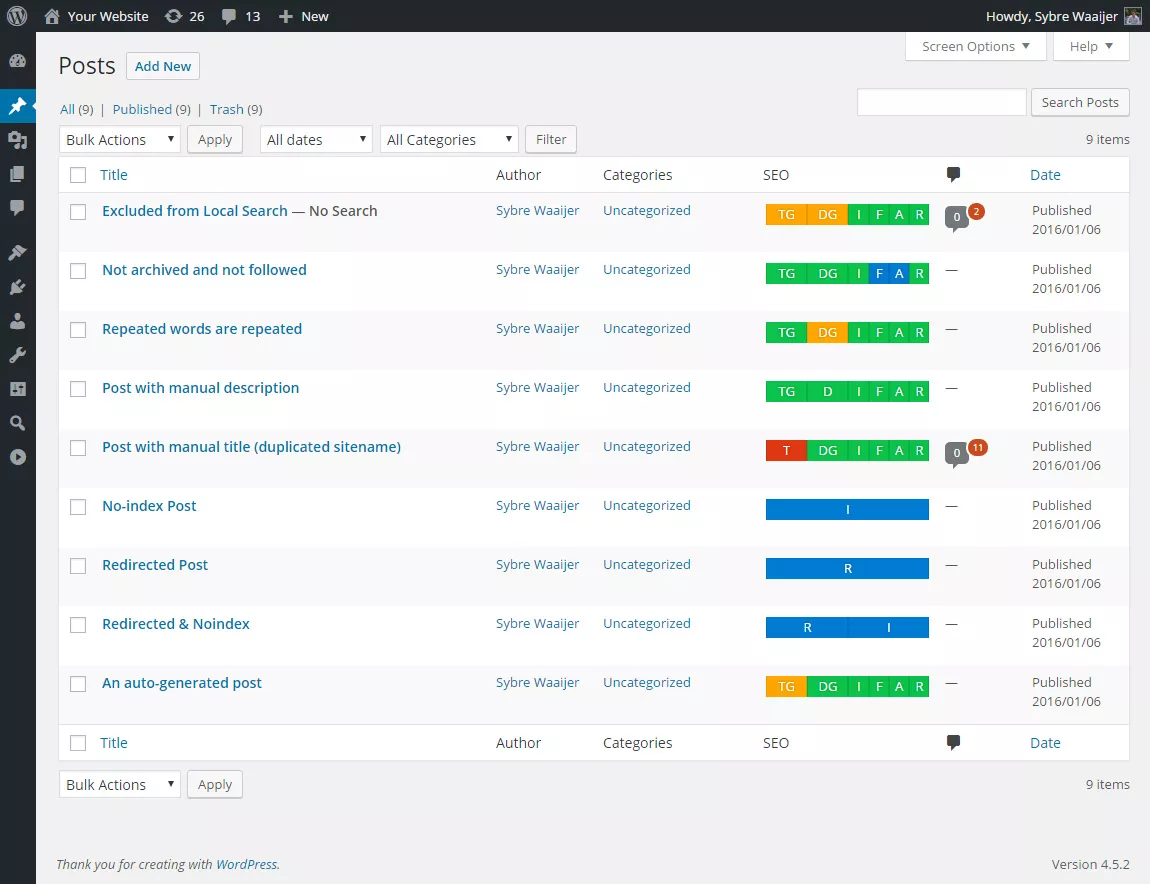 The SEO framework is another popular SEO plugin for WordPress. The plugin itself is free including all its features. There are subscription plans available for premium extensions that extend its functionality. However, the free plugin itself comes with enough functionality that it does not lack in any way when it comes to SEO. What's more, it doesn't come with annoying ads. This is a completely free plugin with no hidden upsells. It is available in 11 languages. Here are some of its features:

Features:

The SEO Bar: The SEO framework provides a SEO bar, a visual, color-coded scale. It also tells you if the title and the description are too short, too long, duplicated, has too many repeated words, or if it is automatically generated.
Built-in Caching: The SEO framework features a highly optimized code on a PHP level. It has a variable, object, and transient caching. This reduces page load time even if more meta tags are used.
Configurable Settings: This plugin is beginner-friendly. At the same time, it offers advanced settings that can be customized by SEO experts. It offers more than a hundred settings that you can tweak and change.
Search Presence Improvement: The SEO framework enables breadcrumbs for Google Search. It automatically generates titles and descriptions as per Google's guidelines. The built-in sitemap notifies Google, Bing, Yandex, and other Search networks as soon as changes are made to your website. This helps in improving the search ranking.
Social Sharing Optimization: The plugin optimizes the appearance of your posts when shared on social media such as Twitter, Facebook etc. It supports Open Graph and Twitter Cards Protocol.
Extensions: You can increase the functionality of the SEO framework with the help of extensions. Some of them are free while others are available for purchase. The free ones include Incognito, Origin, Title Fix, and AMP. Local SEO, Articles, Honeypot, and Monitor are the plugins that offer additional functionalities and can be purchased separately.
The SEO framework does a decent job of providing essential SEO features for free. However, some of the important features like Local SEO are still premium. You can easily migrate your SEO data if you are already using some other SEO plugin. One interesting thing about this plugin is that it is unbranded. You can go for it if the features offered are sufficient for your SEO needs.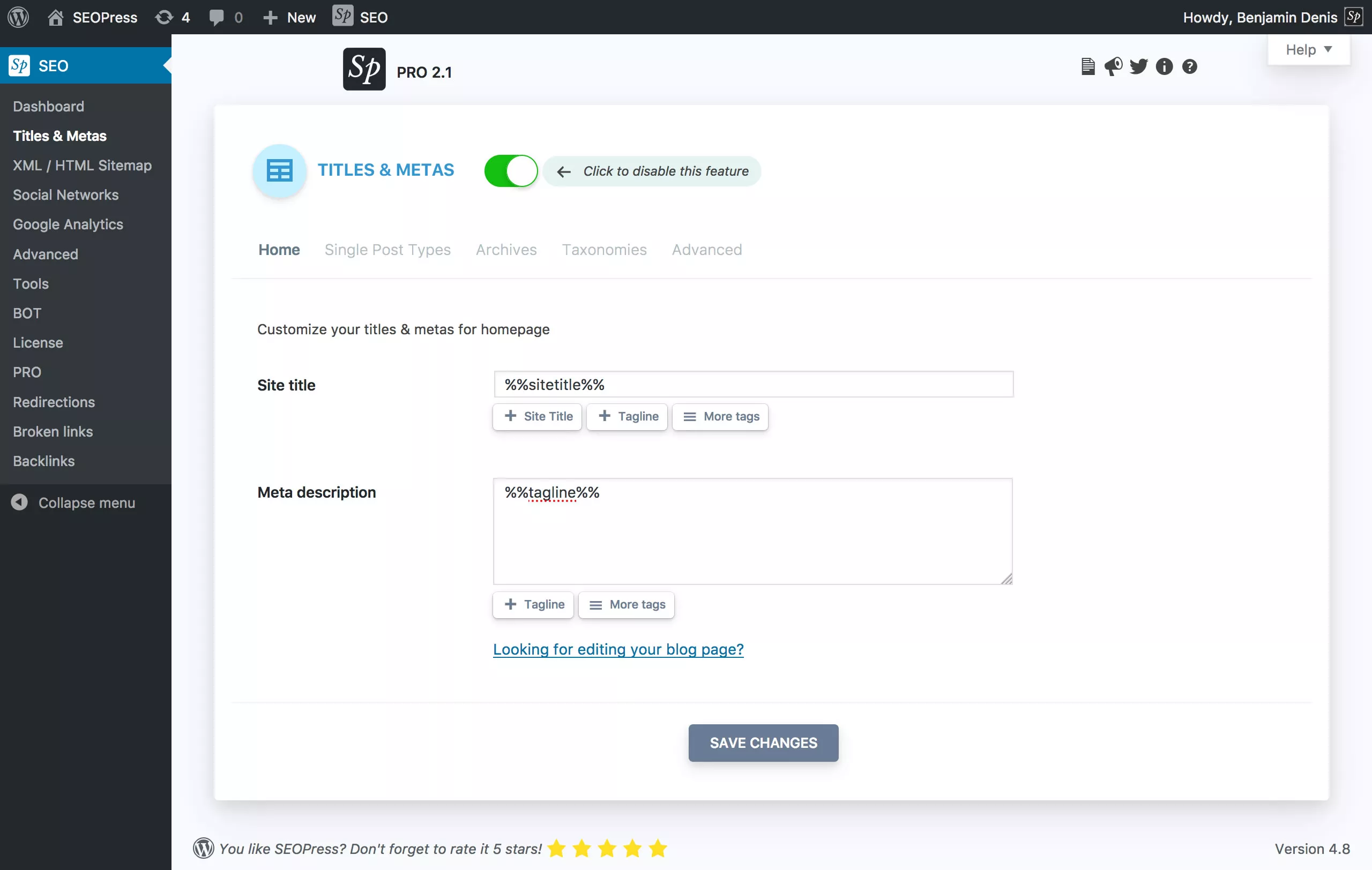 SEO Press is an open-source software developed by Benjamin Denis. It has received more than 40,000 active installations on WordPress. Both free and premium versions are available. The free version comes with comprehensive features and unlike some other plugins, it does not contain any ads in the free versions. The premium version includes some of the interesting features like SEOPress Bot which analyses content and finds broken links, the option to add Dublin Core meta tags, and URL rewriting. Here are some of the important features of this plugin.

Features:

Titles and Metas: The plugin lets you manage your titles and meta description for every page, post, custom post type, and archive page. It also has meta robots such as index, nofollow, noodp, noimageindex, noarchive, nosnippet etc.
Google Ready: SEOPress provides HTML sitemaps in addition to XML sitemaps to improve Google crawling. It lets you configure your Google Knowledge Graph with details like your logo, phone number, and links to your social media accounts. The plugin supports Google Analytics and it is GDPR ready.
Social Media Optimization: SEOPress lets you add Open Graph Meta tags with custom title, description, and image thumbnail. This improves sharing on Facebook. It also supports Twitter Card to help you share on Twitter.
Advanced Google Optimizations: These are the features that are available in the Pro version. These include Google XML video sitemap, Google Structured Data Types based on Schema.org, Google Local Business, Google Suggest, Google Page Speed, and Google News Sitemap.
Redirection and 404 Monitoring: With the Pro version, you can monitor each time a visitor gets a 404 error on your site. You can create 301 redirections, redirect every 404 to a custom URL, and receive email alerts. You can manage 301, 302, and 307 redirections in one place.
WooCommerce Optimization: One of the advanced feature of SEOPress is WooCommerce Optimization. It lets you disable indexing on the cart, checkout, and customer account pages. You can also remove the WooCommerce meta tag generator.
SEOPress certainly offers a viable alternative to some of the established plugins. Due to its open-source nature, people can contribute to the development of this plugin. Their Pro version comes at a reasonable price of $39 per year for unlimited sites. Also, you get the same recurring price at which you bought it for the first time, irrespective of any price hike in the future. The Pro version is an add-on to the free SEOPress Plugin. This plugin features a characteristic clean interface. It is available in 18 languages and has an average rating of 4.9 stars. It just might be the SEO plugin you are looking for!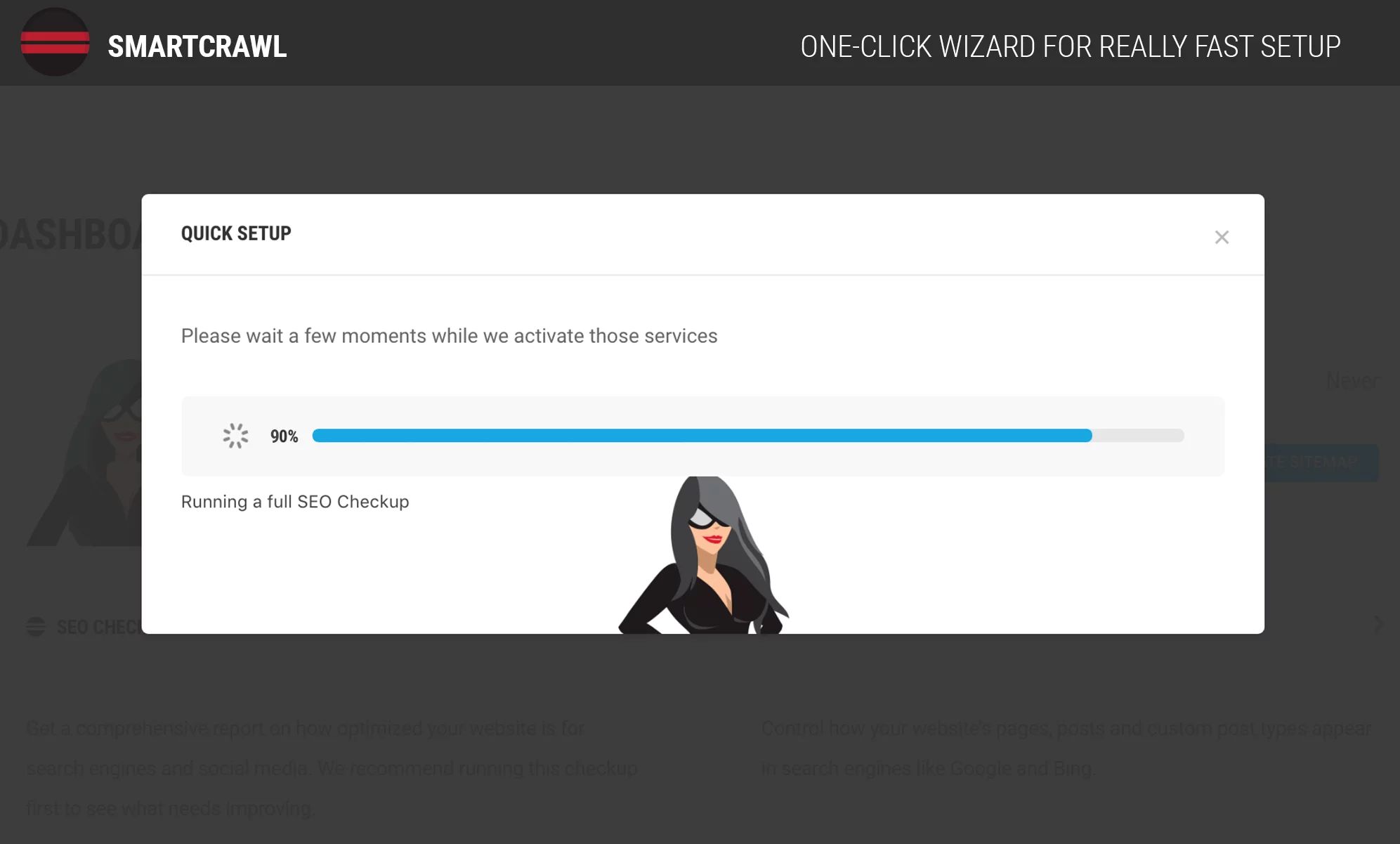 SmartCrawl SEO is an open source software developed by WPMU Dev. It has more than 40,000 active installations. The Pro version of this plugin has been downloaded more than 300,000 times. To get the Pro version, you need to subscribe to WPMU DEV Membership. This plugin has featured on blogs like Neil Patel. SmartCrawl SEO promises to boost your PageRank and domain authority in Google with its features. Let's have a look at its key features.

Features:

Autopilot: This plugin works on the Autopilot philosophy, meaning it leaves you little work to do as it manages your SEO automatically. However, it does not strip off User Control. You can set the settings for specific users.
Free SEO Checkup: SmartCrawl SEO scans your site for SEO performance. It can also suggest ways to optimize your content. It creates better links, tags, descriptions, images, sitemaps, anchors, and overall page structure.
Content Analyzer: SmartCrawl has a built-in content analyzer that works in post editor as well as the page editor. It can suggest recommendations to improve page content based on the keyword you provide. It also analyzes the readability of your content.
Social Power-Up: SmartCrawl has Open Graph integration. This allows you to connect, share and credit your content across social media. You can benefit by taking advantage of your viral content on Facebook, Instagram, Twitter, LinkedIn, Pinterest, Youtube, and other social networks.
301 Redirect: 301 redirect is one of the best methods of using redirect on a website as it retains up to 90-99% link equity. SmartCrawl SEO allows 301 redirect so that you can redirect traffic from one URL to another.
Moz Integration: Moz includes tools like Keyword Explorer, Search Visibility Score, On-Page Optimization, and Link Explorer. You can sync your Moz reports, comparison analysis, ranks and links with SmartCrawl SEO as it is integrated with Moz SEO Tools.
SmartCrawl SEO offers most of the standard features that are found in other SEO plugins we have covered in the list. There are a few features that are different. Yet, only you can decide how effective this plugin is for your website. You can try the Premium version for 30 days at no cost. Make sure you consider other plugins as well before settling on this one. SmartCrawl SEO is definitely a competitive offering but that does not make it the best SEO plugin ever; there is a lot more room for development.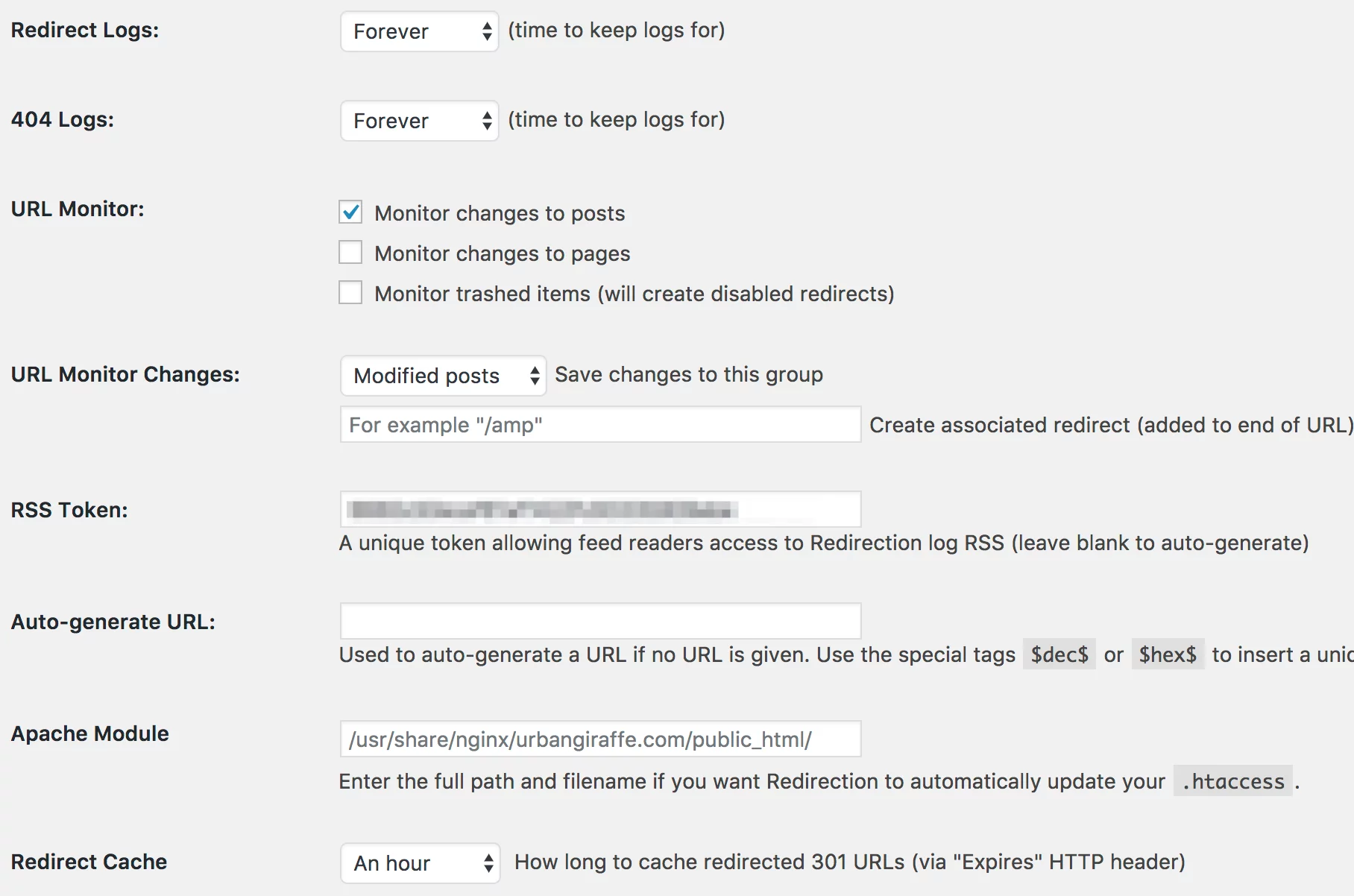 John Godley created this dedicated redirect management plugin a few years ago and now it has crossed 1 million active installations. What does this simple plugin really do? It helps you manage 301 redirections, keep track of 404 errors, and thus improve your site ranking. Why 301 redirection is necessary? Because with it you can redirect your content from one URL to another without losing your PageRank. Placing proper 301 redirects can positively impact your search engine ranking. In other words, Redirection helps you to improve SEO of your site. Here are some of the impressive features of this plugin.

Features:

Redirect Manager: You can use the plugin to redirect any URL. It lets you create and manage redirects easily without requiring any knowledge of Apache or Nginx. It also monitors the change in post or page permalinks and automatically creates a redirect to the new URL.
Conditional Redirects: Another powerful feature of this plugin is Conditional Redirection. You can redirect based on Login status, Browser, referrer, Cookies, HTTP Headers, IP address, Server, Page type or custom filer.
Full Logging: The plugin allows a configurable logging option which lets you view all redirects on your site, visitor information, browser information, and the referrer. The geographic information using the IP, and user agent information can help you understand the visitor. All logs can be exported for external viewing.
Track 404 Errors: This plugin also helps you to tackle the problem of 404 errors. It keeps track of all 404 errors on your site. This enables you to fix the issue. Errors can also be grouped to allow redirect in bulk.
Apache & Nginx Support: The plugin manages all redirects using WordPress. It also allows you to configure it so that you can save all redirects to a .htaccess file. This way Apache can handle the redirects. Redirects can also be exported to an Nginx rewrite rules file if you are using Nginx.
Import & Export: The plugin features a fully functional import and export system. With it, you can import and export to CSV, Apache .htaccess, export to Nginx rewrite rules, copy redirects between sites using JSON, and use WP CLI to automate import and export.
Redirection is an essential aspect of SEO. This plugin handles it well without needing any premium extension or add-on. Plus, it does not cause any slowdown to your site. It does not cost you a dime. You should use this free redirection plugin to manage redirects on your site effectively. Even if you decide not to go for a full-featured SEO plugin, still this small addition to your site can result in better PageRank.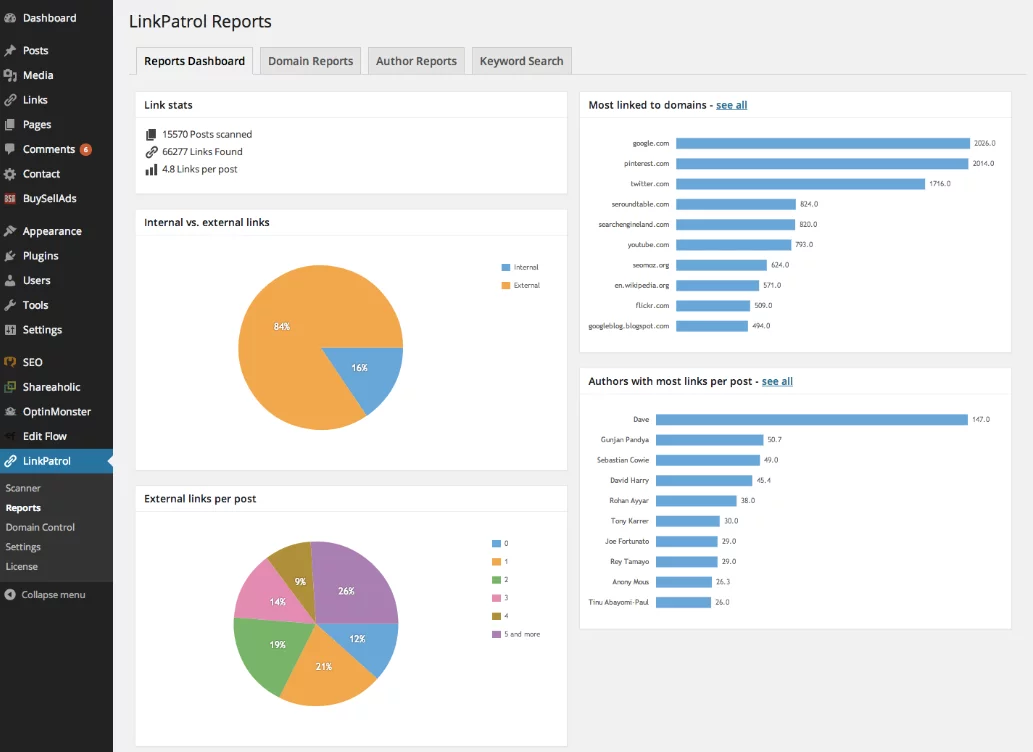 Every site nowadays has a large number of outgoing links; this is especially true if you are having a thriving blog. Over time, some links stop working while others do not fit in your policy. The links that were legit at some point in time are now simply spammy.
How would you find and edit so many links? LinkPatrol makes this task a breeze. It helps you find, review, and clean up outgoing links that are present in posts and pages. Search Engine Journal created this plugin in 2014. It is still relevant and useful today. Here are some of its features.

Features:

Protect Your Site: Spammy links hurt the reputation of your website. Not only it affects your PageRank but you can also face penalty by Google. It can be a tedious process to remove all spammy links from your blog comments. With LinkPatrol, you can wipe out all spammy links instantly.
Eliminate Spammy Keywords: Admit it or not, at some point you have been tempted to stuff your meta keywords and increase keyword density with spammy keywords in hopes of getting better PageRank. Those tactics will only invite penalty today. Thanks to LinkPatrol, you can search and destroy such problematic anchor text.
Link Monitoring: LinkPatrol automatically monitors recently added links and keywords. This saves you the manual effort that you took to let LinkPatrol scan your links for the first time.
Smart Scan: LinkPatrol scans your content and within seconds completes the scan for links. This only needs to be the done one time. Next time onwards it automatically scans all new and updated posts and pages.
Reports: LinkPatrol provides a comprehensive report about the link profile of your website. It sorts links by domain, author and anchor text. It can be exported to CSV. This helps you to redefine your linking out strategy.
Effective Action: You don't need to edit each post or page to take care of the bad links. LinkPatrol allows you to simply nofollow or strip all links to certain domains or URLs.
Unlike other plugins, there is no free offering for this plugin. The Blogger plan for one site costs $50 one-time fee. If you are having more than one site, then you can go for either Consultant plan which allows 5 sites for $100 or Agency plan which you can purchase for $200 for 20 sites.
Is it worth the money? If you are indeed having a huge number of links then it makes sense to invest some money to save you crucial time which you can utilize for other aspects of your site.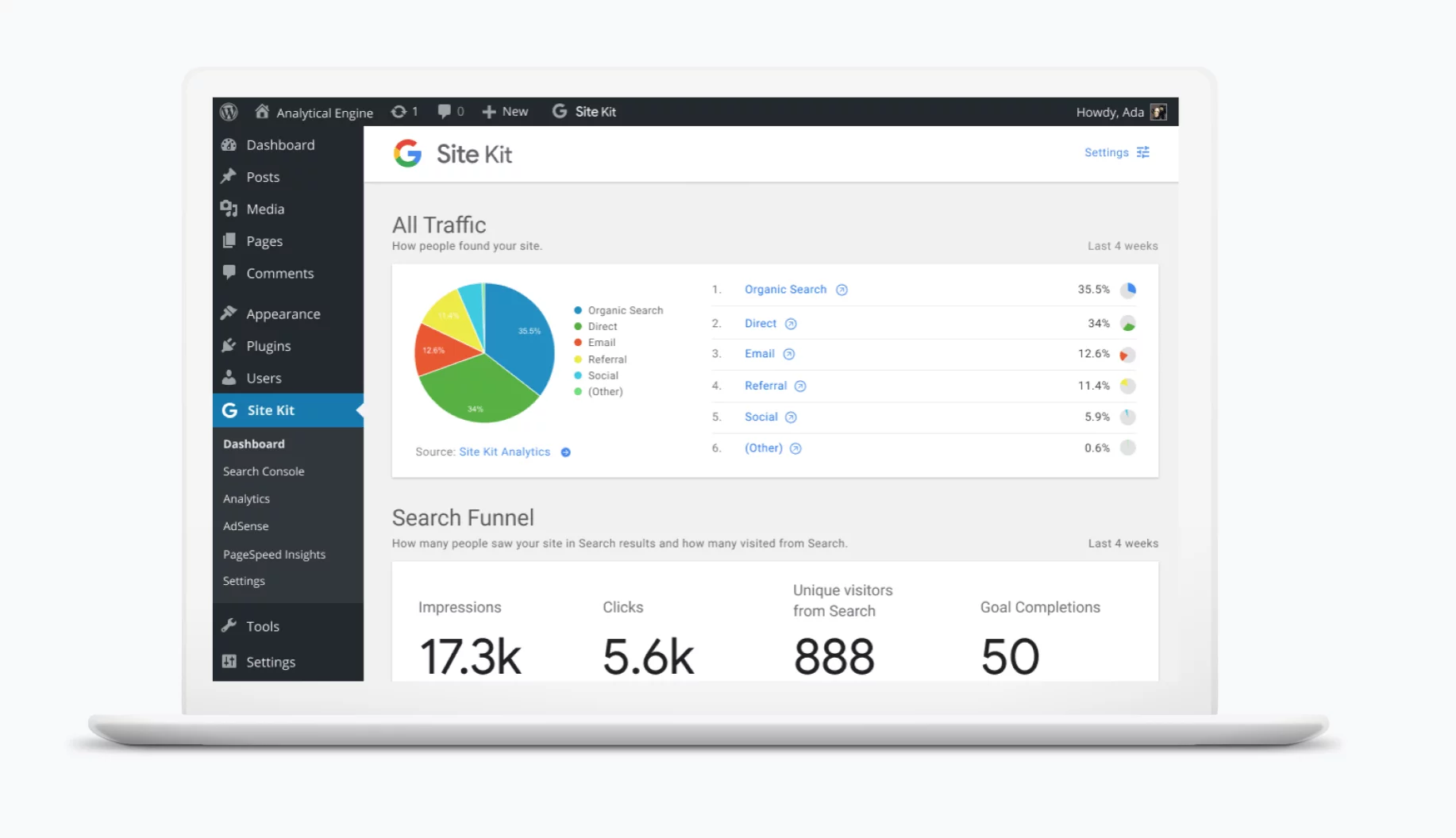 Wouldn't you be super excited if you know that Google is designing a plugin for WordPress? Who can better design an SEO plugin than the Search Giant itself? As their official site mentions, the Site kit is there to show you key insights from four different Google products. These four products are, namely, Search Console, Analytics, Adsense, and PageSpeed Insights.
Will this be the end of all other SEO plugins? Will Google wipe out the competition? Well, hold your horses. This might not be the case. The functions offered by Site Kit are related only to the above mentioned Google Products. This isn't a fully-featured SEO plugin. Plus, it's still in beta. So let's wait for the final release.
However, let's take a quick look at the features offered by Google Site Kit.

Features:

Search Console Insights: With Site Kit, you get to understand how our pages are discovered and rendered by Google's system. You can now track the number of people that searched for you on Google Search and keywords they used to find you.
Analytics Insights: With Analytics insights, you can see how users navigate across your site and if you are meeting your conversion goals.
AdSense Insights: AdSense simply helps you make sense of your ads, quite literally, actually. You can track your earnings and see your ad performance.
PageSpeed Insights: PageSpeed Insights are quite helpful as you can compare the performance of your pages with other sites. It gives you actionable tips to help you improve performance.
Admin Bar shortcut: You don't need to leave your page to know how its performing. Google Site Kit is accessible from the Admin bar. So page stats are just one click away
Open Source: This plugin is open source, meaning it is available for free. This is to reinforce Google's intent behind this plugin: to enable publishers and business owners easy access to insights that drive audience and revenue growth.
Google's official press release on December 6, 2018, announced this product. Since January 2019, this plugin is available for beta testers. You can join the beta here. Let's hope this plugin turns out more than it promises to be.
So this was our quick look at the best SEO plugins you can use for your WordPress website. It doesn't matter if you are running an online business, an e-commerce store, an educational website, or a personal blog. Ranking at the top in Google search will change everything for you. Shouldn't that be your goal? Most definitely. These SEO plugins help you get better at that.
So did you choose the SEO plugin for your site? Or are you already using one of these on your website? How was your experience? Please let us know in the comments.