Patreon stands tall as an eminent and extensively acknowledged platform that has not only garnered widespread recognition but has also emerged as the ultimate haven for content creators spanning various domains such as art, literature, music, and a plethora of other creative disciplines. With an impressive track record of facilitating meaningful connections between these innovative minds and their ardent supporters, it has irrefutably established itself as a transformative force in the realm of online content creation. Its resounding success is underscored by an array of compelling statistics: a staggering number of creators, ranging in the millions, have converged on this platform to harness its capabilities, while an even more remarkable multitude of patrons have willingly pledged their support, numbering in the tens of millions.
This convergence of creators and patrons has culminated in the exchange of over billions of dollars, a resounding testament to the platform's capacity to not only foster creative relationships but to also serve as a sustainable and flourishing source of income for these enterprising creators. In light of these impressive metrics, it becomes abundantly clear that Patreon is not just a platform, but a dynamic ecosystem that nurtures creativity, empowers artists, and reshapes the landscape of digital patronage.
What to Look for in a Patreon Alternative:
Community and Feedback: A worthy Patreon alternative should offer a vibrant and engaged community where creators can connect with each other and receive constructive feedback. This interaction can be instrumental in refining your content and expanding your creative horizons.
Effective Marketing Tools: The alternative platform should provide robust marketing tools to help creators promote their content effectively. This could include features like email list management, promotional offers, discounts, and seamless integrations with popular social media platforms. These tools aid in attracting new supporters while maintaining the interest of existing ones.
Secure Payment Options: Look for a platform that prioritizes secure and efficient payment processing. Your audience should feel confident making payments for your work without worrying about their financial information being compromised. Swift and reliable payment options contribute to a positive user experience.
Fair Subscription Fees and Payouts: Consider the platform's fee structure and payout policies. Opt for an alternative that offers reasonable subscription fees for your supporters while ensuring that creators receive a fair portion of the earnings. Be wary of hidden fees or excessive commissions that could eat into your revenue.
Access to Analytics: An essential aspect of any creator platform is access to analytical reports. These insights help you understand your audience better. Look for an alternative that provides detailed analytics about your subscribers' behavior, preferences, and engagement levels. This information enables you to tailor your content strategy to better meet their expectations.
Top 9 Patreon Alternatives of 2023: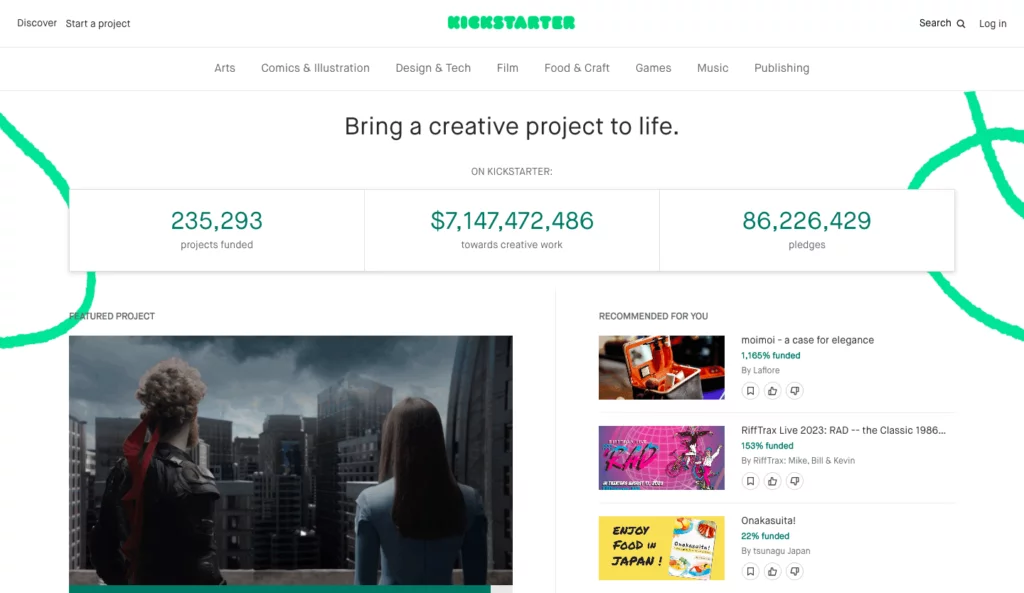 In the landscape of crowdfunding platforms, Kickstarter emerges as a formidable choice. It empowers creators to unveil their campaigns as distinctive, one-time projects, creating an avenue to secure funding for their imaginative pursuits.
Launching a Kickstarter campaign entails pivotal steps. Creators introduce visionary products, outline funding goals, and set specific timeframes for target achievement. This framework enables supporters to contribute funds, transforming them into patrons of project realization.
Pricing:
5% fee on funds raised, additional processing fees (3-5% avg.).
No cost to initiate projects.
Pros:
A vast user base actively looking to support projects.
Potential for extensive exposure to a wide audience.
All-or-nothing model ensures funding upon goal completion.
Supportive community can contribute to project promotion.
Creative freedom to explore a variety of project types.
Pre-launch feedback aids project refinement.
Cons:
Numerous projects vying for backers' attention.
Associated platform and payment processing fees can be substantial.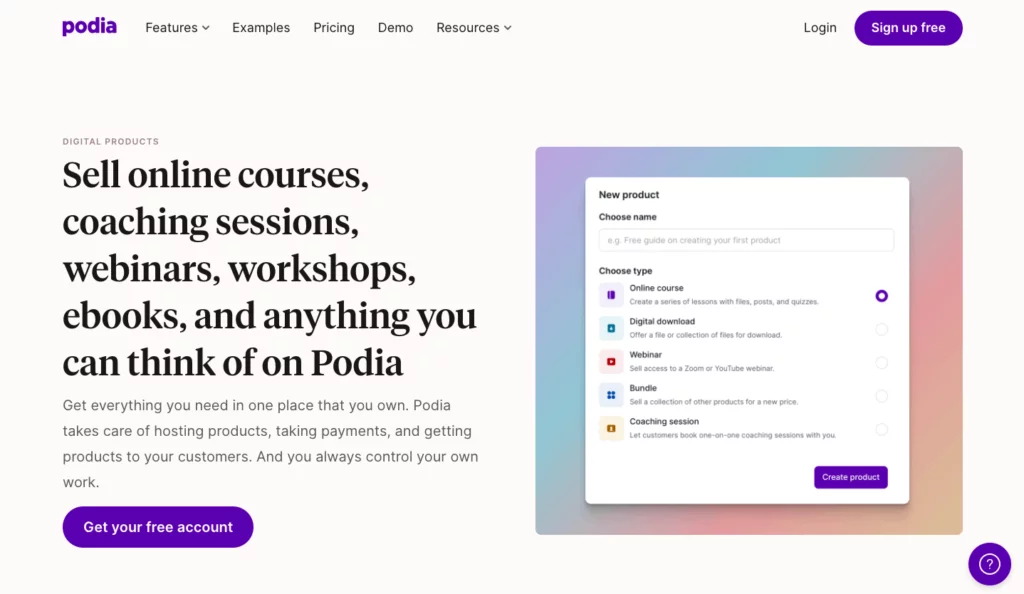 With a focus on convenience and user-friendliness, Podia offers a range of features that cater to creators looking to sell and market their creations. From online courses and workshops to memberships and digital downloads, the platform provides a versatile toolkit for creators to connect with their audience and turn their passion into profit.
The Podia platform encapsulates a multitude of possibilities, allowing creators to seamlessly offer their audience valuable content in the form of ebooks, audio lessons, webinars, and more. This not only diversifies their revenue streams but also enables them to engage with their audience on multiple levels. As a result, Podia serves as a bridge between creators and their supporters, facilitating the exchange of knowledge, expertise, and creativity.
Pros:
Integrated email marketing tool for seamless communication with subscribers.
Live chat support available.
Website creation functionality without coding required.
Community portal enabling user interaction through videos, images, and embeddable content.
Abundance of resources and free tools for user convenience.
Free plan comprising one website, a digital download option, and unlimited customers.
Cons:
Affiliate marketing setup limited to Shaker and above plans.
Comparatively fewer customization choices than other platforms.
Advanced email automation and personalization features lacking.
No current mobile app availability.
Absence of support for shipping and inventory management of physical products.
Pricing:
Podia offers diverse pricing plans, ranging from $39 to $89 per month (prices may vary for annual plans).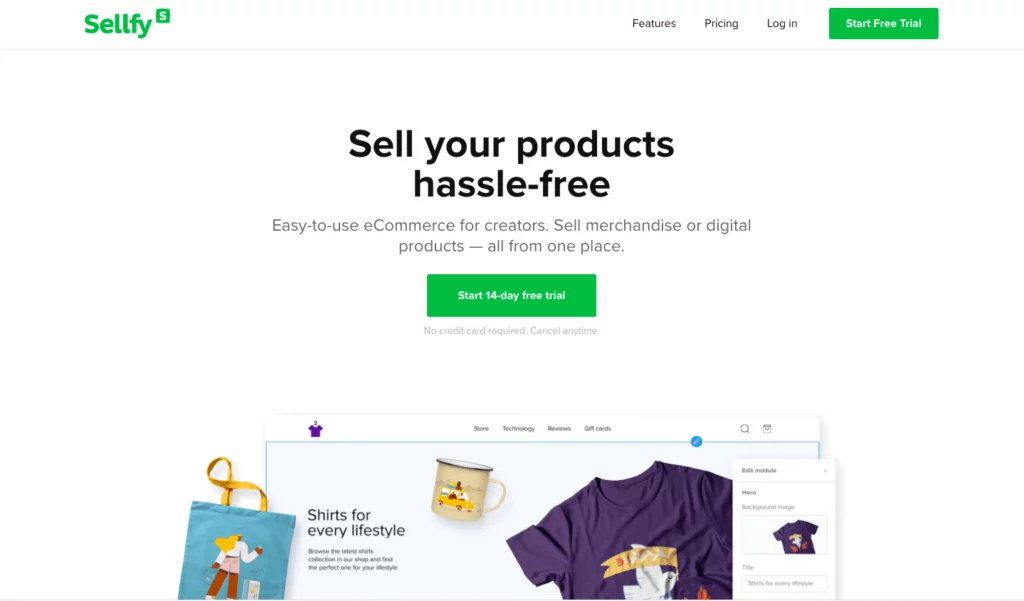 Unveiling Sellfy, a game-changing ecommerce platform designed to unlock new horizons for creators, artists, and entrepreneurs. This platform seamlessly bridges the gap between creators and customers, enabling the direct sale of digital and physical products with unparalleled ease.
Pros:
Empower yourself with a store that's up and running in a mere 5 minutes. Sellfy's intuitive interface ensures you hit the ground running.
Unleash the potential of built-in marketing features, including discount codes, email marketing, ad pixel tracking, and upselling strategies. Your products won't just sell; they'll flourish.
Tailor your online store to perfectly match your brand identity. Customization options let your brand's personality shine through.
Leverage automated language translation based on users' locations. Plus, embrace mobile-optimized store functionalities that ensure a seamless shopping experience on any device.
Dabble in the world of fashion and merch with sellable apparel like t-shirts, mugs, hats, and hoodies. The print-on-demand option is fully managed by Sellfy, taking the hassle out of production.
Cons:
While powerful, Sellfy's app integrations are limited in comparison to other platforms. However, it makes up for it in other feature-rich areas.
The payment gateway choice is narrowed down to PayPal and Stripe. While both are reliable, some might desire more diverse options.
For those inclined towards affiliate marketing, Sellfy currently lacks a dedicated feature for this strategy.
Pricing:
No transaction fees, giving you financial flexibility.
Standard charges by PayPal and Stripe, approximately 2.9% + 30¢ for each sale.
Diverse pricing plans, ranging from $29 per month to $159 per month, tailored to your growth journey.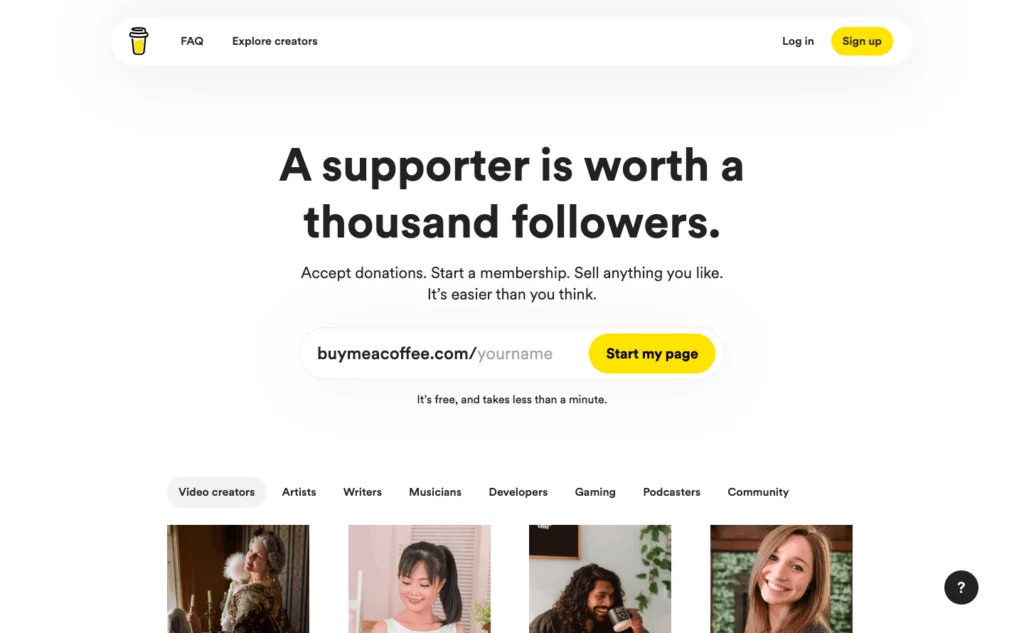 Buy Me a Coffee emerges as a vibrant digital platform, a nurturing space where the artistic pulse of creators, video auteurs, writers, podcast visionaries, and developers finds resonance. It's a digital haven where these imaginative minds can bring their creations to life and invite patrons to partake in their journey through monthly or yearly donations and memberships.
Pros:
Receive tips from your audience, appreciating your creativity.
Access various marketing tools including email newsletters, mobile apps for iOS and Android, and analytics to refine your strategy.
Benefit from round-the-clock live chat support.
Supporters can contribute without the need to sign in.
All features are free, with only transaction fees in play.
Trust in a secure platform with a bug bounty program, encouraging users to report security concerns.
Cons:
Not ideal for creators aiming for a full-time income.
Limited tools for audience expansion.
Pricing:
5% of all transactions plus payment processor fees.
No pricing tiers – creators can craft their own subscription models and receive one-off donations.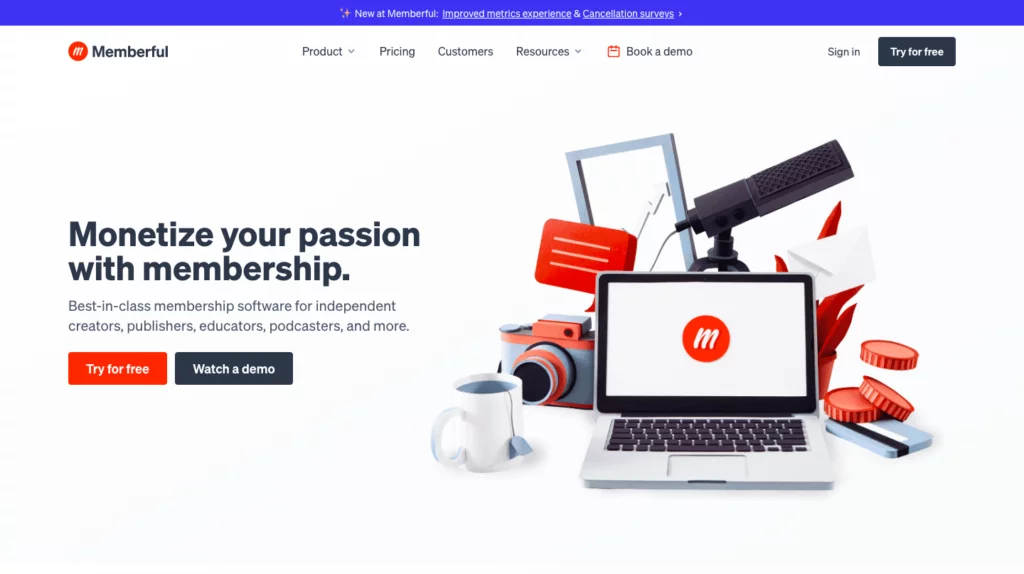 Memberful stands out as a versatile membership platform that caters to a wide array of content creators. At its core, it offers an elegantly simple interface that doesn't overwhelm users, making it easy for both seasoned creators and those new to the world of monetizing content. The platform's user-friendly design ensures that setting up and managing membership programs is a hassle-free experience.
What truly sets Memberful apart is its emphasis on customization. Creators have the freedom to design membership options that align perfectly with their content and their audience's preferences. Whether it's tiered access to different types of content, exclusive perks for loyal subscribers, or special privileges for premium members, Memberful's customizable features empower creators to curate unique and compelling membership offerings.
Pros:
It integrates with popular websites and email marketing services, making it easier for creators to manage their membership content and communication.
Offers a convenient one-click checkout process for customers, including options for Apple Pay and Google Pay, streamlining the payment process.
The platform provides a visual customization editor, enabling creators to personalize their membership site with brand colors and logos, enhancing their branding.
Creators have access to membership metrics, allowing them to analyze the performance of their membership programs and make informed decisions.
Memberful offers features like referral programs and coupon capabilities, which can be valuable for running promotions and attracting new members.
Cons:
Some users might find the interface too basic, potentially lacking advanced features or customization options.
The platform might have limitations in terms of customer management software options, which could affect how creators handle member interactions.
Memberful only supports payments through Stripe, which might be a limitation for creators who prefer or require alternative payment gateways.
Pricing:
Memberful offers three pricing plans, ranging from free to $100 per month. The details of what each plan includes and the specific pricing tiers weren't provided, but it suggests a variety of options to suit different needs and budgets.
Premium subscriptions enjoy reduced transaction fees, which can be a benefit for creators with higher-tier plans.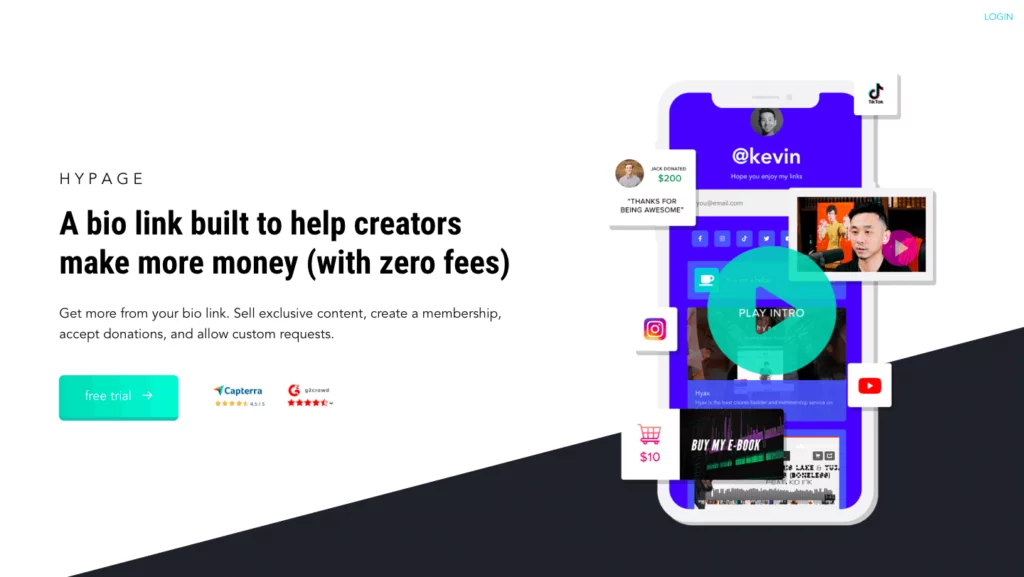 Hypage is a dynamic platform that simplifies your online presence by offering a consolidated bio link. Beyond just showcasing your creative projects and social media accounts, Hypage empowers you to monetize your content, establish memberships, receive donations, and cater to custom requests.
Pros:
Keep your earnings intact as Hypage doesn't deduct any transaction fees, ensuring you receive the full value of your income.
Get up and running swiftly with streamlined payment processes, enabling you to start generating revenue promptly.
While its primary function is bio-link creation, Hypage's capabilities extend to gated content and course monetization, providing multiple avenues for income.
Seamlessly connect Hypage with other applications through Zapier and Webhook integration, enhancing its versatility.
Cons:
Hypage lacks a drag-and-drop builder, which might impact visual customization for those seeking a more design-oriented approach.
Detailed analytics, such as historical traffic trends and audience demographics, are currently not available within Hypage's analytical toolkit.
Pricing:
Choose from two pricing plans to suit your needs – the Pro plan, priced at $19 per month, and the Enterprise plan, available at $39 per month. Each plan offers varying levels of features and functionalities tailored to your subscription tier.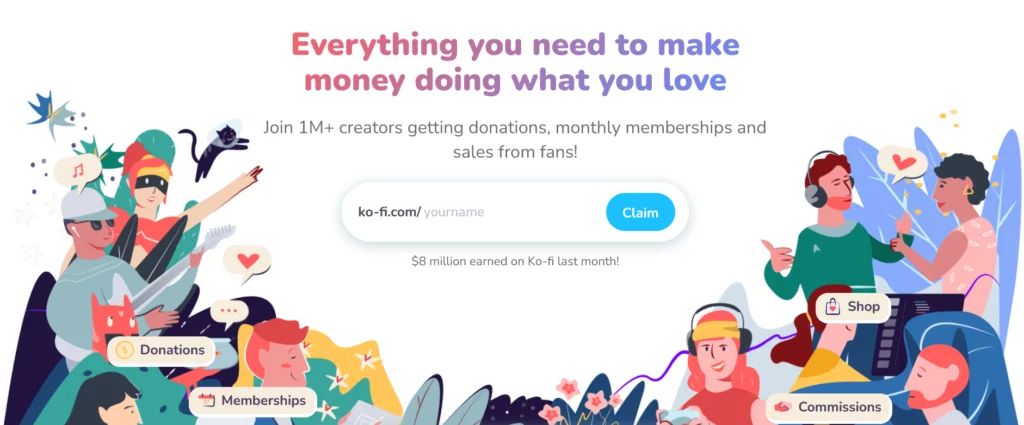 Ko-fi stands as an innovative platform designed to empower creators by providing them with avenues for both receiving financial support and establishing a basic e-commerce presence. Through Ko-fi, creators can gather donations from their audience to fuel their projects, all while having the option to set up a simple online store.
Pros:
Ko-fi offers creators the flexibility to receive either one-time tips or recurring donations through membership models, allowing for sustainable income streams.
Creators can not only accept donations but also sell an array of products, including digital items like prints, stickers, wallpapers, sound files, as well as physical goods such as crafting kits or books.
One of Ko-fi's standout features is its absence of platform fees, ensuring that creators retain the entirety of the donations they receive.
The platform provides in-stream donation alerts, allowing creators to acknowledge and interact with their supporters promptly.
Cons:
Ko-fi has limitations in terms of payout vendors, potentially impacting the ease of receiving funds.
Free accounts on Ko-fi lack access to detailed analytics, which might be a drawback for creators seeking data insights.
Donors are required to create a Ko-fi account before making contributions, which could potentially deter some potential supporters.
While Ko-fi offers a simple blogging setup, it might not be the best platform for creators who intend to post blogs or articles regularly and require more robust blogging features.
Pricing:
The free plan on Ko-fi comes with a notable benefit: there are zero platform or commission fees associated with it.
For payments related to memberships, shops, and commissions, a 5% fee is applied.
Ko-fi Gold, available at $6 per month when billed annually, unlocks advanced features such as gated content, hi-res downloads, and the ability to use shorter usernames.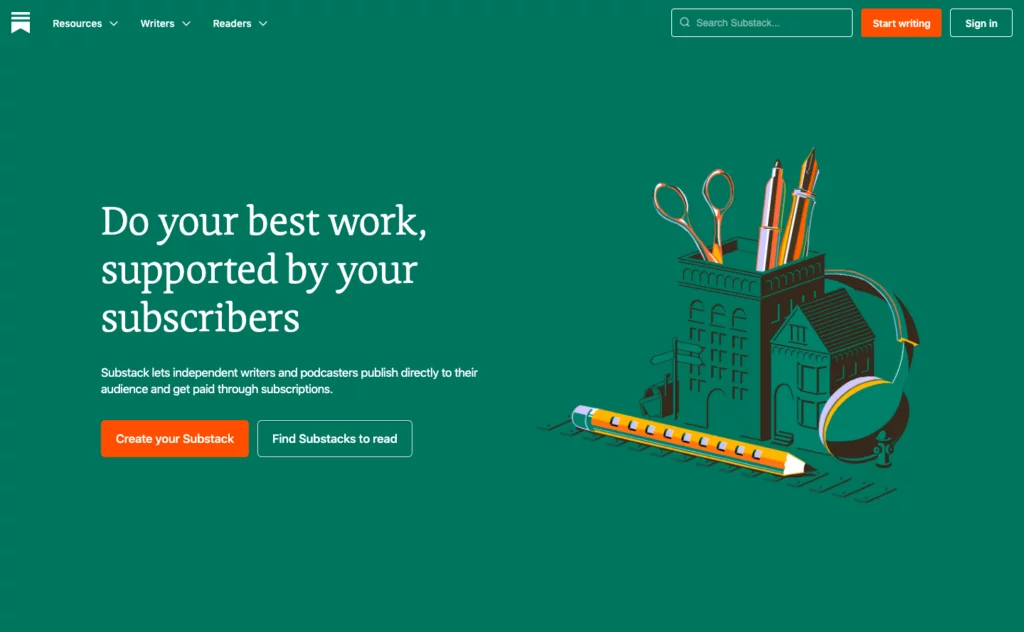 Substack emerges as a veritable haven, thoughtfully tailored to cater to the aspirations of individuals who passionately craft the written word through the medium of regular blog posts and newsletters. It serves as a sophisticated yet user-friendly platform, offering these creators a direct and streamlined channel for the distribution of their literary creations.
This platform isn't just about dissemination; it's also about empowerment. With an interface designed to be as intuitive as it is efficient, Substack caters to creators by minimizing the technical intricacies that can often overshadow the creative process. This way, writers can focus their energy on the art of composition, secure in the knowledge that their words will flow seamlessly to their chosen audience.
Pros:
The platform features an easy-to-use writing interface, enabling creators to focus on content creation without being hindered by technical complexities.
Substack offers the advantage of unlimited free subscribers, making it an appealing choice for creators who wish to establish a broad audience base without incurring additional costs.
Creators can enrich their posts with multimedia elements like photos, videos, and audio files by utilizing the drag-and-drop feature, enhancing the engagement of their readers.
Cons:
While Substack offers simplicity, it comes with limitations in terms of customization options for designing newsletters, potentially constraining creators seeking more distinctive visual branding.
Building an audience on Substack might require considerable effort, making it better suited for creators who already possess an established email subscriber list.
Substack falls short in providing in-depth traffic analysis, which might hinder creators' ability to gain comprehensive insights into their content's performance.
The platform lacks the feature to set up automated email campaigns, which might be a drawback for creators looking for more advanced marketing capabilities.
Substack offers limited integrations with external platforms, potentially limiting creators' ability to connect their content with other tools.
Pricing:
The publishing feature on Substack is entirely free of charge, making it accessible for creators to get their content out to the public.
For paid subscriptions, Substack applies a 10% platform fee. Additionally, there is a credit card fee imposed by Stripe, the payment processing provider.
Conclusion:
Exploring alternatives to Patreon is essential for creators looking to diversify their income streams or find platforms that better suit their specific needs. While Patreon is a widely recognized and established platform for crowdfunding and supporting creators, there are several alternatives available that offer unique features, pricing models, and target audiences. When considering alternatives, creators should assess factors such as fee structures, platform features, audience reach, and the level of creative control provided.
FAQs on Patreon Alternatives:
Can I use multiple platforms simultaneously?
Yes, many creators use multiple platforms to diversify their income streams. However, managing multiple platforms might require additional effort in terms of content creation and engagement.
Do Patreon alternatives have similar community-building features?
Many alternatives offer community-building features like patron-only content, direct messaging, and Q&A sessions. However, the implementation and depth of these features can vary.
Is it possible to maintain a consistent income on Patreon alternatives?
Consistent income depends on factors like your audience size, engagement efforts, and the value you provide. While some creators find success on alternatives, results can vary.
How do I transition my audience from Patreon to an alternative platform?
Communication is key. Inform your patrons about your decision, explain the benefits of the new platform, and guide them through the transition process. Be transparent and address any concerns they might have.