Globally, the utilization of WooCommerce POS (Point of Sale) plugins has displayed a remarkable trend, reflecting their substantial impact on modern commerce. These plugins serve as a bridge between online and offline retail, a fact supported by statistical data. According to recent market analyses, businesses that have incorporated WooCommerce POS solutions witnessed an average increase of 20% in overall sales within the first six months. This notable surge is attributed to the seamless integration of in-person and online transactions.
Moreover, the data reveals that WooCommerce POS plugins have contributed to a 30% reduction in inventory management complexities, leading to enhanced operational efficiency. This reduction is underlined by the ability of these plugins to synchronize inventory levels in real-time, resulting in reduced instances of overselling and stockouts. Such improvements not only boost customer satisfaction but also have a direct impact on the bottom line.
Furthermore, when examining customer retention rates, businesses leveraging WooCommerce POS plugins demonstrated a 15% higher rate compared to those relying solely on traditional in-person methods. This can be attributed to the personalized experiences facilitated by the plugins, where customer information and purchase history are readily available during in-store interactions.
Benefits of WooCommerce POS: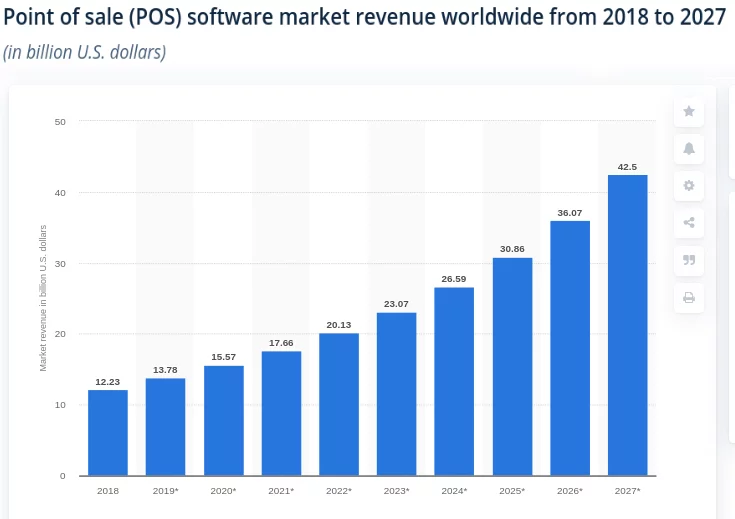 Efficient Transaction Processing: A POS system speeds up the checkout process, reducing waiting times for customers. This efficiency leads to higher customer satisfaction and an increased number of transactions per hour.
Accurate Inventory Management: POS systems help in tracking inventory levels in real-time. This prevents overstocking or running out of products, ensuring optimal stock levels and minimizing revenue loss due to stock issues.
Sales Tracking and Reporting: POS systems provide detailed sales reports and analytics. This data helps in understanding sales trends, popular products, and peak sales periods, allowing for informed decision-making.
Improved Record Keeping: Manual record-keeping is prone to errors and time-consuming. A POS system automates this process, reducing human errors and providing accurate data for bookkeeping and accounting purposes.
Enhanced Customer Experience: POS systems enable quick and accurate order processing, reducing customer wait times. Additionally, they allow for personalized interactions by storing customer information, purchase history, and preferences.
Integrated Payment Processing: POS systems often come with integrated payment processing options, allowing customers to pay using various methods like credit/debit cards, mobile wallets, or contactless payments.
Employee Management: POS systems help in employee management by tracking sales performance, managing shifts, and monitoring clock-in and clock-out times.
Promotion and Loyalty Programs: Many POS systems allow businesses to implement loyalty programs, discounts, and promotional offers seamlessly, encouraging repeat business and customer loyalty.
Multi-Location Management: For businesses with multiple locations, a centralized POS system can manage inventory, sales, and reporting across all sites, providing better control and coordination.
Compliance and Security: Modern POS systems often include security features like encryption, ensuring secure payment transactions and protecting customer data. They also assist in adhering to regulatory compliance standards.
Remote Access and Cloud Integration: Cloud-based POS systems enable remote access to sales data and reports, facilitating better management even when you're not on-site.
Scalability: As your business grows, your POS system can adapt and accommodate increasing transaction volumes and additional features.
Top WooCommerce POS in 2023: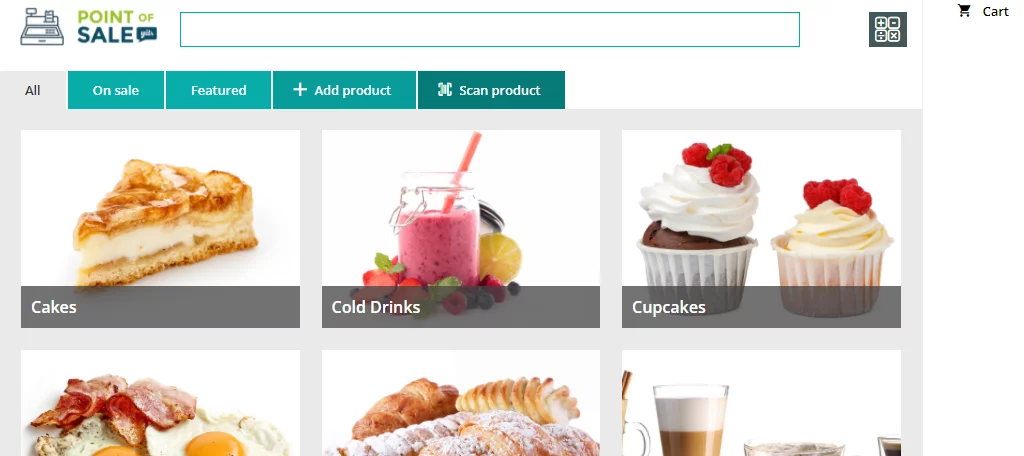 The YITH Point of Sale for WooCommerce (POS) is a premium plugin designed to transform your WooCommerce website into a user-friendly and robust cash register solution.
Your cashiers can effortlessly search for products or scan barcodes while processing customer checkouts. They even have the ability to introduce new products as required.
If you manage both an online and physical store, the synchronization of product listings, orders, and customer data between both platforms is seamless. Should you operate multiple stores or a franchise, the plugin showcases unlimited capacity to manage a multitude of stores and registers.
The YITH Point of Sale for WooCommerce (POS) offers layouts tailored for both desktop and mobile interfaces. Notably, the mobile layout caters to iPads and Android tablets, although it doesn't cater to smartphones, as is common among most POS plugins.
Within the plugin's dashboard, users can conveniently monitor valuable analytics such as sales patterns, terminal-specific revenues, preferred payment methods, and even identify the cashier generating the highest sales figures.
Advantages:
Unrestricted stores and registers
Desktop and mobile layouts
Valuable sales insights
Disadvantages:
Limited functionality in the free version, which only supports cash payments
No offline capabilities
Our Recommendation for YITH POS: YITH is renowned for crafting potent yet cost-effective plugins that offer user-friendly experiences. Their POS plugin encompasses the essential functionalities required by most stores and extends support to multiple store setups.
Pricing: YITH Point of Sale for WooCommerce (POS) commences at $147.99 per year for a single site license. A free version of the plugin is also available, albeit confined to facilitating cash payments.
2. Oliver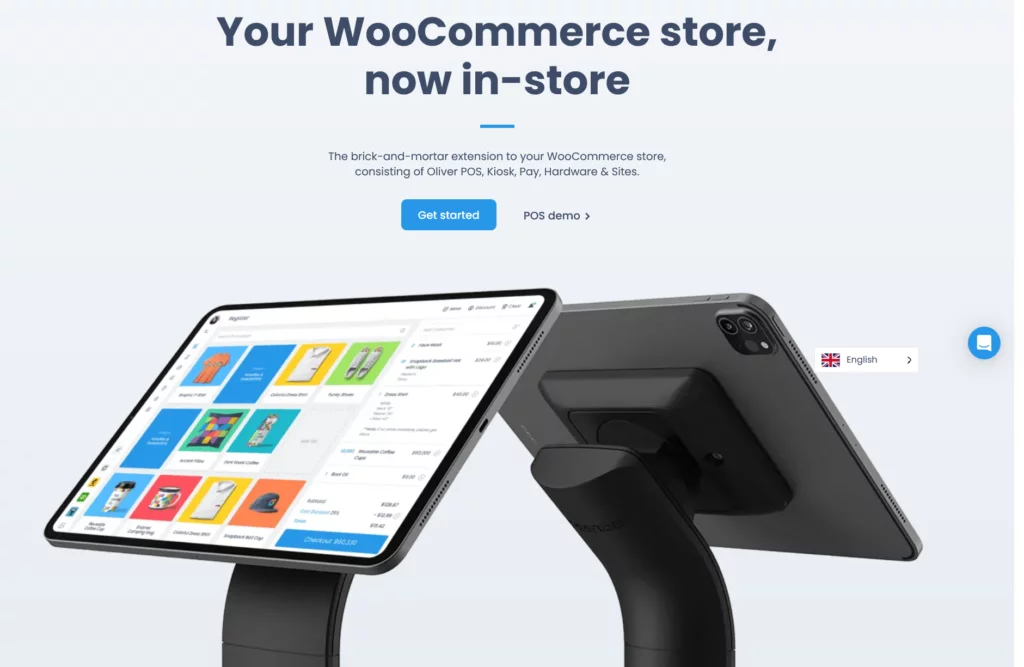 Oliver POS emerges as one of the leading WooCommerce POS plugins, presenting a streamlined solution for physical stores to seamlessly vend items from their online inventory using a unified platform.
This presents an ideal proposition for individuals aiming to integrate their eCommerce shops with brick-and-mortar outlets. The synchronization of inventory across your virtual store, retail establishment, and warehouse is effortlessly achievable.
Operable on any internet-enabled device or computer, Oliver POS also offers dedicated apps for iPads and Android tablets. For a complete setup, you can explore hardware POS devices on the official website, encompassing registers, tablet stands, barcode scanners, cash drawers, and printers.
A swift customer lookup feature allows you to discern whether a customer has conducted purchases online or in person. Their comprehensive expenditure, order history, store credit, and more can be easily tracked. Efficiently managing in-store and online transactions is facilitated, with the plugin generating insightful reports for payments, sales, inventory management, and other essential metrics.
Advantages:
Quick setup and user-friendly interface
Seamless operation of online and physical stores simultaneously
Availability of a free version
Disadvantages:
Limited scope for customization
Absence of offline functionality
Why we endorse Oliver POS: Garnering a remarkable 4.8-star rating, Oliver POS stands as the highest-rated WooCommerce POS plugin within the WordPress Plugin Directory. Its straightforward installation and usage enhance its appeal.
Pricing: A constrained free plan offers ample features for initial usage. Paid plans commence from $24.99 per month for each register.
3. Square

Square for WooCommerce Square for WooCommerce stands as a complimentary WooCommerce extension, enabling you to embrace Square, a well-regarded payment gateway renowned for its simplicity in handling credit card transactions.
This Square extension facilitates your customers in making payments via a diverse array of major credit and debit card types, alongside support for digital wallets such as Apple Pay and Google Pay. The flexibility of Square extends to processing payments both online and in physical storefronts. Nonetheless, it's crucial to note that credit card payments are exclusively accessible in select countries, namely the USA, Canada, Australia, Japan, the United Kingdom, the Republic of Ireland, France, and Spain.
The setup process is straightforward. Your product catalog and payment processing are automatically synchronized between your Square account and your online WooCommerce store. Essentially, when new products are incorporated into your Square account, they are seamlessly integrated into your WooCommerce inventory.
Furthermore, Square offers robust safeguards for your business, encompassing a dedicated dispute management team and proactive fraud detection mechanisms powered by machine learning.
Advantages:
Effortless setup
Low initial investment
Diverse payment options
No cost
Disadvantages:
Lack of offline functionality
Limited acceptance of credit card payments, contingent on geographic location
Why we endorse Square for WooCommerce: Square for WooCommerce empowers you to establish a point-of-sale system without any upfront charges, making it a standout choice among free WooCommerce POS plugins.
Pricing: The Square for WooCommerce extension can be acquired free of charge from the WooCommerce store. However, akin to most payment platforms, Square imposes transaction fees for each payment processed.
4. wePOS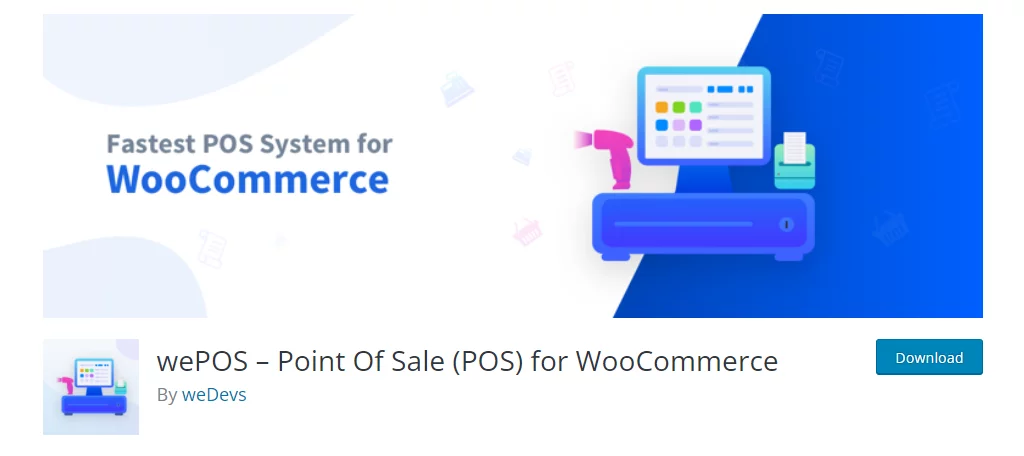 wePOS presents an economical and visually appealing point-of-sale solution tailored for WooCommerce, boasting swift setup and user-friendly navigation. However, it does fall short in comparison to certain competing POS systems when it comes to certain functionalities.
For instance, wePOS does not provide direct integration with retail hardware components like cash drawers. However, it does extend compatibility to barcode readers and printers.
While wePOS acknowledges only two payment methods—cash and credit card—it requires manual input of order and receipt numbers when processing credit card payments. This manual intervention is necessary to ensure proper sale tracking.
Notably, wePOS does not currently offer capabilities for generating daily sales reports for cashiers, generating barcodes, implementing gift card systems, or personalizing the user interface.
Similar to several other WooCommerce POS plugins, wePOS mandates an active internet connection for its operation.
Advantages:
Swiftness and ease of use
Cost-effective pricing
Disadvantages:
Lack of offline functionality
Restriction to two payment methods: cash and credit card
Limited support for hardware peripherals
Restricted scope for customization
The free version is confined to cash payments
Why we recommend wePOS: Highly popular among WooCommerce users, wePOS is ideally suited for those seeking a reliable and speedy system, prioritizing efficiency over an extensive feature set.
Pricing: wePOS provides a free plan with restricted features, primarily catering to cash payments. Premium plans commence from $99 per year.
5. Hike

Hike POS stands out as an all-encompassing, independent cloud-based retail point-of-sale (POS) service, compatible with PCs, Macs, iPads, and Android tablets. It extends seamless plug-and-play compatibility with a wide spectrum of retail hardware components, which encompasses scanners and receipt printers.
With Hike POS, a comprehensive range of retail operations becomes achievable, including lay-by sales, return and refund management, gift card systems, quotation generation, and issuance of credit notes. The software further empowers you to delve into detailed sales analytics and facilitates its utilization across multiple store locations.
In addition to its autonomous applications, Hike POS seamlessly integrates with WooCommerce. Your Hike and WooCommerce inventories, order records, and customer profiles synchronize automatically, ensuring consistency and efficiency.
Despite its cloud-based nature, Hike POS functions seamlessly offline, rendering it notably more dependable compared to several other plugins on the list. Upon reestablishing an internet connection, all data harmoniously syncs back to the cloud. Hike POS offers versatile payment options, allowing customers to select their preferred mode of payment. This encompasses popular choices like PayPal, Square, Afterpay, Tyro, among others.
Furthermore, Hike POS facilitates integration with a variety of other cloud services, including Xero, MYOB, QuickBooks, Mailchimp, and Amazon.
Advantages:
Offline functionality
Seamless integration with multiple third-party cloud services
Compatibility with or without WooCommerce
Accommodates multiple stores
14-day trial period
Disadvantages:
Absence of a free version
Why we endorse Hike POS: Hike POS emerges as a versatile solution offering a point-of-sale system, accessible through WooCommerce or its native applications. It stands as an exceptional choice for scenarios where working offline is essential.
Pricing: Hike POS subscriptions begin at $59 per month with annual billing. A 14-day free trial is available, and the WooCommerce integration comes at no additional cost.
6. Vitepos
Vitepos presents an expedient means of establishing a point of sale system tailored for your brick-and-mortar establishment, or seamlessly facilitating sales from your existing online store within your physical retail space.
You're presented with the option to select from three distinct POS modes: grocery/retail, restaurant (pay first), and restaurant (traditional). Opt for the mode that seamlessly aligns with your store's nature.
Vitepos takes charge of inventory and stock management, allowing you to conveniently incorporate new products from vendors, execute stock transfers between your various stores, and make necessary price updates. For added convenience, this plugin offers your cashiers a range of useful features. These encompass stock holding, applying discounts or additional charges, and accepting split payments. The team can efficiently add products by scanning their barcodes or utilizing the search function.
Noteworthy is Vitepos's capacity to operate without an active internet connection. Just like Hike POS, upon reconnecting to the internet, your data will be automatically synchronized.
Advantages:
Disadvantages:
Limited scope for third-party integrations
Why we recommend Vitepos: Vitepos emerges as a cost-effective and user-friendly WooCommerce POS plugin, offering users substantial control over their operational setup, alongside the notable advantage of offline functionality.
Pricing: The Pro version initiates from $79 per year or $299 for a lifetime subscription on a single site. Vitepos Lite, a restricted free version, is accessible through the WordPress Plugin Directory.
7. FooSales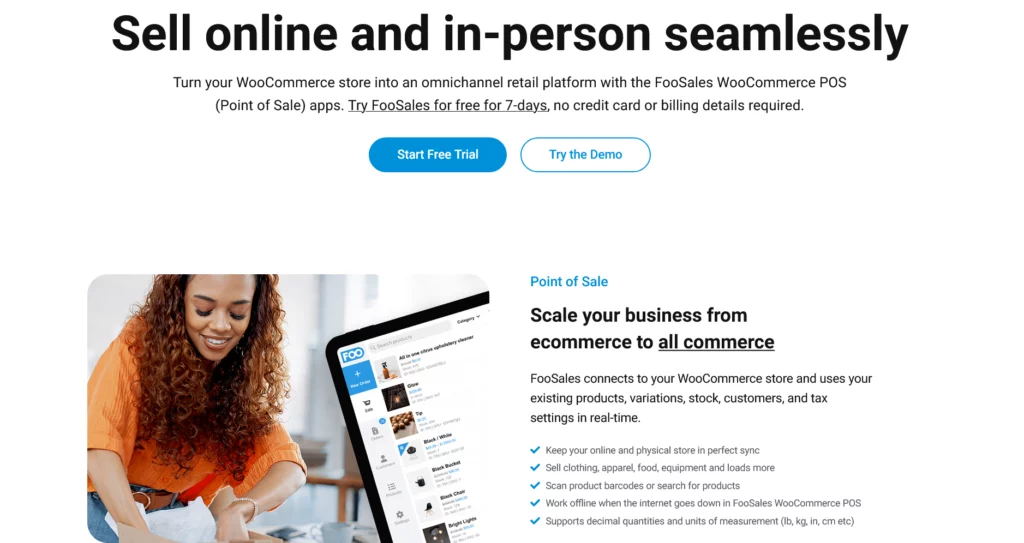 FooSales presents a WooCommerce point-of-sale (POS) plugin that encompasses both a web variant and dedicated tablet applications designed for both iOS and Android platforms. The distinctiveness of the tablet apps sets it apart, making it an attractive choice if you're considering tablet utilization for your POS operations. Additionally, the tablet apps offer an offline mode for uninterrupted functionality.
Incorporating products into the system can be achieved by cashiers through either manual searches or by utilizing a barcode scanner. The POS interface also facilitates customer management, allowing synchronization of customer details with WooCommerce. Cashiers wield the capability to handle diverse payment methods including cash, credit cards, debit cards, and other alternatives. Furthermore, they can apply order-specific coupons and calculate taxes as part of the process.
Customer receipts can be conveniently emailed through WooCommerce, while physical receipts can also be generated through tablet apps when coupled with compatible hardware.
Advantages:
Dedicated tablet apps for iOS and Android, enhancing portability.
Offline mode ensures continuous functionality during connectivity issues.
Efficient product integration via manual searches or barcode scanning.
Seamless customer management and synchronization with WooCommerce.
Versatile payment options, including cash, cards, and alternatives.
Easy application of order-specific coupons and accurate tax calculation.
Support for both digital and physical receipts, improving customer experience.
Streamlined refund processes directly from the POS system.
Integration with FooEvents plugin for selling and managing event tickets.
Comprehensive 30-day free trial offers extensive evaluation opportunity.
Disadvantages:
Pricing starting at $15 per month may be relatively higher compared to alternatives.
Why we Recommend FooSales: A noteworthy proposition is the 30-day comprehensive free trial that FooSales offers, enabling thorough exploration without necessitating credit card details.
Factors to Consider Before Choosing a POS:
Compatibility and Integration:
A seamless integration with your WooCommerce online store ensures that your physical and digital sales channels work harmoniously, providing customers with a consistent experience across platforms. Choose a POS system that functions effortlessly on the devices you intend to use, offering convenience for both you and your staff.
2. Features and Usability:
Investing in a user-friendly POS system equipped with tailor-made features empowers your staff to navigate transactions effortlessly, saving time and reducing the learning curve. By aligning essential features such as inventory management, order processing, and customer management with your specific business needs, you can optimize operations and improve overall efficiency.
3. Payments and Offline Mode:
Offering customers a variety of payment options encourages higher satisfaction and sales conversions. The ability to operate in an offline mode is a game-changer, ensuring that even during connectivity hiccups, no potential sale is lost, and customer satisfaction remains intact.
4. Inventory Management and Reporting:
Efficient inventory management translates into better stock control, minimized losses, and timely restocking. A POS system armed with robust reporting tools empowers you with invaluable insights to refine your strategies, capitalize on trends, and make informed decisions that propel your business forward.
5. Customer Management and Personalization:
Leveraging customer profiles enables you to tailor your offerings, promotions, and recommendations to individual preferences, fostering customer loyalty and repeat business. By demonstrating your understanding of your customers' needs, you forge deeper connections, leading to increased trust and brand affinity.
6. Scalability and Future Growth:
A scalable POS system positions your business for growth without the headache of outgrowing your solution. As you expand, your POS should seamlessly accommodate increased transactions and new store locations, ensuring a smooth journey toward success.
7. Pricing and Trial Period:
While cost is a factor, remember that the right POS system is an investment that pays dividends through improved efficiency and customer satisfaction. Embrace trial periods as opportunities to experience the system's impact on your operations firsthand, ensuring that your decision is rooted in practicality.
8. Support and Security:
Reliable customer support acts as your safety net, ensuring that any hiccups in implementation or operation are promptly addressed, minimizing disruptions. A secure POS system shields your business and customers from data breaches, ensuring trust and peace of mind in every transaction.
Conclusion:
POS isn't just an investment in software; it's an investment in the very essence of your business's narrative. It's the plot twist that propels your story forward, the subplot that adds depth and intrigue. The right WooCommerce POS system isn't just a tool; it's the secret ingredient that turns routine into innovation, transactions into interactions, and customers into loyal advocates. In a world where every touchpoint matters, the strategic selection of your POS system becomes the undercurrent that shapes your business's success story.
FAQs on POS Softwares:
Can a POS system work offline?
Yes, some POS systems offer offline mode functionality, allowing businesses to continue processing transactions even when internet connectivity is temporarily disrupted. This ensures uninterrupted sales and a positive customer experience.
How can I ensure the security of customer data with a POS system?
Choose a POS system that adheres to stringent security standards, encrypting customer data and financial transactions. This safeguards sensitive information and maintains customer trust.
Why is a trial period important when choosing a POS system?
A trial period allows you to test the POS system's functionalities in your real business environment. This firsthand experience helps you understand how the system fits into your workflow and whether it meets your expectations before making a commitment.