Even today, email remains the most practical, affordable, and uncomplicated method of communication, be it for personal or business use. Just like your office address, which is associated with your company name, is just as important as your business email. This is because, in the second half of email addresses, business domains are included.
Several hosting service providers offer both free and paid email configuration solutions for businesses. The most trending email hosting service is Zoho mail. Using Zoho Mail, you can instantly obtain a free business email address that you can use to connect to your hosting account (like Nestify-hosted website).
What exactly is Zoho Mail?
Zoho Mail is an email hosting service that offers a secure and dependable email solution to businesses. It is a good option for organizations of all kinds because of its user-friendly interface, powerful functionality, and inexpensive price levels. Let's discuss more about Zoho Mail's features, cost, facilities, and reviews in detail below.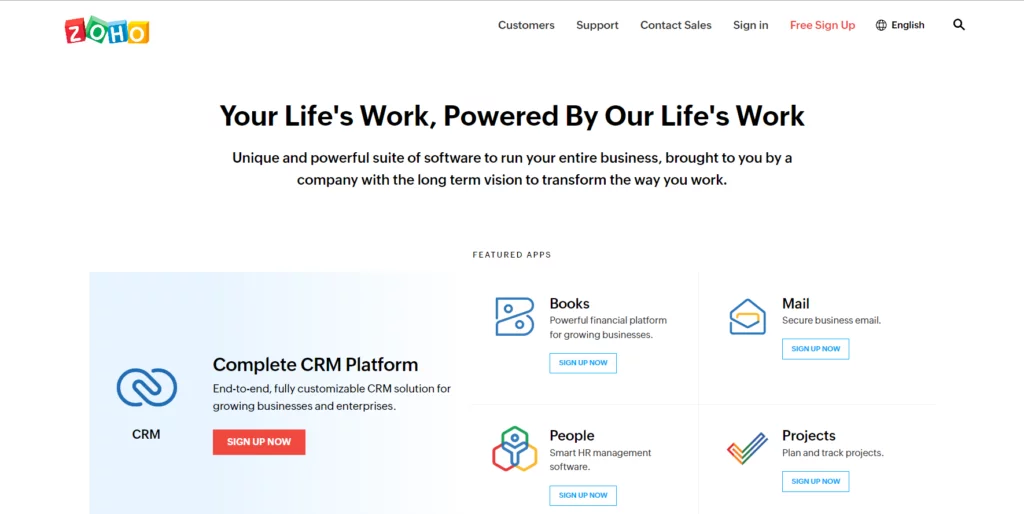 Features
Email addresses with your domain name:

With this email configuration, you can create email addresses with your domain name. This provides your company with an expert and branded impression.

System security:

Two-factor authentication, SSL encryption, and anti-spam filters are among the advanced security features of Zoho Mail.

Mobile-friendly:

Because it is mobile-friendly, you can access your email from any location using a smartphone or tablet.

Collaboration tools:

It provides collaboration options, such as shared calendars, contacts, and tasks, that make it easier for teams to collaborate.

Integrations with apps:

This email hosting connects easily with additional Zoho applications, including Zoho CRM, Zoho Books, and Zoho Projects.

Tabular method

: Flip and navigate between many objects or drafts with ease.

With this function, you can easily schedule an email to be sent at a decided time or return to it later.

Emailing preparation:

Generate recurring email notifications.

Offline configuration:

Thanks to email scheduling and repeating emails, you can view and respond to emails without an Internet connection.

System and appearance administration:

Adjust fonts, set the default view for the number of emails displayed per page, and simply modify the presentation of emails.

Offline operations:

Configure your outgoing email and request email confirmations.

Unique email themes:

Choose from an assortment of themes to make your experience more distinctive.

Shortcuts:

Keyboard shortcuts can be made and customized. 

Filters

: You may automatically classify your emails using the filters. You can then decide which emails should receive your immediate attention. 

Archive settings:

Additionally, the auto-archive option can be enabled. 

Mail sending is a functionality:

Switch between various mail accounts and create a couple of new addresses. 

Signatures

: The salutation and contact information that show at the end of your email can be changed. 

Autoresponder

: Set up autoresponder and vacation reply settings for a predetermined amount of time. 

Multiple account management

: Utilize the multiple account management functionality to control mailbox storage across several accounts. 

Search

: You can quickly find any email you seek with Zoho Mail's search feature. You can find the email you need regardless of the sender, recipient, or subject. 

Security

: With features like two-factor authentication and encryption, Mail takes security seriously. You may be certain that your email is secure in this way by avoiding hazards like hackers. 

Report of unusual behavior:

Mail will notify you if there has been a suspicious login to your account. 

Email filters:

You may automatically categorize your emails using the filters in Zoho Mail. Then, you may determine which emails require your urgent attention. Moreover, the auto-archive option can be enabled inside the archive options.

Sending options:

Alternate between many email accounts and generate a few fresh addresses.

Signatures

: You can modify the salutation and contact information that appear at the end of your email.

Autoresponder:

Configure autoresponder and vacation reply settings for a specified period.

Multiple account management:

Use the functionality for managing multiple accounts to manage mailbox storage across multiple accounts.

Search tab:

Using Zoho Mail's search functionality, you can easily locate any email. You may locate any email regardless of the sender, recipient, or subject.

Email Alerts:

Mail will alert you if your account has been accessed in a questionable manner.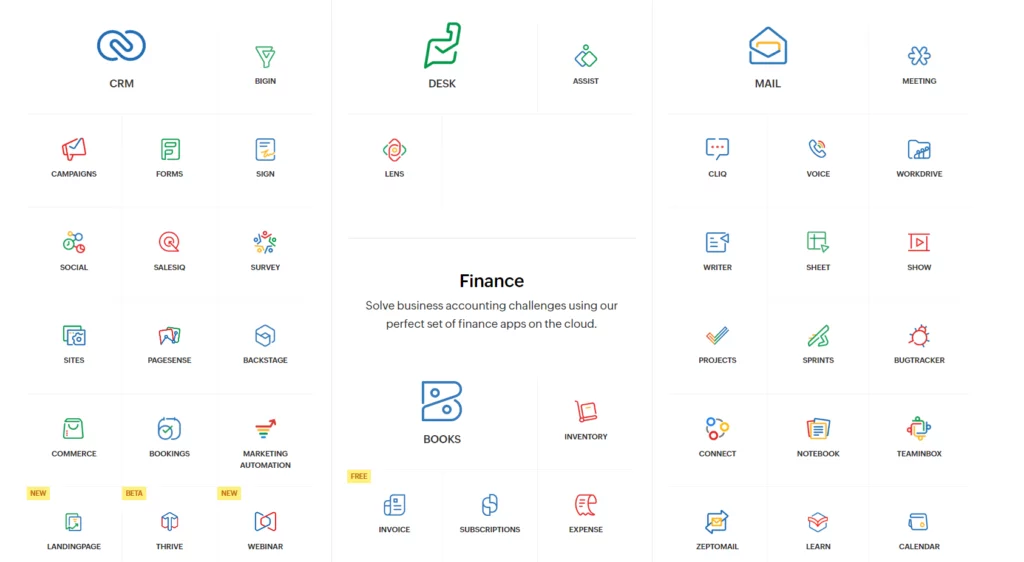 Advantages 
Private and secure chats 

Syncing with Zoho Suite 

Including popular third-party app integration 

Amazingly simple to use 

No invasive ads 

One location for the calendar, notes, reminders, and contacts. 

Excellent value and adjustable price 

Free variation 

Money-back promise 

Tools for migration 

Large customer support staff 

Excellent features and price 

Tools for collaboration 

POP and IMAP assistance 
Disadvantages 
Mail has a few disadvantages while having excellent security and fantastic collaborative tools. 
Even though Mail offers a lot of storage, you will always require more. 

Learning how to use the complete Mail platform takes some time. 

Compatibility with Microsoft Outlook can occasionally be a challenge. The same is true for Google Calendar integration. 

For some people, navigating the application can be challenging. 
Integrations with Zoho Mail 
All other Zoho Corporation programs and numerous third-party ones can be integrated with Mail. Integrating Mail with Zoho Meeting, Zoho Docs, Zoho Invoice, and all the other Zoho apps is simple because one Zoho account may be used for many Zoho applications. 
You can transfer your contacts, emails, and calendar information to Zoho Mail using the variety of email migration tools that Mail provides and its integration with Gmail and Microsoft Outlook.
Pricing
Zoho Mail offers a range of pricing plans to suit different business needs. The plans are as follows:
Free plan: This plan offers up to 5 email addresses and 5GB of storage per user.
Standard plan: This plan costs $1 per user per month and offers up to 30GB of storage per user.
Professional plan: This plan costs $4 per user per month and offers up to 100GB of storage per user.
Enterprise plan: This plan costs $10 per user per month and offers unlimited storage per user.
Steps to Create a Free Business Email
Visit the Zoho Mail website and create a free account, even if you just want to test it out.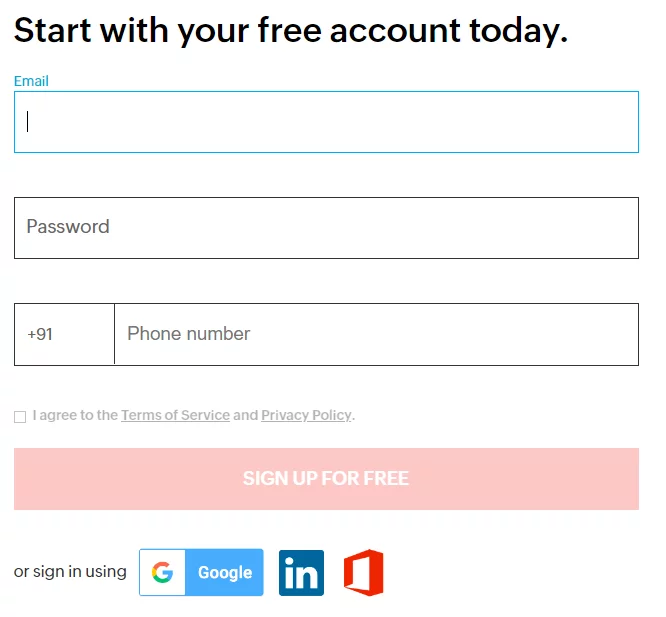 After registering for an account, you will be able to access the Zoho Mail dashboard. Click the "Add User" option in order to establish a new email account.

Complete filling in the essential fields, including your desired email address, password, and contact information in 'My Account' section on the extreme right corner.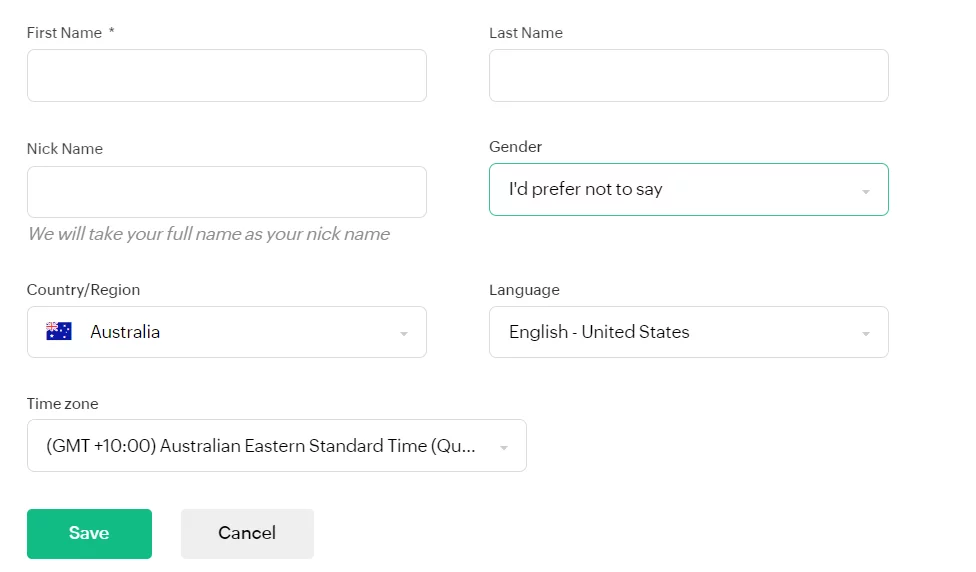 Your next step will be to select your email plan. With Zoho Mail's free plan, you may establish up to five email accounts with 5GB of storage per user. If you require additional storage or functionality, you can select a premium subscription.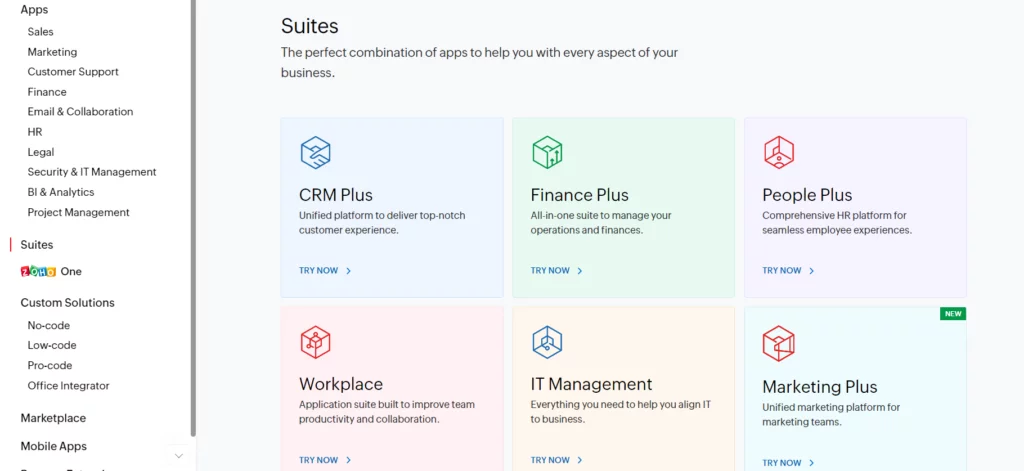 Zoho mail asks for additional checks, including domain verification. Before you may use your new email address, you must confirm that you own the domain. This will often include adding a DNS record to your domain's settings, which is outlined in the Zoho Mail documentation.

After completing the domain verification process, you can begin using your new business email address. 
Typical Customers
Freelancers

Small businesses

Mid-size businesses

Large enterprises
Platforms Supported
Reviews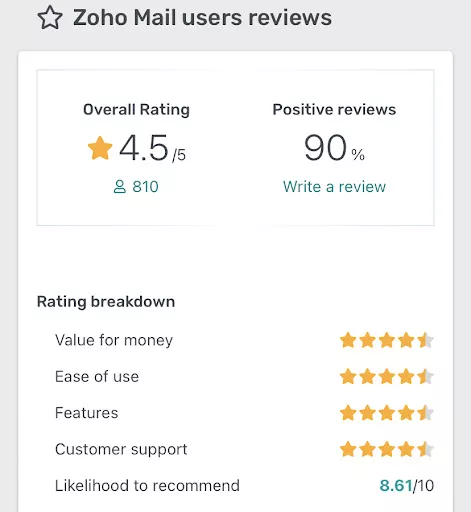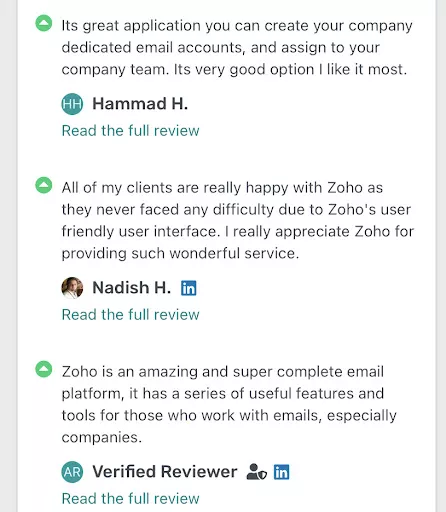 Conclusion
For businesses of any size, Zoho Mail is the best option for hosting their email. Because of its low cost and intuitive design, it is a great choice for businesses in search of a safe and reliable email provider. With its built-in collaboration features and easy integration with other Zoho apps, Zoho Mail may improve productivity in the workplace. Consider Zoho Mail as a viable option for your company's email hosting needs.
FAQs
Is it safe to use Zoho Mail?
The good news is that your email box with Zoho is safe. The anti-spam filters, SSL encryption, and two-factor authentication are just a few of the high-tech security features it offers.
Is it possible to use my own domain name with Zoho Mail?
In fact, Zoho Mail allows for just this sort of thing. This will give your company the appearance of credibility and professionalism.
Is there a mobile app for Zoho Mail?
You can check your email from your phone or tablet computer anywhere, thanks to Zoho Mail's mobile compatibility.
How compatible is Zoho Mail with other programs?
Indeed, Zoho Mail can sync with other Zoho apps, including Zoho CRM, Zoho Books, and Zoho Projects.