Welcome to our blog, where we embark on an exciting journey into the world of Learning Management Systems (LMS). In today's rapidly evolving educational landscape, digital platforms have emerged as game-changers, revolutionizing the way we learn, teach, and manage educational content. Among these, Learning Management Systems stand at the forefront, empowering institutions, educators, and learners alike.
What is LMS?
LMS stands for Learning Management System, and it refers to software or plugins that enable the creation, delivery, and management of online courses and e-learning content. LMS plugins are specifically designed to work within popular content management systems like WordPress, providing a convenient and user-friendly solution for educators, trainers, and organizations to offer online learning experiences.
TOP LMS IN 2023: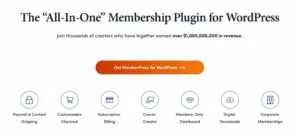 As of March 2023, MemberPress stands as the premier learning platform, renowned for its user-friendly setup and seamless functionality. This powerful plugin empowers users to effortlessly create courses and membership sites with an array of exceptional features.
MemberPress boasts an extensive range of tools, including robust access rules, coupon management, forums, drip content delivery, pricing pages, comprehensive reporting, and more. Seamlessly integrating with Divi, payment gateways, Zapier, and various other platforms, it offers unparalleled versatility and compatibility.

As the top recommendation in the realm of Learning Management Systems (LMS), MemberPress also excels as one of the finest membership plugins available for WordPress.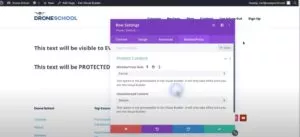 Its integration with Divi is a game-changer, enabling users to construct visually stunning pages with the Divi Builder and exercise precise control over access conditions. An illustrative example showcased on the official MemberPress website exemplifies how access can be restricted to a Divi Builder-created page named "Divi Membership."
Features:
Enjoy the freedom of creating unlimited courses and memberships, giving you the flexibility to cater to your audience's diverse needs.
Seamlessly integrate with Divi, the popular page builder, and leverage its intuitive interface to design captivating pages. Take advantage of MemberPress's enhanced control over access conditions to create a personalized user experience.
Streamline your business operations by seamlessly integrating with popular payment gateways. Accept payments securely and conveniently, providing your members with a seamless checkout experience.
Maximize engagement by scheduling the release of content over time. Drip feed your course materials to keep your members eager for more, ensuring a structured learning experience.
 Utilize MemberPress's coupon code management system to boost conversions and customer satisfaction.
Price: $179.50 per year.

LifterLMS stands as one of the top-rated LMS plugins for WordPress, providing a seamless solution for creating and selling courses and memberships through your WordPress website. With its integration capabilities and connections to popular plugins and external apps, LifterLMS offers unparalleled versatility.
One of the standout features of LifterLMS is its built-in eCommerce functionality, eliminating the need for additional plugins to handle your online transactions. Despite its extensive range of features, LifterLMS remains remarkably user-friendly, making the setup and usage process a breeze. The comprehensive settings dashboard provides detailed configuration options for various aspects, including courses, memberships, accounts, checkout, engagements, notifications, and more. This ensures that you have full control over every aspect of your learning platform.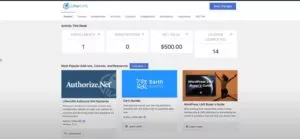 In terms of page building, it offers flexibility. In the classic editor, you can easily add any Divi modules to your pages. Alternatively, if you prefer using the Gutenberg editor, LifterLMS provides dedicated blocks to construct engaging pages for your courses, lessons, and memberships. The course builder comes equipped with essential tools and an outline to help you kickstart the course creation process.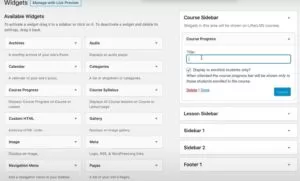 LifterLMS enhances the visual appeal and functionality of your website by adding two widget areas—one for courses and one for lessons. Additionally, it includes two widgets specifically designed for displaying the course syllabus and tracking course progress, ensuring a seamless learning experience for your students.
Features:
Easily create engaging and interactive courses to educate and engage your audience.
 Build membership sites with exclusive content, granting access to a select group of users.
Enjoy the convenience of built-in eCommerce functionality, eliminating the need for additional plugins.
Seamlessly integrate LifterLMS with Divi, enabling you to design visually stunning pages with ease.
Recognize and reward your learners' accomplishments with badges and achievements.
Connect LifterLMS with popular plugins to extend its functionality and enhance your website's capabilities.
Seamlessly integrate LifterLMS with other apps, allowing for a seamless workflow and enhanced productivity.
LifterLMS is designed for simplicity, ensuring that even beginners can set up and use the platform effortlessly.
Leverage the power of Gutenberg blocks to create dynamic and engaging course content.
Upgrade to the pro versions of LifterLMS to unlock additional features, including marketing tools, advanced quizzes, group functionality, enhanced eCommerce capabilities, and much more.
Price: Free, pro version starts at $149 per year.

LearnDash is a highly regarded online learning platform recognized as one of the leading and most favored WordPress LMS plugins in the market. With its drag-and-drop builder, advanced quizzing capabilities, flexible prerequisites, and drip content functionality, users can effortlessly create an unlimited number of courses.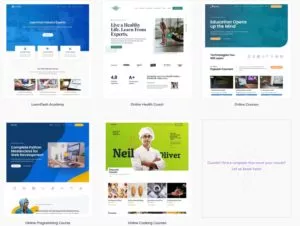 LearnDash provides a range of five templates to facilitate the initial website design process. The course pages are designed with a simple and clean structure.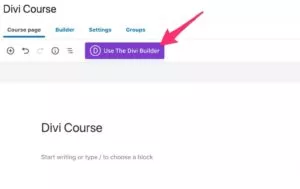 Furthermore, LearnDash's documentation includes detailed instructions on integrating the plugin with page builders like Divi. The given example is sourced from the official LearnDash website, showcasing the availability of Divi Builder as a choice for designing course pages.
Features:
Create an unlimited number of courses.
Accommodate an unlimited number of users.
Safeguard your valuable course content.
Foster interactive discussions among course participants.
Schedule lessons to be released over time for effective learning.
Employ sophisticated assessment methods for enhanced learning outcomes.
Issue certifications and badges to acknowledge course completion and achievements.
Choose from a selection of five templates for course design.
Seamlessly integrate with Divi page builder for easy customization.
Utilize Gutenberg blocks to enhance course page layouts.
Extend functionality with a range of both free and premium add-ons.
Price: $199 per year.

Tutor LMS is a comprehensive learning management system (LMS) that offers a wide range of features including quizzes, lessons, reports, and more. It stands out for providing an extensive set of features even in its free version, and it also offers the ability to expand functionality through premium add-ons.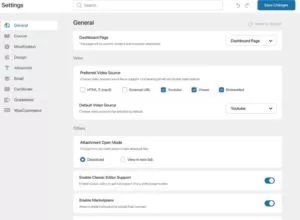 You have complete control over various aspects such as courses, lessons, students, quizzes, instructors, earnings, and much more, thanks to its numerous settings. These settings are easily accessible from the dashboard, allowing you to efficiently manage different elements of your e-learning platform. The course editor in Tutor LMS is designed to be user-friendly and intuitive. It resembles the classic editor, making it familiar and easy to use. It provides options to configure course settings, use the course builder, add additional data, and specify video source options.
Features:
 Create and manage an unlimited number of courses to cater to different subjects and topics.
Provide learners with a user-friendly dashboard where they can easily access their enrolled courses, track progress, and manage their learning journey.
Organize and structure course content into lessons for better organization and navigation.
 Allocate commissions to instructors for their course sales or participation, motivating them to create and deliver high-quality content.
Showcase your courses in a dedicated marketplace, allowing potential learners to discover and enroll in your offerings.
Implement measures to protect your course content from unauthorized access or downloads, ensuring its exclusive availability to enrolled students.
Assess learners' understanding and progress by creating quizzes with built-in timers and multiple attempts, providing a comprehensive evaluation of their knowledge.
Set pricing and monetization options for your courses, allowing you to generate revenue from your e-learning platform.
Add a customizable widget to your website for easy navigation and quick access to important features and course information.
Seamlessly integrate Tutor with Divi, a popular WordPress page builder, for enhanced design and customization options.
Use Gutenberg blocks specifically designed for student and instructor registration, simplifying the enrollment process.
Integrate Tutor LMS with popular e-commerce plugins like Woocommerce and Easy Digital Downloads, enabling seamless course sales, transaction management, and a smooth purchasing experience for learners.
Price: Free; the pro version starts at $199 per year.

Sensei LMS, developed by WordPress creators, is a highly regarded WordPress LMS plugin that offers a range of powerful features. This plugin seamlessly integrates with WooCommerce, allowing you to effortlessly sell your courses online. With dedicated editors for courses, lessons, and questions, you have complete control over the content creation process.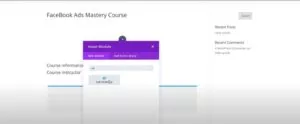 Sensei LMS provides comprehensive learning management tools, including analysis, grading, learner management, messaging, and other essential features. These tools enable effective course administration and student engagement. The plugin offers the flexibility to expand its functionality through both free and premium extensions, allowing you to tailor the LMS to your specific needs.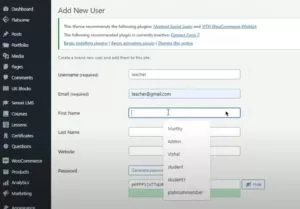 The courses editor in Sensei LMS is user-friendly and provides a classic version that includes access to the Divi Builder. This integration empowers you to incorporate any Divi layout into your course pages, enhancing their visual appeal and customization options. It equips you with all the necessary tools to create an engaging curriculum for your learners. When combined with Divi, it becomes an even more powerful tool for individuals interested in starting their journey in course creation.
Features:
Easily create and manage courses, organizing your content into structured modules for seamless learning.
Design engaging lessons within your courses, delivering educational material in a logical and organized manner.
Create interactive quizzes and assessments by adding various types of questions to evaluate learners' understanding.
Efficiently manage learners' progress, track their performance, and provide personalized support throughout their learning journey.
 Seamlessly integrate with WooCommerce, empowering you to monetize your courses by selling them online and managing transactions.
Utilize the power of Divi Builder in the classic editor, enabling you to design visually appealing and customizable course pages.
Access four dedicated widgets that provide additional functionality and enhance the user experience on your LMS website.
Leverage Gutenberg blocks specifically designed for Sensei LMS, simplifying the process of building and customizing course content.
Extend the capabilities of Sensei LMS through a variety of free and premium extensions, allowing you to tailor the LMS to your specific requirements and enhance its functionality.
Price; Free

LearnPress is a flexible LMS plugin that functions similar to Moodle. It enables you to create an unlimited number of courses that come with lessons and quizzes. The plugin supports unlimited students and instructors, and you can manage everything from the backend. You can also enhance its features with free and premium add-ons.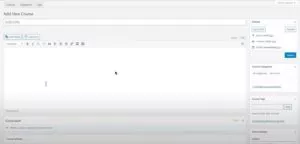 Setting up your pages, currency, courses, profiles, payments, emails, and more is made easy with its settings dashboard. You can use a classic editor to build your courses, which includes settings and an area to create lessons. Each editor includes tabs for courses, categories, and tags. The editors for lessons, quizzes, and questions work the same way but have specialized settings.  Additionally, it comes with interactive graphs that display general stats, users, courses, and orders, which you can filter based on a specific date range.
Features:
Create and offer an unlimited number of courses on your e-learning platform.
Organize course content into lessons to provide a structured learning experience for your students.
Easily build and manage your courses using the intuitive backend course builder.
Accept payments through PayPal and offline methods, providing convenient options for your students to enroll in your courses.
Collaborate with multiple instructors to create and deliver high-quality courses.
Utilize three different quiz types (multiple choice, true/false, and open-ended questions) to assess and evaluate student knowledge and progress.
 Set up automatic email notifications to keep students informed about course updates, progress, and completion certificates.
Seamlessly integrate LearnPress with WordPress multisite, allowing you to manage multiple e-learning websites from a centralized location.
Access comprehensive statistics and analytics to gain insights into student enrollment, progress, and performance.
Create and distribute coupons to offer discounts and incentives to potential students, boosting course enrollment.
Benefit from a wide range of free and premium add-ons to extend the functionality of LearnPress and customize it to meet your specific requirements.
Price: Free, pro bundle starts at $299 per year.

Namaste! LMS offers unlimited course creation with unrestricted access to lessons, assignments, and students. It allows for creating comprehensive rules for course and lesson access based on assignment completion, test results, or administrator's approval. The plugin has a robust role management system with options to grade student performance and earn certificates. Integration with other plugins is possible.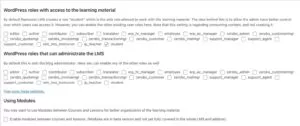 The settings dashboard offers numerous options to set up roles, administration, modules, URLs, archive pages, grades, assignments, payment methods (shopping cart requires pro version), and exams. The course editor provides settings for enrollment, access and prerequisites, role restrictions, and course completeness, with shortcodes to display prerequisites, status, and more. Lessons work the same way but with unique settings.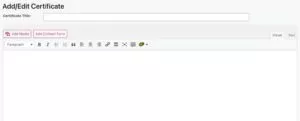 Certificates can be created using the classic editor.
Features:
Create and organize an unlimited number of courses and lessons to deliver your educational content effectively.
Set up extensive rules for course and lesson access based on assignment completion, test results, or administrator's approval, ensuring a personalized learning experience.
Easily manage user roles and permissions within the LMS to maintain smooth administration and user access control.
Evaluate student performance using a grade points system, enabling you to accurately assess their progress and achievements.
Keep students organized and on track with a handy To-Do items list, helping them manage their coursework and stay focused.
Award certificates to students upon course completion, recognizing their accomplishments and boosting motivation.
Extend the functionality of Namaste! LMS with a variety of premium extensions, allowing you to enhance and customize your e-learning platform further.
Price: Free, pro version starts at $67 per year.

MasterStudy LMS is an intuitive and robust learning management system designed specifically for WordPress. This powerful tool empowers you to effortlessly create and monetize online courses, quizzes, and lessons. With a wide range of features and customizable options, you have the flexibility to design your own unique learning platform that seamlessly integrates with your website's aesthetics.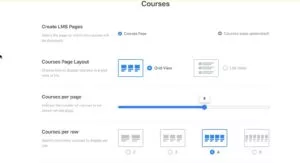 It offers an all-inclusive e-learning solution, streamlining the process of course creation, sales, and management. Utilizing the course builder, you can swiftly incorporate lessons, quizzes, and various interactive elements.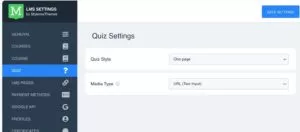 The integrated ordering system simplifies the selling process and facilitates seamless payment transactions. Furthermore, the extensive customization capabilities ensure that your learning platform harmonizes perfectly with your website's visual identity.
Features:
Intuitive drag-and-drop course builder for easy course creation.
Quiz builder supporting various question types, including true/false, single-choice, and multiple-choice.
Progress bar to track and display students' course progress.
Interactive Question and Answer system for seamless communication between students and instructors.
Built-in order system to facilitate course sales and accept payments.
Customization options to align the learning platform with your website's aesthetics.
Responsive design ensuring optimal display on all devices.
Dedicated support team for prompt assistance and guidance
Price: Free, pro version starts at $59 per year.
Things to Look for in an LMS:
Course Creation and Management: A high-quality LMS plugin should provide a user-friendly interface that makes it easy to create and manage courses. It should offer features for organizing course content, including options to add multimedia elements such as videos, images, and documents. Additionally, the plugin should allow you to structure lessons and modules effectively, ensuring a logical flow of information.
Course Selling and Payment Processing: Look for an LMS plugin that includes built-in features or seamless integrations with payment gateways, allowing you to sell your courses directly through your website. It should support secure payment processing and provide flexibility in setting up various pricing options, such as one-time purchases or subscriptions. This capability enables you to monetize your courses effectively.
User Engagement and Interaction: An effective LMS plugin should prioritize student engagement and interaction. It should provide tools like discussion forums, messaging systems, and interactive quizzes to foster communication between instructors and learners. These features encourage collaboration, enhance the learning experience, and allow for questions and feedback.
Content Drip and Course Progression: Content drip functionality is a valuable feature that enables you to release course content gradually over time, ensuring a structured learning experience. A good LMS plugin should support scheduling and automation for content release. Additionally, a progress tracking system, such as progress bars or completion certificates, can motivate students by showing their advancement and achievements within the course.
Customization and Branding: Look for an LMS plugin that offers customization options to match the appearance and branding of your website. This flexibility allows you to maintain consistency with your overall design and brand image. The ability to customize colors, fonts, logos, and other visual elements is crucial for creating a cohesive learning environment.
Integration Capabilities: Consider whether the LMS plugin integrates smoothly with other essential tools or plugins you use, such as payment gateways, email marketing platforms, or membership plugins. Compatibility is key to avoid technical issues and streamline operations. Look for plugins that offer a wide range of integration options or provide APIs for custom integrations.
Mobile Responsiveness: Given the increasing number of learners accessing courses from mobile devices, it's essential that the LMS plugin provides a responsive design. It should adapt seamlessly to different screen sizes, ensuring an optimal user experience on smartphones and tablets. Mobile responsiveness enhances accessibility and allows students to learn conveniently from anywhere.
Support and Documentation: Look for an LMS plugin that provides comprehensive documentation, tutorials, and a responsive support team. Clear and detailed documentation helps you understand and make the most of the plugin's features. Additionally, responsive support can address any technical issues or answer questions that may arise during setup or usage.
Best Practices for LMS:
Define Clear Goals and Objectives: Before implementing an LMS, it's essential to define clear goals and objectives for your organization or institution. Identify the specific challenges or needs you aim to address with the LMS, such as improving learner engagement, streamlining administrative tasks, or enhancing training efficiency. This will guide your decision-making process and ensure that the chosen LMS aligns with your desired outcomes.
Involve Stakeholders from the Beginning: Include key stakeholders, such as administrators, instructors, IT staff, and learners, in the decision-making process from the start. Their input and involvement will provide valuable insights and help address concerns or requirements specific to each group. By involving stakeholders early on, you increase the chances of successful adoption and satisfaction with the chosen LMS.
Conduct a Thorough Needs Assessment: Conduct a comprehensive needs assessment to identify the specific features and functionalities required from an LMS. Consider factors such as scalability, customization options, integration capabilities, and technical support. This assessment will help you narrow down your choices and select an LMS that best suits your organization's unique needs.
Research and Evaluate LMS Vendors: Thoroughly research and evaluate different LMS vendors before making a decision. Consider factors such as reputation, customer reviews, product features, pricing, and support services. Request demos or trial periods to test the LMS firsthand and ensure it meets your requirements. Additionally, check for the vendor's track record in terms of ongoing updates, security measures, and future development plans.
Plan for Integration with Existing Systems: Evaluate your existing infrastructure and identify any systems or tools that need to integrate with the LMS. This may include student information systems, content authoring tools, video conferencing platforms, or HR systems. Ensure that the LMS can seamlessly integrate with these systems to avoid data silos and provide a smooth user experience.
Develop a Comprehensive Implementation Plan: Create a detailed implementation plan that outlines key milestones, timelines, and responsibilities. Include tasks such as content migration, user onboarding, system configuration, and training. Assign dedicated project managers or implementation teams to oversee the process and ensure smooth execution. Regularly communicate progress and updates to stakeholders to keep everyone informed and engaged.
Provide Adequate Training and Support: Invest in comprehensive training programs to familiarize users with the LMS and its functionalities. Offer both initial training sessions and ongoing support to address any questions or issues that may arise. Encourage user feedback and create channels for continuous improvement. Consider appointing LMS champions within your organization who can provide guidance and support to their peers.
Monitor and Evaluate Performance: Regularly monitor and evaluate the performance of your LMS implementation. Analyze usage data, feedback, and performance metrics to identify areas for improvement and make necessary adjustments. Engage with users through surveys or focus groups to gather insights and ensure that the LMS is meeting their needs.
Promote User Adoption and Engagement: Encourage user adoption and engagement by highlighting the benefits and value of the LMS. Communicate the positive impact it can have on teaching, learning, and overall efficiency. Provide ongoing support and resources, such as user guides, tutorials, and forums, to empower users and encourage exploration of the LMS's features.
Continuously Evolve and Innovate: Embrace a culture of continuous improvement and innovation. Stay up-to-date with emerging trends and new features in the LMS landscape. Regularly assess the effectiveness of your LMS implementation and explore opportunities for enhancement and expansion. Encourage collaboration among users and share success stories to inspire others.
For updates on how LMS has veolved over the years, read here.
In conclusion, Learning Management Systems hold immense potential to shape the future of education. By embracing the power of LMS, institutions can unlock new horizons of learning, enabling students to thrive in a rapidly evolving digital world. As technology continues to advance, we can expect LMS to play an increasingly vital role in empowering educators and learners, revolutionizing education, and fostering a lifelong love for learning. So, are you ready to embark on this thrilling journey into the world of LMS plugins? Get ready to unleash the power of online learning awesomeness. Your students await, and the possibilities are endless.  Let's revolutionize education together!
FAQs on LMS:
What are the benefits of using an LMS?
Using an LMS offers several benefits, including:
Centralized course management and content delivery.
Enhanced learner engagement through interactive and multimedia-rich content.
Personalized learning experiences tailored to individual needs.
Flexible access to learning materials anytime, anywhere.
Streamlined administrative tasks, such as grading and reporting.
Improved tracking of learner progress and performance.
Data-driven insights for instructional design and decision-making.
Scalability to accommodate a large number of learners.
Integration with other tools and systems for a seamless learning experience.
What types of organizations can benefit from an LMS?
LMS can benefit a wide range of organizations, including educational institutions (K-12 schools, colleges, universities), corporate training departments, non-profit organizations, government agencies, and online course providers.
Can an LMS support different types of learning, such as blended or online learning?
Yes, an LMS can support various learning formats, including traditional classroom-based learning, blended learning (combining online and in-person instruction), and fully online or distance learning. It provides the necessary tools and features to deliver and manage learning content in different formats.
How do I select the right LMS for my organization?
Selecting the right LMS involves considering factors such as your organization's specific needs and requirements, budget, scalability, integration capabilities, ease of use, technical support, and vendor reputation. Conducting a thorough needs assessment and evaluating different LMS vendors through demos and trials can help you make an informed decision.
How can I ensure successful adoption of an LMS among users?
Successful adoption of an LMS can be facilitated through effective training programs, user-friendly interfaces, ongoing support, and clear communication about the benefits and value of the system. Involving stakeholders from the beginning and addressing their concerns or feedback also contributes to user acceptance and engagement.
Can an LMS be integrated with other systems or tools?
Yes, many LMS platforms offer integration capabilities with other systems or tools such as content authoring tools, video conferencing platforms, student information systems (SIS), HR systems, and more. Integration allows for a more comprehensive and streamlined learning experience.
Is data privacy and security a concern with LMS?
Data privacy and security are important considerations when implementing an LMS. It is crucial to select an LMS vendor that prioritizes data protection, complies with relevant regulations (e.g., GDPR), and employs robust security measures to safeguard learner data.
How can an LMS support professional development and ongoing learning?
An LMS can support professional development by providing access to online courses, training modules, and resources. It allows learners to track their progress, complete assessments, and earn certifications. Additionally, it can facilitate collaborative learning and knowledge sharing among professionals through discussion forums and interactive features.