Customer Experience (CX) Management refers to the process of designing and responding to customer feedback in order to meet their expectations and enhance overall customer satisfaction. It involves utilizing customer experience software to effectively manage and improve the customer experience.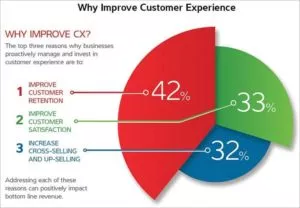 In 2021, Customer Experience Management Software played a vital role in helping businesses enhance their customer satisfaction levels. By gathering data and feedback from customers, organizations can gain insights into why customers enjoyed their experience and use that information to replicate or improve upon it.
Customer experience can be measured through various surveys, including the Net Promoter Score (NPS), Customer Effort Score (CES), and Customer Satisfaction (CSAT) surveys. These surveys provide valuable metrics that indicate customer retention, loyalty, and the likelihood of repurchasing products or services.
Best for: Startups, small businesses, and enterprises.
Price: Zendesk offers a range of pricing plans tailored to different products. The Zendesk Suite starts at $89 per agent per month and includes a free trial option.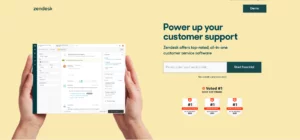 Zendesk is a versatile and robust platform designed to facilitate customer service and engagement. It offers scalability, making it suitable for businesses of all sizes. Zendesk boasts a comprehensive set of features, including robust security measures, help desk software, ticketing systems, knowledge bases, and community forums.
Key Features:
An open platform for CRM that enables the creation of personalized customer experiences and applications, Zendesk is built on the Sunshine platform.
Prioritizes security across multiple areas, including application security, product security, and data center and network security.
Knowledge management software allows for article translation in over 40 different languages, offering greater flexibility and accessibility for users.
Best for: Small to Large Businesses.
Price: Contact for a Quote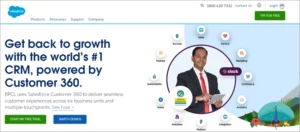 Salesforce offers a comprehensive CRM platform that integrates all aspects of your business, providing customers with a highly personalized experience. This solution unifies your sales, commerce, marketing, service, and IT departments under one roof, resulting in an exceptional customer experience. This platform is user-friendly and delivers a high return on investment. It is also scalable and flexible, allowing for customization and growth as your business evolves.
Key Features:
CRM: Salesforce's fully integrated CRM platform provides a centralized hub for managing customer interactions and data.
Scalability and Flexibility: The Salesforce platform is highly adaptable to meet the needs of businesses of all sizes and industries.
Easy Implementation and Design: Salesforce's user-friendly interface simplifies the implementation and design process, allowing for a seamless transition to the platform.
Robust Analytics: The platform offers powerful analytical capabilities to help businesses track and analyze customer data and behavior.
Best for: Freshdesk is a customer service software that caters to businesses of all sizes.
Pricing:  With a free plan and three paid plans, starting at $15 per agent per month, it offers affordability and flexibility. Users can also test the platform for 21 days with a free trial.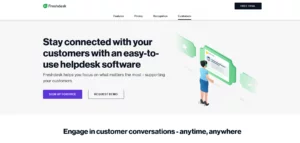 The software offers various features that make ticketing easy and efficient, allowing businesses to solve customer problems promptly. Freshdesk also streamlines field service operations and automates repetitive helpdesk tasks.
Features:
AI-powered chatbot enables self-service customer support, providing instant responses and solutions to common queries.
Freshdesk automates repetitive helpdesk tasks, saving time and effort for support teams. This includes automating ticket workflows, notifications, and follow-ups.
Allows you to prioritize, categorize, and assign tickets efficiently, ensuring timely resolution and effective resource allocation.
Promotes collaboration among support teams with features like shared ticket ownership, team huddles, and linked tickets. This fosters effective communication and knowledge sharing.
Freshdesk's intelligent ticket assignment feature ensures that tickets are assigned to the most appropriate agents based on their skills, availability, and workload, optimizing response time and resolution.
Has a time tracking feature, enabling support teams to track and manage their activities effectively. This helps in measuring productivity, meeting service level agreements, and improving efficiency.
Best for: Businesses of all sizes and types.
Price: It offers a range of pricing plans, including a free option for up to 3 users. The Standard plan is priced at $14 per agent per month, the Professional plan at $23 per agent per month, and the Enterprise plan at $40 per agent per month.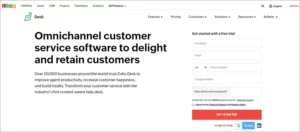 Zendesk stands out for its ease of deployment and user-friendly interface. It enables businesses to effectively manage customer communication across multiple channels such as email, phone, social media, and website. The software excels at automating repetitive processes, saving valuable time and resources. One of its key advantages is its extensive integration capabilities with various tools including Salesforce, Trello, and Slack. It also provides the flexibility to build custom customer help desk apps through software development kits (SDKs).
Key Features:
Workflow automation for streamlining and automating business processes.
Omnichannel conversation management to effectively handle customer interactions across multiple channels.
Ability to add custom capabilities using REST API for tailored functionalities.
AI and knowledge base integration to provide self-service options and enhance customer support.
Best for: Multi-Channel Communication Management
Pricing: offers a range of pricing plans, including a free option, with advanced features available in the paid plans. The paid plans start at $15.83 per month, while the Chatbots plan, which includes automation features, is priced at $32.50 per month. For rapidly growing businesses, the Tidio+ plan is available at $240.83 per month, with annual billing.

Tidio provides a unified agent interface that consolidates messages from customers across various communication channels. This allows customer service agents to respond to all messages directly from a single dashboard, regardless of the channel the message originated from.
Key Features:
Custom chatbot creation for automated customer interactions.
Multi-lingual live chatting to cater to customers in different languages.
Ticket handling to efficiently manage and track customer inquiries.
Order management features to assist in handling customer orders and transactions.
Seamless integration capabilities to connect with other systems and tools.
Best for Startups, small businesses, and enterprises.
Price: Free for most features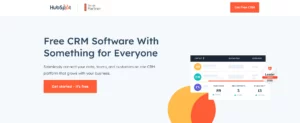 This customer service software is a top-performing tool that enhances customer satisfaction, promotes customer retention, and accelerates business growth. It offers a range of features that help businesses improve their customer service experience. With its impressive features and capabilities, it can help businesses improve their customer service experience and achieve their growth goals.
Features:
It offers features such as live chat and bots to respond faster.
Has a universal inbox to aggregate all customer communications and service history, a knowledge base to reduce customer inquiries, and surveys for quantitative feedback to turn customers into promoters.
It's the best tool for fast, genuine human interaction with customers who don't tolerate scripts, queues, or robotic service.
Best for Manage customer conversations from a single place.
Price:
Essentials: $289/month
Standard: $449/month
Professional: $649/month
A 14-day free trial is available for users to experience the features and benefits of Podium before committing to a paid plan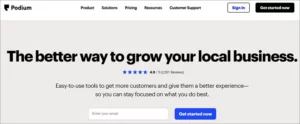 With Podium, you can instantly track message status, modify employee assignments, and automate daily tasks to ensure quick responses to customers. The mobile app provided by Podium facilitates seamless communication with leads and keeps your entire team connected, regardless of their location.
Key Features:
Centralized message management for streamlined customer communication.
Monitoring of all customer interactions for better visibility and control.
Direct messaging of leads through the Podium mobile app.
Ability to launch text marketing campaigns for targeted outreach.
Verdict: Podium significantly improves response time to customer questions and queries, enabling businesses to provide an exceptional customer experience to both existing and potential customers.
Best for Medium Businesses and Large Enterprises.
Price: Maropost offers a 14-day free trial and four pricing plans for its software. The essential plan is priced at $71/month, while the essential plus and professional plans are available at $179/month and $224/month, respectively. There is also a custom enterprise plan option for tailored solutions.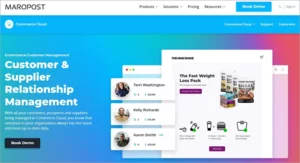 Designed specifically for eCommerce store owners, Maropost provides real-time access to critical customer information such as purchase history, outstanding balance, and last contact date. This enables businesses to deliver personalized customer support experiences. It offers a comprehensive solution for eCommerce store owners, empowering them with personalized customer support and streamlined processes. Its features and integration capabilities make it a valuable tool for businesses looking to enhance their customer relationships and drive growth.
One of the key features of Maropost is its seamless integration with Zendesk's ticketing software, allowing for streamlined customer service. This integration provides access to customer and order data within raised tickets, enhancing efficiency and effectiveness.
Key Features:
Integrated ticketing system for efficient customer support management.
Bulk import and export of customer data for streamlined data management.
Custom pricing options to cater to specific business needs.
In-depth reporting and analytics capabilities for valuable insights.
Best for features like built-in calling and texting. It eliminates the need to have a separate calling application.
Price: Salesmate offers a 15-day free trial. The pricing plans include Starter ($12 per user per month), Growth ($24 per user per month), Boost ($40 per user per month), and Enterprise (custom pricing).

You can make calls and send text messages to contacts in over 90 countries. Its built-in phone functionality allows for easy and convenient connection with customers, with calls automatically logged and accompanied by conversation history, call recordings, and activity reports.
Key Features:
Real-time messenger functionality for instant customer communication.
Sales automation capabilities, including data entry automation and customer onboarding automation.
Marketing automation features to automate touchpoints throughout the customer journey.
Activity management tools for customized activities, collaborative work, and detailed reporting.
Verdict: Salesmate offers a mobile CRM application compatible with iOS and Android devices, enabling users to access the platform on the go. It supports seamless integration with various applications, streamlining business processes. With Salesmate, users can benefit from comprehensive analytics and visual reporting for enhanced insights.
Best for small, medium, and large businesses.
Price: Contact the company for its pricing details.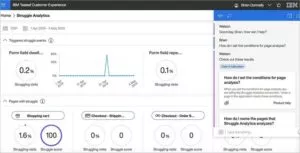 IBM Tealeaf is a powerful digital customer experience software powered by AI. Alongside, IBM offers a comprehensive customer experience suite that includes dynamic content creation, customer connectivity, collaboration enhancement, and advanced analytics capabilities.
Key Features:
Customer data analytics to boost conversion rates and revenue.
AI-powered struggle analytics for identifying and addressing customer pain points.
Behavior-based marketing segments to improve customer value and targeting.
Instant feedback and insights from customers for better understanding.
Detection of malicious activity through proactive alerts.
Things to Look for in Customer Experience Management Softwares:
Seamless communication: Ensure the software supports multiple communication channels to provide a seamless experience across various touchpoints.
Customer journey analysis: Look for software that allows you to map and analyze the customer journey to identify pain points and optimize touchpoints.
Data-driven insights: The software should have robust data collection and analysis capabilities to track key performance indicators and gather customer feedback.
Personalization: CEM software should facilitate personalized customer interactions by capturing and leveraging customer data.
Efficient case management: Look for features such as ticketing systems and automated routing to track and resolve customer issues efficiently.
Workflow automation: Seek software that offers automation capabilities to improve operational efficiency and ensure timely responses to customer inquiries.
Integration: Consider software that can integrate with other systems to facilitate data sharing and provide a unified view of customer data.
Voice of the customer: Look for software that provides mechanisms to collect feedback and address concerns proactively.
Comprehensive reporting: The software should offer customizable dashboards to monitor key metrics and generate actionable insights.
Scalability and flexibility: Consider the software's ability to handle increasing customer volumes and adapt to changing business requirements.
Mobile accessibility: Ensure the software supports mobile access and provides a seamless user experience across different devices.
Security and compliance: Look for software that prioritizes data security and compliance with relevant regulations.
Vendor support and training: Evaluate the vendor's support services and training resources to ensure successful implementation and adoption of the software.
User-friendly interface: Consider the software's interface and ease of use to facilitate efficient navigation.
Customer success and feedback: Seek software providers with a track record of successful customer implementations and positive user feedback to ensure customer satisfaction.
Conclusion:
Customer experience management (CEM) is a critical aspect of business success. (Learn more about customer relationship management here).  By prioritizing the needs and preferences of customers, organizations can foster positive relationships, drive customer loyalty, and achieve sustainable growth. CEM involves understanding customer expectations, designing seamless interactions across all touchpoints, and continuously gathering feedback to make improvements. By implementing effective CEM strategies, businesses can differentiate themselves in a competitive market and create memorable experiences that keep customers coming back.
FAQs on CEM Softwares:
What are the benefits of using CEM software?
CEM software offers several benefits, including:
Enhanced customer satisfaction and loyalty
Improved understanding of customer needs and preferences
Increased operational efficiency through automation and streamlined processes
Data-driven insights for informed decision-making
Personalized customer interactions and targeted marketing efforts
Efficient case management and issue resolution
Improved collaboration across departments and touchpoints
How does CEM software collect customer feedback?
CEM software uses various methods to collect customer feedback, such as surveys, ratings, reviews, and social media monitoring. It may also leverage voice of the customer (VoC) tools to capture sentiment and insights from customer interactions. These feedback mechanisms help organizations understand customer perceptions, identify areas for improvement, and address concerns proactively.
Can CEM software integrate with other systems?
Yes, many CEM software solutions offer integration capabilities. They can often integrate with customer relationship management (CRM) systems, help desk platforms, marketing automation tools, feedback platforms, and other relevant systems. Integration enables a unified view of customer data, seamless data sharing, and improved collaboration across different departments.
How does CEM software help improve the customer journey?
CEM software enables businesses to map and analyze the customer journey from initial contact to post-purchase support. By visualizing and understanding each touchpoint, organizations can identify pain points, optimize interactions, and create a more seamless and positive customer experience. The software may offer features like customer journey mapping, automation, and personalized messaging to enhance the overall journey.
How much does customer experience software cost?
The cost of customer experience software varies depending on the vendor, the size of the organization, and the specific features included. Some vendors offer subscription-based pricing models, while others may charge a one-time fee or offer a free trial. It is important to evaluate the total cost of ownership, including implementation and maintenance costs, when selecting customer experience software.
Is customer experience management software scalable?
The scalability of customer experience management software depends on the specific solution and provider. However, many CEM software offerings are designed to handle increasing customer volumes and adapt to changing business requirements. It is important to assess the scalability of the software and ensure it can accommodate your organization's growth.
How can I measure the success of customer experience management software?
The success of customer experience management software can be measured through various metrics and indicators, including customer satisfaction scores, customer retention rates, Net Promoter Score (NPS), customer feedback and reviews, resolution times for customer issues, and revenue growth attributed to improved customer experiences. It is important to define key performance indicators (KPIs) that align with your business goals and track them over time to gauge the effectiveness of the software.