Online crowdfunding platforms in today's digital age make it simpler to collect financial backing for a company venture, a nonprofit cause, or even just your own personal goals.
So far, more than $34 billion has been raised globally using the below mentioned crowdfunding platforms, all with the help of simple technologies that make the process simple for fundraisers and their backers. Crowdfunding platforms are available for every kind of project or venture that needs financial backing.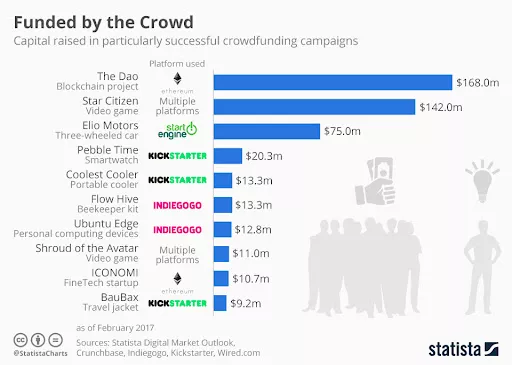 Top Reason For Crowdfunding
1. Business Startup
Entrepreneurs can use crowdfunding platforms to raise money for a new business venture. Anything from developing a brand-new product to launching a chain of eateries or retail outlets falls under this category.
Crowdfunding may seem like a huge challenge, but it can be a highly rewarding and effective way to fund your startup business. Incorporating the wisdom of the crowd into your business plan can help you bring your ideas to fruition.
2. Product Development
A new product or technology's development and production can be financed through crowdfunding. Anything from a new video game to a new medical device fits this category.
Crowdfunding has the potential to be a useful resource for inventors and business owners seeking capital for new product development. Using the crowd's purchasing power, you can get the resources you need to design, produce, and introduce a new product to market.
With the help of your investors, you can design and release items that appeal to your demographic, winning over new fans and laying the groundwork for repeat business.
3, Creative Causes
Crowdfunding platforms can be used to finance creative endeavors like albums of music, movies, and art installations. As a result, creatives can now receive direct funding from their audiences.
For creative types in need of financial backing, crowdfunding has the potential to be a game-changer. They can raise the money they need to realize their artistic vision with the help of their devoted audience. The backing of your patrons will allow you to realize your artistic potential and connect with your target demographic.
4. Humanitarian Causes
Crowdfunding platforms may be used for humanitarian efforts, such as assisting victims of natural disasters, supporting the poor, and preserving the environment. This makes it much easier for individuals and organizations to quickly and efficiently collect funds for deserving causes.
There has been a rise in the popularity of crowdfunding as a method for gathering donations for good causes. Crowdfunding is a method of generating money that relies on a digital network to pool the resources of many people to meet a common financial goal.
By using crowdfunding, activists may reach a wide audience of people who care about their social cause. Social media, email, and other online tools may help crowdfunding projects quickly reach a large audience of potential donors and backers.
5. Personal Causes
Crowdfunding platforms may also be used by individuals for personal issues such as to cover unexpected medical bills, college costs, or a well-deserved vacation. This means that individuals may depend on the encouragement of their close friends and family in order to realize their dreams.
To read more crowdfunding channels, check out this blog.
Steps for Raising Crowdfunding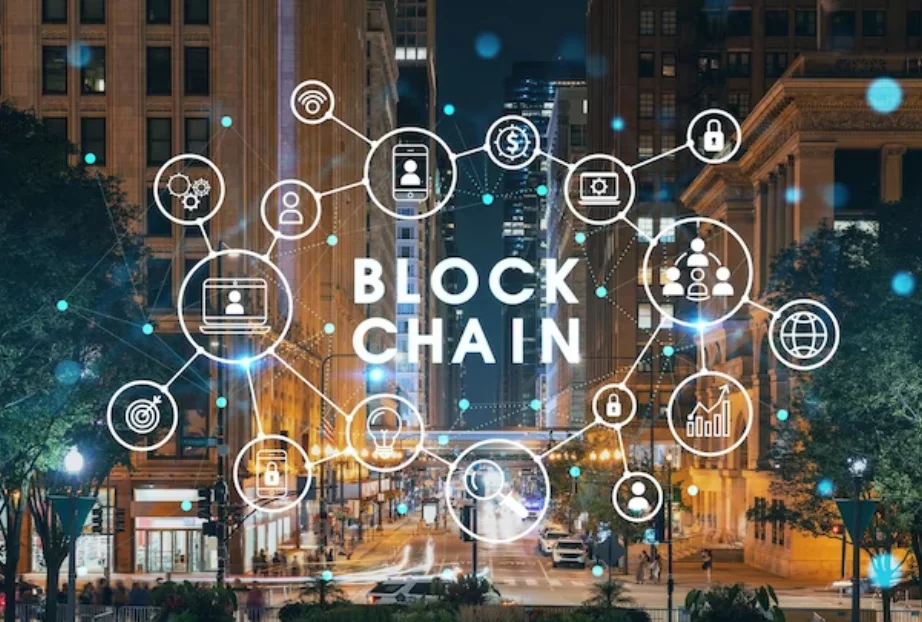 1. Select the appropriate crowdfunding platform 
Selecting the best crowdfunding platforms for your endeavor should be your primary focus. Kickstarter, Indiegogo, GoFundMe, etc. are just a few of the numerous crowdfunding sites out there.
It is important to do your homework and select a crowdfunding platform that fits in with your ideals and objectives because each one has its own set of guidelines and costs.
2: Establish your objectives and goals
After settling on a venue, the following step is to set your fundraising objective. Think about your financial situation and select a sensible goal. Think about the platform's costs and how they can affect your end aim. Explain to potential donors just how they will benefit from contributing to your cause.
3. Plan your campaign
Creating a captivating campaign is essential to gaining support. A video, high-quality photos, and a comprehensive explanation of your idea are essential components of a successful campaign. You need to make it easy for people to see what's in it for them if they back your project. The need to think outside the box, generate options, and then narrow them down may arise.
4. Provide for your rewards
Provide rewarding incentives that are both desirable and pertinent to your project's goals to increase the amount of money donated. Unique items, early access to the product, or handwritten words of appreciation are all great examples of rewards. Check that the fundraising goal and the production and delivery costs of the prizes are in harmony.
5. Launch the campaign
After everything is in place, you may release your campaign to the public. Use your social media, email list, and other marketing tools to get the word out and bring in some cash. To start your campaign rolling, you need to be ready to put in intense spurts of work. Maintaining the campaign's viability and attractiveness requires constant attention and revision.
6. Communicate with Your Supporters
Building a loyal following requires constant communication with your fans. Go back to those who leave comments or ask questions; keep them apprised of your work; demonstrate the impact of their contributions. So that your campaign may reach more people, ask them to spread the word through their social networks.
7. Fulfill Your promises
Delivering incentives to donors in a timely way is crucial after a successful campaign. As a result, you may need to manage logistics and keep track of pledgers' reward expectations. Communicate with your backers and be honest about any setbacks or problems that may develop.
8. Appreciate Your Supporters
Last but not least, be sure to express gratitude to those who contributed to your cause. Show your appreciation by sending handwritten notes or clicking "send" on some kind emails. This may call for some ingenuity on your part, but it's crucial that you show your fans how much you appreciate them.
Top Global Crowdfunding Platforms
Target location: Global
Platform fee: 5% of total funds raised
Model: Reward-based
Operating from: Brooklyn, New York
Ideal for: Artists, musicians, techies, filmmakers, designers, startups, small scale businesses, etc.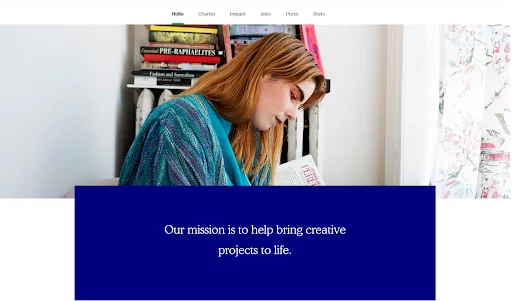 Kickstarter is the best platform to get your creative project off the ground. People can now raise money for anything from independent films to cutting-edge technology by using this revolutionary crowdfunding platform, and the community of backers is nothing short of inspiring. The whole point of Kickstarter is to bring together artists and people who care about what they make. Launching a successful Kickstarter campaign has never been more accessible than it is today, thanks to the platform's intuitive design and built-in tools for promotion and communication. 
Compared to other crowdfunding platforms, Kickstarter stands out due to its unique ability to increase awareness and enthusiasm for a venture. Before a product is released to the public, creators can use social media, email marketing, and other methods to cultivate an enthusiastic fan base and drum up initial interest. 
Plus, the frenetic energy makes Kickstarter a blast to use. Due to factors such as viral marketing and sudden upticks in support, your campaign's trajectory could take any number of unexpected turns. 
But the best part about Kickstarter is the community it creates. Backers join a larger community when they pledge to help fund a project. This community is dedicated to fostering an environment where new ideas can flourish. 
Whether you're an aspiring filmmaker, musician, designer, or inventor, Kickstarter can help you bring your ideas to life. There is no better place to launch your next creative project than here, thanks to the active community, cutting-edge platform, and unlimited potential.
As of September 2021, Kickstarter has had over 200,000 successfully funded projects.

The platform has had the glory of raising over $6.6 billion in pledges since its inception in 2009.

The top categories for successfully funded projects are music, film & video, art, publishing, and games.

In 2020, Kickstarter reported a total of 3.7 million backers worldwide. The average pledge amount on Kickstarter is $75. The success rate for Kickstarter campaigns is around 38%, with a higher success rate for smaller campaigns.

The biggest Kickstarter campaign is the

Pebble Time

smartwatch, which raised over $20 million in 2015.
Target location: Global
Platform fees: 5% of total funds raised
Model: Reward-based
Operating from: San Francisco, California
Ideal For: Techies, Startups, small scale businesses, service-based causes, etc.

Indiegogo is more than just another crowdfunding website; it's a vibrant and active hub that brings together artists and their fans from all over the world. Indiegogo is the hub for those who want to make a difference and make connections with others who share their goals, whether they be the launch of a new product, funding a social cause, or the realization of a creative project. 
Indiegogo was founded on a promise to provide creators with the resources they need to realize their visions. Indiegogo simplifies the process of telling one's story, growing one's fan base, and raising one's funding goals by providing a user-friendly interface and robust features for customization and communication. 
Indiegogo's main selling point, however, is the importance it places on fostering communities. Indiegogo fosters an environment where creators and their supporters feel a strong sense of community through the use of social sharing, collaboration, and engagement. 
The buzz and excitement of the Indiegogo community is another perk of being involved. There's no telling where your Indiegogo campaign will go, what with the possibility of viral marketing campaigns, unexpected surges of support, and the excitement of seeing a project come to life. 
But the most compelling argument for joining Indiegogo is the opportunity to be a part of something bigger than yourself, with the potential to make a positive difference. By bringing together creators and backers from all over the world to work towards a common goal, Indiegogo facilitates real change for the better. 
Indiegogo is the place to be if you want to be a part of a lively and active community of creators and backers. There's no better place to launch your next big project and leave your mark on the world than on this cutting-edge platform with its enthusiastic community and boundless opportunities for excitement and surprise.
As of 2021, Indiegogo has hosted over 800,000 campaigns from 223 countries.

Indiegogo raised over $2 billion in total pledges since its launch in 2008.

The top categories for successfully funded campaigns are technology, film, music, and health.

The platform has more than 17 million backers who contributed to campaigns.

The average contribution to a campaign on Indiegogo is $86. Indiegogo boasts a success rate of over 34% for campaigns, with a high success rate for campaigns that have raised at least 30% of their funding objective.

 The biggest campaign on Indiegogo to date is the

Flow Hive

campaign, which raised over $13 million in 2015.
Target location: Global
Platform fee: 5% of donations and payment processors take 2.9%, along with 30 cents per donation.
Model: Donation-based
Operating from: Redwood, California
Ideal For: Service-based causes, Startups, Artists, Designers, etc.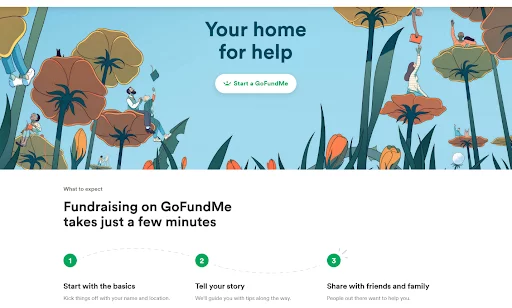 GoFundMe is a crowdfunding platform that can help you raise money for a personal cause. GoFundMe is a fun and effective way to reach out to people who care about your cause and want to lend a hand because of the platform's user-friendly design, robust social sharing tools, and committed community of backers. 
GoFundMe stands out from the competition in part because of how adaptable it is. GoFundMe is unique among crowdfunding platforms in that it can be used to raise money for a wide variety of purposes, from paying for medical bills and school tuition to funding creative endeavors and charitable contributions. Whatever your fundraising needs may be, GoFundMe provides the resources you'll want to launch an effective campaign and collect the money you need. 
It goes without saying that the success of any crowdfunding campaign is directly tied to the level of enthusiasm and participation from the campaign's backers, and in this regard, GoFundMe does not disappoint. GoFundMe's emphasis on community-building and robust social sharing features make it simple to reach out to donors and generate excitement about your cause.
As of 2021, GoFundMe has raised over $10 billion in donations from more than 120 million donors.
The platform has hosted over 50 million campaigns since its launch in 2010.

The top categories for successful campaigns on GoFundMe are medical expenses, education, and emergencies.

In 2020, the platform saw a surge in campaigns related to COVID-19, with over 100,000 campaigns raising more than $625 million.

The average donation on GoFundMe is $50, but campaigns with a strong emotional connection can see much higher average donations.

Over 40% of GoFundMe donors are repeat donors, demonstrating the platform's ability to build a loyal and engaged community.

The largest campaign on GoFundMe to date is the

Time's Up Legal Defense Fund

which raised over $24 million in 2018 to support women who have experienced sexual harassment or assault in the workplace.
Target location: Global
Platform fee: They charge a follow-up fee of 4% on any subsequent investment made by a nominee investor in a future round.
Model: Equity-based
Operating from: Cambridge, UK
Ideal For: Startups and small-scale businesses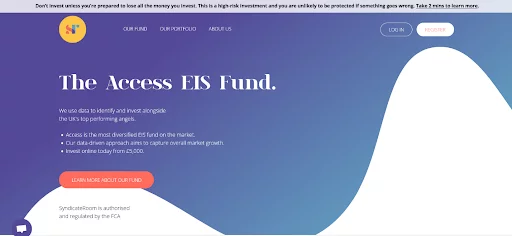 Do you want to back new companies but don't know where to put your money? If you're looking for the best crowdfunding platform for high-net-worth individuals, your search ends with SyndicateRoom. It is an equity crowdfunding platform that gives regular people the same chance as professional angel investors and VCs to put money into promising startups. Collaborating with other investors allows you to diversify your portfolio and gain access to deals that you might not be able to afford on your own. 
However, SyndicateRoom isn't all about the money. It's also about encouraging young people to pursue careers in business and innovation. Making an investment in one of these businesses is like fueling the engine that propels economic expansion and the creation of new jobs. 
SyndicateRoom facilitates participation by providing an intuitive interface and a staff of experts to answer any questions you may have throughout the investment process. Join the crowd of smart investors who have found success through SyndicateRoom's crowdfunding platform.
SyndicateRoom was founded in the UK in 2013 as a platform for angel-led equity crowdfunding.

The company raised over £200 million in funding for more than 200 early-startups across a variety of industries, including technology, healthcare, and consumer products.

SyndicateRoom has an investor network of over 1,000 high net worth individuals, as well as partnerships with institutional investors and family offices.

The platform's unique co-investment model, that allows investors to invest alongside experienced business angels, has led to a success rate of over 90% for businesses funded through SyndicateRoom.

In 2018, SyndicateRoom was named Best Investment Platform at the Growth Investor Awards, and the company has been featured in publications such as The Financial Times, Forbes, and TechCrunch

In 2018, SyndicateRoom announced a partnership with the

London Stock Exchange (LSE)

to launch the LSE High Growth Segment, which allows eligible UK companies to list on the LSE's Main Market.
Top Crowdfunding Platforms in Australia
Target location: Australia
Platform fee: Free registrations
VentureCrowd is a platform for businesses to introduce themselves to investors. Afterwards, the investors may go through the businesses and decide which ones they want to back. Since the common starting point is roughly $1,000, a wide variety of investors may participate.
VentureCrowd stands out from the pack since it allows users to choose between equity crowdfunding and traditional venture finance. To put it simply, equity crowdfunding is when backers obtain a stake in the company in return for their financial support. As an alternative, venture capital financing necessitates the formation of a special purpose company (SPV) to aggregate the funds of several investors. The investors' money is channeled via the SPV and used to make an investment in the company. Investors are allowed to take part in bigger investment rounds that are often reserved for institutional investors.
VentureCrowd has a strict vetting process for startups to raise funds on the platform. Startups are evaluated based on their business model, market opportunity, team, and traction. Only those that meet its strict criteria are accepted onto the platform. This helps to ensure investors are only presented with high-quality investment opportunities. VentureCrowd also provides ongoing support to startups as access to mentorship, networking opportunities, and other resources that help them to grow their businesses.
VentureCrowd has more than 16,000 registered investors on its platform.

According to VentureCrowd's website, the platform has a success rate of over 90% for startups that reach their funding targets on the platform.

In 2019, VentureCrowd was acquired by Artesian, a leading Australian venture capital firm, which has helped to further expand the platform's offerings and capabilities
Target location: Australia
Platform fee: 6% of funds raised (plus GST)
Model: Equity-based
Operating from: Melbourne
Ideal For: Investors, venture capitalists, startups, small scale businesses, etc.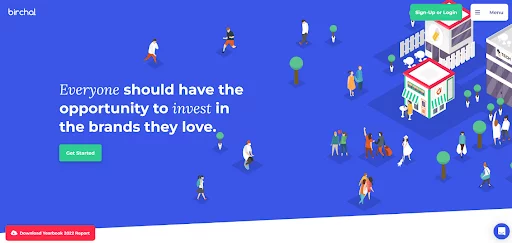 Birchal enables everyday Australians to invest in the startups and businesses they believe in, with investments starting from as little as $50. Businesses can raise up to $5 million per year, providing a source of capital that was previously unavailable to many. Birchal has also recently expanded its offerings to encompass reward-based crowdfunding, allowing businesses to offer perks or rewards in exchange for contributions, similar to popular platforms like Kickstarter and Indiegogo. Its success has not gone unnoticed, with the platform winning several awards, including the FinTech Australia Excellence Award for Investment Innovator of the Year in 2020.
Birchal is well-positioned to continue providing a valuable service for both businesses and investors alike as the Australian startup ecosystem continues to grow and evolve.
As of September 2021, Birchal had helped raise over $50 million for various Australian businesses, with over 90 successful campaigns on the platform. The platform has also attracted over 22,000 investors and facilitated over 25,000 transactions. 

Birchal has won several awards, including the FinTech Australia Excellence Award for Investment Innovator of the Year in 2020.

Notable success stories include

CleanSpace

, a manufacturer of air quality monitoring devices that raised over $4.4 million, and SpaceTech startup Quasar Satellite Technologies, which raised $3.4.
Top Crowdfunding Platforms In The UK
Target location: UK
Platform fee: A success fee of 7% and 0.75% -1.25% of all funds raised
Model: Equity-based
Operating from: Exeter, UK
Ideal For: investment, business, start-up, startup, entrepreneur, small business, equity, crowdfunding, angel investors, business finance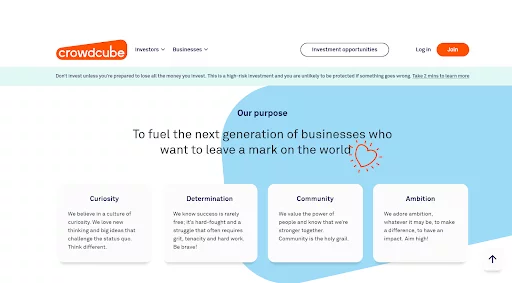 The success of Crowdcube may be attributed in part to the fact that it is a simple and straightforward platform for both companies and investors to launch and run campaigns, as well as for investors to find and fund promising new ventures. To ensure that companies get the most out of their campaigns, Crowdcube provides them with a number of complementary services, such as investor relations and marketing. Crowdcube has developed a debt crowdfunding service in addition to its equity crowdfunding platform, allowing firms to acquire capital through loans rather than shares.
This gives companies more options for raising capital and gives investors access to a hitherto untapped asset class. Ultimately, Crowdcube is a game-changer in the financial industry since it gives both entrepreneurs and investors a new and easy option to generate funds. This crowdfunding platform is the perfect place for anybody wishing to launch a business or find the next great thing to invest in. 
Over 1,100 businesses have raised more than £1 billion on Crowdcube since its launch in 2011. 

The platform has attracted more than 1.1 million registered users.

Crowdcube has facilitated over 2,000 successful campaigns, with average campaign size of £950,000.

The platform has a success rate of 82%.

Notable success stories include

Monzo

, a digital bank that raised £20 million in just two hours, and Camden Town Brewery, which raised £2.75 million in one of the platform's largest crowdfunding rounds.
Target location: UK
Platform fee:  7.5% on any profit made
Model: Equity-based
Operating from: London
Ideal For: Startups, small scale businesses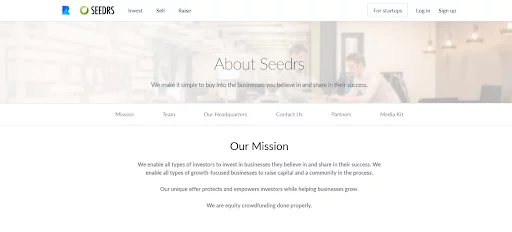 There has never been a time like this before for startups and early-stage enterprises thanks to Seedrs, a new crowdfunding tool. Seedrs helps to level the playing field by making it easier for entrepreneurs to get access to finance. The investors at Seedrs are enthusiastic about the prospects for the firms they back, and they provide the capital needed to get those enterprises off the ground.
Seedrs provides a number of services, including marketing, legal advice, investor relations, and continuing assistance, to help firms launch and run successful campaigns. It has a stringent verification procedure to choose only the most credible firms to include on its website. Financial, legal, and operational elements of the organization are all evaluated in this thorough due diligence process. Seedrs is protecting investors and bolstering confidence in the crowdfunding market by screening all firms that post on its site.
Seedrs' Auto Invest function is a standout among similar offerings. Investors may create a profile and have their money invested in companies that fit their preferences automatically using this service. This not only helps companies acquire the money they need faster, but it also makes it simpler for investors to spread their money around. 
Seedrs has raised over £1 billion for startups and early-stage businesses across various sectors. The platform has facilitated + 1,200 successful campaigns, with an average campaign size of £1.5 million.

Seedrs has over 1 million registered users from 48 different countries. The platform has a success rate of 78%.

Seedrs has a portfolio of over 1,000 companies, with a total valuation of over £1.5 billion.

Since its launch in 2012, Seedrs has raised over £1 billion for startups and early-stage businesses across various sectors, including technology, healthcare, and renewable energy. 

Notable success stories include

BrewDog

, the craft beer company that raised over £53 million on the platform, and Perkbox, the employee benefits provider that raised over £14 million.
Top Crowdfunding Platforms In Canada
Target location: Canada
Platform fee: No platform fee. However, 2.9% + $0.30 (depending on your country) standard third-party payment processing fee will be charged by PayPal, Stripe or WePay.
Model: Donation-based
Operating from: Vancouver, British Columbia, Canada
Ideal For: organizations, charities, and personal causes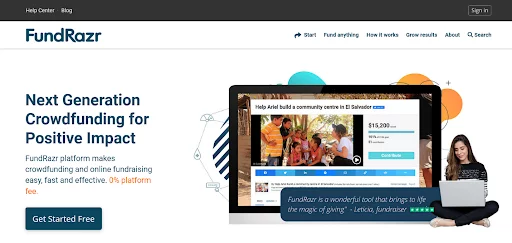 In the crowdfunding world, time is of the essence for the majority of campaigns. The FundRazr crowdfunding platform ensures that you can create a fully functional online fundraising page in minutes and begin collecting funds straight away. 
FundRazr's extensive social sharing features, automated updates, milestones, and innovative post-donation workflow all contribute to its effectiveness in motivating your audience to contribute. 
Fundraisers can reach out to new people and reconnect with old ones through the app's robust set of built-in sharing options, which include the usual suspects like Facebook and Twitter as well as Messenger and Whatsapp and good ol' email. Donors are encouraged to join your groups, share your campaign with their social networks, and more after making a donation on this platform.
Donations are safely collected, quickly retrieved, and deployed for good use by fundraisers thanks to free fundraising, quick money retrieval, and trusted payment processing.

FundRazr has helped raise over $220 million for over 140,000 campaigns globally since its inception in 2010.

It helped raise over $25 million for over 10,000 campaigns since its launch in 2013.

The average donation amount on FundRazr is around $70.

FundRazr charges a platform fee of 5% on all donations, plus a payment processing fee of 2.9% + $0.30 per transaction.

Some of the most successful campaigns on FundRazr Canada include a fundraiser for

Fort McMurray wildfire relief

hat raised over $1.7 million, a campaign to help a Toronto man get a new wheelchair that raised over $72,000, and a campaign to support a family of Syrian refugees that raised over $58,000.
Target location: Canada
Platform fee: 5% for transactions below $10,000 and 2% for transactions above that.
Model: Equity-based
Operating from: Toronto
Ideal For: Small-Medium scale businesses, startups, social and environmental causes, etc.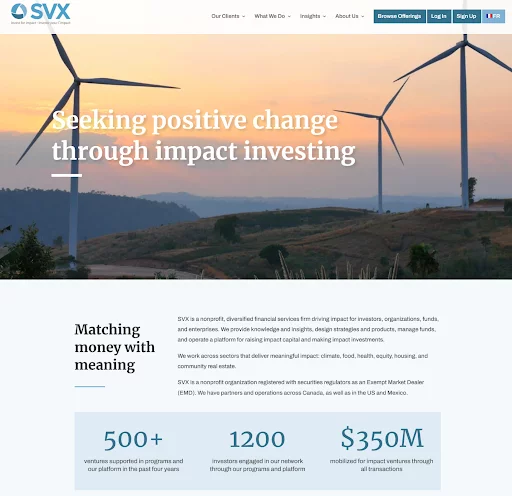 Since its launch in 2013, SVX facilitated over $80 million in impact investments in Canada.The platform has helped more than 75 ventures raise capital from a network of over 2,000 investors interested in making a positive social or environmental impact with their investments.
SVX has attracted a diverse range of investors, including high net worth individuals, family offices, foundations, and institutional investors.
In addition to its impact investments, SVX has also been recognized for its innovative approach to impact measurement and reporting. The platform uses a proprietary impact assessment tool called the IRIS+ system to help ventures measure and report on their social and environmental impact. This tool has been adopted by a number of other impact investing platforms and organizations around the world.
Just Vertical is a Canadian startup that designs and builds indoor vertical farms to grow fresh produce year-round. 

The company raised over $300,000 through SVX in 2018 to help fund its expansion. 

Since then, Just Vertical has gone on to install its farms in homes, schools, and businesses across North America, reducing food waste and increasing access to fresh, healthy produce.
Top Crowdfunding Platforms In India
Target location: India
Platform fee for "Normal Campaigns":
Processing charge: 3000 INR plus GST per campaign 9%Contract charge: 6% of the total amount collected payment gateway charges: 3% of the total amount collected.
Platform fee for "Group Campaigns":
Processing charge: 3000 INR waived off-contract charge: 9% of the total amount collected payment gateway charges: 3% of the total amount collected.
Model: Reward-based
Operating from: Bangalore, India
Ideal For: Social causes, creative art, and charities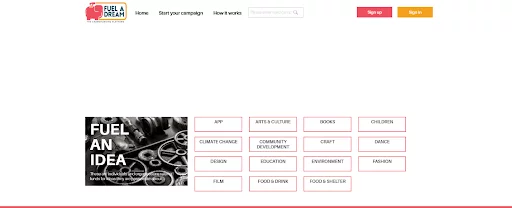 'Where dreams become reality' is the motto of Fuel a Dream. A crowdfunding platform that has faith in the potential of every dreamer and the strength of community. By the generosity of a dedicated community of backers like you, we want to give life to the ambitions of people, nonprofits, and social entrepreneurs.
Take part in something greater than yourself by donating to Fuel a Dream. You may contribute to a student's tuition, a local nonprofit's operations, or the introduction of a new product by a social company. Each initiative featured on our site has its own backstory and team of passionate individuals working toward a shared goal: bettering the world. Please consider being a part of the Fuel a Dream community now.
You may choose from many different initiatives, each of which has the potential to improve the world in some way. You can search for projects based on criteria that matter to you, learn about the visionaries behind each one, and then decide which ones to back. 
According to

Statista

, the global crowdfunding market size was valued at $13.9 billion in 2019 and is projected to reach $28.8 billion by 2025.

Fuel a Dream has raised over INR 75 crores (approximately $10 million USD) for more than 400 projects since its launch in 2016.

Fuel a Dream has a success rate of over 70%.

The most popular categories for projects on Fuel a Dream include education, health, social entrepreneurship, and creative arts.
Target location: Netherlands
Platform fee: 7%
Model: Rewards, Donation and Equity
Operating from: Amsterdam
Ideal For: Startups, Small Scale Businesses, Social Causes, etc.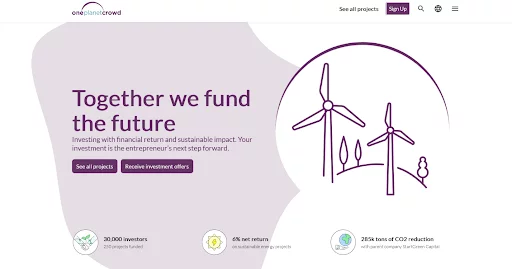 Sustainable and social impact initiatives are the mainstays of Oneplanetcrowd, a crowdfunding website. Originating in the Netherlands in 2012, it has subsequently grown to include international enterprises.
Oneplanetcrowd provides crowdfunding options that don't drain your savings or generate no profit. Oneplanetcrowd enables funding in the form of subordinated securities rather than plain stock. Also, the target amount should be between €100,000 and €2.5 million. Also, the firm should be able to raise at least 20% of its target amount privately before launching any public campaign. 
Founded in 2012, Oneplanetcrowd has successfully funded over 400 projects. Oneplanetcrowd has a community of over 55,000 registered investors, who have collectively invested over €30 million in projects on the platform. The platform has a success rate of around 80%, which means that 8 out of 10 projects launched on the platform successfully meet their funding goals.

Oneplanetcrowd has helped fund projects in a wide range of sectors, including renewable energy, sustainable agriculture, social entrepreneurship, and more.

Oneplanetcrowd has won several awards for its commitment to sustainability and social impact, including the Dutch Accenture Innovation Award in 2014 and the

European Commission's European Social Innovation Competition

in 2016.

Oneplanetcrowd has won several awards, including the Crowdfunding Platform of the Year award at the Dutch FinTech Awards in 2019.
Conclusion
If you're looking for a way to get your concept off the ground and realize your goals, crowdfunding might be the perfect solution. You've probably done some research into the top crowdfunding sites by now; ideally, you've discovered several that would be a good fit as you want to expand your business.
Please feel free to comment below with your thoughts and experiences using any of the aforementioned channels.
FAQs 
How should I do to start a crowdfunding drive?
Crowdfunding campaigns include selecting a platform, deciding on a financing goal, crafting an engaging pitch, and spreading the word about the campaign via various online mediums. In addition, you could consider using incentives like awards or benefits to entice your fans to make donations.
What types of projects can be crowdfunded?
Crowdfunding may support a broad variety of projects, from artistic ones like music and film productions to practical ones like new product development and social impact efforts. To win over prospective backers, you need a concept that is both distinct and engaging.
If I don't get enough money, what will happen?
You will not get any of the promised funds if your campaign does not successfully raise the necessary funds by its specified end date. It's smart to prepare for the possibility that you won't be able to raise the whole amount you need.
How can I maintain communication with my campaign's supporters?
While organizing a crowdfunding drive, communication is of paramount importance. Provide your backers frequent updates on the status of your project, including any delays or obstacles, and demonstrate the impact of their donations. Updates may be sent to supporters and conversations can be held with the help of most platforms' available capabilities.
What's the best way to provide prizes to my backers?
When your campaign has been funded, you must deliver on the prizes you promised. Distributing a product might mean anything from emailing a link to a download to physically mailing it to a customer. It's crucial to remain in touch with backers as the fulfillment process progresses in order to keep them informed of any delays or problems.