One of the most challenging aspects of starting a business is securing funding. Crowdfunding platform enables you to raise money from a large number of people as opposed to a small number of people like with a bank loan or traditional investors like with a pitch. 
Additionally, by allowing others to "buy into it" with pre-orders, donations, and investments, crowdfunding can provide entrepreneurs with a way to validate demand for their ideas prior to entering production. In 2021, the global crowdfunding market was valued at 13.64 billion U.S. dollars and was forecast to double by 2028, growing at a compound annual growth rate (CAGR) of 11.2 percent.
Benefits of Crowdfunding Platforms

1. It provides access to capital
Early on, entrepreneurs may believe their sole funding options come from authorized investors, venture capitalists, and banks, all of whom they know personally.
The opposite is true. Crowdfunding is a fantastic alternative financing option since it doesn't need the issuance of shares or the amassing of debt. Using a crowdfunding platform that offers rewards enables business owners to solicit monetary contributions from the general public in return for the provision of goods or services.
2. It serves as a risk management tool
It's challenging and safe to start a business from scratch. Unpredictable costs, difficulties in validating the market, and the involvement of others who want a share of your venture's success are just a few of the obstacles that may derail even the best-laid plans. 
A crowdfunding campaign mitigates these dangers and provides an invaluable experience. The current iteration of crowdfunding makes it possible for a business owner to test the waters with potential customers without handing over any of the company's ownership.
3. It is a promotional tool
Launching a successful crowdfunding campaign is a low-cost and time-efficient strategy for introducing a business to the market and spreading awareness of its goals and objectives.
Referral traffic to your website or other social media sites is simple to get since many crowdfunding platforms have built-in social media features. In most cases, this results in thousands of unpaid visits from interested consumers and possible investors. For viral marketing, these people are especially crucial because of the influence they may have on their networks via sharing and word-of-mouth.
4. It demonstrates that the idea is sound
It's challenging to demonstrate to investors and persuade yourself that your business has early-stage market validation. In any case, crowdsourcing allows for this to happen.
A successful crowdfunding campaign is a great approach to garnering respect and credibility from potential angel and institutional investors by demonstrating that your enterprise has already shown its viability. This demonstrates honesty and trust from the outset of an endeavor and paves the way for constant course-checking to ensure success.
5. It facilitates the use of a collective mind
When starting a firm, one of the hardest things to do is find ways to fix every potential problem immediately. The entrepreneur may interact with the public and gather suggestions, comments, and criticisms via a crowdfunding campaign.
Insights from customer comments like this may shed light on previously unsuspected facets of a company's operations, making them incredibly useful. It can spark new thoughts as well!
6. It helps meet potential repeat consumers
In addition to showcasing a company and its offerings, a crowdfunding campaign also provides a platform for the entrepreneur to spread the campaign's message and its motivations to potential backers. Those who check out the entrepreneur's campaign and decide to donate are committed to the company's long-term development.
They are the first to try anything new. The first word-of-mouth from early adopters is invaluable to any firm since they will do so for free. Such people care about the venture's brand and message and are likely to be loyal customers throughout its life.
7. It's much simpler than the conventional application process
Asking for a loan or seeking other capital investments are two of the most unpleasant procedures any entrepreneur has to go through, particularly during the early phases of the firm.
Thankfully, the application process for crowdfunding is a walk in the park compared to these traditional methods. To get started on the crowdfunding route to money and publicity, an entrepreneur must contact the selected crowdfunding site that matches their campaign theme and purpose, convey their venture's strong message, produce a video, and set some tempting prizes.
8. It's a free form of advertising
The momentum created by successful crowdfunding campaigns attracts potential investment from traditional channels and attention from media outlets.
Success stories make for good reading, and reporters are constantly eager for them. Crowdfunding is a unique and hot market these days, and several entrepreneurs who have been successful with it have experienced increased success and visibility as a consequence.
9. It allows the chance of pre-selling
Starting a crowdfunding campaign allows an entrepreneur to pre-sell a product or idea they still need to put to market. This is a fantastic technique to evaluate user response and study the market to determine whether to pursue or pivot on a particular proposal.
10. It is free!
With all-or-nothing crowdfunding sites (meaning that you only receive the cash raised if you accomplish 100% or more of your fundraising goal), there are many perks and no price to join.
There is no consequence for a business owner who sets a goal but fails to achieve it. No one on the platform, not even the entrepreneur, keeps any money raised; all of it is returned to the backers.
On the other hand, if the fundraising project is successful, everyone wins and gets to be a part of a successful crowdfunding project. When successful, the typical commission for the platforms is roughly 5% of the total cash collected. 
Types of Crowdfunding Channels
    Equity crowdfunding: Equity crowdfunding is the most conventional of these funding mechanisms. The capital necessary to expand your business comes from selling a stake to an investor or group of investors. 
    Donation Crowdfunding: Crowdfunding through monetary donations is viable for some organizations, such as charities and small businesses. All you need to do is launch a campaign to solicit financial support for your company, and there is no obligation to pay back the donation. 
    Debt Crowdfunding: When business owners borrow money from the general public rather than traditional lending institutions, they engage in debt crowdfunding, sometimes called "marketplace" funding. These loans are structured similarly to conventional business loans, with a fixed interest rate and repayment schedule. 
    Reward Crowdfunding: Most people are familiar with rewards-based crowdfunding. Sites like Kickstarter have popularized offering rewards to donors who contribute a certain amount
Factors To Consider Before Choosing A Crowdfunding Platform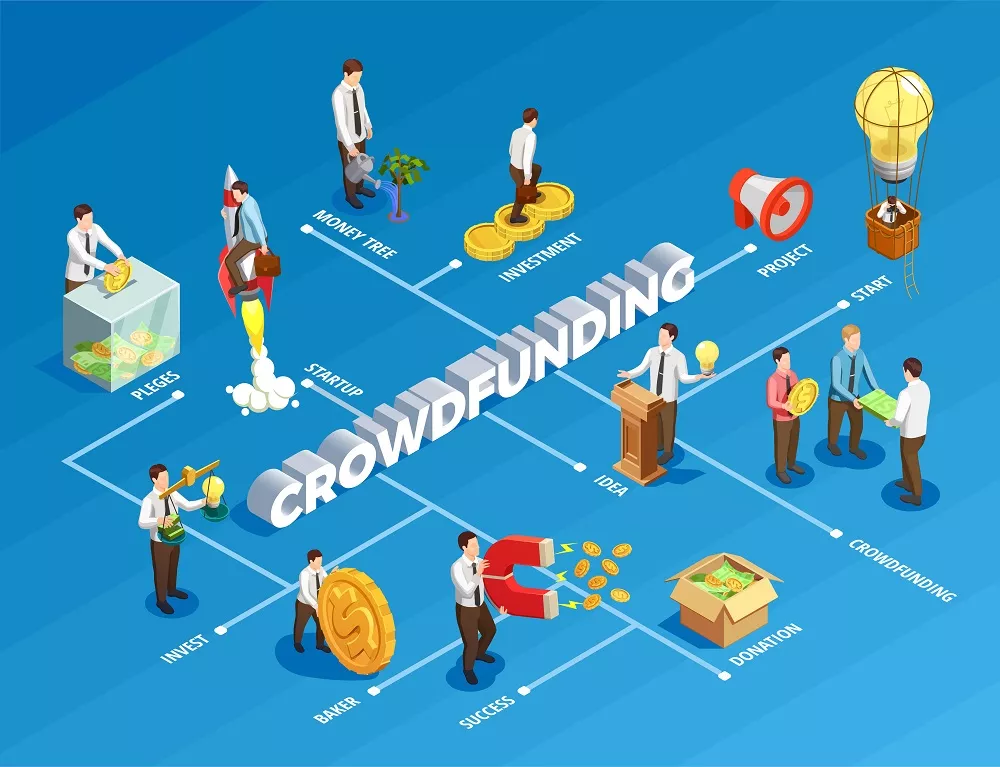 Unique crowdfunding goals
Think carefully about what you hope to achieve with your campaign before committing to a platform. Establishing a business strategy or plan now could prove useful later on. It's important to do your homework and find a crowdfunding platform that seems like a good fit based on the types of projects they've previously backed.
The purpose of the campaign
Why are you starting a crowdfunding campaign? Setting a goal and counting on the generosity of complete strangers to meet that goal isn't how crowdfunding works. After picking a venue, you can write a description of your project and add visuals, documents, and links to further back up your claims. When it comes to raising money for a project, the most effective crowdsourcing campaigns adhere to a strict business plan.
The crowdfunding platform's structure
Generally speaking, there are three main categories of crowdfunding: donation-based, equity/lending-based, and rewards-based. Non-profits and charities can benefit greatly from the donation model because donors are not looking for a return on their money. Equity and lending models offer investors ownership in the business or a share of future profits in exchange for capital. Investors can receive varying levels of benefits from the model's rewards system, depending on the amount they put in. The completed crowdfunding campaign itself is frequently offered as a reward.
Crowdfunding platform fees and missed targets
Crowdsourcing as an activity has no associated costs, but registration on most platforms does. Fees can vary from five percent to fifteen percent, depending on the site. These costs may be subtracted from donations, and there may be additional, unseen service fees. Depending on the method of transfer, additional fees may be incurred from entities such as credit card companies or PayPal. 
Before setting a fundraising goal, it's important to determine whether or not that number is actually achievable. There is no penalty for failing to reach your funding goal, but all contributions will be cancelled and returned to those who made them. You can learn more about the fee structures of individual crowdfunding platforms by visiting their terms and conditions pages.
Available payment methods
There are a variety of methods for verifying funds on crowdfunding platforms. Authorization holds, credit cards, and captures are three of the most common approaches. Authorization holds are used by many platforms to verify that a donor has the financial means to fulfil a pledge. A typical hold time for a bank to hold such transactions is 30 days. Credit card payment authorization is a convenient method for investors, but there is some uncertainty about whether or not the transaction was actually processed. Another option is to collect the full amount at the time of the donation and return it if the campaign fails.
Crowdfunding platform support options
It's no secret that the level of assistance provided by some most well-known crowdfunding sites is largely lauded by their patrons. Besides the features included in the crowdfunding plan, some platforms also provide integrated business tools like Facebook and Google integration, which can be used to further your own marketing goals. Some organisations provide constant access to resources and information via chats and helpline numbers. Pick a crowdfunding service that will help you achieve your primary objectives.
Crowdfunding platform restrictions
You might think you've found the ideal crowdfunding platform, but you should still be aware of any limitations. In the case of equity crowdfunding campaigns, for example, there are rules that must be followed. Before committing to a platform, it is important to familiarize oneself with its policies and ensure that they fit the needs of your project.
Check out the list of Top Global Crowdfunding Platforms of 2023. 
Conclusion
Crowdfunding is a method of raising money or resources online from a large number of people to support a cause or venture, alleviate poverty, or accomplish a lofty goal or set of goals. Helping a friend or an entire community is at the heart of the crowdfunding definition. You can fund anything from a friend's college education to your own medical procedures.
FAQs
How does crowdfunding work?
Most crowdfunding platforms will host your campaign for free or for a small fee, but they will typically take a cut of the funds you raise. Investors receive "rewards" of various kinds in proportion to the amount of money they pledge. Depending on the amount of money pledged, backers may receive perks such as early access to the supported product or public recognition. You'll need to decide how much money you want to raise and how long you'll give people to donate to your cause on most crowdfunding platforms (between 30 and 90 days is typical). You can keep all the funds you raise on some platforms regardless of whether or not you reach your goal. Still others, such as Kickstarter, use an all-or-nothing model in which backers receive their full contributions even if the project doesn't reach its funding goal. 
Successful crowdfunding campaigns put you in a great position to turn your project into a profitable business by capitalizing on the audience you've already built.
What are the benefits of using a crowdfunding platform?
Crowdfunding platforms, in other words, make it possible for individuals and small businesses to solicit financial support from many people for a wide variety of initiatives and causes. Furthermore, they let individuals to put money into causes they care about, with the possibility of earning a return.
What are the potential pitfalls of using a crowdfunding website?
There is no assurance that a project will be profitable or that investors will get their money back. Someone may exploit crowdfunding sites to steal money from unsuspecting backers.
Can you explain how crowdfunding sites generate income?
Most crowdfunding sites will want payment for their services. This may take the form of a fixed rate or a percentage of the total amount collected.
What factors should I take into account when selecting a crowdfunding platform? 
The type of platform (donation-based, rewards-based, or equity-based), fees charged by the platform, success rate of campaigns on the platform, and level of support provided to campaign creators are all important factors. 
Can anyone use a crowdfunding platform?
Anyone can use a crowdfunding platform, but some platforms may have restrictions on who can create a campaign or invest in a project. For example, equity-based crowdfunding platforms may require investors to meet certain qualifications, such as being an accredited investor.