Creating a multivendor marketplace should be the next step in your business expansion strategy if you want to grow your ecommerce company. This should be included in your business plan. This growth is driven by an increase in the number of businesses that are adopting multivendor ecommerce websites in order to broaden their product offerings, speed up their cross-border expansion, and improve their logistics, costs, and operational efficiency.
However, in order to successfully run a marketplace, you need to have marketplace software that is designed to have full control over the administration vendor relationship. This is because keeping a positive administration vendor relationship is the key to successfully completing a multivendor ecommerce platform.
What is a Multivendor Marketplace? 
Multiple sellers can sell their goods or services on a multivendor ecommerce website or marketplace. This kind of marketplace is also sometimes referred to as an "online marketplace" or a "marketplace model."
The ecommerce interfaces and functionality required for multivendor operations are present on the multivendor marketplace platform. Marketplaces with many vendors are nothing new. They have existed for many years. Just think back to the congested, multi-seller city markets (aka vendors). Street trading has now moved to our computers and smartphones. The product is displayed in a vendor listing when the user searches for a certain item.
Multivendor Marketplace Market Stats 
Statista estimates that the multivendor marketplace market size was over $5.2 trillion globally in 2017 and would likely reach $8.1 trillion by 2026, which is an increase of 56%. According to another report, multivendor ecommerce sales worldwide are predicted to reach $8.8 trillion in 2025 at a CAGR of 20%.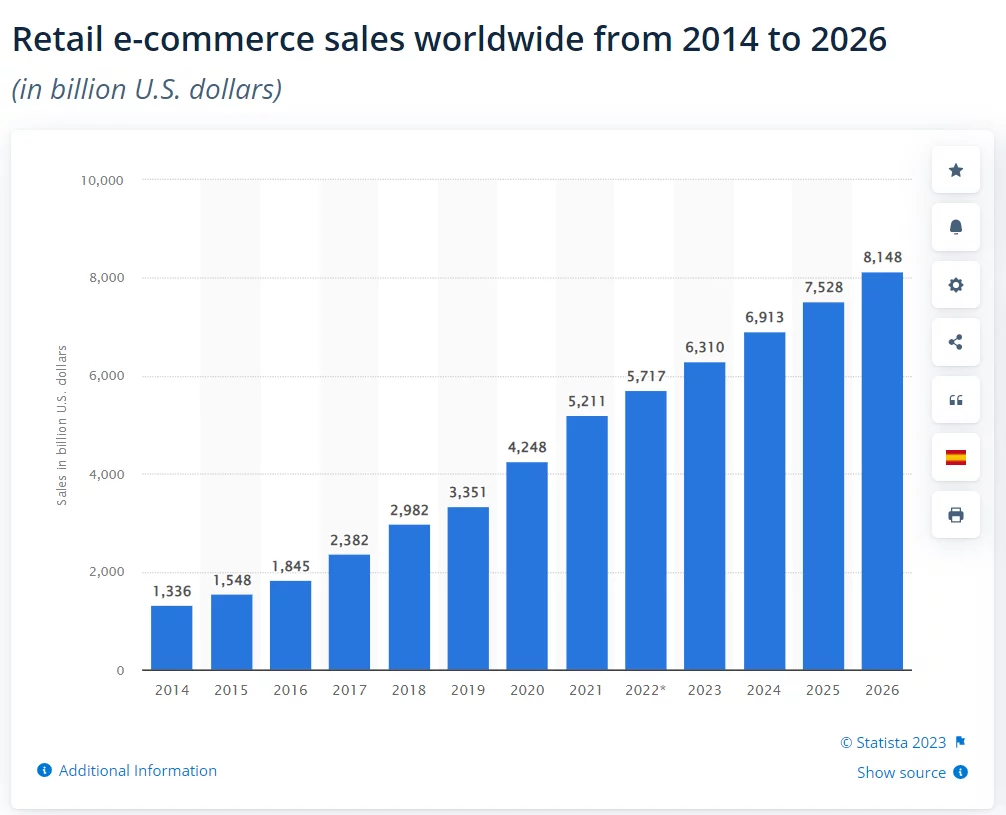 Social commerce is a relatively recent trend that exploded following the COVID-19 outbreak. The US social commerce market, which eMarketer estimates grew by 25.2% and reached 80.1 million purchasers in 2020. It is expected to reach 101.1 million consumers by 2023. Social media sites like Instagram and Facebook have evolved into multivendor eCommerce platforms in this situation.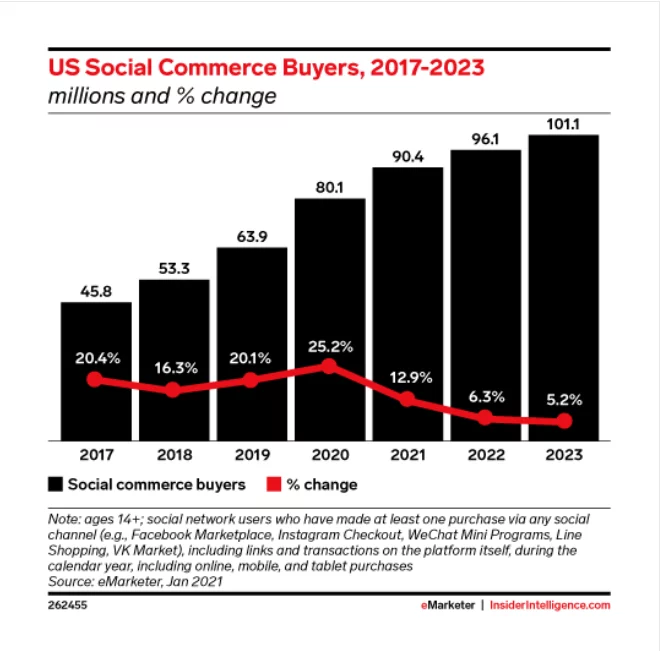 How does a Multivendor Website Work?
Three parties are involved in a multivendor marketplace: marketplace vendors, buyers, and marketplace owners or operators. 
The owner of the marketplace controls both the store's operations and the marketplace platform. All vendors either pay a commission for selling on a marketplace or a membership fee, depending on the operator's preferred business model and approach.
The owner of the marketplace may also use other business strategies, such as selling market data or providing marketing services, to generate income.
Types of eCommerce Multivendor Marketplaces
B2B marketplaces

B2C marketplaces

Hyperlocal marketplaces

D2C marketplaces

C2C or P2P marketplaces
Key Characteristics of Multivendor Marketplaces
Responsive themes

Product management

Stock management

Order monitoring

Shipping and delivery

Creative search filters

Reviews and ratings

Tools for SEO & marketing

Integrations with payment gateways

Analytics and reports
The Most Popular Examples of Multivendor Marketplace Platforms
Amazon

eBay

AliExpress

Alibaba

Etsy

ASOS 

Walmart
Top 10 Most Popular Multivendor Marketplace Platforms of 2023
Customers, vendors, and marketplace owners all benefit from online markets. The ability to create a diverse monetization model with an online marketplace is more significant for marketplace operators. In contrast to eCommerce retailers, sellers have greater chances to grow their business. Customers also get access to a variety of products on a single platform.

One of the most potent platforms for online stores ever created is Magento. It is constructed using open-source software. Additionally, it offers the source code, which you can edit as needed. The Community Edition and Enterprise Edition of Magento are more significant. Due to its support for both front-end and back-end development, it is one of the best platforms for online marketplaces.
Your Magento store may become a feature-rich marketplace with the help of our multivendor marketplace. Additionally, Magento provides a free, open-source platform for you to launch an online store. Eventually, a multivendor marketplace plugin will also be available for purchase. More importantly, if you have a lot of experience with Magento for development, getting started is simple.
Pros of Magento
Strong security

Routine updates

Multi-brand approach

A huge developer community

solid user interface

enhanced efficiency

numerous opportunities for customization

Commerce Finance PCI compliance

a variety of extensions for large-scale online stores

being able to choose any hosting platform
Cons of Magento
As a program for multivendor marketplaces, Magento has expensive development costs.

You will also require skilled programmers with previous platform management experience. Thus, learning and comprehending the platform will take a lot of effort for inexperienced developers.

The marketplace solution with multiple vendors is vulnerable to security problems.

Frequent software updates drive platform transfer.

Customization costs money. In comparison to other marketplace eCommerce systems, it also takes a lot of time.
Pricing
Single License: $299
Standard License: +$249
Premium License: +$899
Agency License: +$2999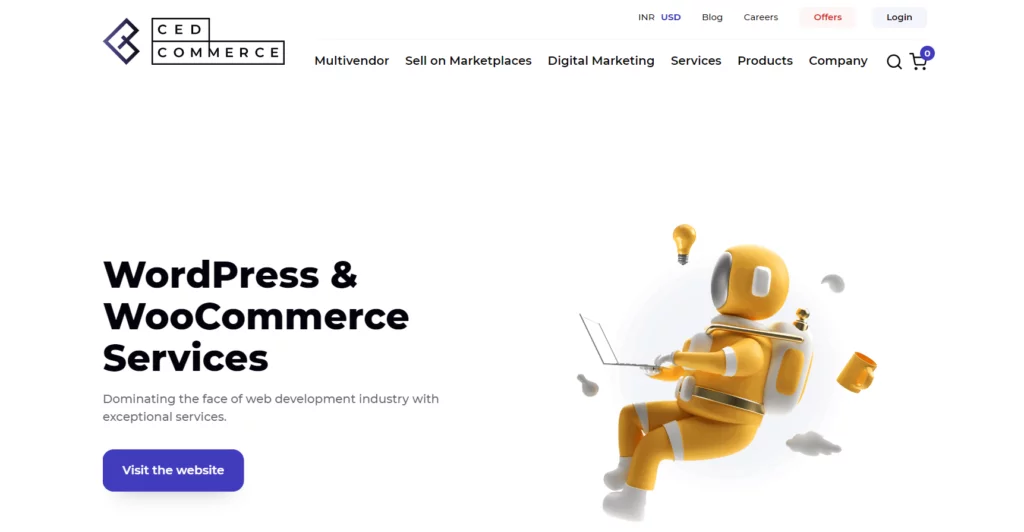 CedCommerce is a good choice for business owners that want to create a multivendor online marketplace. This would make it possible for vendors to come together on a single platform to promote their goods, display their profiles, handle orders via a separate vendor dashboard, and monitor sales figures.
In order to turn your Magento e-commerce website into a functional and feature-rich multivendor store similar to Amazon and eBay, you may use the multi Vendor marketplace solution for Magento, which offers a wide range of capabilities. Vendors using Magento 2 stores can build a website that is customized to their own company needs with the aid of different Magento multivendor plugins.
Pros of CedCommerce
current knowledge bank

eCommerce solutions that are flexible and agile

Comprehensive project analysis

Pre-testing and advice

application of cutting-edge tools

made-to-order extensions

Stunning applications

Project management that is effective

Free Trial

3 months of unrestricted customer service

Consult Adobe-certified professionals
Cons of CedCommerce
There is no opportunity for improvement because it includes all of eBay's fields.

You don't need anything else because it basically just copies the eBay field photos.
Pricing
$299 – $1600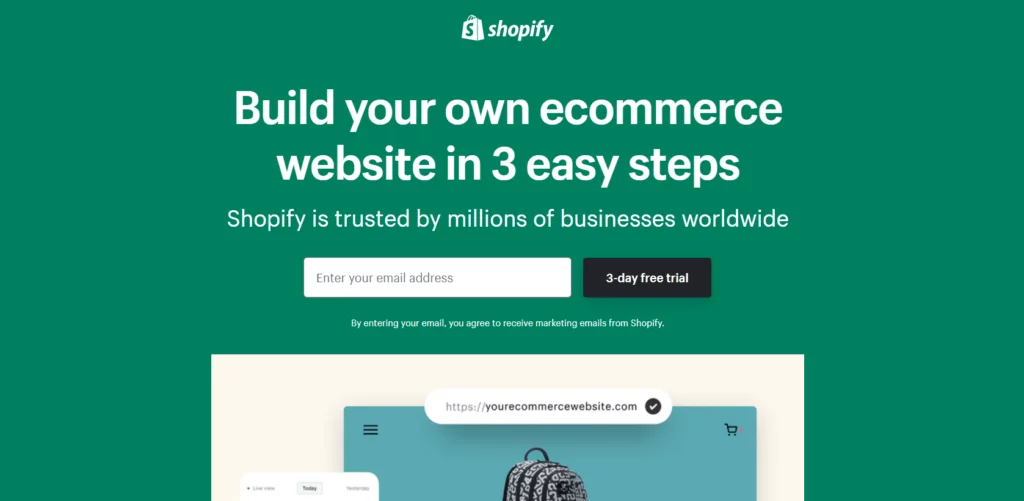 One of the top platforms for multivendor marketplaces is Shopify. To convert your single-seller store into a multivendor marketplace, it offers a quick and simple option. Additionally, Shopify includes a POS system. Additionally, it provides simple and quick interfaces for marketing and logistics. More importantly, you have access to a variety of applications for varied market use cases. It also has a reasonable monthly price and an intuitive interface. These are the reasons why Shopify has gained popularity as a multivendor marketplace platform.
Pros of Shopify
There are minimal investment requirements for small merchants 

No coding expertise is needed.

Best for an online website builder that includes a robust blogging platform

A cloud-based eCommerce platform where you only need an internet connection to get started because it is hosted online.

There is no need for software maintenance and upgrades.

Completely alters the appearance and feel of your online marketplace.

By altering the theme code, you can change your online store entirely.

User interface that is responsive, intuitive, and mobile-friendly.

Makes use of the Shopify App Store for features. 
Cons of Shopify
There is a lack of scaling potential with the eCommerce platform. 

You should be familiar with Liquid if you want to modify the built-in themes.

The PHP language is used by the multivendor marketplace software to build the themes.

Email hosting is not a feature of Shopify's plans. If you wish to create an email address for your marketplace, you'll need to look for another provider.
Pricing
From $10/month
15-day free trial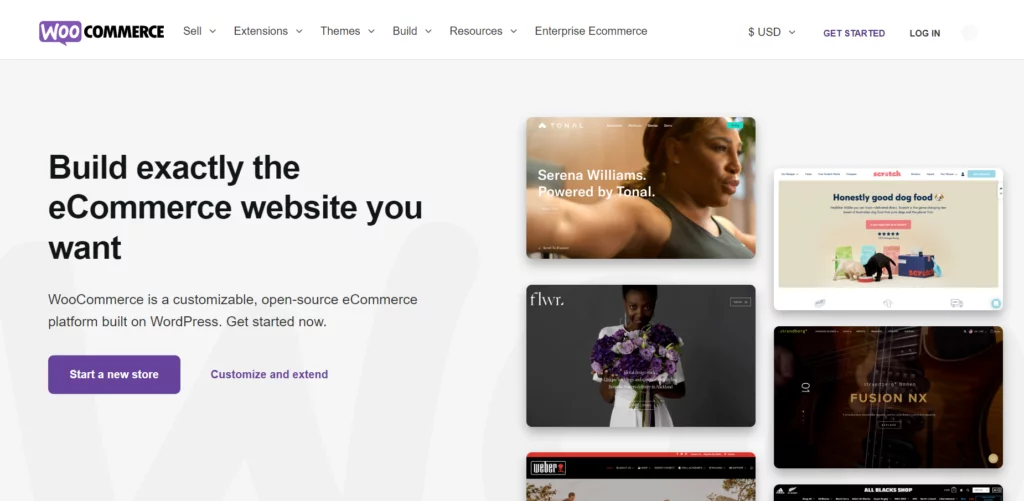 WordPress users, both small and big, use the popular WooCommerce plugin. It is also an open-source, adaptable WordPress plugin. More importantly, WooCommerce delivers all of WordPress' fundamental and sophisticated features. Additionally, it gives you a huge selection of themes to personalize your online store.
Additionally, the eCommerce platform allows you the freedom to market a variety of goods. These include digital, downloadable, and tangible goods available on the market. It is also a simple-to-use plugin for those who have prior WordPress development experience. This platform is best suited for companies who want marketplace functionality for their WordPress websites.
Pros of WooCommerce
Superior scalability and affordability compared to comparable well-liked multivendor marketplace platforms.

Setup is quick and simple with the WooCommerce Wizard.

Uses a comprehensive content management system (CMS).

Possibilities for interaction with the vast international WooCommerce community.

Offers security plugins for your website so that they may be checked frequently. 

Guards against viruses and potential dangers.
Cons of WooCommerce 
Isn't geared toward the European market. You may, however, find both free and paid plugins for the same.

The software for the multivendor marketplace comes without any legal wording by default. For instance, the general terms and conditions, the data protection statement, the shipping rules, etc.

Cannot be used on websites that are not hosted on WordPress because it is a WordPress plugin.

Because of its WordPress-specific nature, it is less attractive to established commercial businesses.

Need to purchase some extra payable extensions if you want your online marketplace to function at its full potential. For business owners, it eventually gives the perception of having hidden costs.

Overusing plugins and extensions might make your website load more slowly. As a result, it affects how well it performs overall.
Pricing
$49.00/year with a 30-day money-back guarantee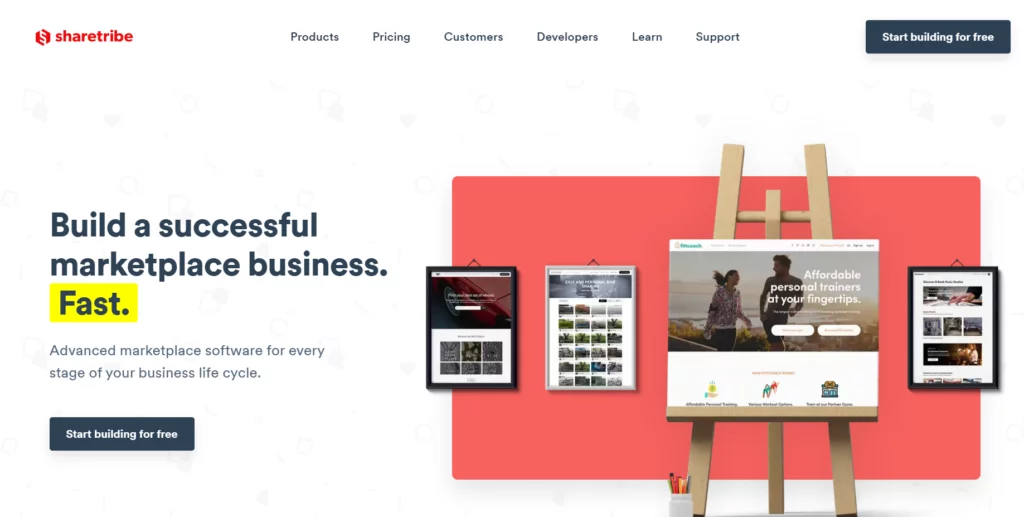 It is a cloud-based eCommerce platform. It enables business owners to create a multivendor marketplace that is customizable. Additionally, it is a hosted marketplace solution powered by SaaS with a subscription-based business model. Sharetribe is made up of the Sharetribe Go and Sharetribe Flex products.
Additionally, Sharetribe Go is a scalable marketplace platform for eCommerce. A multivendor marketplace can be created without any programming knowledge. In comparison, Sharetribe Flex helps business owners to build a multivendor marketplace using APIs. The best alternative for small and medium-sized businesses is Sharetribe. It makes use of front-end development to provide functionality that is simple to change. The multivendor marketplace platform also provides top-notch customer service.
Pros of Sharetribe
Fully adjustable to all screen sizes and gadgets.

Unlimited ability to customize.

No coding experience necessary.

Obtain all necessary features for a multivendor marketplace.

Online payments are secure.

Updates frequently and new features.

Regulation and legal compliance.

Seasoned customer service 365 days per year.
Cons of Sharetribe
It offers few marketing options and tools.

There are also no ready-to-use APIs. Additionally, it only offers two payment gateway choices (PayPal and Stripe).

Sharetribe does not presently provide mobile app development for iOS and Android.
Pricing
Sharetripe offers four pricing plans. Here we are providing semiannual rates for the Sharetribe Go package:
Hobby – $79/month
Pro – $119/month
Growth – $159/month
Scale – $239/month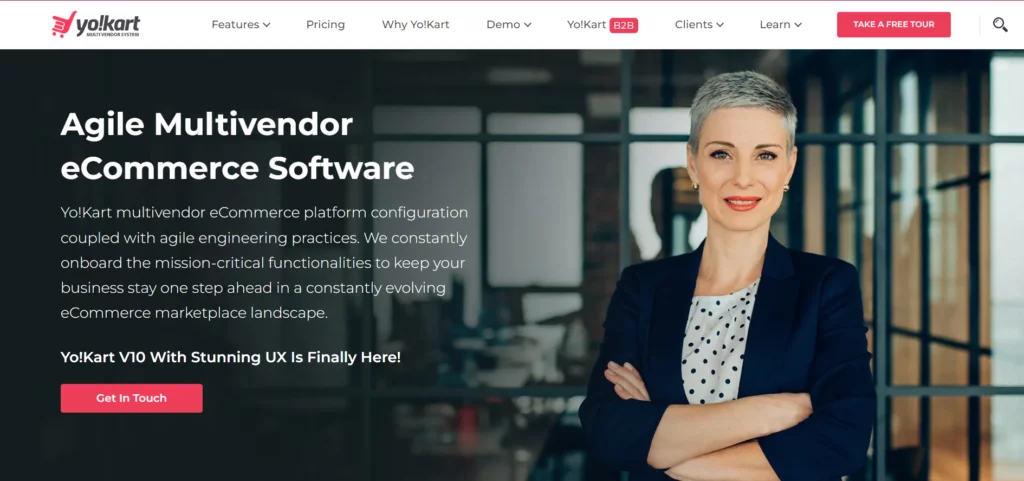 One of the top self-hosted multivendor marketplace platforms is Yo!Kart. Additionally, the adaptable solution supports a variety of business models, including B2C, B2B2C, and P2P, as well as all revenue sources found on eCommerce marketplaces, including commissions, subscription plans, sponsored adverts, PPC, and more. More importantly, it has key marketplace capabilities built-in to enable the admin to manage and market the business successfully, vendors to sell, and customers to intuitively experience eCommerce.
The scalable software includes a number of pre-integrated business APIs and payment mechanisms. These include ShipStation, Stripe Connect, TaxJar/Avalara, and many others.
Additionally, Yo!Kart B2B is a purpose-built alternative to Yo!Kart to power a marketplace specifically for the B2B eCommerce sector. It also includes extra B2B-specific features, including an integrated RFQ module, support for bundled or exclusive services and goods, and features like minimum order quantities, bulk pricing discounts, direct messaging, and more.
Pros of Yo!Kart
individual vendor stores.

Easily accessible product catalogs.

Multiple features for cross-selling and up-selling.

Advanced analytics SEO suite availability.

Easy to use UI/UX with a flexible search bar.

Multicart and one-page checkout.

Supporting several languages and currencies.

Accommodates both physical and digital products.

Compliance with PCI-DSS and GDPR ensures a secure ecosystem.

Free-of-charge transaction.

Lifetime ownership of the source code and license.

Free technical support for up to a year; no additional fees.
Cons of Yo!Kart
The availability of a few themes.

Getting acclimated to the multivendor marketplace platform could take some time.
Pricing 
GoQuick: $999 (lifetime ownership)
GoQuick Boost: $2499 (lifetime ownership)
GoCustom: $6,999 (lifetime ownership)
GoCustom Prime: RFQ (lifetime ownership)
* Yo!Kart B2B pricing starts at $1499 onwards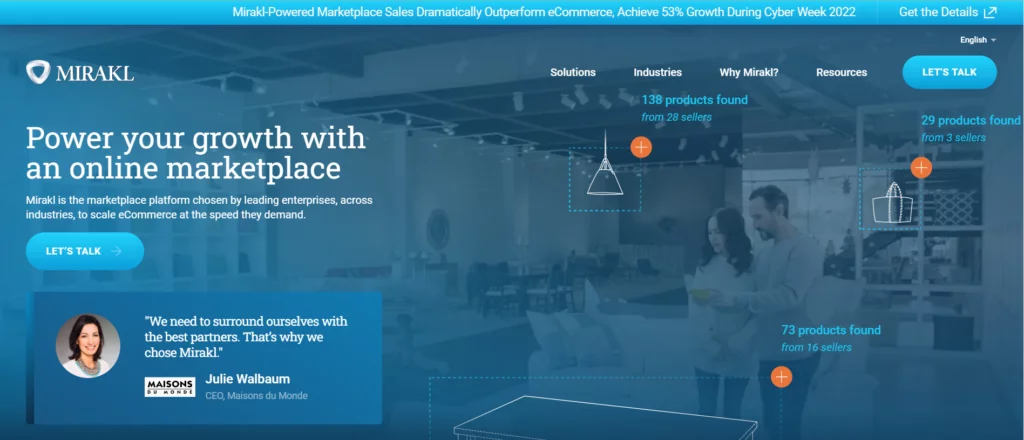 Mirakl promotes itself as a versatile, fully adaptable, and readily scalable eCommerce platform since it accommodates all business models. But while being well-liked, it's one of the most expensive multivendor marketplace platforms. Mirakl automates your marketplace operations as a SaaS-based platform. These include seller onboarding, order administration, third-party catalog integration, and seller billing.
The multivendor marketplace platform also stands out for its performance, quality, and security. It is a cloud-based solution that has proprietary pre-built connectors and a flexible REST API design. As a result, it offers a scalable way to improve marketplace experiences. Over 300 marketplaces with more than 35,000 vendors are currently powered by Mirakl. Last but not least, Mirakl provides dropshipping services.
Pros of Mirakl
Control and flexibility for managing your eCommerce business's explosive expansion.

With extensive configurability, you may onboard vendors quickly and efficiently.

Get top-notch support from a group of knowledgeable specialists in your field.

Ready-made connectors and adaptable APIs guarantee seamless integrations across the online market.

Adheres to the strictest security standards.
Cons of Mirakl
Poor investment return. The cost is not warranted.

To convert a commercial platform into a 3PL/Marketplace paradigm, Mirakl is merely a MIDDLEWARE. Mirakl is NOT an online store. It is a platform that enables vendors to control their offerings, products, and orders (when these are placed by the customer and accepted by the seller).

Mirakl only adds a few more 3PL capabilities to it.

If cost is not a concern, it is a good solution because it is scalable.
Pricing
Though the price is not officially and openly reported, Mirakl price starts from $493,000 for the first year.

One of the most well-liked multivendor marketplace solutions is CS-Cart. Since 2005, it has run more than 35000 international retailers and 1300+ marketplaces. The eCommerce platform is also self-hosted and comes with all the necessary tools and functionality. These features include a sophisticated system for managing orders, a system for paying vendors, several storefronts, etc. The app store also offers add-ons for incorporating a real-time currency converter. Additionally, you can incorporate advanced MailChimp and the Facebook conversion API.
Pros of CS-Cart
FedEx Cart and USPS connections guarantee that orders are shipped promptly. Additionally, real-time shipping cost estimates are available.

Security is ensured by GDPR compliance.

The solution offers multi-store administration and customizable vendor storefronts.

45-day free technical support is one of the other user-friendly features. The multivendor tutorial is crucial because it will help you with the initial setup of the eCommerce website.

Vendors have access to monthly subscription plans that are customizable.

Additionally, the platform includes numerous currencies and 26 built-in languages.

Lastly, there are several themes for product pages as well as an advanced search option with 45 search parameters.
Cons of CS-Cart
Regular concerns about restrictions on paid tech help have been made to CS-Cart.

Other significant negatives of extensions are their poor user experience and subpar quality.
Pricing 
Basic Multivendor: $1,450
Multi-vendor Plus: $3,500
Multivendor Ultimate: $7,500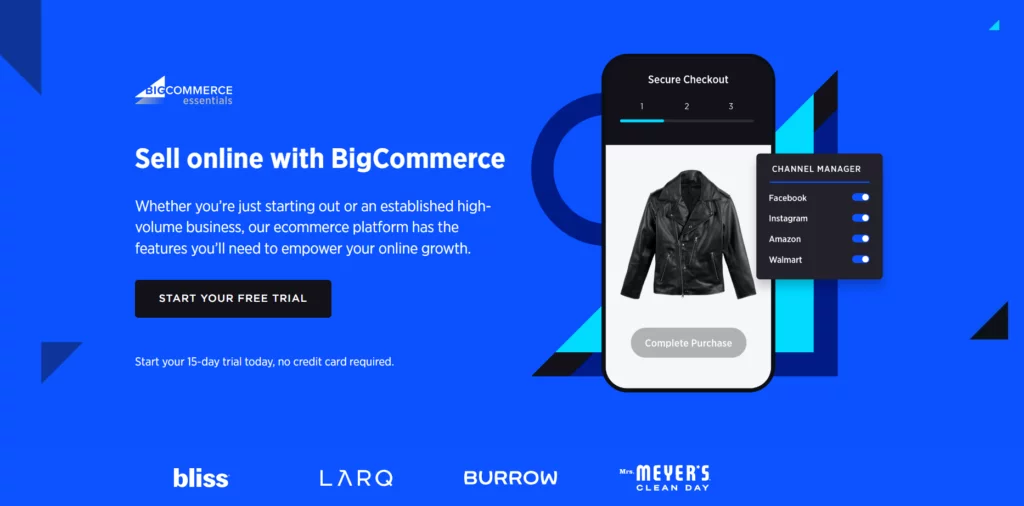 Unlike other popular multivendor marketplace platforms, BigCommerce features a marketplace app. It enables merchants to build a marketplace by extending their regular ecommerce store. Thus, you are good to go once you have added the required features of a marketplace platform. You can add vendors, track their products and orders, and more. Moreover, you get various tools and features to manage vendors and marketplace operations. These features include one-page checkout, customer groups, and segmentation.
You also get access to a simplified shipping process and a built-in blogging platform. Furthermore, you can integrate your marketplace with social media. You can also advertise with Google shopping. More importantly, you can also optimize pages with Google AMP and Akamai.
By setting up different commission tiers, the free integration enables admins to manage their taxes. More importantly, a streamlined payment management system enables you to manage vendor payouts easily. Round-the-clock customer support, expert advice, and assistance also make BigCommerce a preferred option.
Pros of BigCommerce
Unlike other popular multivendor marketplace platforms, there are no additional transaction fees.

Supports mobile-optimized commerce.

Can localize your online store for global markets.

Flexibility to manage your multivendor marketplace your way.

Deliver a personalized shopping experience.
Cons of BigCommerce
Customizable themes are quite expensive.

Need for a lot of trial and error to finalize a responsive and sophisticated webpage.

There is a limit put on the amount of annual online sales you make.

Multivendor extensions bear high costs.

There's an unavailability of varying themes.
Pricing
BigCommerce plans range from $29.95 to $299.95. Additionally, there's custom pricing for enterprise plans and marketplace plugin costs.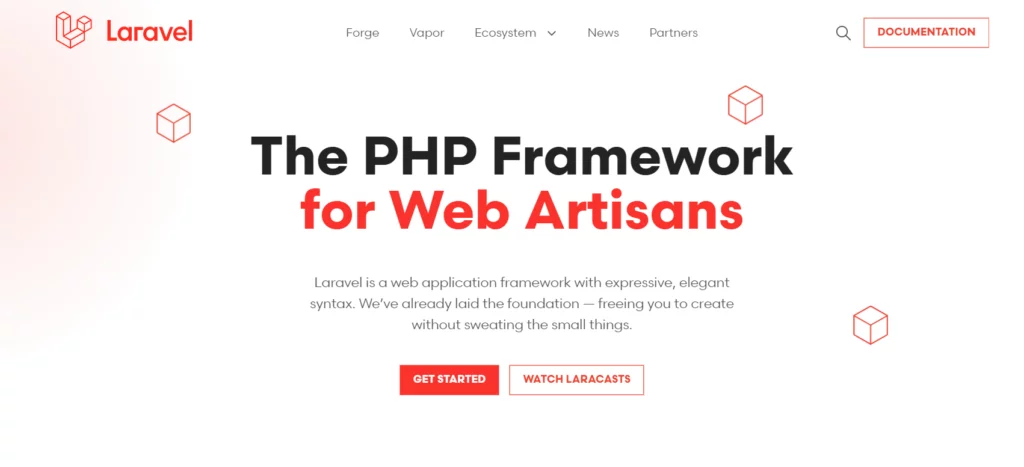 Laravel is a web application framework that makes web development simpler with its expressive and elegant syntax. The framework's goal is to use PHP to create unique web apps. Among other things, a comprehensive authentication system and automatic testing capabilities exist.
Laravel is a flexible framework used for a variety of projects, including caching and routing. It is mostly a back-end development framework, although it also has front-end features.
Pros of Laravel
Coding is considerably easier. This is so that the software requires as little coding as possible because it includes a large library of pre-programmed features. The program makes it simpler to create reliable web apps as a result.

One such scalable framework that you may use for small and medium-sized web applications is Laravel.

There is a secure access control system built into the software.

It has a strong framework that makes it simple for you to handle any flaws or problems.

Additionally, the framework will let you store passwords in an encrypted format rather than plain text, adding an additional layer of security.

Thanks to the extensive user documentation that is readily available in its most basic form, web frameworks are now more accessible. The software also comes with simple-to-understand PHP screencasts.
Cons of Laravel
It contains lower functionality when compared to other frameworks and is regarded as lightweight software. Although it may create strong and substantial web applications, the process can be time-consuming.

Expensive compared to other frameworks.

Support for Laravel is difficult to find. The lack of publicly accessible assistance for the program could be problematic in the event of system outages.

Website creation moves fairly slowly.

Laravel updates frequently, which is great. The drawback of this is that outdated versions of the product develop bugs very quickly. Additionally, sometimes it might be challenging for web developers to update to new software versions.
Pricing 
Price range is $299 – $1499.
What are the advantages of using a multivendor website?
For all parties concerned, there are numerous advantages. Along with having the option to select the revenue model and platform they want to utilize, this gives marketplace owners the opportunity to broaden their product offerings and gain direct access to insightful customer data that they can use to their advantage in the future. Vendors gain from being able to select the platform they want to work with, sell their goods and services alongside rivals, and have access to analytical data and useful insights. The marketplace platform's wide range of options primarily benefits customers.
What are the drawbacks of using multivendor websites?
Software for multivendor marketplaces may be more challenging to set up and run than markets with only one seller. It may be more challenging to guarantee overall quality control when there are several sellers. To find the diamonds, buyers might have to sift through inferior products. Finally, fierce rivalry may force suppliers to cut their pricing or risk losing clients.
Conclusion
We will never tire of emphasizing the importance of flexibility when selecting a multivendor e-commerce platform. Business needs, markets, business models, clients, and objectives are all subject to change. As a result, you should pick your multivendor marketplace provider carefully so that it can adapt to your company's evolving needs. If it is unable to do so, you will need to replatform, which is a major pain. Therefore, keep adaptation and flexibility in mind while selecting your multivendor solution. Your market should expand along with your business.