Are you balancing the needs of new business development, existing client relations, SEO project management, SEO team leadership, and long-term agency growth? Managing a successful SEO firm is a challenging feat. More than ever, adapting to ever-changing SERP features, search engine requirements, customer standards, and algorithm updates are necessary.  Even the most skilled SEO professionals can become sidetracked by the sheer volume of work. It's only possible to do some things by hand, no matter how large your team is. For this reason, your technology stack must include nothing less than the top SEO software for agencies. 
What is SEO Software for Agency?
SEO software is a suite of search engine optimization (SEO) tools that can help you run your agency more efficiently, collect search engine intelligence, promote productive collaboration among teams, and manage SEO projects for your clients. It's fundamental for the development of a successful agency. 
Successful operation of an SEO software for agency requires more than just technical knowledge of the SEO industry. Like any other business, yours requires that you set up systems for managing your staff, facilitating communication both in real-time and off, and keeping tabs on the results. 
It's not uncommon for CEOs and managers at SEO firms to wear several hats at once. They conduct audits, develop strategies, research, write, optimize, and communicate with colleagues and clients from different departments. The ability to automate tasks as much as possible while still providing a personalized customer experience is essential, and this is where the SEO agency software fills the gap.
Benefits Of SEO Software
Time-saving: Using SEO software makes it easy to automate time-consuming operations like conducting keyword research, analyzing backlinks, and evaluating competitors, resulting in time savings. You can divert a significant portion of the time you would have spent on this activity in any other circumstance to more fruitful commercial endeavors.

Efficiency: Efficiency is increased using SEO software, which analyzes massive data sets faster than a human can. It identifies potential issues that could hurt the rankings of your website and provide recommendations on how to address those issues.

Accurate data analysis: SEO software makes precise data analysis possible using cutting-edge algorithms. This indicates that data received through SEO audit tools are more reliable than the data gained through methods that require more effort.

Stay ahead of the competition: To stay ahead of the competition, it is valuable to use SEO software, which can give you insights into the SEO strategies used by your rivals. This will allow you to maintain your position as the leader in your industry. You can adjust your strategy as a direct result of this analysis.

Improve website performance: Search engine optimization (SEO) software may help you identify and fix problems slowing down your site, allowing you to improve its speed and attract more visitors. Doing so has the potential to boost both your site's visibility and its overall traffic.

Cost-effective: Using SEO, when compared to hiring an SEO expert or agency, is cost-efficient. As a bonus, it can help you save money by providing insightful data and information that will help you avoid making mistakes.
Factors To Consider Before Choosing SEO Software For Agency
Identify your specific needs: Before looking for software, it's essential to determine exactly what your agency requires. In what ways do you anticipate the program being useful? Do you need tools like keyword analysis, site auditing, analytics, reporting, project management, or payment processing? Create a prioritized list of the features that are most important to you. Ensure you know exactly what you want and what functions you need to get there.

Consider ease of use: The best software in the world is only helpful if you and your team have help learning how to use it. Consider the learning curve for new team members and prioritize user-friendly and intuitive software. You should only spend time and money on simple software that people will learn to use correctly.

Evaluate integration options: Consider whether or not the software will work with your current setup and processes. Verify that it works with your website, CMS, and other SEO software for management. Find a program that plays well with your existing software ecosystem by prioritizing those compatible with the other tools and platforms you use. In the end, this will help you save effort and time.

Check for scalability: Check the software's scalability; your agency may expand in the future, and if so, you'll need something that can grow with it. Verify that the software can scale to meet your needs now and in the future, and factor in any costs associated with doing so.

Look for customer support: It's important to find software with helpful customer service because you'll inevitably have questions or problems. Check to see if the software you're considering provides phone, email, or live chat support from helpful people.

Consider the cost: Finally, consider how much the software will set you back and any additional fees or subscription costs. Find software that does what you need at an affordable price. 

Read reviews and ratings: Check out how other people like the software you're purchasing have liked it by reading reviews and ratings they've left. That way, you'll better grasp the program's capabilities and limitations.

Test it out: If the software has a free trial or demo available, use it before you buy it. This can help you evaluate the software's functionality and features to see if it fits your needs.
Tools For SEO Software
SEO Software For Keyword Research
With an SEO agency's tools, you may research keywords to learn which terms and phrases are the most important for your company's website and traffic.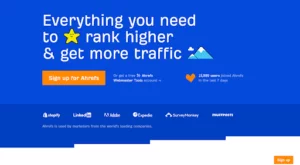 Keyword research, link building, competitor analysis, and rank tracking are some features offered by Ahrefs, an all-inclusive SEO agency software. When a new website goes live, Ahrefs begins crawling and saving information about it in its petabyte-sized database. 
Features:
Keywords Explorer

: The Keywords Explorer tool displays prospective keywords, together with data on how much organic traffic they receive and how difficult they are to rank for.    

Site Explorer

With the Site Explorer, you may investigate the natural traffic, inbound links, and outbound links of any given website. 

Site Audit

: Site Audit is a tool for examining and auditing your website's on-page SEO.
Pricing
   Lite: $99/month

   Standard: $179/month

   Advanced: $399/month

   Agency: $999/month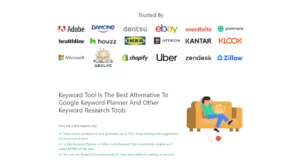 One of the best SEO tools available, Keyword Tool, uses Google Autocomplete, Google's function that suggests search terms relevant to the current query, to generate long-tail keywords for any topic. Keyword tools are used to find the best keywords to optimize website content for search engines like Google. Using relevant keywords, website owners can improve their search engine rankings and drive more site traffic. This can lead to increased visibility, engagement, and conversions.
Features:
Keyword Research: A keyword tool can look up popular terms associated with a specific market or field. It provides keyword ideas using more than 80 different Google language interfaces. 

Search Volume: Search volume data is provided by this instrument, which tells you how often a given keyword is searched for each month. It provides precise data on CPC and search volume for all keywords worldwide.

Level of Competition: The program analyzes every term's level of competition, so you can get an idea of how challenging it could be to rank for that keyword. 

There are over 190 Google domains that it crawls for keywords. 
Pricing:
Keyword Tool: Free

Keyword Tool Pro Basic: $69/month

Keyword Tool Pro Plus: $79/month

Keyword Tool Pro Business: $159/month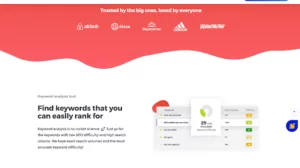 For agencies looking to build sponsored search campaigns, KWFinder is an SEO tool that can help. Keywords are ranked by search volume, CPC, and search difficulty and presented in a list format. 
Although KWFinder is helpful in any market, it shines when dealing with high-traffic keywords. While researching terms with low search volume and high specificity, you may find that the data is less trustworthy. 
Features:    
First and foremost is the ability to look up information about a keyword by using tools like Trend, CPC, and Search. 

Domain Look-Up allows you to investigate the content of competing websites by looking up their domain names. While assessing the competition, you can use this function to your advantage. 

To facilitate keyword analysis, you can create specialized sub-lists from your master keyword list in the "

List Creation

" section.
Pricing:
Mangools Basic: $29/month

Mangools Premium: $39/month

Mangools Agency: $79/month
SEO Software For Link building
Get high-quality backlink chances that can boost your website's authority and rank with the help of a variety of SEO agency software solutions.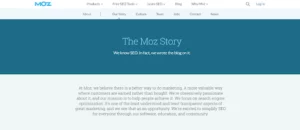 Moz is used by the industry's biggest names in marketing. To keep tabs on and manage your clients' links, the Moz Link Explorer Tool comes highly recommended. With a database containing a massive 40.7 trillion links, it is one of the top SEO software for agencies. Its Link Intersect feature simplifies locating the ideal backlinking chances for your client's websites.
Features:
Research Competitor Backlinks: Analyze your rivals' link profiles and learn where they're obtaining their incoming links with this helpful tool for competitor research. 

Link Intersect: With this tool, you can find opportunities to link with your competitors but not you.

Domain Authority Checker: To monitor indicators like Domain Authority, Page Authority, and Spam Score, use the DA Checker.
Pricing:
Standard: $99/month

Medium: $179/month

Large: $249/month

Premium: $599/month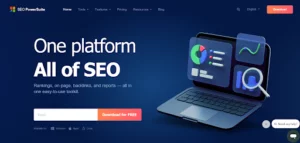 One of the best SEO tools is Link-Assistant, which can help you discover thousands of high-quality inbound links. Consistently accurate findings are guaranteed thanks to the tool's daily crawl of about 7.1 billion pages. 
Features:
Finding Link Partners: To help you identify suitable link-sharing partners, Link-Assistant may search for websites using the keywords you provide, locate them, and even recommend other keywords to use.

Complete Control of Emails: Link-Assistant not only locates the email addresses of prospective link partners but also lets you send those emails without ever leaving the platform.

Link Directory: When you use Link-Assistant to make a link directory, it will be styled differently than the rest of your site. This link directory can be tailored to your preferences and allows you to categorize your connection partners.
Pricing:
Professional: $149

Enterprise: $349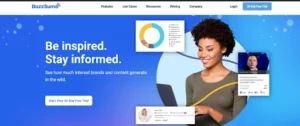 BuzzSumo's greatest strength is that it is not limited to merely locating highly successful articles for link development. Also, it has several tools that can assist you in your search for niche influencers and content inspiration. 
Features:
Content Discovery: Get new angles on old themes by evaluating data from social media and other sources, reading industry blogs, and perusing online discussion boards.

Content Research: To aid in your content research, you may utilize BuzzSumo to analyze the social engagements, traffic, and other metrics of millions of pieces, all of which can be used for your link-building strategies.

Find Influencers: The Discover Influencers function scours the web, Instagram, and Twitter for the most influential people in your niche.
Pricing:
    Free

    Pro: $99/month

    Plus: $179/month

    Large: $299/month
SEO Software For Competitive Analysis
You can learn from your competitors' mistakes and find ways to advance your SEO approach with the help of an SEO software for agency.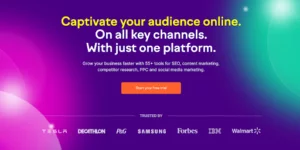 Being one of the most all-encompassing digital marketing tools, Semrush's database of over 20 billion keywords, 800 million domains, and 130 million root domains sets it apart. Marketers, SEO specialists, writers, and companies of all sizes utilize it to raise their profile online, attract more site visitors, and boost sales.
Semrush's main features include a search engine for keywords, an audit of your website, an analysis of your backlinks, a position tracker, tools for managing your social media accounts, and a library of ideas for material to use.
The platform provides a free plan with basic functionality and a range of subscription plans with enhanced functionality to accommodate users of varying demands and budgets.
Features:
    Position Tracker: Using the Position Tracker, you may monitor where your keywords currently stand, research your regional rivals, and organize your keyword research using tags. 

On-Page SEO Checker: Checking your website's on-page SEO and comparing it to your competitors is what the on-page SEO analyzer is designed to do. 

    Keyword Alerts: When a keyword falls out of the top 10 search results or even just a few spots, it is considerable assistance to have the option of receiving an alert through email.
Pricing:
    Pro: $119.95/month

    Guru: $229.95/month

    Business: $449.95/month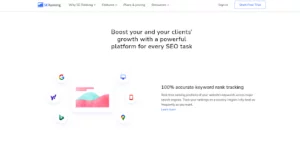 The second all-inclusive SEO software is SE Ranking. SE Ranking includes everything an SEO agency needs to conduct keyword research, an SEO audit, and a competitive analysis. 
Website speed, broken links, duplicate content, and other technical SEO issues that could be affecting a website's search engine ranking are all analyzed by SE Ranking's site audit tool. 
In addition to tracking search engine rankings, traffic, and other essential metrics, SE Ranking offers fully customizable business reports. Regular reports can be generated and distributed to the relevant parties.
Features:
    Website Audit: During a website audit, your site is compared to standard SEO benchmarks, and any problems found are discussed along with possible solutions.

    Backlink Checker: With the aid of the Backlink Checker, you can examine your competitors' backlinks and prioritize the ones that will benefit you most.

      Competitor Research: With this research instrument, you may learn about your rivals' paid and organic keyword strategies and their Google Ads performance.
Pricing:
    Essential: $31/month

    Pro: $71/month

    Business: $151/month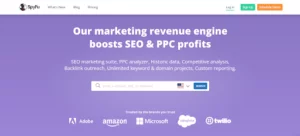 If your company deals with digital marketing in any way, SpyFu is an excellent search marketing tool that can help. It has all the necessary features to handle any significant SEO project your business may take on. 
SpyFu stands out from the crowd because it provides features competitive with more expensive competitors like Ahrefs and SEMrush but at a fraction of the cost.
Features:
    Domain Search: This tool allows you to look up any domain and learn its

Google PageRank

,

AdWords

keyword spend, and organic search results from the past nine years. 

    Monitoring Tools: Analyzing and keeping tabs on the SEO performance of competing websites across many search engines is made easier with the assistance of monitoring tools. 

    Smart Recommendations: To increase the success of your AdWords and SEO initiatives, Smart Suggestions will send forth suggestions.
Pricing:
    Basic: $39/month

    Professional: $79/month

    Team: $299/month
Content marketing tools help produce exciting and relevant material for the intended audience. If you use an SEO tool, you can rest assured that your material will be optimized for search engines and adhere to on-page SEO best practices.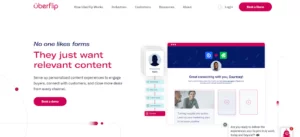 While SEO is essential for agencies, their tasks for clients go well beyond that. Promote your work with the help of Uberflip, an excellent choice. You can organize your content and create interactive digital experiences for your target demographic. The extent to which the target audience participates with and learns about the brand through these digital interactions is directly proportional to your success.
Uberflip has segmented a wide range of content experiences, including email, paid advertising, social media, search engine optimization, and events. As a result, Uberflip will offer you curated content options tailored to the strategy you're working on. 
Features:
Personalized Content Experiences: Among its benefits is the ability to rapidly and easily create content specific to a user's interests and demographics, then promote that content to that specific group of people, and then publish the results.

Content Recommendations: Using AI, the program may also recommend content to users based on what they have expressed an interest in.

Analytics: The platform's features tell you which strategies are working and which aren't based on user behavior. 
Pricing:
The Uberflip website does not disclose pricing. You'll have to contact them to get a quote for their services.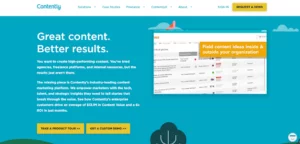 Contently is one of the top content management systems since it focuses on the SEO company's needs. All the major marketing programs, such as MailChimp and Google Suite, are compatible, and you can create detailed content strategies for different audiences.
Compared to other content marketing tools, Contently stands head and shoulders above the competition because of the advanced tools for managing payments and facilitating effective teamwork.
Features:
Data-driven content strategy allows you to cater your plans to the target requirements using critical SEO-driven data.

Content value tracker: The Content Value Tracker is the latest to the

Analytics Suite

that helps determine the value of your content based on the volume of traffic generated from organic search results.

Premium creative network: Besides having a first-rate place to work on projects, you will be welcomed into a network of marketers, publishers, and filmmakers to collaborate and exchange ideas.
Pricing:
Monthly: $1000 – $25000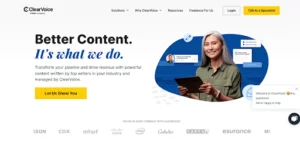 One feature that sets ClearVoice apart from competing content marketing platforms is the option to have material written for your site by one of more than 25,000 independent writers. Using this site, you may assemble a team of freelancers to work on your SEO firm's editorial, video, writing, and design needs. 
Features:
Collaborative workflows: Via the platform's collaborative workflows, all team members may access, edit, and collaborate on content tasks, significantly improving teamwork.

Talent network search: Here, you may search the talent network for people who match your requirements, read their profiles and resumes, and contact them to join your team.

Dashboard: The dashboard provides an overarching view of your content marketing strategy. Schedule your campaigns, view performance data, and review sent communications.
Pricing:
Standard Plan: $249/month

Pro Plan: $749/month

Managed Plan: $1449/month
For Reporting and Analytics Software
Businesses can make better decisions with the help of the information gathered and analyzed by reporting and analytical software.
Google Analytics is a web analytics service offered by Google that allows website owners and marketers to track and analyze website traffic and user behavior. It provides valuable insights into how users interact with your website, which can help inform decision-making about website design, content, and marketing strategies. Put your website through A/B testing, and then adjust it so that each visitor gets a customized experience that also benefits your business.
Features:
Campaign Management: Using this tracking feature, you can see how much traffic a specific campaign sends to your website, which is a helpful part of any campaign management system.

Goals: Conversions are the most valuable metric you can monitor, and you can do so with the help of the goals feature. This feature allows you to track and study the actions of your site's visitors.

Real-time reporting: Find out how many visitors you've had recently, which pages they visited, and how long they stayed.

Audience insights: Find out information about the people who visit your website, like where they're from, what they look like, what they like, and what they're interested in.

Acquisition reports: Learn more about the channels (search engines, social media, etc.) that bring visitors to your site by perusing the "Acquisition" reports.

Behavior reports: Analyze how users interact with your site by viewing detailed reports on their actions, such as which pages they visit and for how long.

Conversion tracking: Conversion tracking entails establishing aims to monitor user activities like submitting a form or buying a product.
Pricing:
Standard: Free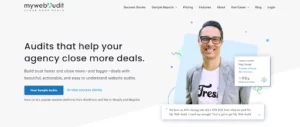 My Web Audit examines websites for problems that could harm their performance, such as coding errors, broken links, missing tags, and poor SEO. Website owners and developers can optimize their sites for search engines and enhance the user experience with this SEO software tool, which produces in-depth reports highlighting potential trouble spots.
With the help of My Web Audit, a comprehensive piece of software, you can generate comprehensive audit reports ready to be distributed to clients and potential customers. Whether you need an on-page SEO audit or an ecommerce website audit, this app will get you the information you need.
Features:
Website Crawling: Crawling the website is one way in which a web audit tool can look for problems and glitches on your site. This includes finding issues like broken links, missing alt tags, and slow page loads that could be hurting your website's performance and user experience.

SEO Analysis: SEO (Search Engine Optimization) analysis is a crucial feature of any web auditing tool worth it is salt if you want to improve your site's visibility in search results. Metadata analysis, finding duplicates on your site, and keyword suggestions are all part of this process.

Page Speed Analysis: Page speed is essential for both users and search engines because of its impact on both. To help you find ways to improve your website's performance, a web audit tool should provide a page speed analysis.
Pricing:
Starter: $40/month

Pro: $70/month

Agency: $200/month
SEO Software For Payments
The term "payment tools in SEO agency" is shorthand for the apps and websites that SEO firms use to collect money from their customers.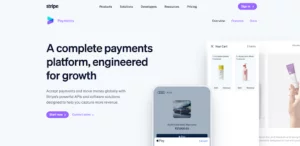 While SEO software is helpful, it is not enough to run a successful SEO firm. SEO agencies rely heavily on client payments, so offering a secure payment gateway is essential. Through Stripe's services, merchants can process customer payments using various payment options, including major credit cards, debit cards, prepaid cards, and digital wallets like Apple Pay, Google Wallet, and ACH debit in the United States. Stripe also provides tools for managing subscriptions and recurring payments, which is helpful for businesses that offer products or services on a subscription basis.
Features:
Customer Interfaces: Customer interfaces allow you to design a unique purchasing procedure for each customer. In contrast, your company can benefit from creating checkout pages compatible with browsers and mobile devices.

Payment Options: You can use various payment methods on Stripe. All major debit and credit cards, bank transfers, and wallet payments are supported.

Stripe Dashboard: Manage your customers, their payments, claims, and disputes from a central location with the Stripe dashboard.

Fraud prevention: Stripe uses machine learning algorithms to analyze payment data to identify potentially fraudulent transactions and prevent them from occurring.

Accounting integration: Stripe's compatibility with widely used accounting packages like QuickBooks and Xero simplifies reconciling financial transactions for businesses.

Invoicing: Billing and invoicing are two of Stripe's primary features.

Marketplaces: Stripe facilitates commerce between buyers and sellers by providing tools for businesses to build and run online marketplaces.
Pricing:
Stripe charges depend on the type of services you're availing of. You can visit their website for more details.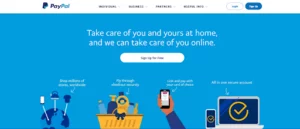 PayPal is the most popular online service for sending and receiving electronic payments. Established in 1998 with its headquarters in California, PayPal has since expanded to serve customers in more than 200 countries and to process payments in more than 100 different currencies. 
Primarily, PayPal is a payment processing platform that enables users to send and receive money via email or mobile phone. Users can pay with their PayPal balance, a linked credit or debit card, or a bank account. Money can be transferred to a bank account, spent on goods and services online, or stored in a recipient's PayPal account for use at a later date.
Features:
PayPal Manager: The PayPal Manager is a web-based dashboard for managing your accounts and obtaining relevant financial data.

Mobile-Optimized Checkout: An additional convenient payment option for your customers is a mobile-optimized checkout that lets them use their smartphones to complete their purchases.

Low Rate: PayPal's per-transaction processing fee of only $0.10 is much lower than that of competing payment processors.

Multiple currencies: Over a hundred different currencies are accepted by PayPal, making it a practical choice for international transactions.

Subscription management: Businesses can use PayPal's subscription management tools, such as payment automation and client account management, to keep track of their recurrent billing and subscriptions.
Pricing:
Payflow Link: Free

Payflow Pro: $25/month
Conclusion
As an SEO agency, many software options are available to help you manage and streamline your workflow. From keyword research and site auditing tools to analytics and reporting platforms, the right software can significantly improve your efficiency and effectiveness.
FAQs
In what ways do the techniques used by SEO firms boost a website's visibility?
Keyword research, competitor analysis, site structure, content optimization, backlink analysis, and other SEO-related metrics are just some of the data and insights SEO agency tools provide that help boost a website's rating.
Search engine optimization (SEO) firms can use this information to raise their clients' organic traffic and rankings by implementing actionable methods derived from the analyzed data.
Can I avoid using SEO software agency tools if I build my site?
SEO software agency tools aren't necessary to boost your website's search engine optimization (SEO), but they can help you pinpoint problem areas and create more targeted strategies. You can save time and effort, as well as increase your website's visibility and organic traffic, by employing the services of an SEO agency.
How much do SEO software agency tools cost?
The price of SEO software tools for agencies varies wildly, depending on the specific tool and its range of capabilities. There are a variety of tools available, some free with limitations and others that require a paid subscription. Advanced tools can cost several hundred dollars monthly, while simpler ones can cost as little as a few dollars.