Organizations that adhere to a well-structured business strategy are more likely to prosper. A strategic plan is followed by approximately 70% of firms that have survived for five years. In addition, firms with a business plan have a 7% higher likelihood of significant growth than those without a prepared strategy.
Business proposals, like business strategies, are critical to a company's long-term viability. Good business design proposals help you acquire clients, partners, and company transactions.
Types Of Design Proposals
Your client's wants and needs should guide your web design proposal. Introduce yourself and your proposed solution to the client at the outset of this sample document. This handy template outlines your development strategy, project timeline, and costs.
 Keywords like "higher rankings" and "more visitors" are what customers are looking for regarding SEO. You can show and tell prospective clients about your expansion strategies by using this SEO proposal sample. It guides you through creating an SEO proposal from scratch and provides you with sample content to use as you go.
 The success of your sales proposal depends on the confidence of your potential client's place in your abilities and track record. Using this form, you can get this set up in no time. With some background on your company and praise from satisfied customers, you can quickly establish your firm's worth. This proposal also allows you to elaborate on your service proposal's intended outcomes, obstacles, and potential remedies.
Many marketers want to spend less time poring over lengthy proposals because of the fast-paced nature of the marketing industry. An effective way to convey your ideas quickly and concisely is with this one-page marketing proposal. This sample document includes an introduction, challenges, recommendations, targets, estimated costs, and an action plan.
5. Business Consulting Proposal
 This business consulting proposal template can be easily modified to fit the needs of both your company and the client. This document will be a starting point for your project's summary, timeline, activities, and deliverables.
6. Social Media Marketing Proposal
Companies of all sizes invest time and money into making themselves visible on social media. With social media advertising generating $56.85 billion in 2022, it's in your company's best interest to help your clients increase their social media following.
An executive summary, an analysis of the client's business to show your due diligence, and a breakdown of billing for posting, content creation, and analytics are all included in this social media marketing proposal to help you accomplish these goals.
This template can help you organize your thoughts when pitching your content marketing services to clients. While this template is helpful because it guides you through setting goals and communicating expected outcomes, its greatest strength is its pricing suggestions.
Components Of A Design Proposal
1. Design Proposal Cover Page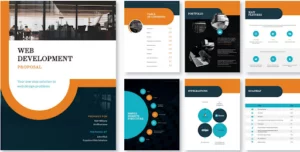 Keeping your design proposal's cover page simple, clean, and easy to read will make an excellent first impression. As a result, your proposal's cover page will be the first thing your client sees. Therefore, it must feature an eye-catching, distinctive design that sets you apart. 
The best way to create a design proposal is to extensively use brand colors and exhibit your design skills to their fullest. It needs to have a similar visual style to your client's brand (this is where your market research will come in handy!) When submitting design proposals, you have some leeway regarding the cover page you choose to use. The question then becomes how to tell if the aesthetics of your design concept are successful.
To get started on your proposal, why use ours as a starting point? Customer taste can be gauged from the cover page of your design proposal. If you're doing a campaign or a complete rebranding, they'll also learn how to adapt to the different voices and messages you'll encounter. It concerns the overall project, your previous customer's satisfaction, and the current task.
2. Cover Letter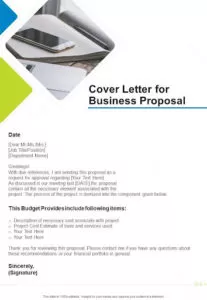 The best cover letters follow the golden rule of keeping things simple yet impactful. When considering whether to move forward with your proposal or toss it aside, this is one of the first pages your boss will read. Keep this in mind when considering how to construct a design proposal.
Think about what you're trying to sell and whether or not you have a clearer picture of the services your client needs. A primary mental map can help you determine this. This is included in our design proposal template. If you pick up a sample article (or use the one in our template), you can see how a cover letter can have an impact.
As you put your thoughts down on paper, you can start turning them into measurable objectives. A customer still needs to sign up for your service, so you want to wait to give away the kitchen sink, but this is a critical stage because it lays out your strategy for achieving your goal.
As a first step, you may quantify your objectives while still keeping your strategy under wraps. When asked "how to create a design proposal," the best piece of advice is to be as concise and client-centric as possible.
3. Project Overview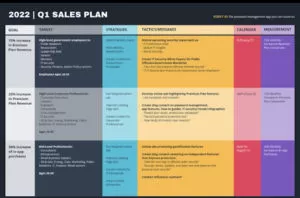 You should provide a high-level overview of the project based on your conversations with the client.
Use the client's language to avoid misunderstandings. It would help if you talked to them about the project's goals before beginning the design proposal. You need to go back to the drawing board and specify the issues faced by your intended audience and how your solution could address those issues. You can increase the likelihood of them choosing you to resolve their issue by including a "Why Pick Me?" section. Briefly describe how you can aid your client's growth and how your values and objectives align with theirs in this section. You may use brief quotations from happy customers to support your claim.
Having proven abilities backed up by happy customers is a great way to build trust and credibility. You've proven your competence, presented your credentials, and proposed a plan to address the client's issue. There's been a lot of silence surrounding the big issue, but now is the time to address it.
4. Pricing Proposal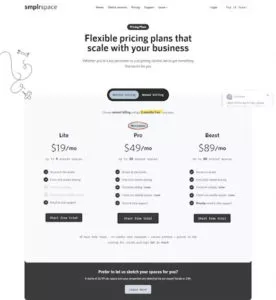 One way to improve your design proposal is to rework your pricing plans and present them in a way that works for you and the client. Please look at how other agencies set their prices to understand how to do it yourself.
Segmenting the total project cost before presenting it to the client can be helpful in many situations; for example, when developing an e-commerce website. In addition, you can provide a la carte pricing, allowing customers to pay only for the specific services they require. The services must be rephrased so the client can easily relate to them.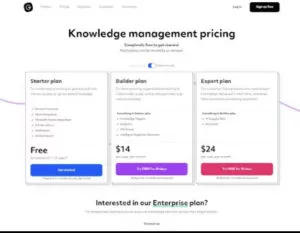 Agencies can make their pricing more transparent by offering a tiered service system. These services are excellent because they accommodate various customers and can be paid for periodically (monthly or annually).
For instance, if you're marketing branding services, you might want to switch to "Going for a New Look?" A complete overhaul of the client's brand, including the creation of new templates and the redesign of all existing ones, is included in this package.
5. Scope and Timing of the Project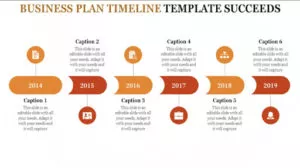 You need to provide a partial overview of the entire undertaking. The Project Scope section of a design proposal includes a detailed list of expected deliverables. The most effective strategy involves outlining the process while keeping the schedule open.
Time and effort estimates, broken down by individual steps, are made clear.
Be specific in outlining the work you intend to gain clarity on.

Make sure you have everything you need to hand in your project by making a short list of what you need to do so.

In addition, highlight the factors that majorly impact the final price. It would be best if you made should make it clear to a potential client whether or not the quoted price includes the cost of high-resolution photographs you purchased from a service like

Shutterstock

would be best if you need to be clear about whether you bill at the start of each phase or the end of the project.

The usual payment schedule is 50% down and 50% at closing, but you can take a different approach.
6. Pitch Deck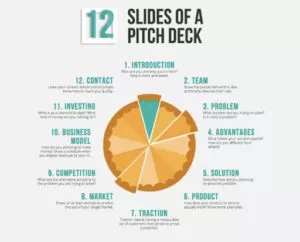 The pitch deck aims to provide the client with a preview of the revamped company assets. Please include examples of your work, such as their website, proposed mobile app theme redesign, or even new stationery. Although it's tempting to go all out when showcasing your creativity (after all, that's where the fun is! ), refrain from overwhelming your client with your work to impress them.
Creative solutions need to be geared towards the client's desired outcomes and stay within the budget parameters they've agreed upon.
Consider breaking it up into four sections to maintain your presentation's impact.
The idea at its heart, the bigger picture you share with your potential client.

A clear explanation of how your idea will help bring about the desired change.

A high-level (not detailed, superficial) description of the approaches you plan to take to achieve the goals.

The KPIs will be used to gauge success and the reports provided to the client.

You shouldn't include things in the pitch deck if you feel they aren't relevant to the client's needs as you see them.

Upselling your services is always an option once you finish the initial task. You've convinced the client that your proposal is their best option.
7. Conditions & Terms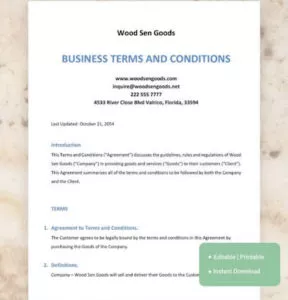 If you want to get started on this project, make sure you read the fine print. Draw attention to the fact that you run your company following all applicable laws and ethical standards.
Here, you can offer your potential client downloadable versions of your agreement. You can find sample agreements for your design project on various websites online. However, it is best to have a corporate solicitor review your work if you are concerned about its safety.
Consider this expenditure as a financial investment in the growth and development of your business and service (these terms and conditions are only created once but reused repeatedly). Also, when you're targeting a specific demographic, it's essential to emphasize your dedication to professionalism. The tone of your proposal has undoubtedly increased in seriousness. It would help if you weren't afraid to let potential clients peek behind the curtain of your legal practice and see how you do business. Add a paragraph or two describing your previous achievements to achieve this goal and soften the tone.
8. Prior Efforts
This section of our proposal needs more emphasis than the others. Include your most recent work and any of your projects that have garnered media attention. Consider giving the reader a sneak peek at a case study they can read at their own pace and see if that adds to the narrative's persuasiveness. It would help to link this on your site because it provides evidence for your claims. The results on their website will impress current customers and draw in new ones, and your work's credibility will increase as a result.
Best Practices For Design Proposal
1. Study Sample Proposal Formats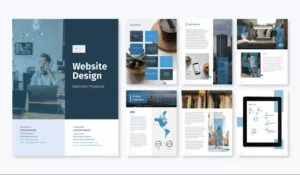 Spending some time studying competing proposal formats can yield valuable insights. It's common knowledge that visual research is an integral part of the creative process.
More is needed to research successful proposals for business models to steal ideas from. Instead, focus on why they've achieved such great success. Spend some time exploring sample proposal layouts.
What's the latest fad?

What's the best solution?

Can you point out any unique or interesting color combinations or design elements?
Consider what it is that draws your attention to this design. Then, think about why it may resonate with that specific demographic. Keep in mind that the ideal business proposal template is the one that speaks most directly to your audience and accomplishes your goals. This does not imply that it is only "attractive." The design decisions make sense for this purpose.
2. Uniformity is the hallmark of an expert appearance
Each page of a company proposal should have a consistent style and feel, implying that the proposal is consistent and easy to navigate throughout. Imagine reading a proposal where each page had a completely different layout. It would look completely different from the rest of the proposal or brand. Make advantage of pivotal points to show that your presentation is ongoing. The uniformity can help provide an air of professionalism.
What recurrent characteristics can you identify?
Several pages share a few design features, like yellow, the presence of repeating squares, and the font family used throughout. This example business proposal shows the importance of aesthetic consistency between pages.
3. "Professional" Need Not Be "Boring."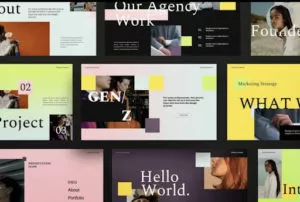 You can be too constant; you know the last thing we want to do is boring you. The layout of a business proposal should intrigue and captivate the target audience.
If every page had the same layout, it might get boring quickly. The most successful proposal formats settle somewhere in the center. So, how can we strike a balance between novelty and stability? Color is a fantastic illustration. For instance, using the same color scheme throughout the document can be a unifying factor.
Typefaces are another excellent instance. Maintain uniformity in your proposal designs by using the same typeface combinations throughout. This, therefore, allows room for experimentation and the introduction of new elements, such as the layout's structure.
4. "Less Is Usually Much More"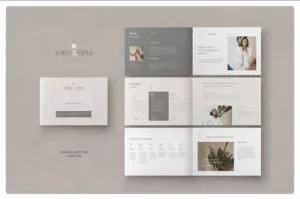 The creative process of designing may be a lot of fun, and one can quickly become overexcited. Remember that sometimes too many "things" is simply that. This pertains to every section of your imaginative proposal format. It may be uncomfortable or uninteresting to read; for instance, if the prose could be more concise design may be tiring on the eyes and frustrating to navigate. Leave some "breathing room" in your layout (often referred to as "negative space" in design theory). It's possible that having some "empty" space in your design is a good thing.
5. Add to Your Brand's Presence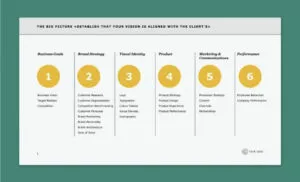 It's simple to be distracted by flashy features when reviewing original company offers. Remember that aesthetic appeal alone does not guarantee that a design is functionally appropriate for your needs.
Keep sight of your brand. Which hues, styles, and verbal registers most complement your current brand image? Business proposal templates abound online, but it's essential to consider how well they mesh with your brand before downloading and using one. In terms of aesthetics, it will be crucial.
Top 2023 Business Proposal Trends and Concepts
Identify your clients
Visual research is a terrific way to develop ideas for your proposal template. Simple, uncluttered proposal samples work best for your endeavor. Or you're more interested in novel, off-the-wall suggestions for the business.
How should a business proposal ideally look? Be inspired by these sample designs for your proposal, and consider downloading one now. The principled simplicity of minimalism makes it a chic aesthetic option. The most effective proposal designs have plenty of blank page real estate. It won't be easy to read if your design is overly confined. This can vary, especially in some more unconventional, creative business proposals. Regardless of the aesthetic, the best proposal templates keep the space neat.
Check out a minimalist look when it comes to trendy proposal layout ideas that push this concept. Clean, classy design can be very stylish and sophisticated. Check out this inspiring design. It's a great example, as each page has a different layout, but they all generously apply "empty" space. Even if your business proposal design has a lot of content, leave some empty, white space to help keep away clutter.
Choose Your Delivery Methods Wisely
Getting so caught up in aesthetics and visual proposal layout ideas is easy that you may not have thought much about your delivery methods. Is print the best way for your brand? There are other ways to deliver your proposal.
Nowadays, most of us spend a significant amount of time on a device. Will you make a digital version of your proposal available? Will this replace a printed one for you or complement it? It's more and more popular with each passing year to make your content digital and mobile-friendly. Consider the platform that's best for your audience. Remember to consider the delivery method when thinking about proposal template ideas.
Your Brand Is Unique, and Your Style Should Be Too
Look for creative business proposal ideas relative to your niche. So, for example, if you're in the restaurant industry, take some time to look at your competition and your entire industry. What design trends are most prevalent? This might vary within different sectors, like technology's design trends.
You don't have to cling to a general corporate look. Look at magazines, brochures, websites, and other media, but follow your brand's guidelines. You don't have to go with a traditional corporate look with your business proposal design, and your look should complement your branding.
Try Using Contrast and Eye Catching Typography
Contrast is an excellent way to command attention. The more contrast a design element hands, the more it stands out. For example, in the layout below, notice the eye-catching white part. This is because this background is a stark contrast against the darker parts of the composition.
You can also use type to create interest. Larger type, like titles and headlines, is an excellent fit for display type (or larger, more decorative fonts). Choose fonts that work with your branding and are legible, too. Use contrast and eye-catching typography in your next company proposal design.
Try Mixing up the Shapes in Your Layout Design
When coming up with proposal layout ideas, it can be easy for things to start looking "blocky." Mix things up by adding fun diagonals, overlapping shapes, or cutouts. Check out the example creative proposal template below. Some slanted corners are added here to add visual interest to the composition.
You can push this idea in many ways, like overlapping shapes, rounded corners, etc. Remember not to go overboard; a little variety can help make your layout more interesting.
Proposal Design: Unleashing Creativity for Business Success
In the fast-paced world of business, proposals play a crucial role in securing new clients and winning contracts. But in a sea of similar proposals, how can you make yours stand out? The answer lies in creative proposal design.
A well-designed proposal not only catches the eye but also communicates your ideas more effectively. In today's digital age, there are numerous tools and techniques available to create visually stunning and engaging proposals that will leave a lasting impression on your clients.
FAQs
What components should every business design proposal have?
It's essential to tailor your approach to writing business proposals to the specific kind of proposal you're creating. In general, your proposal has to cover: You should include:
a title page

an acknowledgment of the issue

your recommended remedy.

deliverables
When describing your project, you should include the following details: a timeframe, costs, a business overview, any relevant case studies, and a description of future actions.
What varieties of proposals exist?
Formally solicited, informally sought, unsolicited, renewal and additional proposals are just a few of the many proposals that may be submitted. Although it's important to think creatively about business proposal ideas, examining the specific proposal you need, and the information it must include is essential. The most well-designed proposals still clearly define themselves and their goals.
What programs can I utilize for writing a business plan?
Your proposal may be designed in InDesign, Word, Illustrator, or Photoshop. Several editable proposal templates are available on Envato Elements that you may use with these applications.
What effective methods for displaying various data in a proposal?
You may aid your customers in understanding the data by providing them with charts, graphical components, bars, and graphs.
What editing options do I have when working with a premade design proposal format?
Use your company's colors, fonts, photographs, and logo to create a one-of-a-kind proposal. Remember that there is still a lot of room for improvement here.
New approaches to company proposals must be tried out.

Get the complete business proposal sample and make it your own.

Consider it a head start in the realm of design.

If you need help getting started, try using an innovative sample proposal as a starting point.
Where can I go for inspiration for a business proposal?
You may get proposal examples from a wide variety of sources. Create a library of assets that you may use to create new proposal designs or modify existing ones. To achieve this, note the most promising aspects of your company plan and store them away to analyze later.