You've undoubtedly dealt with spam if you've ever maintained a blog using WordPress or another content management system. Spam may enter your site through any number of entry points, including comments, forms, purchases, surveys, email lists, and trackbacks.
The blogger has installed a WordPress anti-spam plugin to protect their site. Spambots are a nuisance since they use resources and provide a false impression of your WordPress readership and email list size. Spam comments and spam trackbacks are the most obvious examples of the unprofessionalism and lack of trustworthiness that spam may bring to a website.
The fact that you can take measures to protect your WordPress site against spambot attacks is encouraging. Installing a plugin that filters spam comments is a simple and effective solution to manage spam on your WordPress site.
What is an Anti-Spam plugin?
An anti-spam plugin is a software extension or add-on that is designed to prevent or reduce spam on websites, particularly in the context of user-generated content such as comments, contact forms, or registration forms. These plugins are commonly used in content management systems (CMS) or blogging platforms to combat the problem of unwanted or automated spam submissions.
Essential Features of a WordPress Anti-spam Plugin
Besides writing the comment, the client-side involvement should be minimalized or eliminated. Your plugin should not require a legitimate commentator to select/deselect a checkbox or enter an illegible captcha image. Captchas should never be required for comment posting because they severely degrade the user experience.
Impact on WordPress Database Is Minimal
The spam comment should not be saved in the WordPress database if you're using a competent antispam plugin. Since fewer SQL transactions are occurring, server performance is enhanced even during peak usage times. However, if the antispam system makes a mistake, a legitimate comment could be deleted indefinitely (oops).
Prevent Junk Email From New Account Signups
Users can sign up for your site using the WordPress signup form. The signup procedure is simplistic enough to be automated by software. In a fresh WordPress setup, this is how Discussion is typically configured. You can prevent spammy new user registrations by altering the default settings or by installing a plugin that does so.
The filter used for Trackback Validation makes a simple IP address comparison between the incoming trackback's client and the server. If either of these is incorrect, then it is most likely spam. The field of statistics provides tools for recording and analyzing information, and the plugin should give spam detection data weekly or monthly.
Some plugins are free, while others need payment, and Antispam Bee is one of the free plugins available. For commercial and business websites, alternative alternatives are available, such as Akismet and CloudTalk. However, these services cost money.
Why Use WordPress Anti-Spam Plugins?
Prevention is better than cure: Spam attacks are inevitable, but installing an antispam plugin can stop them before they even start.
Removes existing spam: Some plugins can identify and delete spam comments previously posted.
Saves your time: It is unnecessary to manually screen comments and flag them as spam if you use an antispam plugin.
Saves your resources: The worst spam goes straight to the gutter so that they don't occupy unnecessary storage space on your website.
Leave your comments open: Disabling blog comments is the simplest way to stop spam, but it will prevent legitimate comments from being posted. Engage with your audience while blocking spambots using these plugins.
Protects your search engine ranking: Comments filled with spam and broken links hurt your site's reputation. Thanks to antispam plugins, your site's search engine optimization will not suffer due to the removal of spam responses.
Top Anti-Spam Plugins of 2023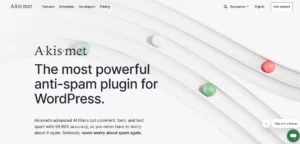 To combat spam comments on WordPress sites, many users turn to Akismet. It deserves fame because it prevents spammers from submitting comments and contact form entries on your blog. The plugin will flag any dubious comments; you only have to moderate them.
After downloading WordPress, you'll find this plugin pre-installed and activated in your WordPress dashboard. Additional features, such as premium and multi-site support, are available in the paid editions.
Features:
Gets rid of the worst spam to protect against danger.
In the comment, you can see links that may mislead you.
Discard option to free up storage space.
Complete comment status records.
Moderators can unblock posts flagged as spam.Price: Free or $10/month (Plus Plan)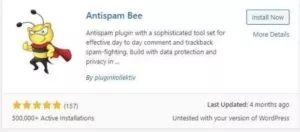 One of the most effective free plugins for reducing spam in WordPress comments is Antispam Bee. Once activated, it will prevent spam comments and trackbacks from appearing on your site without requiring a captcha. Also, once spam is found, the plugin will send an email to the administrator.
It also has an automated remove function for filtered spam. All you have to do is choose a deletion time in the settings. It's also possible to designate some categories of spam for automatic deletion.
Features:
You get data on spam online.
Be open to comments in various languages.
Limit feedback from certain regions.
Ignore pingbacks and trackbacks as spam.
Acceptable under the General Data Protection Regulation.
Price: Free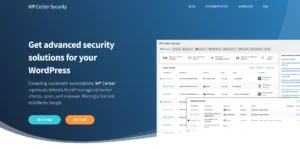 WP Cerber offers a wide variety of anti-spam protection services with its other cybersecurity offerings. It's more than just a spam comment blocker for your blog comments, contact forms, and signup pages if you use the WordPress plugin. However, you also get top-notch protection from cybercriminals and malicious software.
To prevent automated submissions to your website, WP Cerber integrates reCaptcha into its form validation process. Better still is the invisible reCaptcha for blog comments, which can detect automated software by monitoring the user's mouse and keyboard activity. This means you won't have to bother your commenters with a captcha.
Features:
Identifies abusive remarks and removes them.
Anti-DDoS (Distributed Denial of Service) safeguards.
Tokenizes login attempts performed from a certain IP range.
Users' actions can be filtered and inspected.
The data is updated every week.
Price: Free or $99/year

CleanTalk is the ultimate answer to your WordPress spam problems. That's because it prevents spam in a wide variety of areas, including comments, signups, contact emails, purchases, bookings, subscriptions, polls, surveys, and WooCommerce. In addition, unlike other anti-spam plugins for WordPress, it doesn't rely on Captchas to achieve its goal. It does more than just stop new spam from entering your site; it also deletes any existing spam from your published comments.
Features:
Compatibility with mobile platforms.
Superior anti-spam firewall protection.
Performs real-time validation of email addresses.
It works with all the popular marketing and form plugins.
Scheduled spam reports twice weekly.
Price: Free or $8/year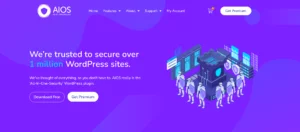 A WordPress security plugin is the primary function of All In One WP Security & Firewall. However, it also has anti-spam tools to prevent spam comments from being posted on your WordPress site. In addition, you can prevent more spam by blocking the IP addresses from which it originated.
To ensure that only real people are submitting comments and not spambots, the best WordPress anti-spam comments plugin incorporates a captcha into the comment submission process. Login and signup forms are both protected in the same way by using Google reCaptcha or a basic math captcha.
Features:
Keep an eye on what each account user is doing.
Reduce spam by manually approving each signup.
Restrict access by IP address.
Constant upgrades ensure complete safety.
It works with all the popular WordPress plugins.
Price: Free

Another excellent spam comment blocking plugin for WordPress, Titan Anti-spam & Security also includes a firewall and malware scanner. Known malicious IP addresses are stored in its worldwide spam database. As a result, the plugin compares each comment posted to your site against the database in order to identify and eliminate spam.
When you protect your blogs against spam comments, you give your readers a better experience. Titan also helps prevent brute force attacks by limiting a user's number of failed login attempts.
Features:
Assistance with technology is available around the clock.
Prevents automated submissions of registration forms.
Complete user login and comment statistics.
Regular checks for vulnerabilities.
It's not necessary to enter a captcha code.
Price: Free or $55/year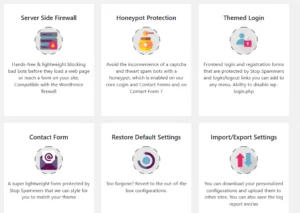 Comments, user registrations, and emails can all be protected against spam with the help of Stop Spammers. Users, emails, and IP addresses that seem suspect can be blocked, and the remainder can be approved manually. Furthermore, it permits barring users from specific countries.
There are more than 50 settings in Stop Spammers that allow you to tailor the plugin to your specific WordPress installation. The premium version provides all you need if you want more bells and whistles. For instance, this release safeguards your Contact Form 7 and your server's firewall.
Features:
Transfer configurations between several sites with ease.
Filters that only apply to certain spam terms.
GDPR-compliant.
Use the Members-only mode to limit access for non-members.
Administratable settings for sending notifications.
Price: Free or $29/year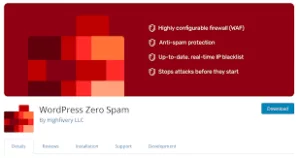 WordPress Zero Spam is aware of how frustrating captchas can be for users. This plugin uses artificial intelligence and database matching to identify and prevent spam from harming your website. User experience-detracting captchas will no longer be tolerated.
Not only can spam be identified and stopped, but its geographic origin can also be determined. Zero Spam uses this data to prevent further registrations and comments from certain geographic locations.
Features:
There is no need for administrative moderation.
You can choose to manually or automatically block IPs.
Compatible with a wide variety of useful add-ons.
IP addresses can be geolocated.
Provides security for WooCommerce signup pages.
Price: Free

When it comes to honeypot-style anti-spam plugins for WordPress, WP Armour is your best bet. It will automatically add new fields to your forms written in JavaScript. Because spambots aren't able to read javascript, they'll submit half-filled forms to your site. The plugin will immediately recognize this as a red flag indicating the submission is spam.
As a result, all registration, comment, and other forms on your site will be protected from spam immediately. In addition, WP Armour records the IP addresses from which spam has been transmitted. This allows you to permanently blacklist IP addresses that have repeatedly sent spam.
Features:
Compatible with Gravity Forms and other similar form add-ons.
Quick and simple with no preparation required.
The honeypot is difficult for spambots to avoid.
Log any submitted spam.
Personalized service is offered.
Price: Free or $19.99 for Lifetime Purchase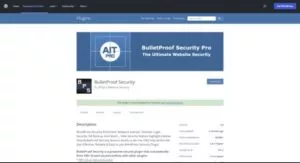 If you're searching for a comprehensive security suite, BulletProof Security may be your best bet. It protects your WordPress site's logins, registrations, and comments from being abused by spammers.
This plugin won't slow down your site because it's been tuned for speed. This implies that it avoids slowing down page loads by making queries to the database when they aren't necessary. However, due to its advanced settings, novices may find it difficult to set up this plugin.
Features:
Protection and tracking of logins.
Prospect for GDPR conformity.
Enhancing efficiency.
Database copies, either manually or automatically.
Anti-malware scans.
Price: Free or $69.95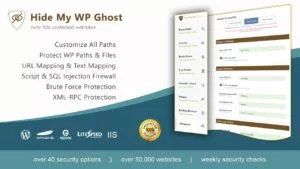 Hide My WP, a popular security plugin on CodeCanyon, offers powerful security and anti-spam protection for WordPress websites. By activating the anti-spam feature in the plugin's settings page, your site's comments section will be protected from unwanted posts.
The default WordPress file used to collect comments from site visitors is called wp-comments-post.php; you can modify its name with this plugin. You can also reduce the number of spam comments on your site by renaming this file.
Features:
By masking the WordPress CMS in the URLs of your site's pages and files, Hide My WP makes it more difficult for hackers to access your site
Eliminates the meta tags that hackers use to learn about the WordPress version, theme, and plugins you're using
Replaces the standard WordPress login URL with a unique one
Protect your website from typical threats with the firewall built into Hide My WP and designed to thwart unwanted requests and bots
Login attempts, blocked requests, and other security-related events are all recorded in the plugin's logs for your perusal
Compatible with a wide variety of caching plugins
Price: Free
Conclusion:
You may expect to be inundated with spam and scammers seeking to put dangerous and spammy links on your site if you have a WordPress blog or have recently set one up. Without anti-spam WordPress plugins, this might quickly become unmanageable. These remarks can easily decrease the trustworthiness of your site for users and search engines if you do nothing about it.
User comments on your work might be helpful, but it's easy for spammers to ruin it for everyone. Spam bots are automated programs that attempt to compromise your website by posting malicious links in the comments section. If you're using WordPress, the aforementioned plugins should make it easier for you to manage the comments that users leave on your site. Every WordPress blog that allows comments needs these vital plugins to protect against spam comments.
Learn about best plugins for wordpress website here.
FAQs on Anti-Spam Plugins:
Is an anti-spam plugin necessary for all websites?
Blog comments, forum posts, and contact form submissions are all examples of user-generated material, and they are all vulnerable to spam. Therefore, anti-spam plugins are useful for all kinds of websites, including blogs, forums, e-commerce platforms, and social media platforms.
What mechanism does anti-spam plugins use?
To detect and prevent spam, anti-spam plugins use methods like blacklisting, filtering, and captchas. By contrast, spam filtering makes use of algorithms to identify spam trends and entails the blocking of known spam IPs or email addresses. Captchas are a type of anti-spam measure where users are presented with a riddle or a code that must be entered before submitting a remark or form.
How efficient are anti-spam add-ons?
The answer is yes, anti-spam plugins can greatly reduce spam. While this plugin does a good job of blocking spam, it is not foolproof, and some spammers may still manage to get through. Consequently, picking a trusted anti-spam plugin and keeping it up-to-date is crucial for complete security.
Is it simple to set up and use anti-spam plugins?
Most anti-spam plugins are simple to set up, thus the answer is yes. Installing and configuring several of them takes only a few minutes and can be done straight from your WordPress dashboard.
Do anti-spam plugins come with any drawbacks?
Unfortunately, certain anti-spam plugins have the ability to mistakenly delete genuine comments or form submissions. In addition, if a plugin you're using employs filtering techniques that are resource expensive, it could slow down your website.