You may have noticed that AliExpress is a well-known supplier site that everyone tends to visit if you are familiar with the dropshipping industry. However, the site has its own drawbacks, such as limited availability of some products or high shipping costs, which prompts many dropshipping company owners to look for an alternative. Check out the justifications for considering the alternatives before listing AliExpress alternatives for dropshipping. 
How to choose an AliExpress Alternative? 
Please take into account the following aspects before deciding to dropship from a different website than AliExpress: 
Examine the connection options for the platform and your Shopify dropshipping store:

The majority of platforms let you utilize a Shopify app, but if they don't, you will need to locate a third-party app to connect. You should give it some serious thought, even if it increases your monthly expenses slightly. Make sure you can link the store and the platform even if you do not use Shopify because this will help your dropshipping business work effectively. 

Verify their supplies and products:

Check to see if the products are of high quality and the vendors are reputable, just like on AliExpress. Learn how to assess the supplier's reputation and send messages to determine whether they can respond quickly and speak English fluently. 

Do they provide a safe means of payment?

There are many other brands that can offer secure payment gateways, ensuring that your transactions are protected. PayPal is a well-known third-party payment service that all websites ought to have. Verify if the website offers these choices. 

Think about the price:

Some dropshipping websites may charge a monthly subscription, be completely free to use, or offer a combination of both. Think about the advantages you can obtain from these costs and whether they are worthwhile.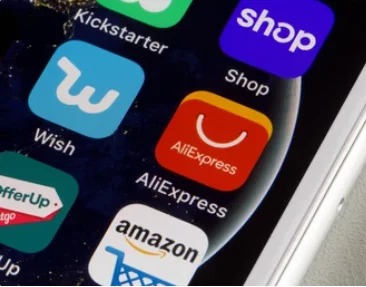 Let us look at the top 10 AliExpress alternatives we have compiled for you to choose from while keeping these things in mind.
Top 10 AliExpress Alternatives
Spocket – US or Europe Dropshipping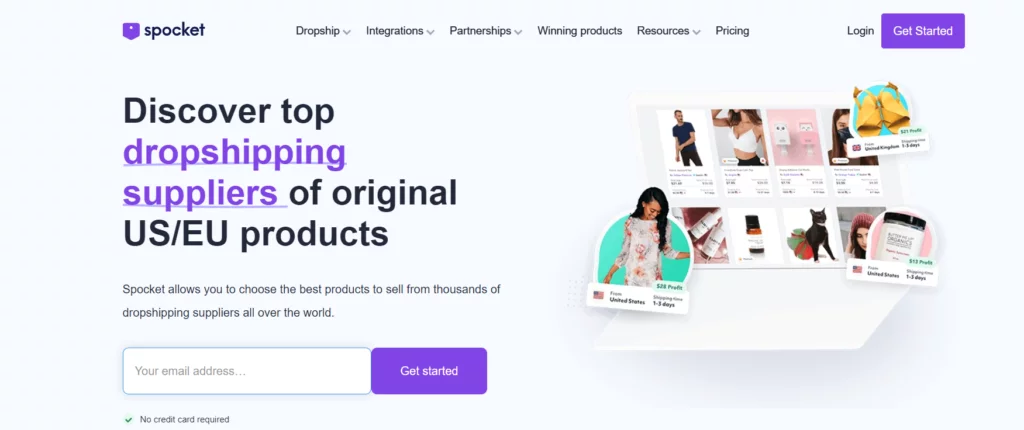 Spocket is a fantastic dropshipping site that may help you connect with suppliers in the area if you are from the US or even Europe. You may easily join more than 30,000 other users and begin dropshipping because 60% of their suppliers are headquartered in these nations. 
Additionally, compared to dropshipping with Chinese vendors, you may expect to have far shorter shipping times. If you have an online store created by Shopify, the platform also integrates with it, so the process will be completed in a short amount of time. They are also linked to WooCommerce. Isn't this a great AliExpress alternative?!
At the top of the webpage is a tutorial titled "Winning Products" which will help you get started quickly with all of the necessary steps and specific activities to use the platform. You may develop even further and assist others along the way with the support of the Facebook community.
Pricing plan:
Starter – $12/month – 25 unique products, unlimited orders

Pro – $49/month – 250 unique products, 25 premium products

Empire – $99/month – Unlimited products, unlimited premium products

Unicorn – $299/month – Dedicated account executive and everything else
Additionally, you will save money if you pay the fee annually and receive up to 5 free months. Best part is that it offers a 14-day free trial period available at the platform, so you can test everything before beginning. 
DX – Global Dropshipping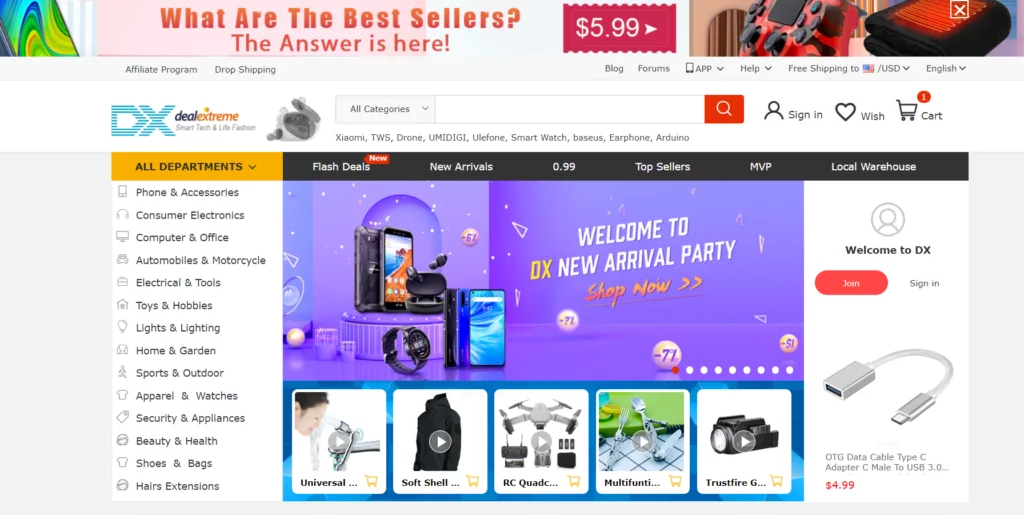 Deal Exchange, an online retailer with over two million products available, is another name for DX. You can choose from a range of prices for the products listed on the website by suppliers and retailers alike. 
As a result, there are lots of dropshipping options available. There is a top deals section with products discounted by almost 50%. You can easily find a good deal and sell it for a higher profit, just like the website's name suggests. 
Smartphones and tablets, toys and gaming systems, smartwatches and robots, garden and outdoor products, and DIY items are all great AliExpress alternative for dropshipping and are available on DX.
Pricing plan:
The site is free to use
SaleHoo – US or Europe Dropshipping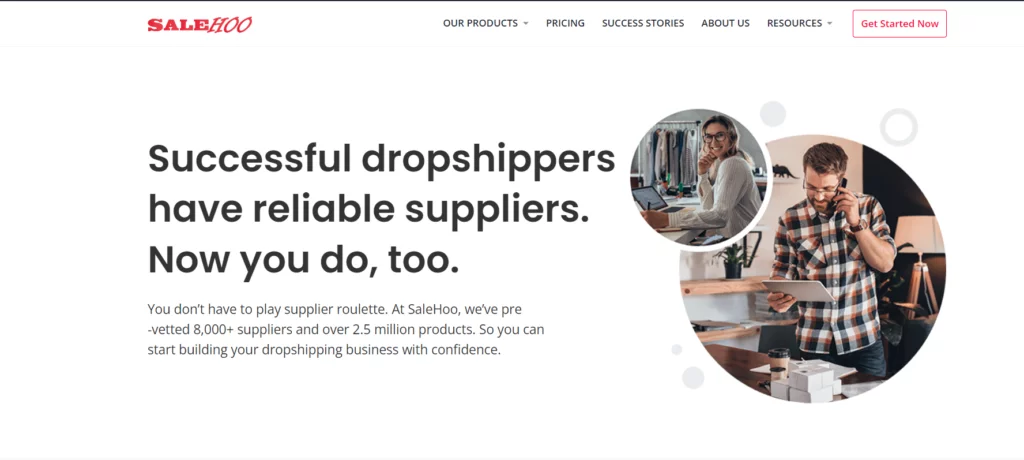 Salehoo is a well-known dropshipping and eCommerce platform that was developed with the goal of relieving online store owners' concerns about inventory. With over 8,000 wholesalers, manufacturers, dropshippers, and liquidators that they have personally reviewed, the website is reputable. 
Over 1.6 million branded products are available for purchase at reasonable prices if you are looking for items to sell. Smartwatches and robots, smartphones and tablets, electronics, home improvement equipment, exercise and gym equipment, garden and outdoor, daily use accessories, and DIY products are some of the most lucrative products on the market today.
Pricing plans:
$67 per year

$127 for lifetime access
There is no free trial available. However, a 100% satisfaction guarantee is provided. In this approach, you can buy the platform, test it out, and then request a refund if you do not like it.
DHgate – Central Asia Dropshipping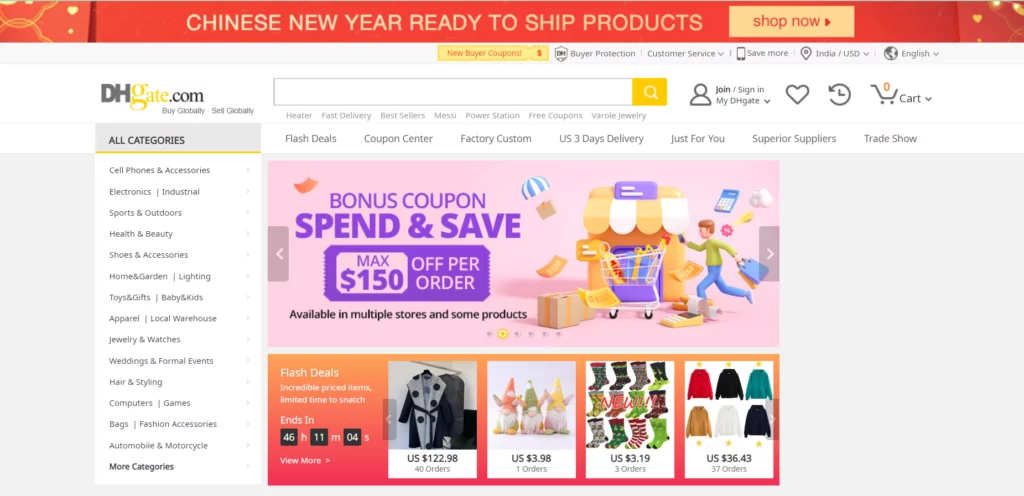 DHgate is a very well-known website in Asia and is based in China. You will need to conduct your own research on DHgate by examining supplier reviews and the volume of orders they have fulfilled. It ships goods using ePacket, so the shipping time is essentially the same as with AliExpress. 
You can choose from more than 10 million products on the website that are from China, Taiwan, Hong Kong, and other Central Asian nations. They are all in well-known categories as well, including watches, jewelry, electronics, home & beauty, toys & hobbies, computers, smartphones, and outdoor & sports. Credit cards, PayPal, and other popular payment options can all be used to complete transactions.
Pricing plan:
The site is free to use. 
Taobao – China Dropshipping 
Although Taobao may not be as well-known in the United States, it is actually the second-largest eCommerce website in China after AliExpress. Alibaba also owns the website. The primary distinction between Taobao and AliExpress is that the latter was designed as a B2C platform with a focus on Chinese manufacturers. As a result, Taobao does not have any English like in the picture above. 
However, Taobao stands out from AliExpress because of its pricing. Because they are only for Chinese consumers, the majority of products have absurdly low prices for items of high quality. To use Taobao as an AliExpress alternative supply source for dropshipping, dropshippers must first learn some Chinese before contacting the suppliers to inquire about international shipping policies. 
You can order a variety of products from Taobao, including clothing and accessories for both men and women, smartphones and tablets, jewelry, hobby and DIY tools, sports equipment, and outdoor activities. Payments can be made using PayPal, credit cards, or bank transfers.
Pricing plan:
The site is free to use.
Banggood

–

US/UK/CZ/ES/AU/CN Dropshipping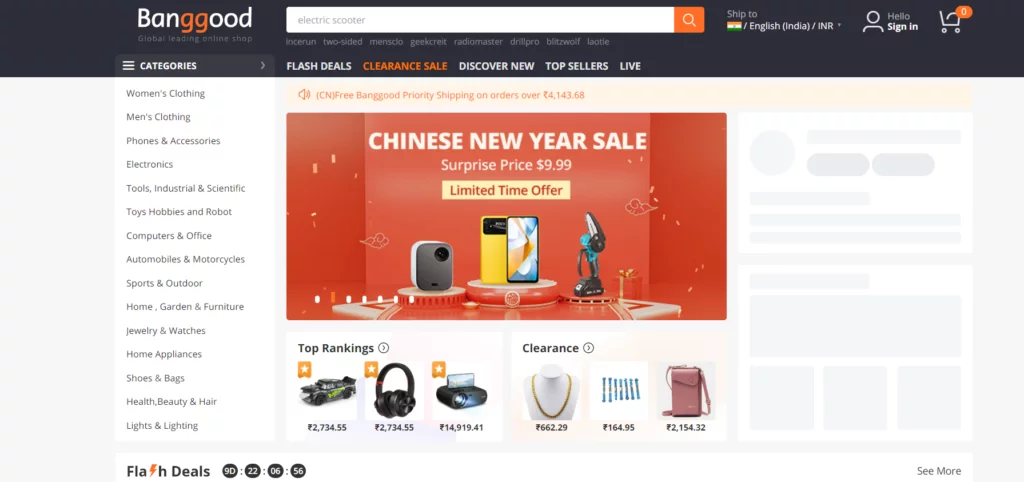 On Banggood, more than four million products have already been posted. Despite being less well-known than AliExpress, the website has excellent design and navigation along with a fairly contemporary layout. 
A wide range of goods from China, Hong Kong, and occasionally even the United States are available on Banggood. The majority of the products are offered directly from the manufacturers and have numerous advantages for dropshippers. The products are frequently seen in the following categories: Drones, Robots, Home and Beauty, Garden and Outdoor, Clothing and Apparel, Smartphones, and Computers (the majority of them are Chinese brands). 
Banggood offers ePacket and Air Parcel for shipping, both of which promise a 7 to 30-day delivery window. There are more than 20 payment gateways available for you to select from, including Visa, PayPal, Wire transfer, and Cash on Delivery in some countries (CoD).
Pricing plan:
The site is free to use.
Yaaku – Global Dropshipping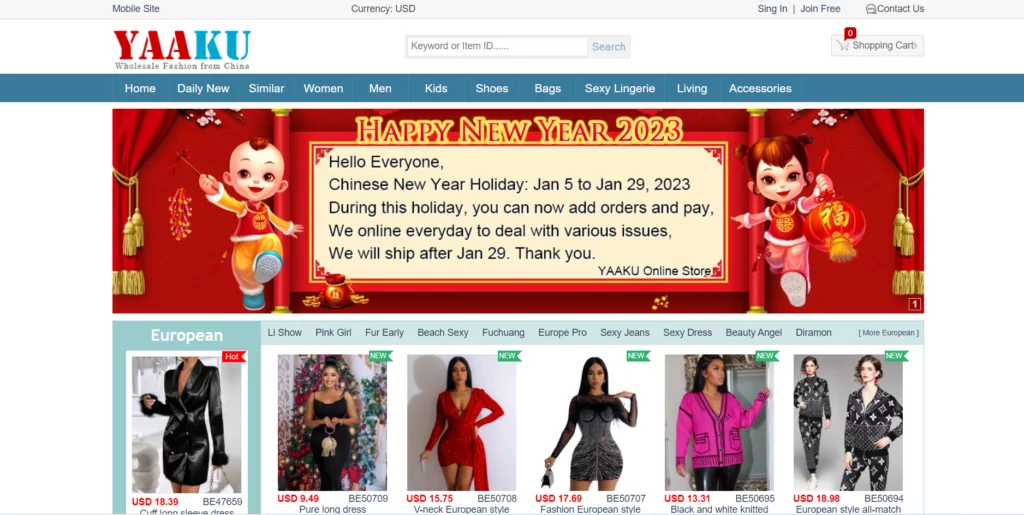 Yaaku is a fantastic choice of AliExpress alternative if you are looking for an eCommerce platform to dropship apparel. The website offers a huge selection of apparel for every event, numbering in the thousands. There are numerous choices for adults, women, and children. 
You can find, for example, skirts, sportswear, coats, shoes, dresses, underwear, pants, pajamas, and tops on the website. You can make payments with all of the major credit cards, Western Union, and PayPal. The business uses three main shipping services from DHL, FedEx, and DPEX. Each item can be shipped anywhere in the world for between $16 and $22. 
If you buy in bulk, the delivery cost can be significantly decreased. Additionally, even if you choose a retail strategy, the low pricing may still allow you to establish reasonable prices and earn a healthy profit margin. The average shipping time is 12 days.
Pricing plan:
The site is free to use.
Worldwide Brands – Global Dropshipping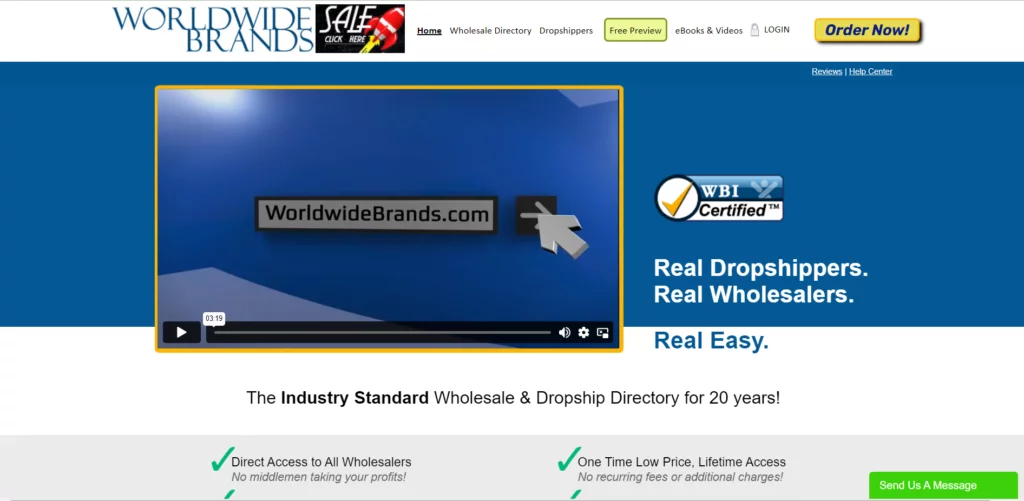 Dropshippers and wholesalers can connect on the Worldwide Brands network. According to the portal, users have access to more than 16 million products. Numerous products are available from WorldWideBrands that you may order and dropship directly to your consumers. These things will be inexpensive because you will be purchasing the majority of them directly from wholesalers. 
Dropshipping products, including toys, gaming consoles, smartphones, tablets, robots, DIY goods, and outdoor and garden equipment, can be dropshipped on this platform. You can receive the goods from local wholesalers in less than a week. PayPal and credit cards are accepted for payments.
Pricing plan:
One-time fees of $224 
Modalyst – 80 countries Dropshipping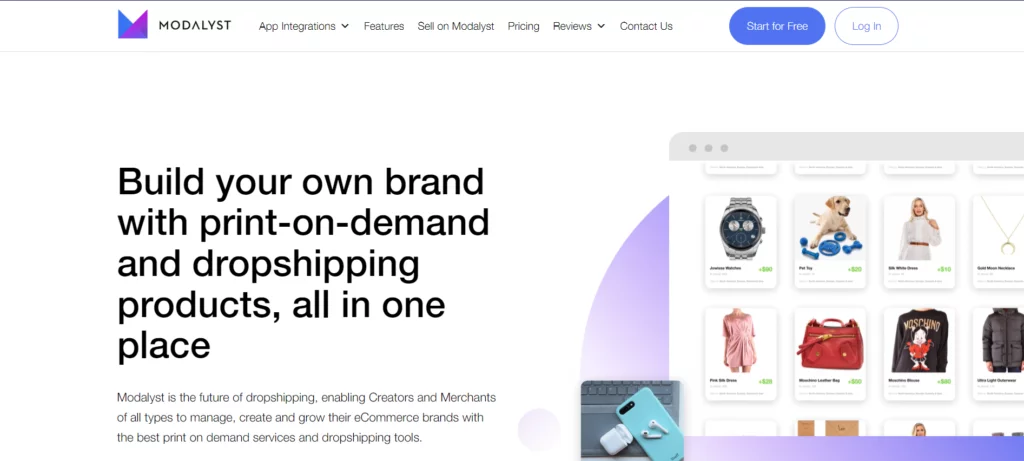 An automated dropshipping program called Modalysts is well renowned for carrying well-known premium labels, including Dolce & Gabbana, DSquare, Calvin Klein, and many others. Selling goods from brands that your clients already adore can do wonders for the perception of your own brand among them. 
A marketplace of US suppliers that can deliver domestic orders in six to eight days is provided by Modalyst to US-based retailers. Even if you are not based in the US, the wholesale suppliers' network of Modalyst ships to more than 80 nations worldwide. Additionally, AliExpress and the app have an API agreement, giving you access to the marketplace's millions of dropshippers by using the Modalyst chrome extension. 
For retailers wanting to lower their carbon impact, Modalyst even curates collections of goods created from sustainable materials by eco-friendly suppliers. Additionally, you may brand your products with your logo using the Modalyst Private Label Dropshipping Program.
Pricing plan: 
For up to 250 products, it's $35/per month
Wholesale2b – US and Canada Dropshipping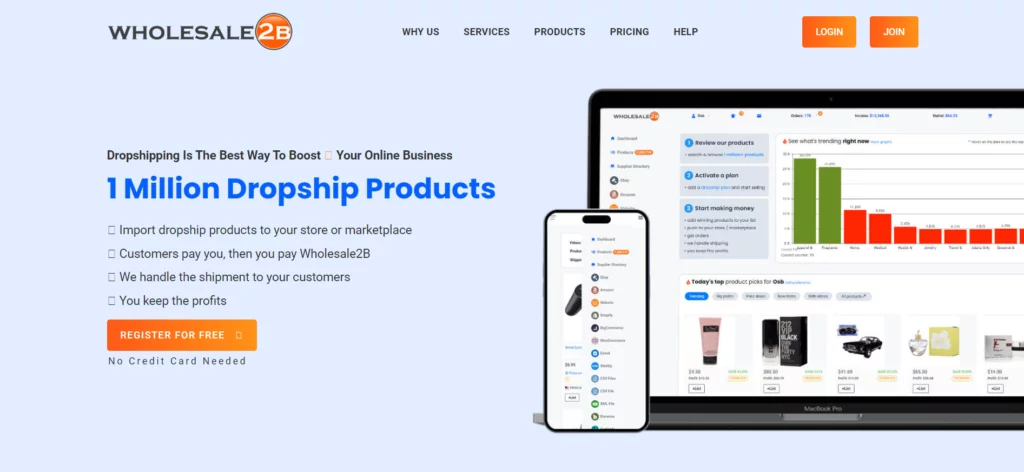 If you want to sell to customers in North America, Wholesale2b will connect you with local suppliers on a platter that will only help you to keep your shipping expenses down because it provides million+ products from wholesale suppliers predominantly situated in the United States and Canada. If you are looking for an AliExpress alternative in US and Canada then this is a great option! 
The Shopify software from Wholesale2b automatically collects orders from your site, sends them to the dropshipper of your choice for the fulfillment, and even provides tracking information after the product is dispatched. Additionally, it already integrates with eBay and Amazon.
Pricing plan: 
$29.99/month after a seven-day free trial 
Conclusion
Dropshipping products gives you a lot more time to devote to customer support, branding, SEO marketing, and other crucial business-starting tasks. Additionally, it means that stock is free until it is sold, thus eliminating the possibility of product losses. 
Dropshipping offers unmatched time and financial savings for new businesses. Dropshipping is a low-risk business endeavor that is ideal for first-time entrepreneurs since there are no costs associated with inventory and no requirement to hire others to distribute products.