Custom Hosting Solution on VPS Servers
High-performance infrastructure and intelligent platform for your custom PHP Project such as Custom PHP, Drupal, Joomla, and Laravel.
Get Started For Free
Custom Hosting Solution on VPS For Your Unique Needs
One Size doesn't fit all. Sometimes a CMS can fall short of the requirements of your business. At such times, your business will need a custom hosting solution. Nestify helps businesses to take advantage of its innovative platform to deploy custom solution on VPS.
Drupal, Joomla, WordPress, Laravel… There is no limit to what you can customize. Our custom hosting solution on VPS help you take maximum advantage of the capabilities of these CMSes. Whatever may be your need, we are there for you. We can even help you if your stack needs something out of the ordinary. Optimize your websites with dedicated user space, SSH root access, cloud infrastructure, and near-unlimited resources at an affordable price.
Our intelligent platform provides a reliable stack for your code. Always up to date applications combined with 99.99% uptime guarantee means you can focus on growing your code without worrying about all the moving parts.
We also provide customized hardware if your business so demands. Please get in touch our support team for the same.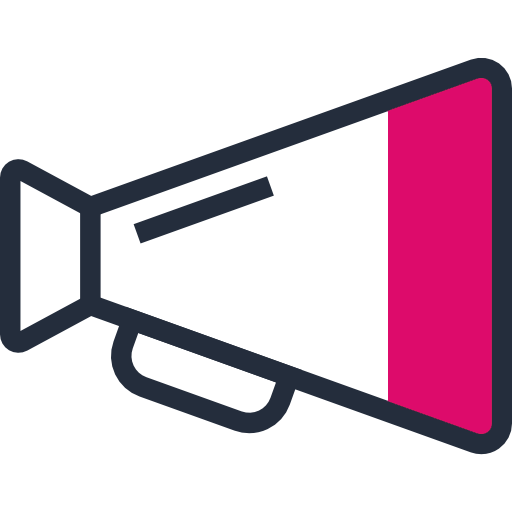 Easy-to-use VPS hosting control
10 Visitors or 10 million, your site always stays online and blazing fast. And there are no overage charges.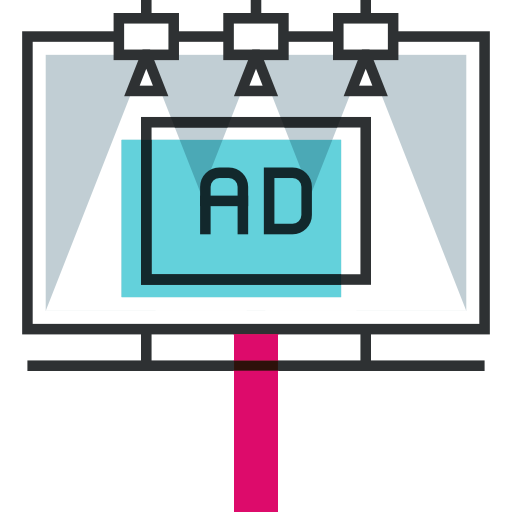 Dedicated support team
No matter which ad network you use, your site automatically optimizes ad delivery across all devices.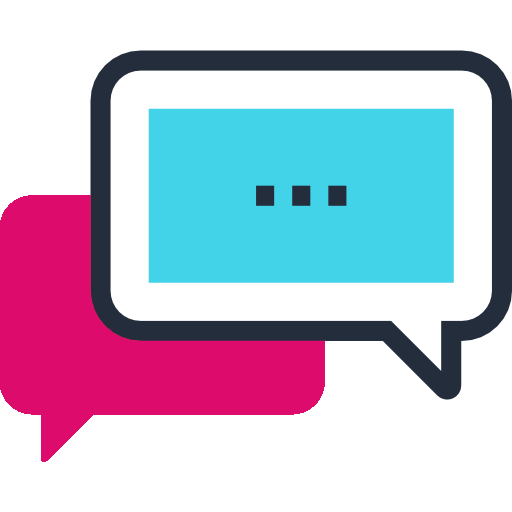 Enterprise data backups
Need something technical done with your site? Our 24×7 concierge team takes care of it instantly.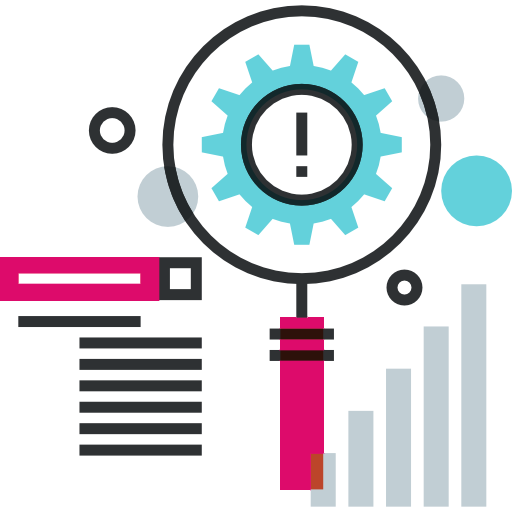 Ultimate hardware
You get access to important metrics such as visitors who use Adblock and recent backlinks right from Nestify console.
Deploy and Scale your applications without worrying about the servers.
Nestify's custom hosting solution on VPS makes application development faster and reliable.
Lightning Fast Deploy
With Nestify, you can deploy your custom PHP project in 3 clicks or less. No need to wait for DNS propagations, setting up databases, or picking strong passwords. The dashboard securely displays everything you need to access and manage your CMS. Our unique performance tweaks assure high-speed performance for your project.
Our engineers migrate your code for FREE and with zero downtime.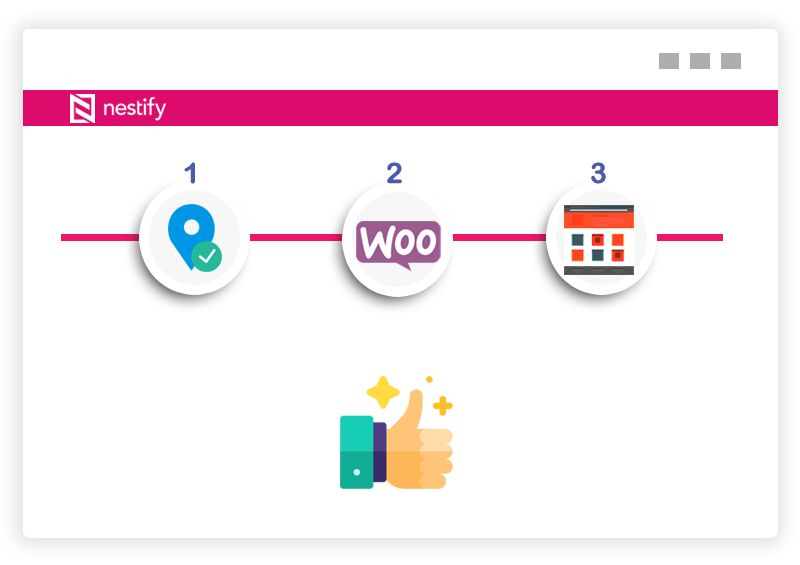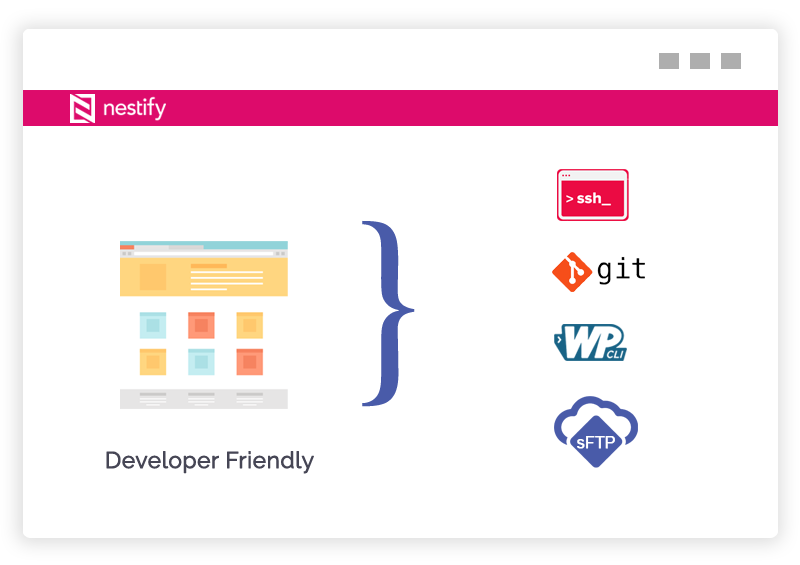 Development Friendly Stack
Nestify has designed its stack keeping developers in mind. With SSH access, Git push support, and CLI tools, you can control every aspect of your code. Even when your code needs something out of the ordinary, we can make it happen.
We never block any plugins, themes, or features from any CMS.
The Features You Need Come Free With Every Plan
Free Migrations
Our experts safely migrate your site from existing provider to Nestify with zero downtime.
WP-CLI
With WP-CLI, you can update plugins, configure multisite installs and much more, without using a web browser.
Security Scans
We scan your site daily for insecure plugins, vulnerabilities and protect it from hackers.
Free CDN
Nestify's premium CDN + bandwidth is included with each site.
Automatic Daily Backups
Nestify creates automatic backups of your site and stores them in 3 locations. Restores are 1 click operation.
Free SSL
Let's Encrypt SSL certificates are included with each site.
Managing custom hosting solution on VPS is easy with Nestify Console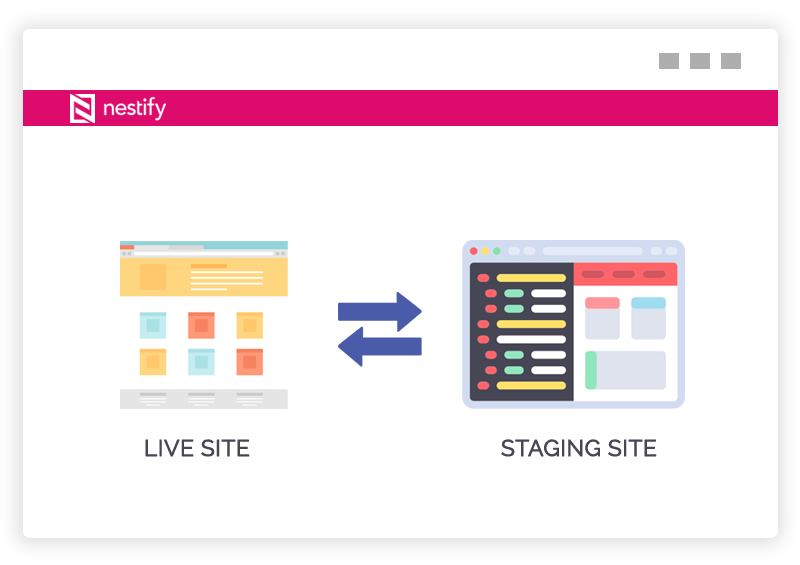 Staging Environment For Your Project
When you need to test a new core update, a code change or payment gateway, you can use staging environments.
With Nestify console, you can create staging environments with 1 click. We take care of domain names, syncing files, and databases between staging and live sites. We even update the URLs inside the DB, ensuring a seamless experience.
When you need to push changes from staging to production, it's a single click affair as well.
Search engines do not crawl staging environments and you can password protect them if needed.
Easy Daily Backups
Nestify's backup solution takes incremental backups of your data every single day. Should the worst happen you'll be able to reinstate a backup of your site with the push of a button.
We offer separate backups on all environments – live and staging – so your development efforts are equally safe.
For sites where data changes more often, like eCommerce or high-volume publishers, we offer hourly backups to make sure there's always a recent copy nearby. We provide on-demand backups free of charge.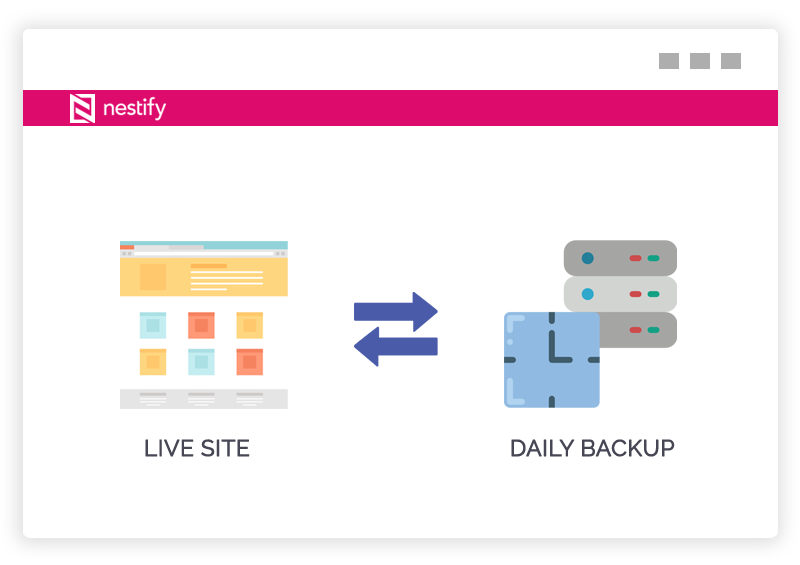 We'll migrate your sites to Nestify
Sit back, relax, and let our team handle the nitty-gritty stuff. We'll let you know when your site's ready to go.
Test Website Updates Without Affecting Your Business
Easy to Get Started
When you login to Nestify console (even the first time), WordPress can be deployed in 3 clicks or less. No need to wait for DNS propagations, setting up databases or picking strong passwords. Everything you need to access and manage the CMS is displayed securely on the dashboard.
Our engineers migrate your site for FREE and with zero downtime.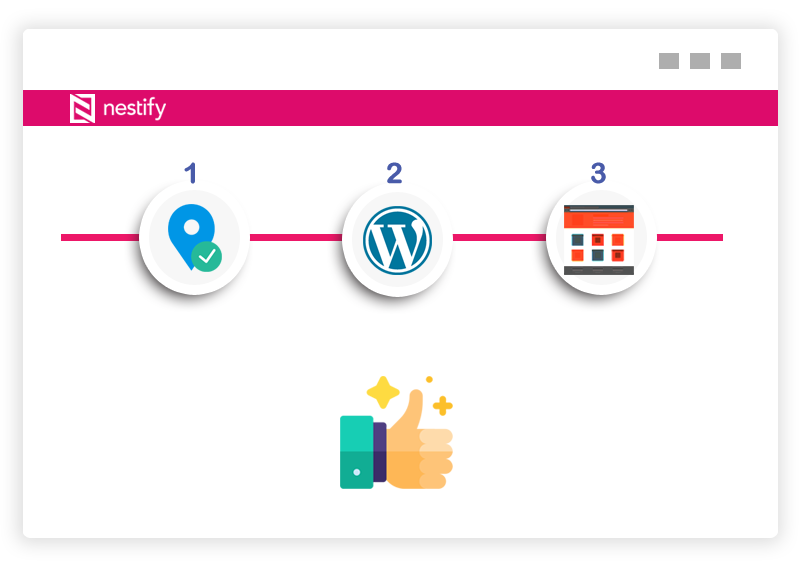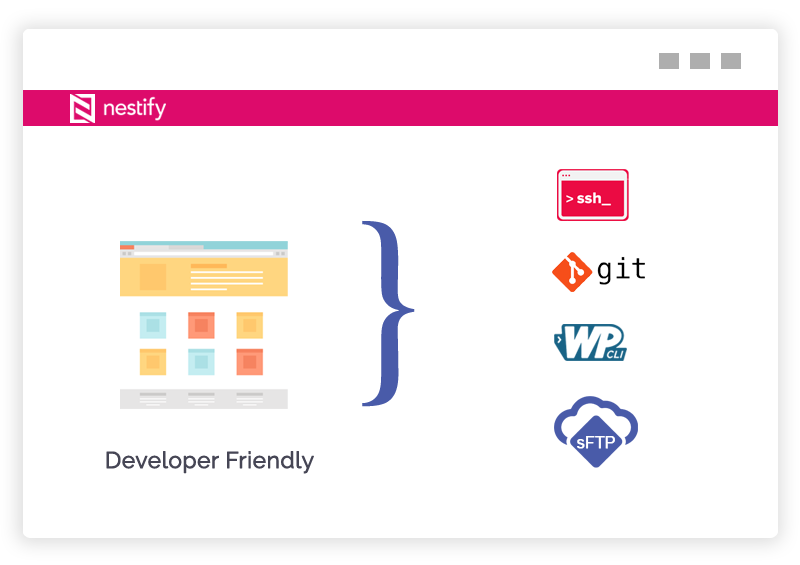 Developer Friendly and Customizable
Nestify's stack is designed with developers in mind. With SSH access, Git push support and CLI tools, you can control every aspect of your code. Even when your code needs something out of the ordinary, we can make it happen.
We never block any plugins, themes or features from any CMS.
How can we create a site on Drupal, Joomla or other CMS using Nestify?
Nestify's custom solutions dashboard allows you to create your site with custom code. You can deploy your site easily with Nestify.
Can we clone our site?
Yes, you can. No matter how complex your code is you can easily clone your site with Nestify.
Does Nestify support Custom PHP scripts?
Yes. We do support custom PHP scripts.
Do you backup my files?
Yes. We take daily backup of your files. We retain each backup for 15 days. Should the worst happen, you can rest assured a recent copy of backup is available.
What is Nestify's Managed Custom Hosting solution on VPS?
Many businesses do not use WordPress. Yet, they require the same resources and benefits found in managed hosting solutions. Some of these requirements are security, speed, performance optimization, and superior support. With Managed Custom Hosting solutions, Nestify offers its high-performance infrastructure and intelligent platform to clients who are using platforms other than WordPress. You may be running your project on Custom PHP such as Drupal, Joomla, Magento or Laravel. We provide you with better infrastructure and performance-optimized environment so you can leverage our intelligent platform to gain the same performance boost as you would expect in a managed hosting environment.
Do you provide support for GitHub Deployment API?
Yes. You can sync any branch from a selected repository directly with your production or staging site.
Can customers make server configuration changes or does Nestify do that for us?
The Nestify team handles server configuration changes. If you need any parameters adjusted, simply drop an email to support and we'll do it for you.
Is it possible to set custom rules if the server is caching things too aggressively?
Yes. We can adjust cache level and setup custom exclusion rules based on traffic sources, user types and several other parameters.
Is cURL enabled on VPS?
Yes. cURL is enabled on VPS. In fact, cURL is enabled on all our plans by default.
Is there a way to set environment variables outside of code on a VPS plan?
Yes. To set the environment variable outside of code on a VPS plan, please open a support ticket. We will be happy to assist you.
Does Nestify support Beanstalk as a deployment option on a Bulk Hosting Plans(VPS plans)?
Yes, We do support Beanstalk. If you have any special requirements or need special configuration please get in touch with support.
Can we run Node.js as primary service?
You cannot run Node.js as a primary service but you can make use of Node.js tools for purposes like minification or during deployments. If you have any special requirements or need special configuration please get in touch with support.
Do your Bulk Hosting Plans (VPS plans) support PHP mods like mCrypt and GMP?
Yes, we do support PHP mods like mCrypt and GMP. If you have any special requirements or need special configuration please get in touch with support.
Is my Data Secured? Who has access to my data?
Yes, your data is perfectly secure. Only the DevOps and support team has access to the server so they can maintain your stack and provide the support you need.
What is included in the backups?
The backups consist of a copy of the filesystem and export of the database.
What is VPS hosting?
Virtual Private Servers (VPS Hosting) are also known as dedicated virtual servers (VDS). They represent a form of virtualization that divides a physical server into multiple virtual servers. This practice of splitting a single virtual server to make it appear as multiple virtual servers have been frequently used in central computers. However, this technique has been expanding lately with the development of software and technologies such as VMware, Xen, FreeBSD Jail, Linux User-Mode, Linux-VServer, FreeVPS, OpenVZ, and Virtuozzo.
If your site is too big for shared hosting but too small for dedicated server hosting, VPS hosting might be the right solution for you.
VPS stands for Virtual Private Server, a type of hosting you will encounter if you exceed the limits of a basic shared hosting plan. The VPS hosting offers a partially isolated environment with more control, and the ability to do more advanced things with your website. Server space is divided into containers, and standalone servers are less subject to risk.
To better understand VPS hosting, you must first understand what hosting on dedicated server and VPS are. A dedicated server offers privacy, security and dedicated resources. You do not have to be competing with other websites for bandwidth, speed, and storage space. It is your own small private island in the ocean of accommodation.
VPS hosting creates an environment similar to that of a dedicated server, but in a shared hosting situation. In other words, you always share the physical server with other editors, but you have some private space within that shared space. So you share an island with other natives, but your area is fenced off from everyone.
Why use VPS hosting?
Most beginner web site owners start with a shared hosting plan. Shared hosting is designed for small sites that do not require too much. Once your site gets too big for shared hosting, you'll probably have to opt for VPS hosting plan for the next step.
The important part of VPS hosting is virtualization. The host splits a server into several smaller virtual servers, each with their own piece of RAM and hard disk space. When a client supports one of these virtual servers, it has a more isolated experience, since their virtual server can not be disturbed by other clients. (Note that you are still sharing things with your dear customers.)
VPS hosting is ideal for small businesses that want a little peace of mind and are willing to pay for it. If you need to know that your site will not be slowed down by a bad neighbor, a VPS hosting will be worth the extra expense.
What are the advantages and disadvantages of using a VPS Hosting?
Main advantages and features of a Managed VPS hosting server: You will have full control to manage your virtual server with superuser access (also known as root), without limits. All resources are dedicated to you and only to you. The best features are not shared with other customers. You can install and configure your fully managed VPS server, restart or stop your server whenever you want. You can use services that consume server resources such as custom cronjobs, or any other software without having to worry about resource usage, performance, and costs. With our fully managed VPS hosting platform, your entire virtual server space is stable and secure.
VPS hosting is an excellent compromise between shared and dedicated hosting:
It is affordable
The VPS server can be set up in minutes
VPS hosting tends to be more reliable than shared hosting since your site can not be affected by another client monopolizing resources
VPS hosting gives you more access to the server configuration, you can control the settings yourself
You can create and delete sites from your VPS at will
Each site can have its own control panel
The software can be installed and modified
It is safer
Another benefit of VPS hosting is the ability to customize your operating system, something you can do with a dedicated server, too, but not with shared hosting.
There are some disadvantages to hosting VPS:
You need to know a little about server administration
The price difference is not negligible
An unmanaged VPS can be a cheap option, but if you do not know what you are doing, repairing a fault can cost very quickly
Choosing a plan can be complicated
Can I install custom software on my VPS server?
With Nestify Managed and high performance VPS hosting service you can install multiple preconfigured operating systems (OS), install most of the custom Linux software you want. With our collection of OS template for VPS, you can install and use multiple OS and scripts with just a simple click.
Can I upgrade my VPS hosting plan?
Yes, you can upgrade your unmetered VPS hosting server at any point of time with just a few clicks. You can increase your managed VPS server hosting resources as your website grows!
What support will I have on my VPS server?
We offer you the best and low cost managed VPS hosting server. Our technical team monitors your server 24/7 against DDoS and hardware interference. You will have online support via 24/7/365 chat for any questions regarding the stability and availability of your VPS hardware.
Who can benefit from VPS Servers?
Anyone who is keenly committed to their online business and wants an uninterrupted presence on the internet should choose a managed VPS hosting server with the lowest prices, highest site stability, uptime, and speed. Using the best and high-performance VPS hosting in the USA, your website will become more stable for your potential customers or visitors because our best VPS hosting USA has bulletproof server infrastructure.
What is the difference in between VPS and Cloud Hosting
You might be wondering where the Cloud hosting fit in the hierarchy. In truth, cloud hosting and VPS hosting are very similar. There is no industrial definition of the cloud, and in hosting, the word "cloud" may not mean what you think it means. Hosters can also use the word "Cloud" quite freely in their marketing communication.
Normally, hosts will launch a VPS on someone's server, which has a single disk. This disc may fail. If this is the case, you will need backups to restore your site. Other hosts offer a similar service with VPS hosted on the cloud. This means that multiple copies of your site are stored on a Storage Area Network (SAN). Often this SAN will be connected to a single physical server.
So, while this type of Cloud VPS hosting sounds a bit fanciful, there are pros and cons.
On the positive side :
The VPS is registered in multiple instances through a network of storage devices, and each device is ready to intervene if the primary device fails
This reduces the risk of downtime
There are some disadvantages:
It is more expensive
It is less secure
All storage devices are connected to a single server
Another form of cloud hosting involves agglomerated servers together and connecting them to a cloud platform. Your host can deploy its VPS servers on that platform and adjust the resources assigned to your VPS hosting instances. With this method, you can also theoretically develop VPS beyond the constraints of a single server, providing it with much more RAM than a single machine could provide. If you choose this method of Cloud hosting, you will lose a lot of control over your VPS, since some of its traditional server features will be bypassed.
There is nothing wrong with traditional VPS hosting, although Cloud hosting can provide some redundancy. The nature of this redundancy must be studied so that you know exactly what you are going to get. And, in exchange for the extra cost, you should look for a web host that offers a considerable network availability boost.
Nestify makes your sites load fast, guaranteed.