World-Class Hosting for All Your Clients
Host your client websites with Nestify and we'll take care of maintenance and support.
Built For WordPress & WooCommerce
Our experts safely migrate your site from existing provider to Nestify with zero downtime.
Blazing Fast Speed
With WP-CLI, you can update plugins, configure multisite installs and much more, without using a web browser.
Intuitive Dashboard
The one part of your workflow you'll never have to worry about. Built for Agencies and developers.
Developer Friendly Workflow
Nestify's premium CDN + bandwidth is included with each site.
Automatic Daily Backups
Nestify creates automatic backups of your site and stores them in 3 locations. Restores are 1 click operation.
24x7 Support
We are here 24x7x365 always ready to help you and solve your problems.
Do You Host Client Websites And Handle Their Maintenance?
Our agency hosting plans make it a breeze for you to host and maintain client websites without worrying about server management, WordPress updates, or hacking nightmares. This way you spend less time on non-billable tasks and increase your revenue per client.

High Performance Hosting
We optimize your client websites without requiring any caching or security plugins.
Hacked Website Cleanup
If your client websites are hacked, we clean them up for free and secure them from future attacks.
Onboarding Assistance For Your Team
Looking to move all client sites and jumpstart your work on Nestify? We'll come to you! Our Fast Track Program gets agencies up and running on our platform with round-the-clock assistance from our top technical resources.
We also offer bulk discounts for agencies that manage hosting for lots of clients.
Free Migration
Our experts safely migrate your client sites from existing provider to Nestify with zero downtime.
Custom Development Workflow
Our platform integrates flawlessly with your CI/CD or development pipeline.
Dedicated Account Manager
A single point of contact for all your operational and billing questions helps speed things up.
Managing WordPress is easy with Nestify Console
Need to update something in WordPress?
When you need to test a new core update, a code change or payment gateway, you can use staging environments.
Staging environments can be created with 1 click using Nestify console. We take care of domain names, syncing files, and databases between staging and live sites. We even update the URLs inside the DB, insuring a seamless experience.
When you need to push changes from staging to production, it's a single click affair as well.
Staging environments are not crawled by any search engines and can be password protected if needed.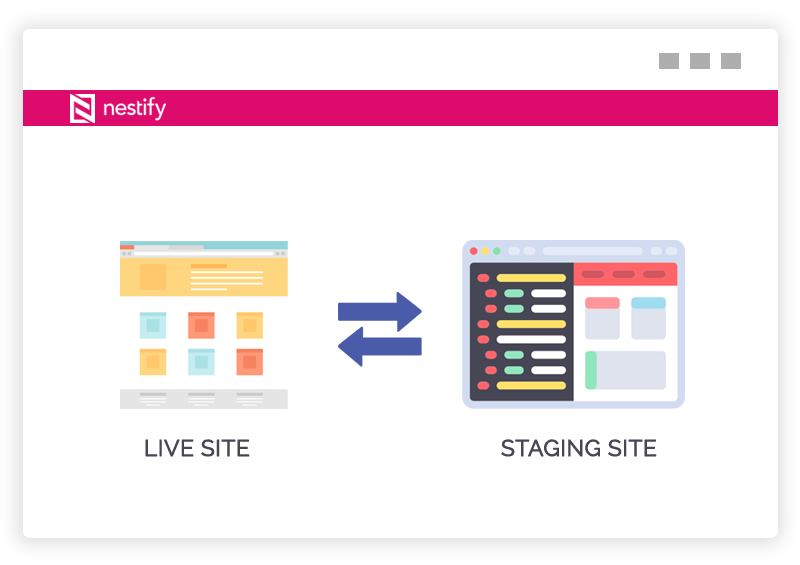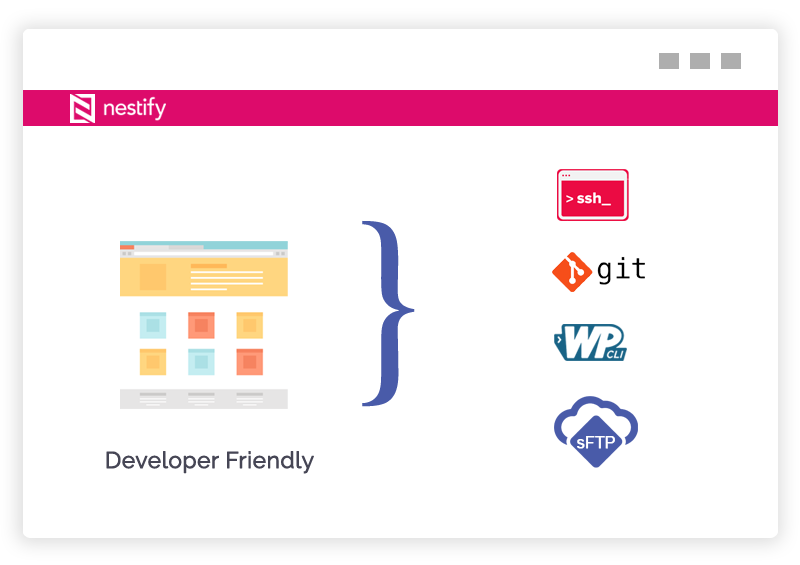 Developer Friendly and Customizable
Nestify's stack is designed with developers in mind. With SSH access, Git push support and CLI tools, you can control every aspect of your code. Even when your code needs something out of the ordinary, we can make it happen.
We never block any plugins, themes or features from any CMS.
Easy Daily Backups
Nestify backup solution takes incremental backups of your data at least daily. Should the worst happen you'll be able to reinstate a backup of your site with the push of a button.
We offer separate backups on all environments – live and staging – so your development efforts are equally as safe.
For sites where data changes more often, like eCommerce or high-volume publishers, we offer hourly backups to make sure there's always a recent copy nearby.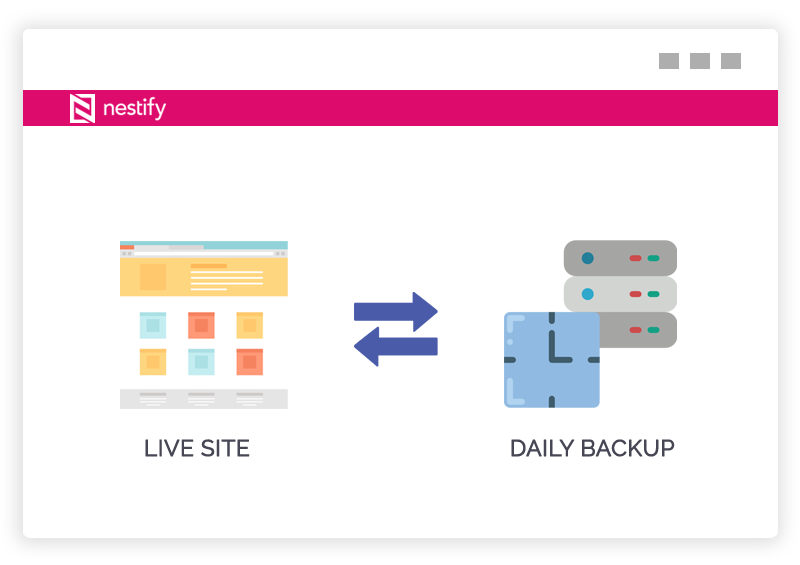 Clients
Trusted by public companies, private businesses and non-profits.
Nestify makes your sites load fast, guaranteed.