Google Chrome announced that it will provide security warning to users, warning that sites containing HTTP protocol are not safe. But why did this happen? The people who still have an HTTP site, what will they do? As will be going forward? That is the purpose of this article, clarify the main doubts.
Make your WordPress site's Load Blazing Fast Just by moving to Nestify. Migrate your WooCommerce Store or WordPress Website NOW.
Why a security alert will be given?
As would be expected, Google comes out ahead again, taking another security measure to ensure the best browsing experience for users. This time, the turning point will be in Google Chrome, one of its most recognized and used products.
We've talked here on Blog a lot of times that Google's algorithms are already giving priority in organic positioning issues, all sites that already contained HTTPS protocol despite all to continue with the HTTP protocol.
The website owners who are most worried about their users already understand what it does and why they should take the SSL seriously. But as the issue of security and encryption, Google ended up taking strict action?
Well, a study cited by the browser security staff revealed that the lack of "green padlock" which is in the address bar, indicating that the site is secure, is almost never seen by the user. From this information, the security team determined that the best way to work safety is to warn the user that the site is unreliable instead of doing just the opposite.
How will this warning work?
The first place where the security alert "not safe" appears will be in the address bar with the URL of the site.

address bar models before and after the security alert.
When these changes will happen?
The representative of the Chrome security team, Emily Schechter, who made the official announcement of the measure, made it clear that the browser will start scoring HTTPS sites as unsafe from January / 2017. A green padlock will still appear in the browser address bar, the difference is that in a short time who do not have HTTPS will have a red warning showing that it is an unsafe site.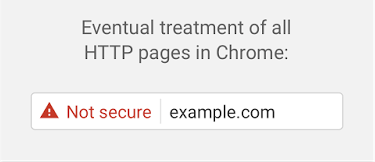 How the security warnings will appear in future?
Chrome is the first browser that will label HTTP pages, forms in general as unsafe. And there is no escape. Soon warnings will also appear in the incognito mode browser.
Conclusion
WordPress sites that still use HTTP protocol and do not want to be taxed as UNSAFE SITE by the most used browser worldwide, have less than three months to implement the Digital Certificate SSL. This Chrome action was another major step in the progress of Let's Encrypt, an initiative to close the long run all the loopholes that are not encrypted on the internet.
I hope the article was helpful.