In today's world of cybercrimes and incessant attacks by hackers, making your website secure is of utmost importance. Although most web servers provide security measures at their end, it is equally important that your site stays secure at your end. A stable and secure platform like WordPress surely offers peace of mind. But there can be vulnerabilities in your WordPress websites that might be exploited. This is where security plugins come in. These plugins help you make your website more secure.
Here is a list of 10 WordPress security plugins that you can use:
1.JetPack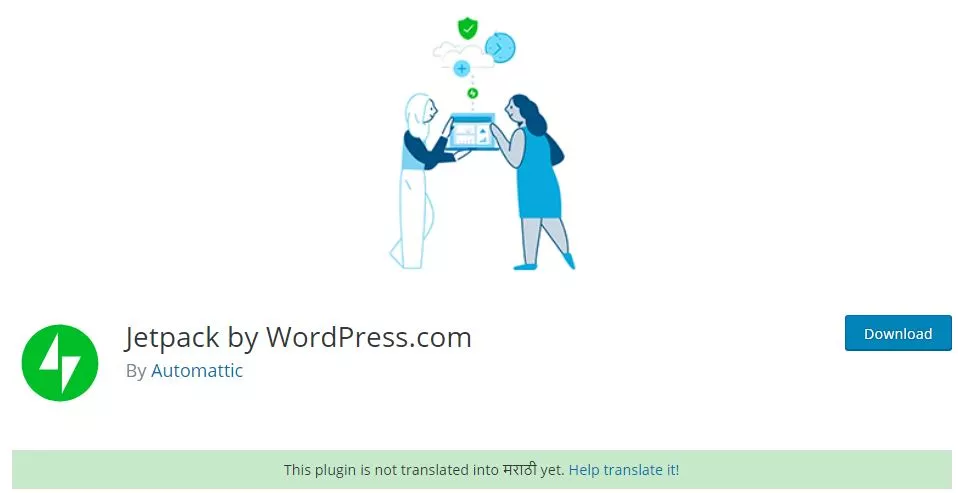 Automattic, the same company that runs WordPress.com, has created this multitasking plugin called JetPack. It has 5 million+ installations so far and it has received a rating of 4 stars. It is a free plugin and it also comes with some premium features. Its premium plans start at $29 per year.
It is a one-stop solution for design, marketing, and security. Here we will review its security features. It removes the worry about data loss, downtime, and hacking.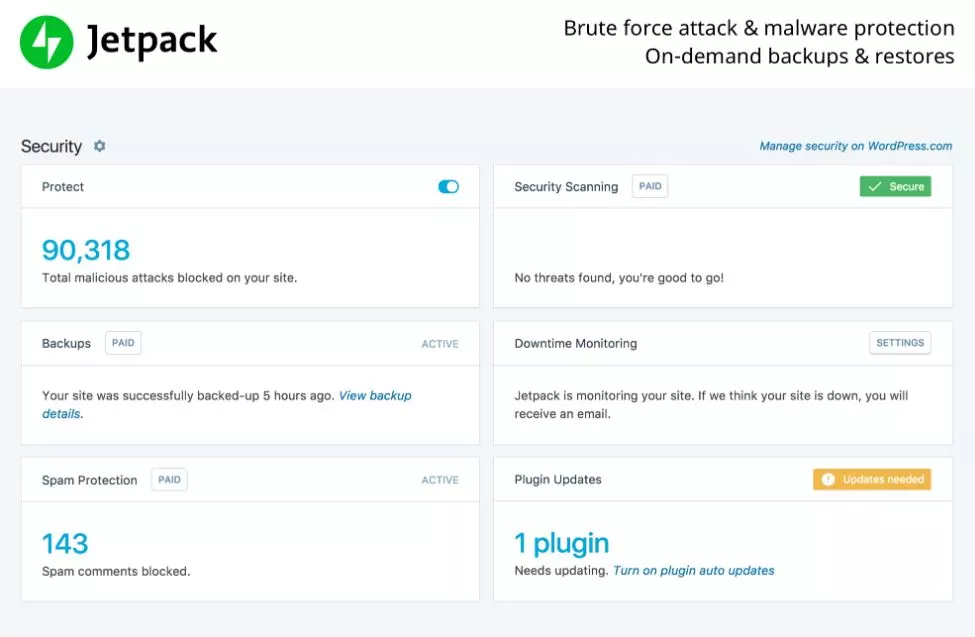 Features of Jetpack:
It gives Brute Force attack protection
It allows spam filtering and downtime monitoring
Daily or real-time backups.
Optional Two-factor authentication
Malware scanning, code scanning
Automated threat resolution
2. Wordfence Security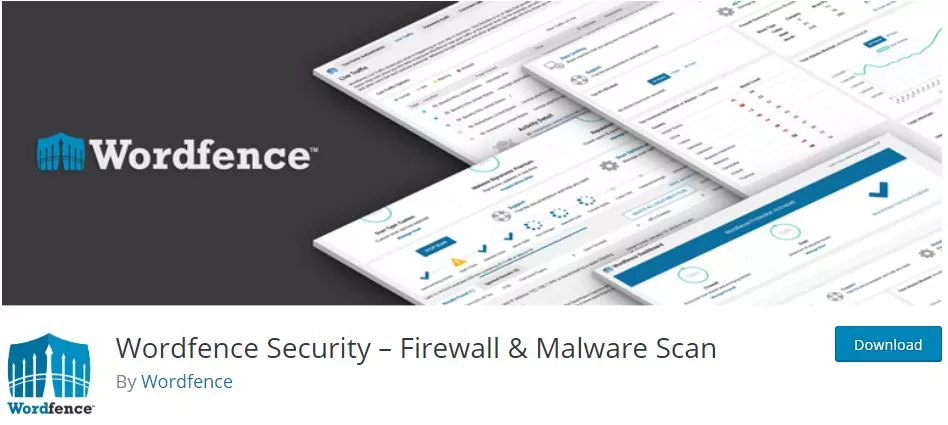 Wordfence Security – Firewall and Malware Scan is one of the most popular Firewall and security scanners. It is active on more than 2 million websites. It features an endpoint firewall and malware scanner. It protects your WordPress website by using newest firewall rules against malware signatures and malicious IP addresses. It has a rating of 5 stars by more than 3000 users. It is one of the most comprehensive WordPress security solution available. Its pro version is available from $99 per year.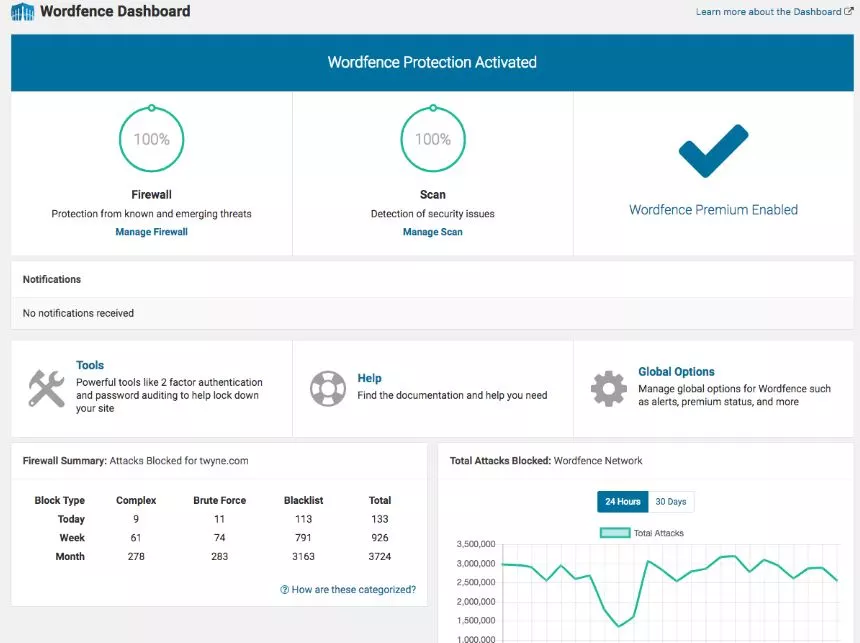 Features:
Its Firewall detects and blocks malicious traffic.
The pro version features Real-time firewall update while free version needs 30 days.
In the premium version, Real-time IP Blacklist blocks all requests from malicious IPs.
It offers protection at the endpoint to enable deep integration with WordPress.
It protects from brute force attacks.
The malware scanner checks core files, themes, and plugins for malware detection.
3. VaultPress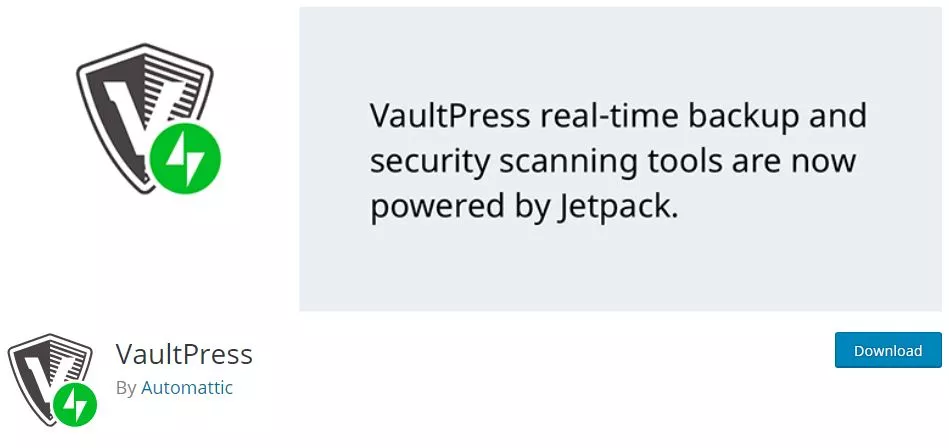 VaulPress is a premium plugin by Automattic, the makers behind WordPress.com. It is powered by JetPack. It backs up every post, comment, media file, revision, and dashboard settings to their servers. It protects users against hackers, malware, and host outages. The Pro version starts at $39 per year.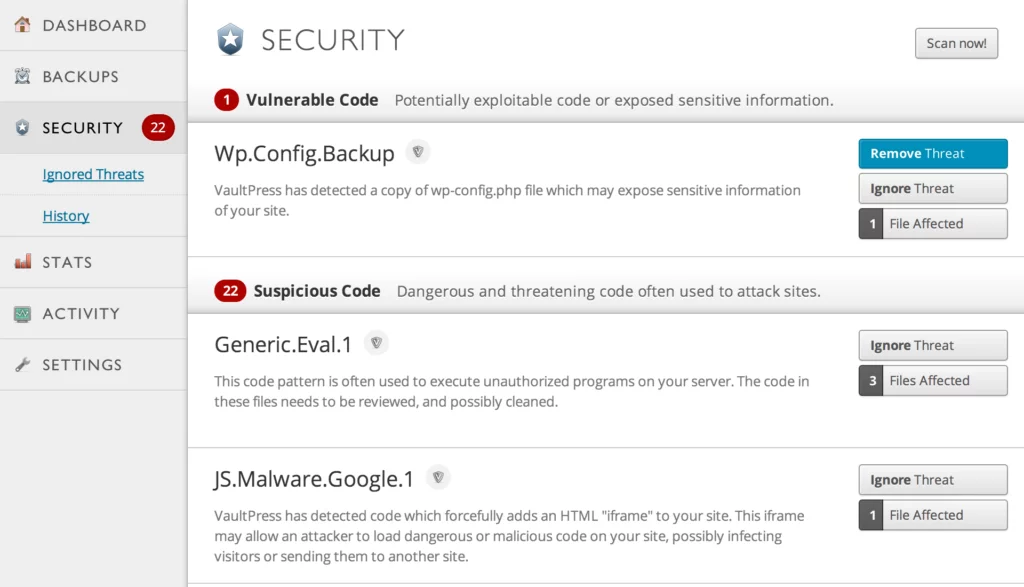 Features of VaultPress are:
Affordable pricing compared to other premium plugins
Clean and easy to understand dashboard that is user-friendly
Real-time and scheduled backups are available
Insightful stats that shows the most visited times of the site and attacks that happened during that period.
Good Support
4. iThemes Security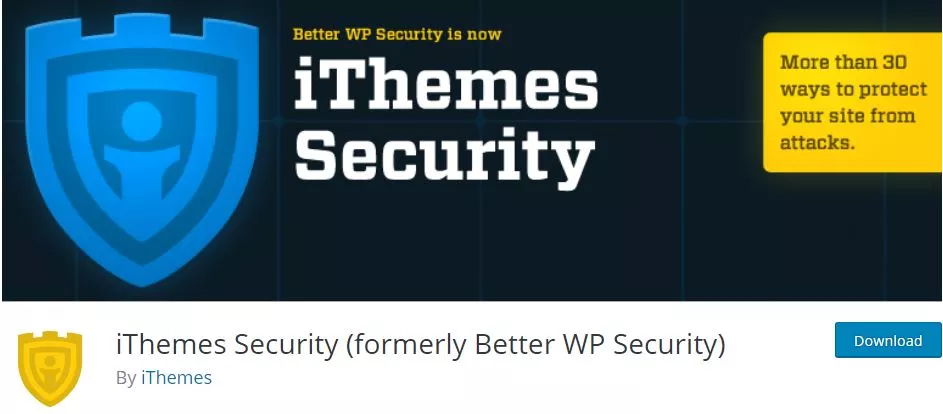 With 9,00,000 plus active installations and a rating of 4.5, iThemes Security boasts itself as the number 1 WordPress security plugin. It gives the user more than 30 ways to secure and protect their WordPress site. As per their official plugin page on WordPress.org, iThemes Security works to lock down WordPress, fix common holes, stop automated attacks while strengthening user credentials.
Its pro version starts at $80 per year.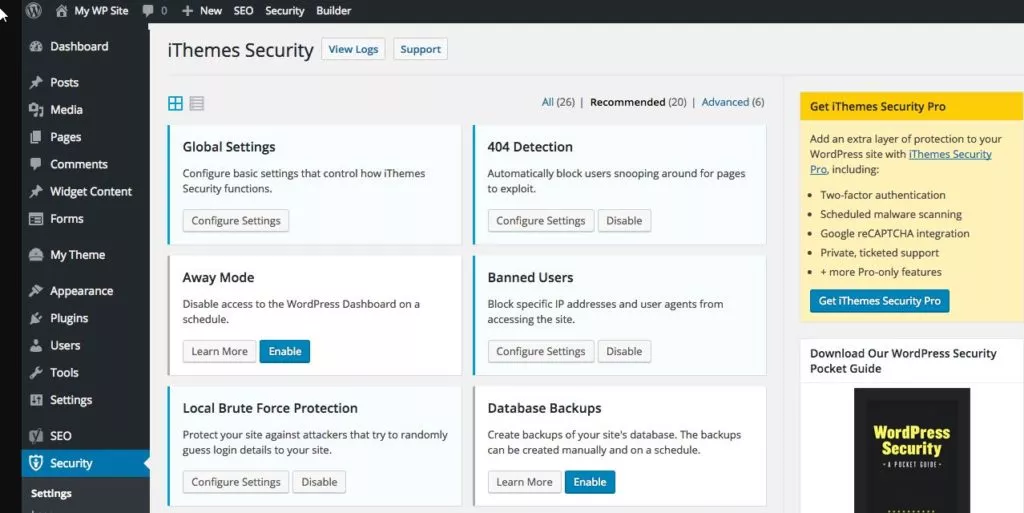 Features include:
Two-Factor Authentication
It upgrades WordPress keys
It provides Google reCaptcha to discourage spammers
You can track user action and log it
Online file comparison when a file is changed.
5. All in One WP Security & Firewall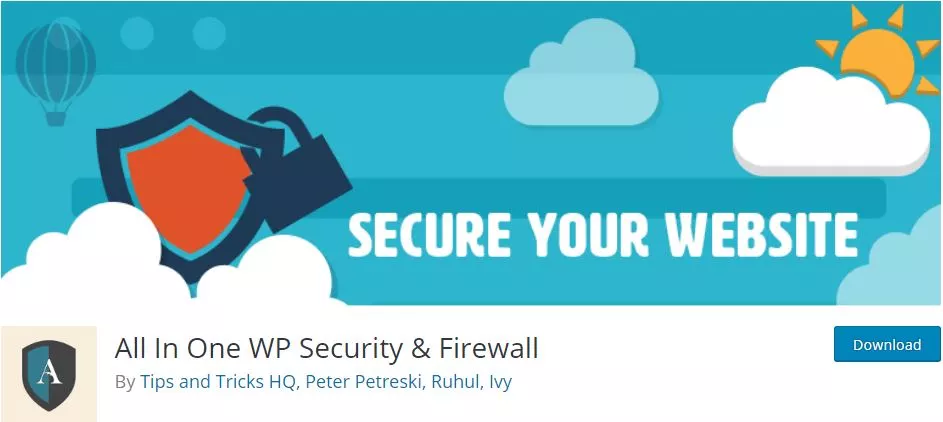 The most attractive thing about this plugin is that it is free, comprehensive, stable, easy-to-use and well supported WordPress security plugin. It enforces the latest recommended WordPress security practices and techniques. It checks for vulnerabilities to reduce security risk. It uses a security point grading system to keep track of how many security features you have activated. They have categorized the firewall into 'Basic', 'Intermediate' and 'Advance' so that the user can control the firewall without compromising on website performance.
This plugin is devised by Tips and Trips HQ. It is an open source software meaning it is completely free and anyone can modify it as per user needs. It has 7,00,000+ active installations. It has a 5-star review on WordPress. You should definitely consider trying this plugin.

Here are its features:
User Account security by detecting similar username on multiple WordPress Account and checking the default admin
User Login Security to protect against Brute Force attacks. Login Lockdown feature.
Complete control over locked out users and bulk IPs
Add Google reCaptcha to the Login page or Forgot Password page
User Registration Security to enable manual approval of WordPress user accounts
It can reduce registration attempts by robots
Database security; it can schedule automatic backups
6. Sucuri Security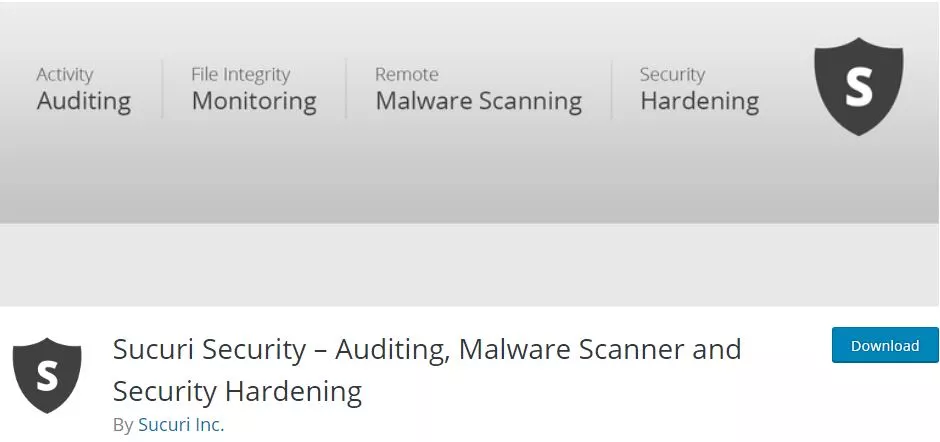 This plugin, by Sucuri Inc, has more than 4 lakh active installs. It has a 4.5 rating on WordPress.org. It claims to be a free-for-all WordPress users plugin but it actually has some premium services that are charged from $200 per year.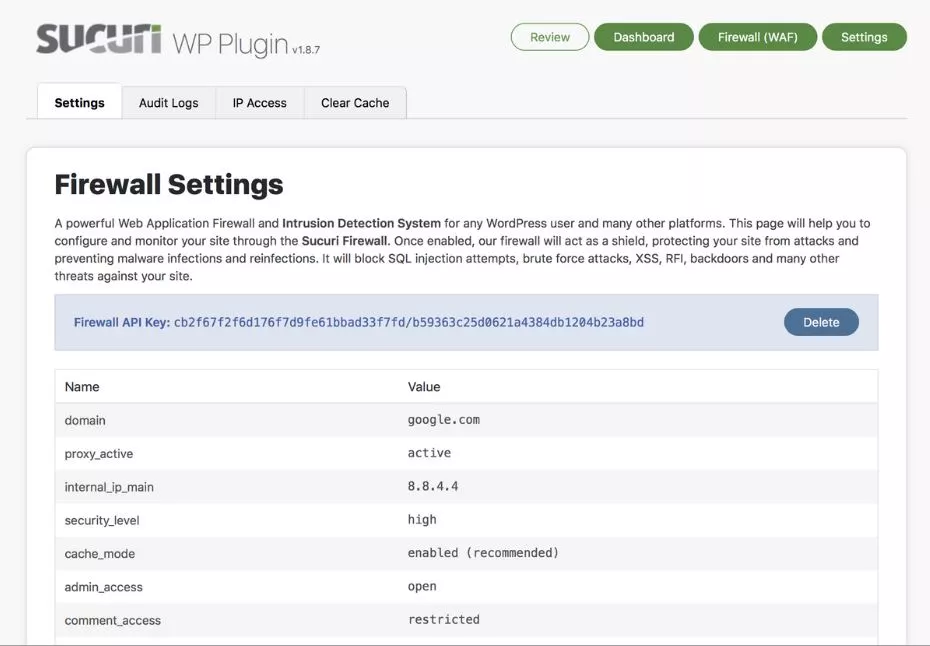 Some of its cool features are:
Security Activity Auditing: It monitors all security-related events within your WordPress install.
File Integrity Monitoring: It compares a known good file with the current one. It is the host intrusion detection system built into the plugin.
Remote Malware Scanning
Blacklist Monitoring
Effective security hardening
Post hack security actions
Security notifications
7. Bulletproof Security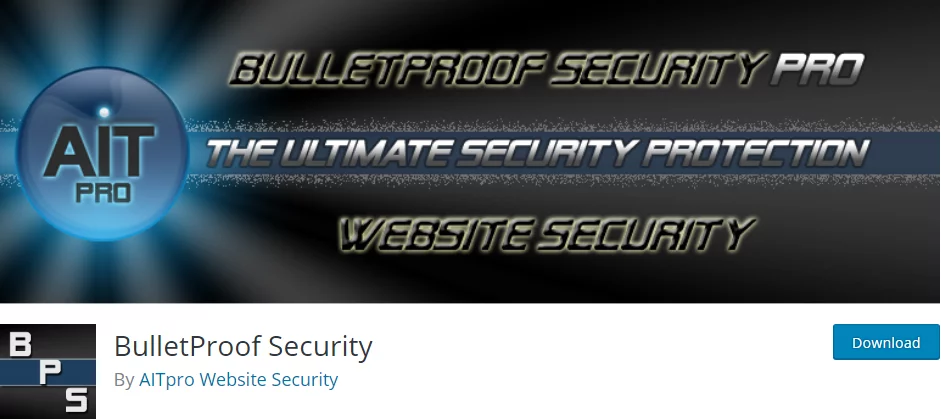 This plugin has a 5-star rating on WordPress.org and it has 80,000+ active installs.
It comes in both free and premium formats. It's a comprehensive WordPress security protection that includes malware scanner, firewall, login security, Anti Spam, DB backup among others. It is a reliable, effective and easy to use WordPress security plugin.
The free version offers Login security and monitoring, database backups and restoring, MScan Malware scanner, Anti Spam and Anti-hacking tools, A security log among others. The Pro version starts at $69.95 per year.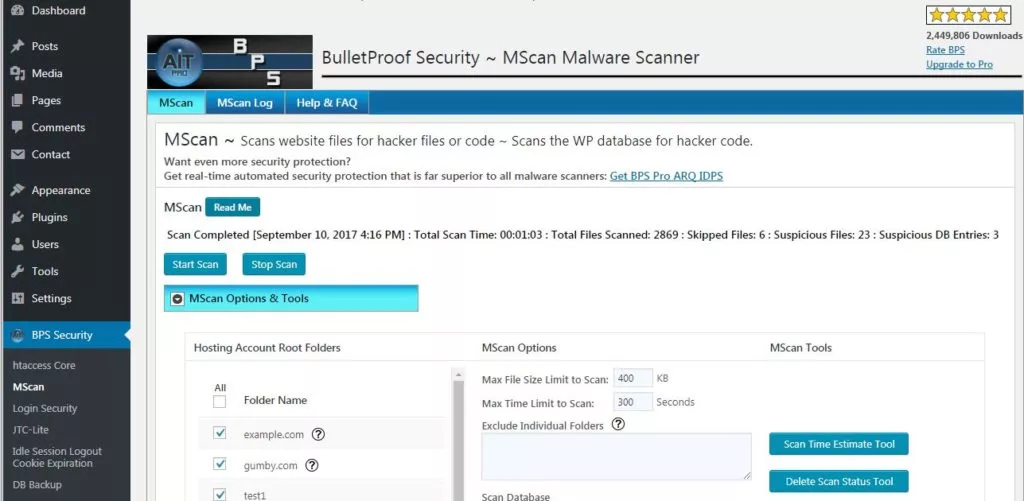 Features are:
It provides database backups
It has one click setup wizard
It has Hidden Plugin Folders/files Cron (HPF)
It has an Idle session logout feature.
It offers Auth Cookie Expiration
It has HTTP error logging
It provides Auto Restore Intrusion Detection and Prevention system (ARQ-IDPS)
8. WP fail2ban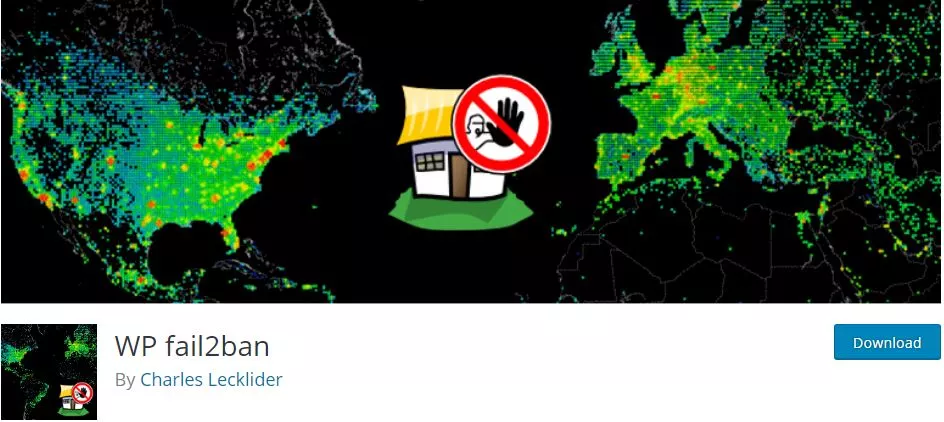 This is another open source plugin that won't cost a dime to your pocket. It has 30,000+ installs and a rating of 5-star. You can prevent brute-force password guessing attacks by using this simple and effective security measure. It logs all login attempts, including syslog using LOG_AUTH and XML-RPC, whether successful or not.
It has two fail2ban modes that allow immediate banning or the traditional graceful banning approach.
Features of WP fail2ban:

It can log comments
The User can configure it to work with CloudFlare and other proxy servers.
It logs all pingbacks, including failed pingbacks
It logs comments marked as a spam
It blocks user enumeration
One can easily configure it as a must-use plugin
9. Google Authenticator: Two Factor Authentication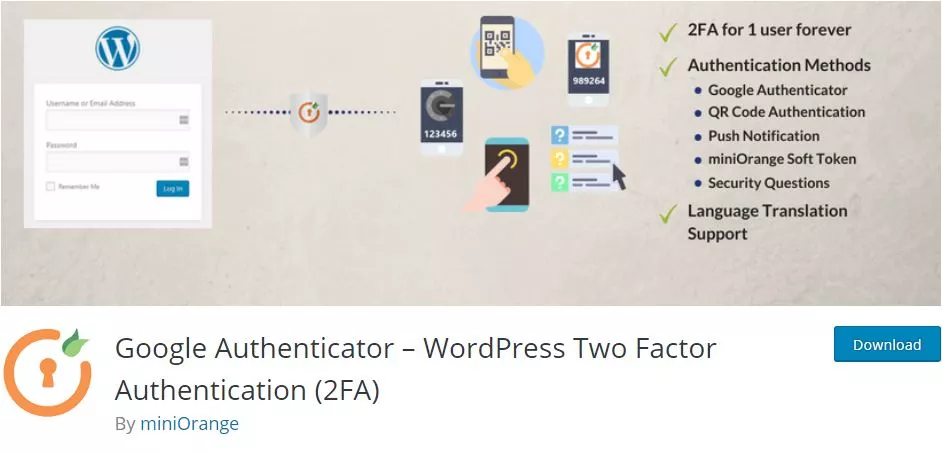 Two-factor authentication is something that is considered a more secure login than a single click login. This feature is missing in many of the security plugins. That is exactly why you should try Google Authenticator before you decide on any security plugin.
Using Google Authenticator, you add an extra layer of security to the login process. Most attacks happen at the login stage as this is where a user enters his credentials. This is the first place for theft. The two-factor authentication makes this harder to crack. To complete the two-factor authentication, you need to enter OTP on your registered mobile number, scan a QR code or answer a security question on top of verifying your login credentials. This creates a unique login event that difficult to crack.
If you search for Google Authenticator plugin, you will find many Google Authenticator plugins. Many developers have created such plugins so that there are a lot of choices to choose from. Try the one that has a good number of active installs and a decent rating. You can select your best plugin simply by trial and error.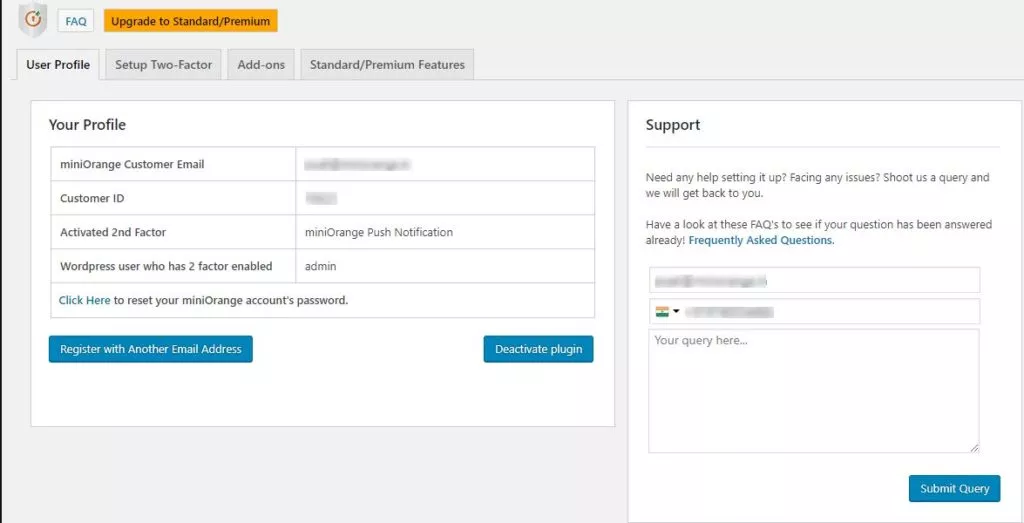 Features of Google Authenticator:
It provides an extra layer of security to the login process
The Two-factor authentication process is customizable and you can choose which type of authentication to opt for.
There is an option to select which user audience needs to go through the two-factor authentication process.
The plugin also provides a shortcode to be used in custom login pages.
10. SecuPress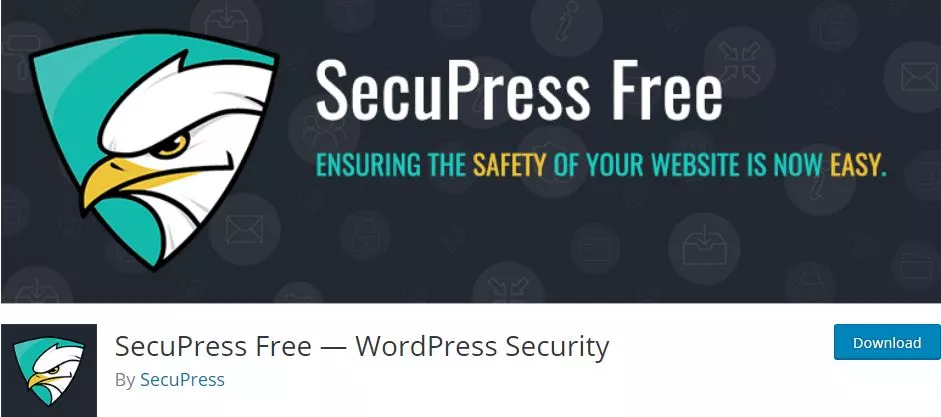 SecuPress is tested with WordPress 5.0 alpha. It has received a record 10,000+ installs and a rating of 4.5 stars. It protects your WordPress with malware scans, block bots, and suspicious IPs. With the free version, you can activate weekly scans while the pro version gives real-time scans. It has a dedicated security scanner that gives the user a clear security report for the website. It enables better security without sacrificing on user experience. The Pro version starts at $68 per year.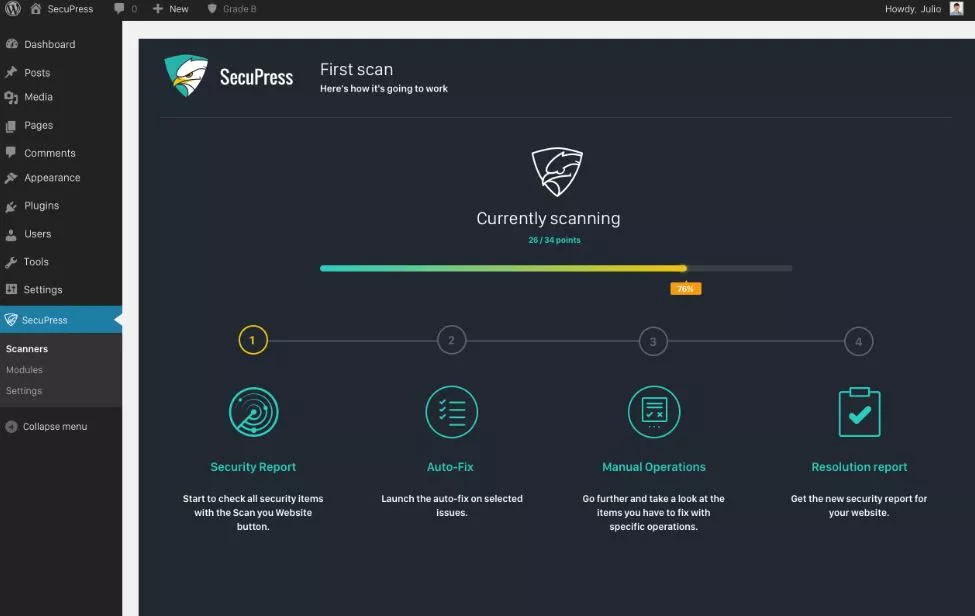 Features of SecuPress:
Comprehensive security audit
It limits the number of bad login attempts
It can set a non-login time slot
It has the facility of Two Factor Authentication
It allows a greater user and password control
It has easy to use User interface
It detects vulnerable themes and plugins and warns the user about security concerns
It password protects profiles and other pages to keep your sensitive data being stolen away.
So far we have reviewed 10 security plugins in this article. Each of them is a little different than the others. If you are on a tight budget, you can always opt for the free ones. For a long term perspective, a premium version is worth considering. In the unfortunate event if your security is compromised, then you will not only lose your data but also your business. Of course, no plugin is perfect and no one can guarantee perfect security. At least, we can try to minimize our chances of getting attacked with these plugins. Make sure you make some effort to keep your site secure.