Partners
We collaborate with awesome people, agencies and companies.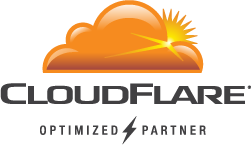 Nestify has partnered with CloudFlare, the web's easiest performance and security solution. As a CloudFlare Optimized Partner, we deliver their CDN and security solutions to help protect and accelerate websites and applications.
As a CloudFlare Optimized Partner, we offer the CloudFlare Railgun™ technology to all our customers for free. Railgun is CloudFlare's latest performance optimization technology that gives you significant improvements in site load times. Railgun is enabled by default for all applications and websites.
Today, hundreds of thousands of websites—ranging from individual blogs to e-commerce sites to the websites of Fortune 500 companies to national governments—use CloudFlare to make their sites faster and more secure. CloudFlare power more than 65 billion monthly page views—more than Amazon, Wikipedia, Twitter, Zynga, AOL, Apple, Bing, eBay, PayPal and Instagram combined—and over 25% of the Internet's population regularly passes through their network.
Join Nestify Partner Program
Get your partner account activated instantly, or contact us for custom integration.
Join Now
Agencies, Resellers and Freelancers:
If you are a web design agency, reseller or freelancer, we'd love to partner with you. Here are some benefits of partnering with us:
Dedicated Account Manager
Each partner is assigned a dedicated account manager who handles all sales, support and billing requests.
Reseller Portal
Partners can easily setup new user accounts and manage all applications from reseller portal.
Volume Discounts
Partners get heavy discounts on all products and services. Discounts are automatically applied to partner invoices.
Development Accounts
Partners get free development accounts that can be used for testing new code, prototypes etc.
Improved Visibility
Partners get newsletter mentions, promotions on Nestify blog and social media. Contact us for custom campaigns.
Access to our engineers
Partners have unrestricted access to our engineers for feature requests and custom deployments.
We Love Developers
If you are building something cool, we'd love to assist you and gear you towards success. Get in touch with us for sponsorship opportunities, custom solutions or just to say hi.