If you just lead your blog as a hobby, then you can safely skip this WordPress CRM Plugins post.
But if in any way you are interacting with clients or customers, and you want to make this relationship the most profitable, then you should continue reading because we are going to tell you about WordPress plugins, which operate as a full-featured CRM system or help to connect your site to separate CRM.
But before we begin, let's learn more about CRM.
What is CRM?
CRM is a customer relationship management system. If you have a large number of customers, then you just need a strategy for relationship management with them. CRM tools can help you with this.
CRM software allows you to keep track of all kinds of interactions with potential clients or customers. Detailed tracking depends on the tool that you are using. Typically, this includes contact information, email correspondence, phone calls, etc.
CRM tools help you to stay in touch with customers
With the tools and CRM software, it is easier to develop the business. The system can help you to convert people into clients or customers who like your product or services.
The tools may also help you to keep existing customers. Companies using this system, increase customer retention by 27%.
CRM tools can help you improve customer relationships. This is an excellent goal!
Plugins to implement the CRM system in WordPress
There are many free and premium plugins that can help with the implementation of CRM on your WordPress website. Some help you with common CRM, while others implement a third-party multi-function CRM tools.
Without further ado, we would like to present you the 7 best WordPress plugins for CRM.
1. WooCommerce Customer Relationship Manager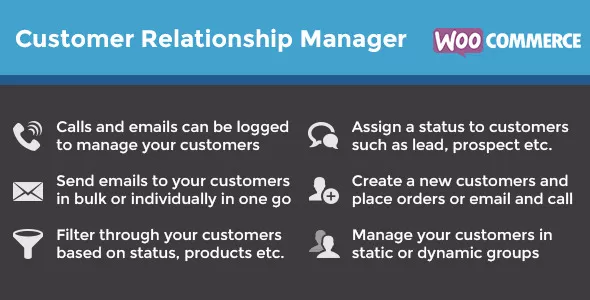 WooCommerce Customer Relationship Manager allows you to manage relationships with all your customers from a single center. This is one of the most popular CRM plugins on CodeCanyon with over 2650 users.
In it, you can store all the information about your customers. You can also send and track emails, calls to customers (and keep a call log), add notes for each customer, to track their activity and a lot of other functions.
This is one of the most functional CRM plugins, which we now describe, but it's worth a lot. You can purchase WooCommerce Customer Relationship Manager for $ 55. We know that it's expensive, but this is an adequate price for such a multi-function CRM.
2. WordPress-to-lead for Salesforce CRM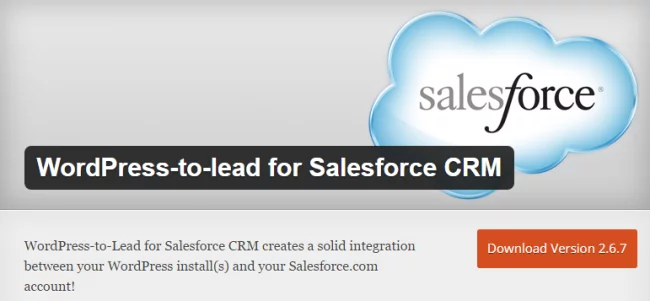 Salesforce – is one of the biggest CRM. This is a company with revenue of one billion dollars, and its clients belong to both individuals and large corporations. If you have not seen Salesforce, then it is definitely worth exploring them more carefully.
You can create forms on your site, and details of all who will fill it, will be automatically transferred to your Salesforce account. With shortcode, forms can be easily added to the site.
This plugin has 8,000 active units, making it one of the most popular free CRM plugin in WordPress directory.
3. UpiCRM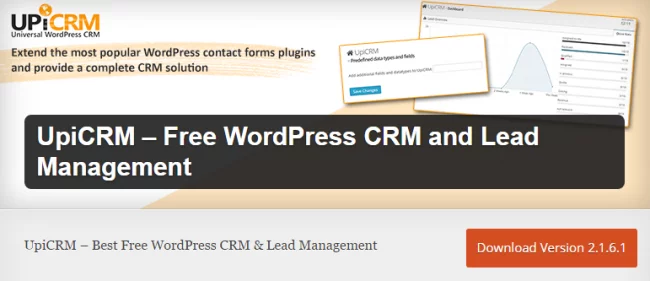 UpiCRM – CRM is a free plugin with 500 active installations. CRM Plugins are not suitable for everyone, so it's not a small number. The plugin is updated regularly so that it is compatible with the latest WordPress versions.
UpiCRM integrates with your existing forms and users to start their track. You can attach to each client a special kind of support or seller. In addition to the numerous functions, it also sets the UTM tags to track everything down to the smallest detail.
This is a great free plug with a rating of 4.9 out of 5.
4. UkuuPeople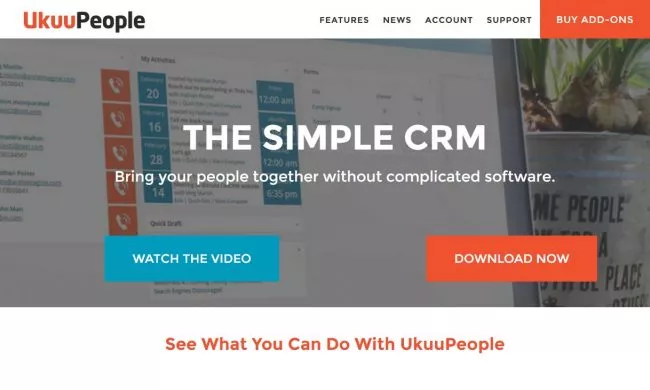 UkuuPeople is a free plugin which also comes with paid add-ons. It has a huge number of features that provide you with a full-featured CRM on your site.
UkuuPeople allows you to keep track of all user interaction on your site. You can control the feedback forms, telephone calls, shopping, etc.
You can also send emails to certain groups of users and assign tasks for a specific user.
Numerous add-ons and integrate complementary functions. This is a great option, especially if you sum up the price of the right add-ons.
5. WP-CRM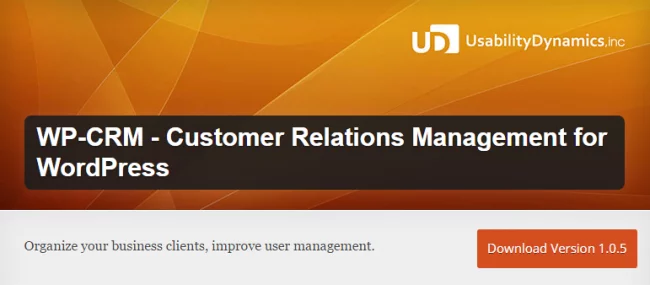 WP-CRM is one of the most popular CRM plugins repositories, it has more than 6,000 active users. However, it has not been updated from last 9 months, so maybe have some compatibility issues.
It helps you add new data attributes for users and is engaged in the organization of work. It also allows you to create feedback forms and automatically adds the data to the CRM.
Installing free version may not be enough. You can purchase the add-on that allows users to send group messages to your CRM.
The free version provides excellent functionality. consider this only if you do not need to send group messages.
6. CRM WordPress Leads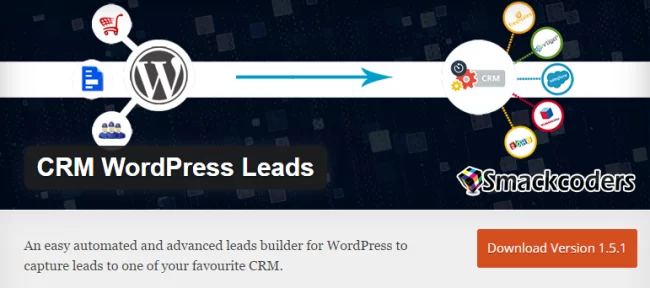 CRM WordPress Leads helps you to connect your WordPress site to third-party CRM software. It has 1,000 active users and is constantly updated.
CRM WordPress Leads allows you to draw and import customers in Salesforce, Zoho CRM, Freshsales, Vtiger CRM and SugarCRM. It covers most of the main CRM tools.
There is also a Pro version with more features and additions, although it may be sufficient and free.
7. Gravity Forms CRM Addon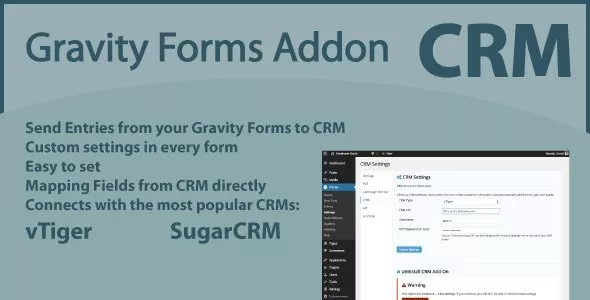 Gravity Forms CRM Addon – is a paid plugin available on CodeCanyon, which allows you to easily integrate Gravity Forms with existing CRM software. With its help, you can easily connect with Gravity Forms vTiger, Microsoft Dynamics CRM, SugarCRM 6 and 7, SuiteCRM, Odoo 8, ESPO CRM, VTE CRM, Zoho CRM, Salesforce, Bitrix24, and Solve360.
When users interact with your form, they are automatically added to your CRM. This is a simple way to configure integration with various third-party resources.
Gravity Forms CRM Addon costs $ 27 at CodeCanyon and has got the rating of 3.9 out of 5.
Conclusion
If you're already using a third-party CRM services, you will probably need a plugin that will help you to integrate existing forms of this service. You can go for Gravity Forms CRM Addon or CRM WordPress Leads. Otherwise, you can try to use one of the free or premium plugins to create full-featured CRM on your site.