Browsing is liked by many but on the other hand, compromised privacy is despised. The excitement of acquiring the latest news or your favorite recipe transforms into terror, with the thought that someone somewhere is tracking you whenever you browse. The most common browsers like chrome can track your activities even when your incognito mode is on. In addition to your interests, your IP address is equally unsafe. Consequently, you start to get an advertisement related to your search in between your work. Nothing could be more annoying than an ad popping up in front of your screen.
Now you can say goodbye to your fears of being tracked with the help of a built-in VPN(Virtual Private Network). With the help of a VPN, you can secure your public IP address, access content that is not available in your country, and much more.
Benefits Of Using Browsers With Built-in VPN
Enhanced privacy and security:

One of the main advantages of using a virtual private network is that it protects your online privacy by masking your IP address and encrypting all of your online activity. built-in VPN add-ons for browsers make it more difficult for third parties to monitor your online activities and protect your personal information.

Access to geo-restricted content:

By connecting to a server in a different location, a built-in VPN enables you to view content that may be blocked in your region. You can access this content quickly and easily with a VPN embedded right into your browser, without having to download any extra software or fiddle with any settings.

Protection from online threats:

Security from hackers, phishers, and viruses is another benefit of using a virtual private network. You might feel more secure while surfing the web when using a browser that has a virtual private network (VPN) integrated right in.

Faster browsing speeds

: Web browsers that has built-in VPN functionality are typically geared for speed, so you may enjoy faster browsing speeds without sacrificing the safety and privacy of your online activity.

User-friendly and convenient

: Using a built-in VPN browser is simple and quick. You can turn the VPN on and off with the press of a button, and there's no need to install any extra software. This makes it a great option for individuals who value privacy and security but don't want to deal with any extra effort.
What is the use of browsers with Built-in VPN?
Because VPN is the most well-known way to enable online anonymity, browsers that include VPNs by default are a popular choice for anonymous browsing. Despite what they say, these browsers can't hold a candle to a virtual private network (VPN) when it comes to protecting your data. These VPN add-ons for browsers aren't as secure as a true VPN. 
What this means is that they are not VPNs, but rather proxy-based routing systems. Because of this, a VPN browser's top security features include hiding your IP address to maintain your privacy online and preventing trackers and cookies from capturing your data. In addition to this, they are a trustworthy method of evading restrictions based on your location.
Top Browsers With Built-In VPN in 2023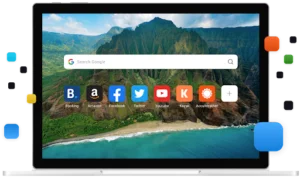 The Aloha browser is a top pick among mobile browsers since it provides a private and uninterrupted experience online. It is one of the best and most trustworthy browsers with built-in VPNs, and it works with multiple devices, including Android. 
The browser is great for both newcomers and seasoned web surfers thanks to its intuitive design and plethora of personalization options. The VPN browser also has other features that enable users surf the web anonymously, such as:
Pre-installed Adblocker filters out potentially harmful advertisements and ensures your privacy.

Completely free VPN service that conceals your online activity 

Use the private browsing mode to avoid leaving a digital trail. 

Protect your personal information by using a fingerprint or passcode to access private tabs. 

The Aloha browser provides a music player in addition to providing secure browsing. The VPN browser is free to use, but a paid premium edition is also available with additional features like choosing between different VPN servers, using custom themes, and opening ZIP files, among other things.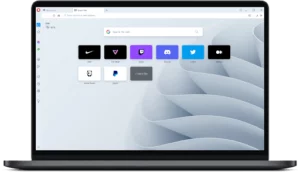 In 2016, Opera added a free VPN service called Opera VPN to its desktop and mobile web browsers. To safeguard customers' privacy and security when surfing the web and unlock geo-blocked material, the VPN service was designed to be user-friendly and straightforward.
Opera VPN utilized the SurfEasy VPN network prior to Opera's acquisition of that company in 2015. Founded in 2011, SurfEasy was a VPN service with over a thousand servers located in 28 different countries and headquartered in Canada. It  was once exclusively available in the browser's development edition, but it was eventually made available in the stable version for everyone. Users praised the VPN service, saying it was simple to set up and use, and that it unblocked content they couldn't access before.
Data is not logged under any circumstances. 

Automatic ad and tracker blocker: eliminates all unwanted advertising, trackers, and cookies. 

Has servers in five different countries, including Canada, the United States, Germany, and Singapore. 

The browser incorporates a VPN, however using it requires toggling an option. Some sites may prevent you from accessing their content if you try to use it. In addition to its speed, reliability, and integrated messaging, the Opera browser now allows for simple file sharing. If you need more than three connections at once and three thousand servers, the paid version is worth it.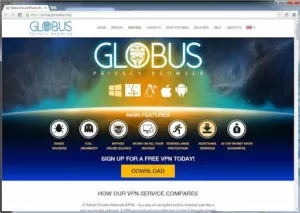 The Globus VPN Browser is a VPN service integrated into the browser. Released in 2013, it was created by British firm Globus Partners Ltd. Users can have complete confidence in their privacy and security when using this browser.
To function, it redirects all of the user's data through a secure VPN connection. To prevent third parties from monitoring a user's online activities, this server encrypts their data and conceals their IP address. OpenVPN, a trusted and secure open-source VPN protocol, is at the heart of the VPN service provided by the Globus VPN Browser.
The Globus VPN Browser has ad and tracker blockers, as well as a browser history cleaner, for added privacy and security on top of its VPN service. The browser is available in a number of different tongues and features an intuitive UI.
It includes a powerful encryption scheme for traffic that can hide your digital footprint.

A reliable firewall that blocks harmful programs like viruses and hackers.

This zero-cost Virtual Private Network client makes it simple to avoid censorship in your country.

The VPN browser's interface is modern and intuitive, making it suitable for use even by those with no prior experience with such software. However, it does not have many options for personalization. In addition, while the VPN browser is easy to work with, it does not provide lightning-fast speeds.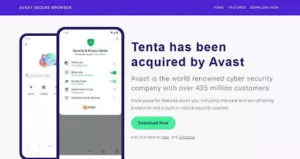 Tenta, a browser released in 2016, is a newcomer to the market. The emphasis is on user privacy and security, and it excels at it. This Tenta review will provide an overview of the browser in relation to others.
Even though Tenta's browsing speeds are subpar, its built-in VPN and unique interface more than make up for it. Advanced VPN features, including syncing between devices, are only available with a paid subscription.
However, Windows and iOS versions of Tenta are currently in development and are scheduled for release in 2019. Our review device was an Android 8.1–powered Nexus 5x.
Safeguard your belongings with a fingerprint or PIN lock.  

DNS security provided by DNS over TLS, DNSSEC, and decentralized DNS, and an integrated VPN that protects user data using AES-256-bit encryption. 

Storage Safe for Private Media 

eliminates tracking and adverts 

Absence of records Download a VPN client

Tenta has a simple UI despite its advanced security and privacy features. The VPN browser's settings allow you to do things like organize tabs by VPN location or have all tabs use the same mode. It also has built-in anonymity and supports Web 3.0's decentralized architecture. It is a safe VPN browser that can be used for free or upgraded to a paid version.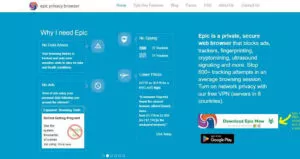 Epic Browser, which runs on the Chromium web browser engine, claims to be very confidential. Epic Browser is a free web browser that prioritizes privacy and security. It is based on Chromium, an open-source web browser project by Google, and it comes with several built-in features to protect users from online tracking, fingerprinting, and phishing attacks.
One of the notable features of Epic Browser is its encrypted proxy, which automatically routes all web traffic through a secure server to hide the user's IP address and location. This means that users can browse the web anonymously without leaving any traceable digital footprints. In addition to the browser's always-on private mode and other privacy and security features, such as:
IP leak prevention using WebRTC filtering

Does not record information you enter or websites you visit

 Prevents tracking, advertising, and 

Makes all URLs open in a secure connection (HTTPS) by default.

Proxy VPN server that uses encryption

The VPN browser has no data usage limits and is available for free. You can connect to a server in any of eight different countries: the United States, Canada, the United Kingdom, Germany, France, the Netherlands, India, or Singapore. The Epic privacy browser does more than just hide your browsing history and protect your credit card information; it also has a secure vault, a music queue, a movie downloader, and a reading mode.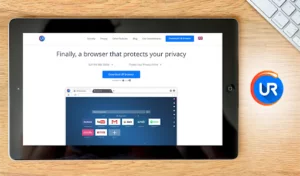 UR Browser, a top-notch internet browsing solution for both Mac and Windows, puts the protection of your security and privacy at the forefront. Diverging from conventional browsers such as Chrome, Safari, and Firefox, UR provides a safe web-surfing experience and safeguards your online privacy. With the growing awareness among users about the vulnerability of their data, the demand for a browser that prioritizes the protection of their interests has skyrocketed. Fortunately, UR Browser fits the bill and diligently works towards ensuring that your browsing is both secure and stress-free.
Prevents advertisements from other sites and eliminates tracking cookies 

A stealth mode that deletes all information at the conclusion of each session. 

Integrated anti-virus scanning

2048-bit RSA encryption is provided by default for private search engines like Qwant, Lilo, Ecosia, and StartPage.

Forces all URLs to use a secure connection (HTTPS). 

The UR browser is very adaptable and simple to use. Unique high-definition photos and 3D parallax wallpapers allow users to make their browser home screen their own. They can also alter the look of the interface by adding or removing widgets and changing the background. The browser's ability to facilitate rapid downloading and its neat categorization of downloaded files are further noteworthy features.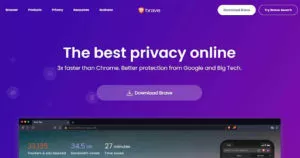 When you use the Brave browser, you won't have to worry about intrusive adverts or trackers, and your fingerprints will be safe, too. However, it does not protect your privacy from your Internet service provider, the government, hackers, or other third parties. If you want to make sure that your browsing is completely secure and private, you should use the best VPN for Brave Browser.
Your data will be encrypted and your online privacy will be protected by using a virtual private network that is among the best in the business. You can also unblock media that was previously unavailable due to restrictions based on your location.
Automatically obstructs fingerprinting efforts and cross-site trackers 

Prevents the display of cookie consent prompts 

Malware and phishing defenses are already installed.

 It disables annoying advertising on every page, and it upgrades all connections to the more secure HTTPS protocol.

Brave's anti-ad stance is what makes it so intriguing. The browser relies on replacing the adverts it removes from web pages with ads from its own network. In addition, it prevents ads from following users around, protecting their anonymity. 

The introduction of "BAT," or Basic Attention Tokens, is another feature that sets Brave apart. Tokens like this are given out in exchange for seeing advertising. You may use these tokens to buy premium features and content from your favorite websites.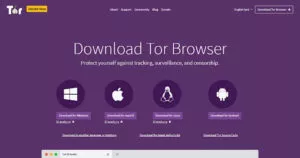 When you use Tor over a VPN connection (also known as "Tor over VPN" or "Onion over VPN"), your home IP address is hidden from any Tor nodes you connect to. This provides you with all the privacy protections of the Tor network. Your home network will not be able to tell that you are using Tor because all it will see is encrypted traffic going to your VPN server.
The Tor browser superimposed on a VPN-protected laptop.
When combined with a Virtual Private Network (VPN), the Tor network can be accessed in places where it is normally unavailable, such as on corporate and school networks and in some countries.
The fact that your VPN provider cannot monitor your activity on the Tor network is still another reason to prefer Tor. And if the Tor Browser has a security flaw (which it has in the past), using this built-in VPN first will protect you from that flaw.
Despite Tor's high level of security, all connections must first enter and leave the network via entry and exit relays. Because of the public nature of these relays, your ISP and other parties will be aware of your Tor usage. Some individuals may become suspicious of you if they know you're using Tor, even though they have no way of knowing what you're doing or who you are online.
It uses multiple levels of encryption to protect sensitive information. 

To protect users' anonymity, data packets are routed through a series of intermediate nodes. 

Protects privacy by hiding the user's IP address. 

The Tor browser's user interface is complicated, but its privacy and security features are par for the course. The Tor browser has three different security settings that can be used to achieve differing degrees of anonymity and privacy.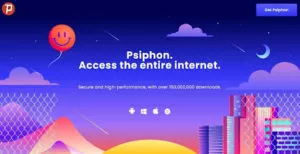 The Psiphon Pro software is a highly regarded browser and virtual private network (VPN) for Android devices. The app's stellar rating of 4.2 stars, as determined by nearly a million users, speaks for itself. By establishing an encrypted tunnel and masking your online activity, Psiphon Pro keeps you safe while using public WiFi. Psiphon Pro shields you from prying eyes by creating a secure connection between your device and the Internet.
It provides access to a wide variety of servers located in different parts of the world over a unified network. Psiphon Pro can be used immediately after download; there is no need to sign up for an account or provide any personal information. Custom proxy configurations are available in Psiphon Pro.
You can use a VPN for the entire device, and you can choose which apps are allowed to use the VPN connection. The subscription grants access to never-before-seen extras and the highest level of built-in VPN security available. The free version has advertising, but it's still usable.
Files are encrypted using AES-256-bit encryption. 

The L2TP/IPSec VPN protocol was used. 

Includes both VPN and proxy modes separately.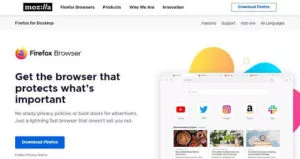 With Mozilla VPN, you can securely connect to the internet without worrying about hackers or other third parties accessing your data. The Mozilla built-in VPN encrypts your data using the cutting-edge WireGuard® protocol on up to 5 of your computers. You can safely watch shows, play games, make purchases, and conduct other daily activities online.
Mozilla, creator of the Firefox web browser and a leading advocate for user privacy online, is dedicated to making the internet a place where you may feel secure and valued at all times.
Increased Safety from Tracking

A firewall around all cookies. HTTPS-based DNS

Securing Fingerprints 

Ad blocking, malware detection, and phishing defense built right in

By default, HTTPS can be used.

Integral password safe 

Mozilla Firefox's customization features extend beyond the realm of privacy and security to include cross-device synchronization of saved data. 

In addition, it contains a translation function that permits online translations. The built-in reader mode in Mozilla Firefox is another great feature that makes reading easier. 
Conclusion
Web browsing with increased privacy and security is made easier and more efficient by browsers that have built-in VPN. If you're worried about your online privacy, using one of these browsers will give you an unbreakable barrier against prying eyes and unwanted surveillance by encrypting all of your internet traffic.
In addition to enhanced safety features, modern web browsers now provide useful extras like incognito windows, download managers, and ad blockers. Users now have unprecedented control over their time spent online thanks to these supplementary tools, which also improve efficiency and performance.
When it comes to protecting your digital footprint, browsers that have a built-in VPN service can't be beat. They are the epitome of modern web browsing technology due to their cutting-edge security features and sophisticated functionality.
FAQs
What is the best free VPN browser?
Unfortunately, not all browsers you come across will provide you with a free VPN option. Therefore, be careful when selecting a VPN provider, even if it is free.
Several examples include Opera, Tor, Avast! Secure Browser PRO, etc. These come with built-in support for free VPN services; all you have to do is download and set them up on your gadgets. 
Can I get a Google VPN for free?
Google does not offer a free VPN service, however those who have paid for a Google One subscription can use the VPN. This, however, is limited to users in specific countries who have a 2TB plan or higher. The VPN services are also exclusive to iOS and Android devices. 
How can I use Firefox's built-in VPN?
On all platforms, including Android, iOS, Windows, and macOS, Mozilla Firefox includes VPN support. Turning it on or off is as easy as flipping a switch. You'll need to get Mozilla's VPN client and sign in first. After that, select your preferred location by tapping the corresponding switch. 
How do I access prohibited websites?
Tor Browser or even Opera can be used to access restricted websites. These browsers can be used to gain access to restricted content and sites if your internet service provider has placed such restrictions in place. Such browsers reroute your web traffic through proxy servers, allowing you to freely access the web. 
What should I do if I don't have access to a built-in VPN?
It's not uncommon for some ISPs to place limits on the sites their customers can visit. Accessing these sites is possible with a virtual private network (VPN) or the Tor browser. However, if you do not want to use a VPN, you can still access these sites by using a URL shortener to alter the URL as you see fit.