How to Configure and Use WP Super Cache
Speed is a very important part of all sites. Users hate slow pages, search engines will penalize the slowest sites and site owners are forced to pay more for hosting that can cope with more visits. Fortunately there are several solutions that allow caching of content and combine business with pleasure: faster pages and lower consumption of server resources.
In WordPress, the easiest way to create cache is using a plugin. There are several, but one of the most popular and easy to use is the WP Super Cache. We will show you how to install and configure the WP Super Cache plugin.
Why Should I Use Cache Plugin?
WordPress is a dynamic system. Whenever someone tries to load a page (this, for example) WordPress have to join the various theme files, load plugins, load the post and comments of the database, etc. This process takes only a few milliseconds (In Optimized and Managed WordPress Hosting) and is usually not a problem when the site has few visitors, but when hosting resources are few and when the site has many visitors, can create a big problem.
One solution to this problem is for static files which can be saved for a period of time. Thus, the first time a page is loaded, WordPress creates a static file and the next time the page loads, WordPress sends the static file instead of having to generate the page.
Imagine that your site has a peak traffic because of a promotion on social networks. The first user will view a "fresh" page generated by WordPress while the remaining users will see a static page that is already cached. In other words, WordPress just have to generate the page once.
Some benefits of using a cache plugin:
Less load on the server: Faster and less need to pay more for a larger hosting solutions.
Faster site: As part of the pages are already in cache, WordPress does not have to waste time to generate new pages. It's good for the user and the search engines.
And some problems:
Less updated pages: How to keep pages in a static file, it is normal when you make a change in a post or approve a comment, the user does not immediately see the changes.
Plugin Configuration: You need to spend some time in setting up the plugin and test the site to see if everything works fine.
Now that you know how it all works, let's move on to setting the WP Super Cache.
Configure WP Super Cache
1. Install and Activate Plugin
At first, will have to install the plugin. You can do this through the WordPress administration panel, in Plugins> Add New, looking for WP Super Cache. If you prefer to install the plugin, it is available for download at the WordPress plugin repository.
After installing, enable the plugin.
2. Configure Plugin
To begin configuration, go to Options> WP Super Cache.
2.1 Enable cache
Choose "Caching On option" and save the change.

2.2 Configuring the cache
Click on "Advanced", choose the following options and keep clicking "button Update status".
Note 1: These are basic settings for most blogs.
Note 2: Click on image to see full size.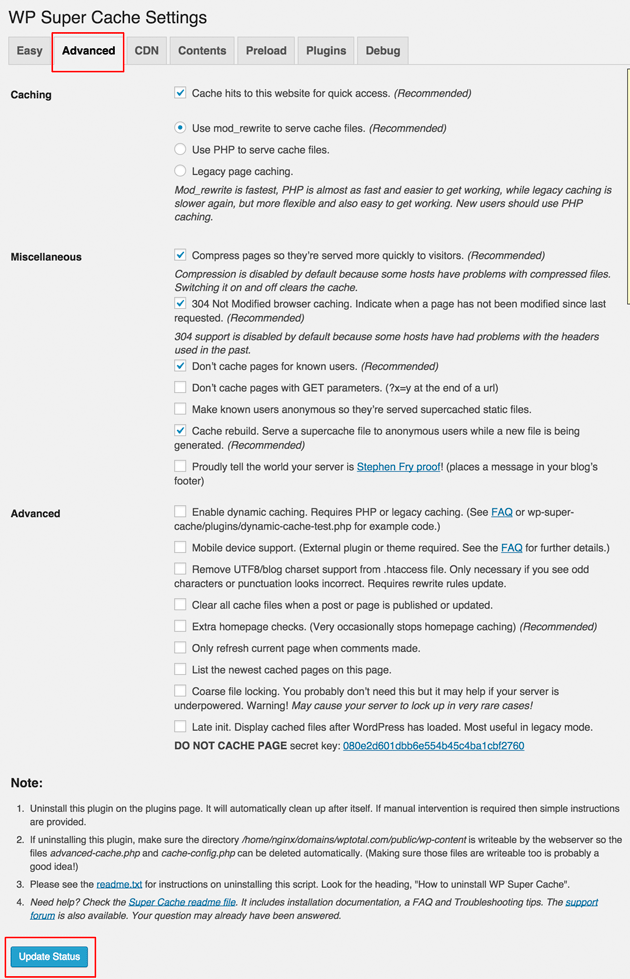 Note: Some hosting providers do not support the "mod_rewrite". If this is the case, use the "Use PHP to serve cache files" option.
After clicking "Update Status", the cache should be active on your site.
In some cases, an extra step is needed: if the following message appears…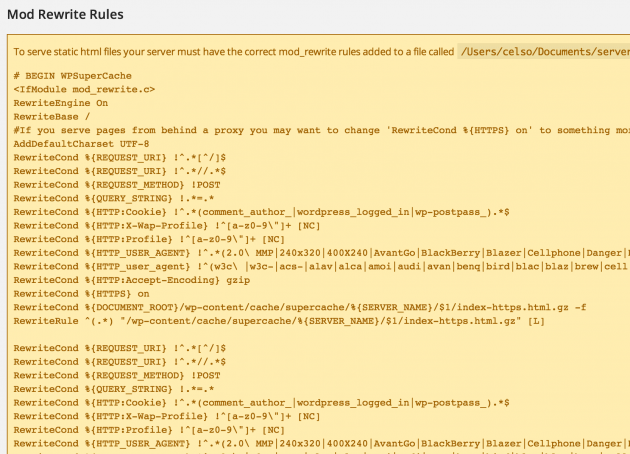 … Click on "Update Mod_Rewrite Rules" to complete the process: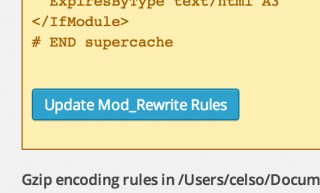 After doing this, the cache is active on your blog!
2.3 (Optional) Setting the more advanced options
Also in "advaced settings" you can set various options and functionality of the plugin. Remember to save changes as you proceed.
Expiry Time & Garbage Collection: Choose the maximum time (in seconds) for each page be cached. 3600 seconds (1 hour) is a good starting point. Here you can also choose how the WordPress will "clean up" the cache that has expired.
Accepted & Rejected URIs Filenames: You do not want a page or part of the site remain cached? This is the part where you do it.
Rejected User Agents: If you do not want the WP Super Cache to create a cache for visits of certain pages for bots, you can configure here.
Lock Down: This is a useful option in case you're receiving a lot of traffic and comments at the same time. When you enable this option, the plugin will not clear the page cache whenever a new comment is submitted.
Cached Files Directly: If you are hosting with "shared package" and have a peak traffic on a page, you can manually create the cache of that page here. Useful when you share the link in any social network and expects to receive a lot of traffic.
Fix Configuration: You have set something wrong and want to go back to the beginning? This erases all settings and the plugin is ready for the new settings.
On the other pages of the plugin, you can find more options:
CDN: You are using a CDN to serve the most important and heavy content? You can configure the CDN here.
Contents: You can see the numbers of cache and clear the site cache.
Preload: Automatically create the cache for every page on the site, thus allowing when a user opens a page, it is already in cache. (May cause problems if having hosting service with limitations).
Plugins: A list of "addons" that work with the plugin. To turn one, choose "enabled" and click "update".
Debug: For advanced users only. Here you can find the Debug options.
Conclusion
With the settings shown in this article, your blog will be able to receive at least twice as many visits without creating problems of slowness or excessive consumption of resources.
For questions about any option, read a description of the options that the WP Super Cache shows. You can also get in touch with us or use the official WordPress forum for help .