Since search engines exist, webmasters have tried to make their website appear as high as possible. During the launch of the well-known Google search engine in 1997, the focus was on 12 factors. Experts now estimate that Google uses more than 200 ranking factors.
In order to make sure you rank higher in Google's search engine, we've put the best SEO trends for 2017-18.
1. Mobile
The top trending for 2017 is mobile. By 2016, the mobile desktop had captured search queries. Google even predicts that desktop search results will disappear completely within 5 years. It's clear that you need to get started with mobile now.
To rank higher on mobile, you must do the following:
Make your website is responsive
Google has a handy guide online with all the information about responding to your website.
Get your website loaded quickly
Avoid large images and unnecessary media files. As a result, the mobile site will load faster.
Optimize titles and meta descriptions
On mobile, you have less space. Therefore, make your titles and meta descriptions shorter.
2. Content
Over the last 3 years, Google's search engine has become more preferred for more comprehensive content. From research, it shows that the best twining content in Google now has an average between 1140 and 1285 words. By 2014 this average was 902 words.
This ensures that the search engine has more data and factors to work with when indexing pages. This trend confirms that Google is adopting a more content driven "model." It is important that you as an entrepreneur provide unique content and write comprehensively.
3. Local
Local SEO is the optimization process for locally better locating in Google. If you're a plumber in Austin, you'll need local SEO for online visibility within the city. People are looking for 'plumber in Austin'.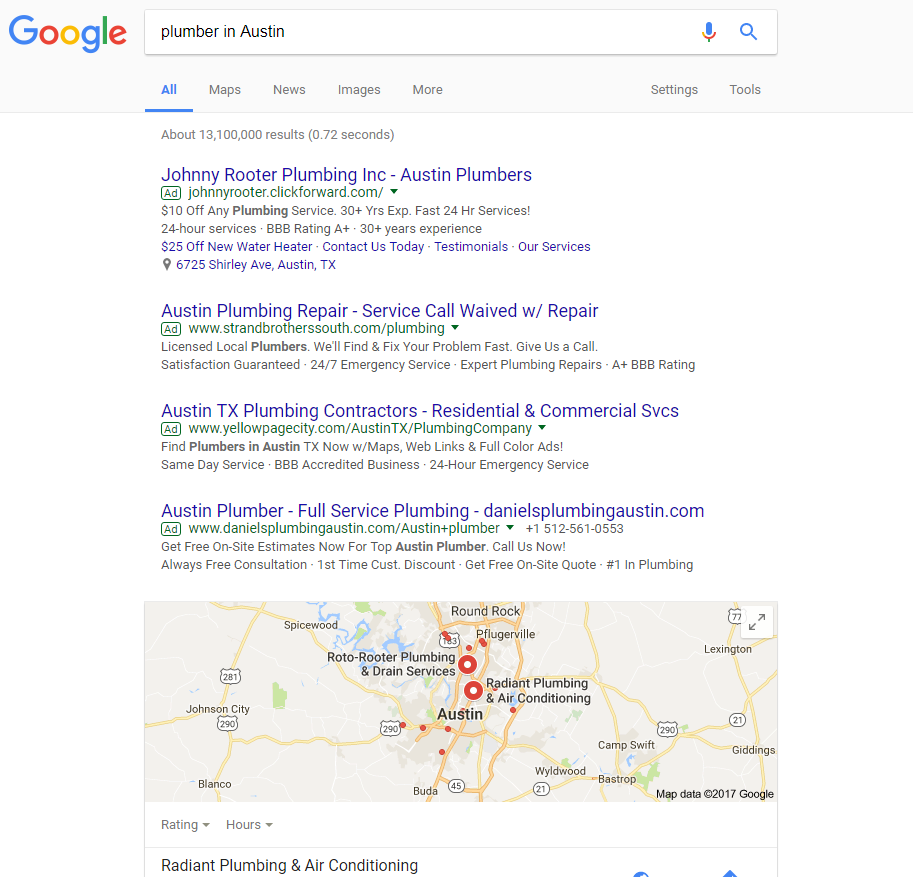 Local SEO is important because 50% of consumers visit a location they were looking for on their mobile within 24 hours. And this is especially true for locations up to 5 kilometers away.
To be better locally located in Google, you need to do the following:
Create a local business
First, you need to register your business in Google.
Provide reviews from local locations
Increase your visibility in Google if you receive positive reviews of 4 stars or more.
Register your business with local sites
Make sure you sign in to local sites. This will greatly increase your visibility in your own region online.
Bonus tip:
If you have WordPress, it is advisable to install Yoast 's local SEO plugin.
4. Longtail Keywords
Keywords remain highly relevant. 75 percent of searches consist of 3 to 5 words. People become smarter with searching in Google. They discover that you get better results with 3 to 5 words. Within your SEO strategy, you must take into account this changed search behavior.
To be better found in Google, you need to create content that matches your audience's questions and search behavior.
5. Social Media
The 5th trend is clearly social media. Over the past year, Google has signed a deal with Facebook and Twitter, which shows content in the search engine. If you're looking for Google, you'll probably see more and more tweets.
It is becoming increasingly important that you also think about Twitter and Facebook, and use certain SEO keywords.
Did we miss any trends or do you have other tips? Do not worry and share in a comment box.
As a note: