Looking for a WordPress plugin so that share your content on social networks?
We are always looking for something new for our projects. Sometimes we choose a specific design theme, sometimes we pay attention to the function, and sometimes we just need something to increase the number reposts.
We picked up a stunning 20 WordPress Social Media plugins in this article. In the list, you will find full-featured plugins, very simple plugins, content blockers, social buttons and much more.
Make your WordPress site's Load Blazing Fast Just by moving to Nestify. Migrate your WooCommerce Store or WordPress Website NOW.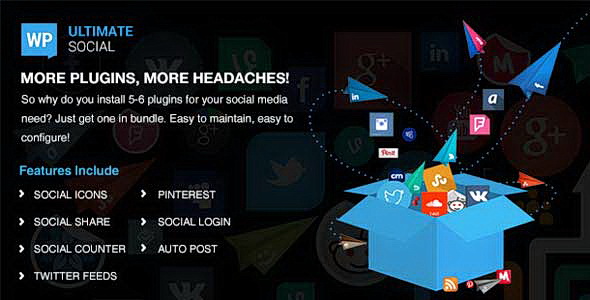 WP Ultimate Social is really a great WordPress plugin. It performs many more functions than just the dissemination of information in social networks.
For example:
Set PNG Icon, Font Awesome, and SVG
Support 18 profiles in social networks
Beautifully designed social networking buttons
Easy to use drag-and-drop
You can also embed Twitter news, add a Pinterest button to pin the images, and even include entrance through social networks to WordPress. And what about the auto-post? The plugin does it for you. WP Ultimate Social connects together has the functions of four to five plugins.
Pricing:
The Regular License costs $50. It includes 6 months of support.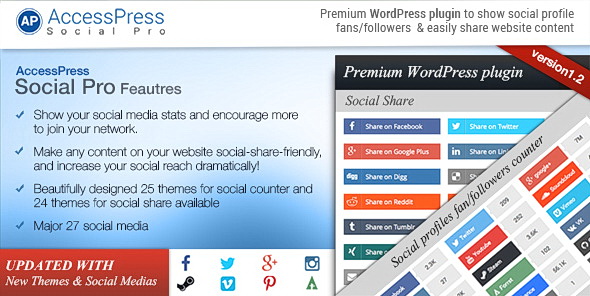 This plugin is well balanced in its approach to the dissemination of information in social networks. AccessPress Social Pro is full of style options and themes.
The best features are:
5 types of animations
Easy setup widgets and shortcodes
25 themes for social counter
24 themes for social share
Add another API update, configure the cache and support for WooCommerce BuddyPress, and you get a reliable plugin for social media sharing. Connect your WordPress site to 27 different social networks via AccessPress Social Pro.
Pricing:
The Regular License costs $16.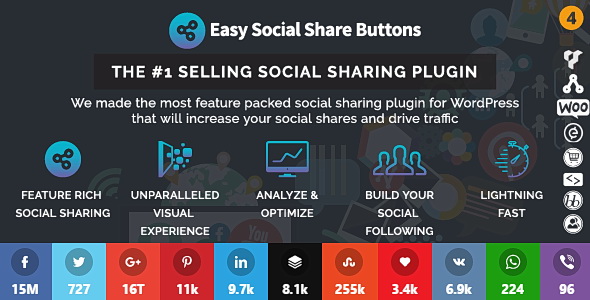 Easy Social Share Buttons – This plugin with the most functions. And if you're interested in not only the number of functions, that is a feature that stands out. This plugin comes with the best analyst we have ever seen.
Some useful functions include:
More than 40 popular social networks
More than 14 different premium modules
Several automatic triggers
22 Display options
The plugin also includes the share counter, a form for subscribing via email, and even after share actions. Easy Social Share Buttons – an excellent choice.
Pricing:
The Regular License costs $14. The Plugin is available at CodeCanyon.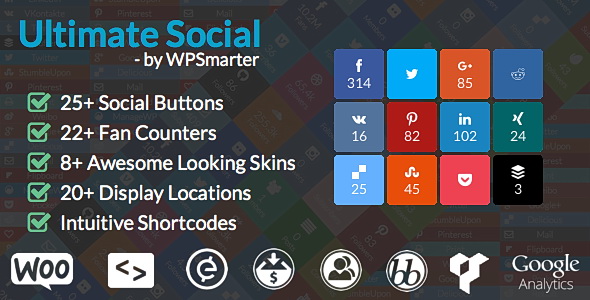 Ultimate Social uses a simple approach that appeals to many. Adding social media fans and counter buttons has never been so simple and beautiful. In this WordPress plugin you will find:
More than 22 meters fans
More than 20 layout options
25+ social networking buttons
More than 8 different skins
You can also use shortcodes. Ultimate Social is a wonderful WordPress plugin for social sharing.
Pricing:
The Regular License is priced at $20.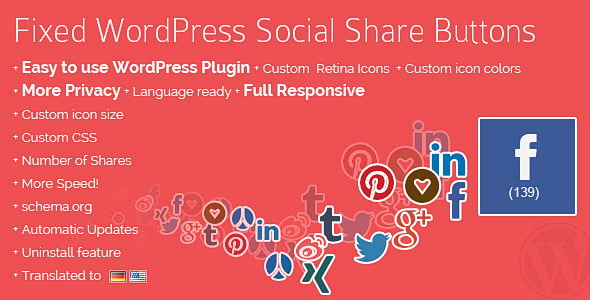 If you primarily pay attention to the speed, the minimum number of functions and settings, fixed WordPress Social Share Buttons is just for you. It has better protection against unauthorized access, and the willingness to transfer syntax that supports the schema.org.
It complies with European privacy principles
Custom size and color of icons
Retina Icons
Custom CSS
Fixed WordPress Social Share Buttons – fast, simple and adapts to the style of your website.
Pricing:
The Regular License costs $19.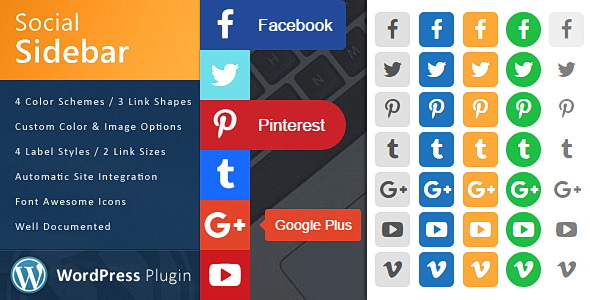 WordPress Social Sidebar – is a specially designed side panel for social networking buttons in the browser window.
You'll get:
Color schemes and label style
The parameters of images and colors
Support Font Awesome Icon
3 forms of links, 2 sizes
Place the side panel automatically or manually, select the option for mobile devices and add the right type of links in the sidebar. WordPress Social Sidebar is concentrated on only one and does it better than any other WordPress social media plugins.
Pricing:
The Regular License costs $15.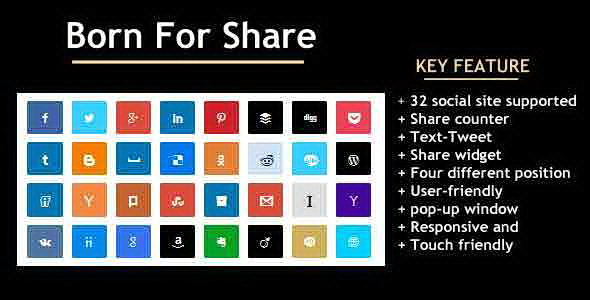 You can find a variety of social sharing plugins for WordPress, but many of them have not been updated. In our selection, we have included only the plug-ins with the recent upgrade even from not so famous developers.
It can be placed in 4 different positions or in a popup window
It has a share counter and a text-to-tweet
Supports 32 social networks
Fully adaptive
Pricing:
The Regular License costs $8.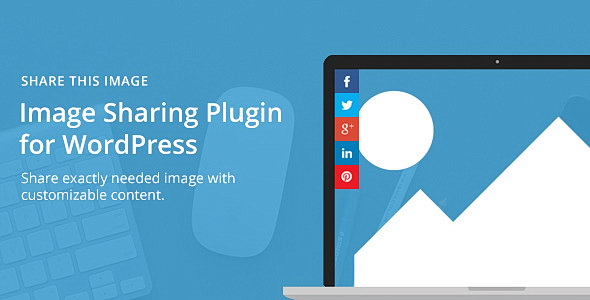 Share This Image is ideal for increasing the number of social sharing and has.several functions available:
Setting titles and descriptions for social networks
Supports 11 different popular social networks
Contains 3 styles
Auto scroll to the image, which can be shared
It will be hard to find a plugin with the best function to share images on social networks than Share This Image.
Pricing:
The Regular License costs $29.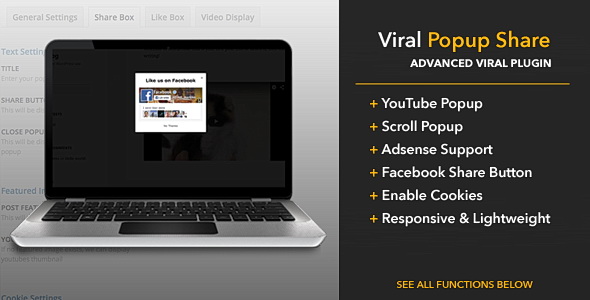 Add a pop of social networking buttons on your website using Viral Popup Share. Select the trigger, adjust your action and increase the number of Share in the social networks.
Add a pop-up window after watching the video on YouTube
Turn cookies, in order to avoid spam
Select one of the three pop-up windows
Easy to use
If you want to get more likes and reposts to Facebook, then Viral Share Popup is just for you.
Pricing:
The Regular License costs $15.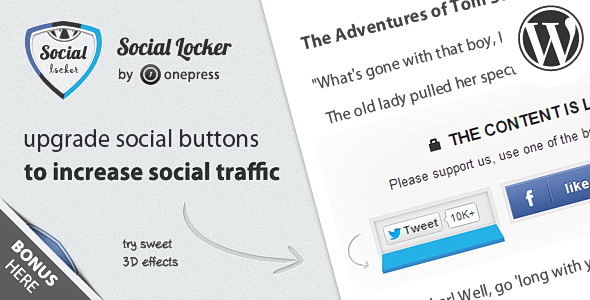 If the content is free, it does not mean that we should not pay for it. With the plugin Social Locker for WordPress, you can place a button for "Share to unlock".
Ask the user to sign up, and not to share
Blur or hide the locked content
Connect to Google Analytics
4 types of locks
Social Locker for WordPress should be the number one choice to unlock content.
Pricing:
The Regular License costs $27.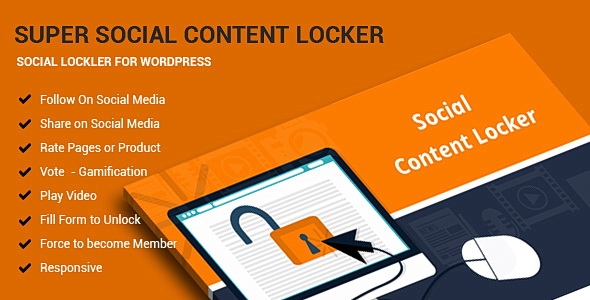 Super Social Content Locker – is a great plugin that offers a slightly different function, in contrast to the above-described plug for blocking content. Place it anywhere on your website using shortcode or a widget to the sidebar.
You can use this plugin for:
Polling
Subscriptions through social networks
Fillings and subscriptions via the form
Fortress in the social network
Membership
View promotional video clips
Selecting "rate us"
Super Social Content Locker – is more than just a content sharing plugin. This is a full-featured content blocker.
Pricing:
The Regular License costs $21.
Previous 2 WordPress plugin focused on content blocking and ARSocial is also a function of social sharing. In addition to blocking of content, you can also configure:
The function to share on social networks
Counter fans
Laiki from social networks
Select and configure support for 40 social networks. ARSocial offers an interesting mixture of the spread functions in social networks and blocking of content.
Pricing:
The Regular License costs $21.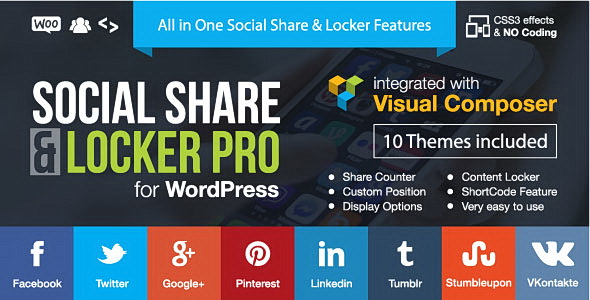 Social Share & Locker – is another way to configure the "pay for content" sharing. You can configure the settings for 44 different social networks.
The buttons 10
Fortress and Counter followers
8, the content locks
Smart targeting
Just add the plugin to your WordPress theme using the shortcode generator and admin settings.
Pricing:
The Regular License costs $20.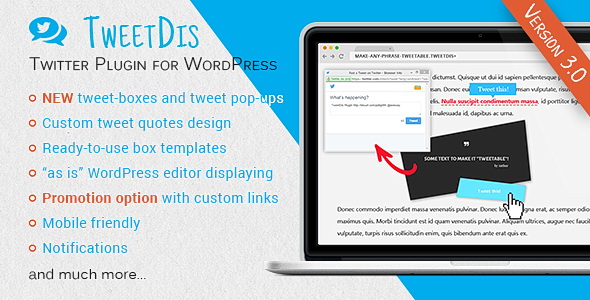 A birdie told us that TweetDis – is a great way to increase the number of content shares on Twitter. You can:
Use the provided templates or customize your own
Customize tweet boxes and tweet pop-ups
Enjoy HMTL5 and CSS3
Configure custom links
TweetDis – Make Any Phrase Tweetable – this is one of the most advanced plugins to share content on Twitter.
Pricing:
The Regular License costs $18.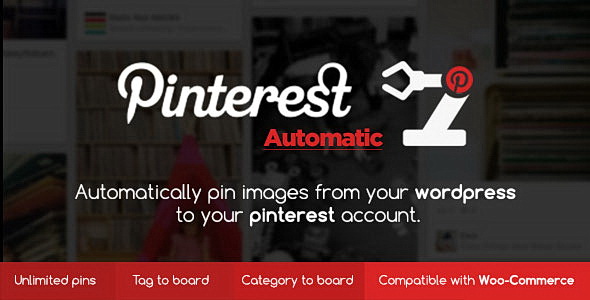 All plug-ins that we have listed above, is focused on visitors to repost your content. However, this plugin is designed for the automatic distribution of content – especially on Pinterest.
As far as the available options:
Automatic detection of updates
Automatic detection of image
Automatic detection of links to posts
This is one of the most reliable WordPress social media plugins for Pinterest.
Pricing:
The Regular License costs $21.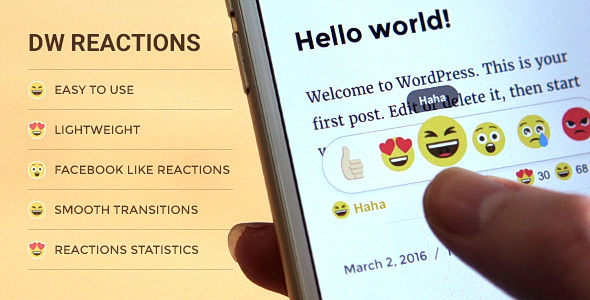 This is a plugin that adds features to your website social media. Using DW Reactions Pro, blog readers can respond to your content, not just putting a thumb up. Now it's more like emoticons to Facebook. But this plugin also has some cool features:
Widget reactions
Statistics reactions
Counter reactions
Numerous styles
This is one of the most fun plug-ins in our list.
Pricing:
The Regular License costs $18.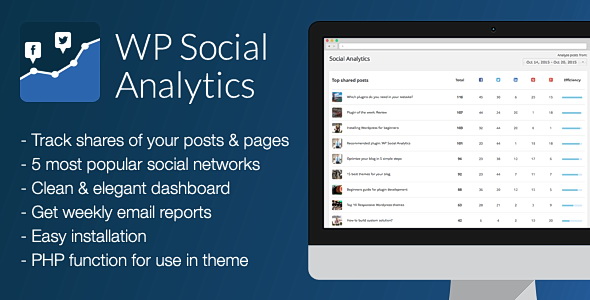 Quick and easy, this plugin tracks your content sharing using WP Social Analytics. It will analyze the 5 main social networks: Facebook, Twitter, LinkedIn, Pinterest, and Google+.
You can view statistics in the WordPress admin area, receive weekly reports on e-mail or add a window with statistics to WordPress Entries screen.
Pricing:
The Regular License costs $17.
This plugin from the WordPress Repository has more than 200,000 active installs. This itself speaks about the popularity of this plugin. Its features also speak for themselves. You can add share icons for Facebook, Twitter, LinkedIn, Google Plus, Pinterest, Instagram, YouTube, etc. You can also add custom share icons of your choice.
Some of its cool features of the Premium version:
Sharing with Snapchat, Soundcloud, Vimeo, Skype, Flickr, Whatsapp, Tumblr, Reddit, Amazon, Angie's list, Blogger, Houzz, Goodreads, Steam, Print, VK, Xing, Yummly, Yelp, Telegram etc.
Multiple share button styles
Animated icons
You can define which pictures & snippet text should get shared for every page or post
Pricing:
The free version in the WordPress repository costs nothing. You can get the premium version at $24.98.
With Sassy Social Share, your website users can share the content over Facebook, Twitter, Google, LinkedIn, Whatsapp, Tumblr, Pinterest, Reddit and over 100 more social sharing and bookmarking services.
It has optimized and vector icons that look great in any size.
Some of its features are:
GDPR Compliant
Social Media follow icons (Redirect website visitors to your Social Media pages)
Customize share button shape, size etc.
Supports Share counts for Facebook, Linkedin, Twitter, Buffer, Reddit, Pinterest, Odnoklassniki, Fintel and Vkontakte

Pricing:
The plugin is free. It available in the WordPress Plugin repository for download. However, you can purchase the premium add-ons offered by the developer.
As the name suggests, this plugin allows you to share your content to any service. This is a home of universal sharing. Services include Facebook, Twitter, Pinterest, Google, WhatsApp, LinkedIn, Tumblr, Reddit, and over 100 more sharing and social media sites & apps. This is the most popular social sharing plugin on WordPress with more than 500,000 active installs.
Some of its features are:
Standard and Floating share buttons
Counters that are fast and standard
Image sharing and follow buttons
Custom share icons
Pricing:
This plugin is available for free.
So these were some of the best 20 plugins we reviewed. Each of these is good for social sharing. You can find which one suits your needs according to the functions you want and the budget you have. There are price differences but these are not always justified when you consider the features offered. Sometimes even a cheaper plugin can do the magic for you. Let us know which plugin you finally chose for social sharing. Did this list help you? Let us know in the comments.
Make your WordPress site's Load Blazing Fast Just by moving to Nestify. Migrate your WooCommerce Store or WordPress Website NOW.